Released back in 2008, or what now feels like an age ago, Mamma Mia! has gone on to be one of the most successful and beloved cult movies of our time.
In fact, sitting pretty just behind 2017's Beauty and the Beast, Phyllida Lloyd's ABBA musical is so popular that it now holds the title of the second highest-grossing musical movie ever made.
It was, then, only a matter of time until a sequel would be made, and now, a decade later, Mamma Mia! Here We Go Again is storming the box office just like its predecessor.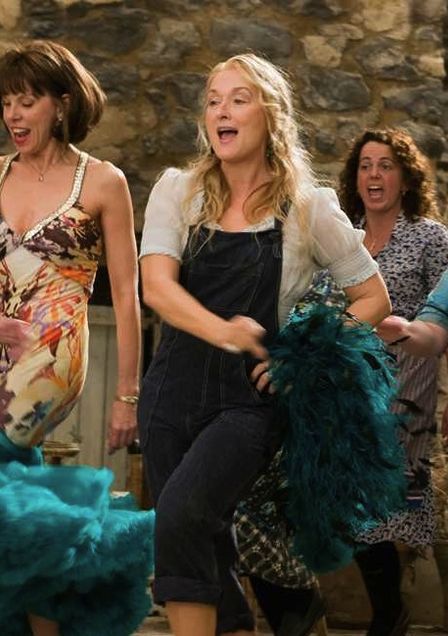 As Here We Go Again hits cinemas, we run down 25 things you never knew about 2008's original Mamma Mia!.
25. Pierce Brosnan didn't know he'd signed up to a musical
Back in 2007, Pierce Brosnan was asked to make a movie with Meryl Streep – a sign for the actor that "they're really taking me seriously now!" .
[adunit mobile="RTK_dVa8″]
The role would have seen him fly out to Greece for shooting. Not a bad location for a film!
Of course, he said yes, signing up without even realising he had just agreed to make a musical.
[adunit mobile="RTK_wCZW"]
24. It was the highest-grossing film of all time in the UK
[adunit mobile="RTK_z9hm"]
The film's record has since been broken by an assortment of Star Wars and James Bond movies.
However, back in 2008, Mamma Mia! became the highest-grossing film ever in the UK for a time.
[adunit mobile="RTK_dVa8″]
It took an enormous £68 million in the UK, beating out every Harry Potter and Lord of the Rings movie.
A global sensation, it grossed $615.7 million around the world.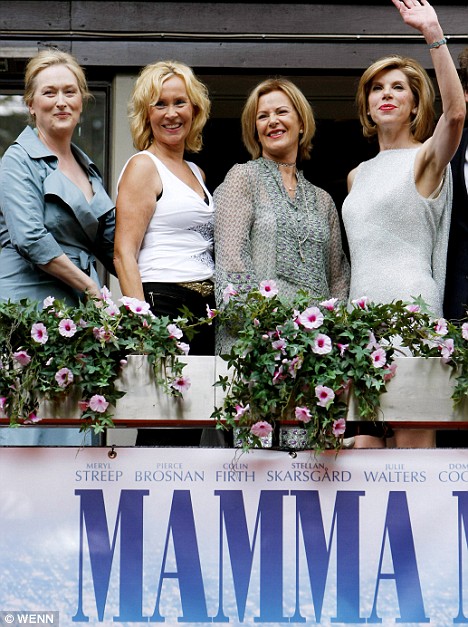 [adunit mobile="RTK_wCZW"]
23. Michelle Pfeiffer almost played Donna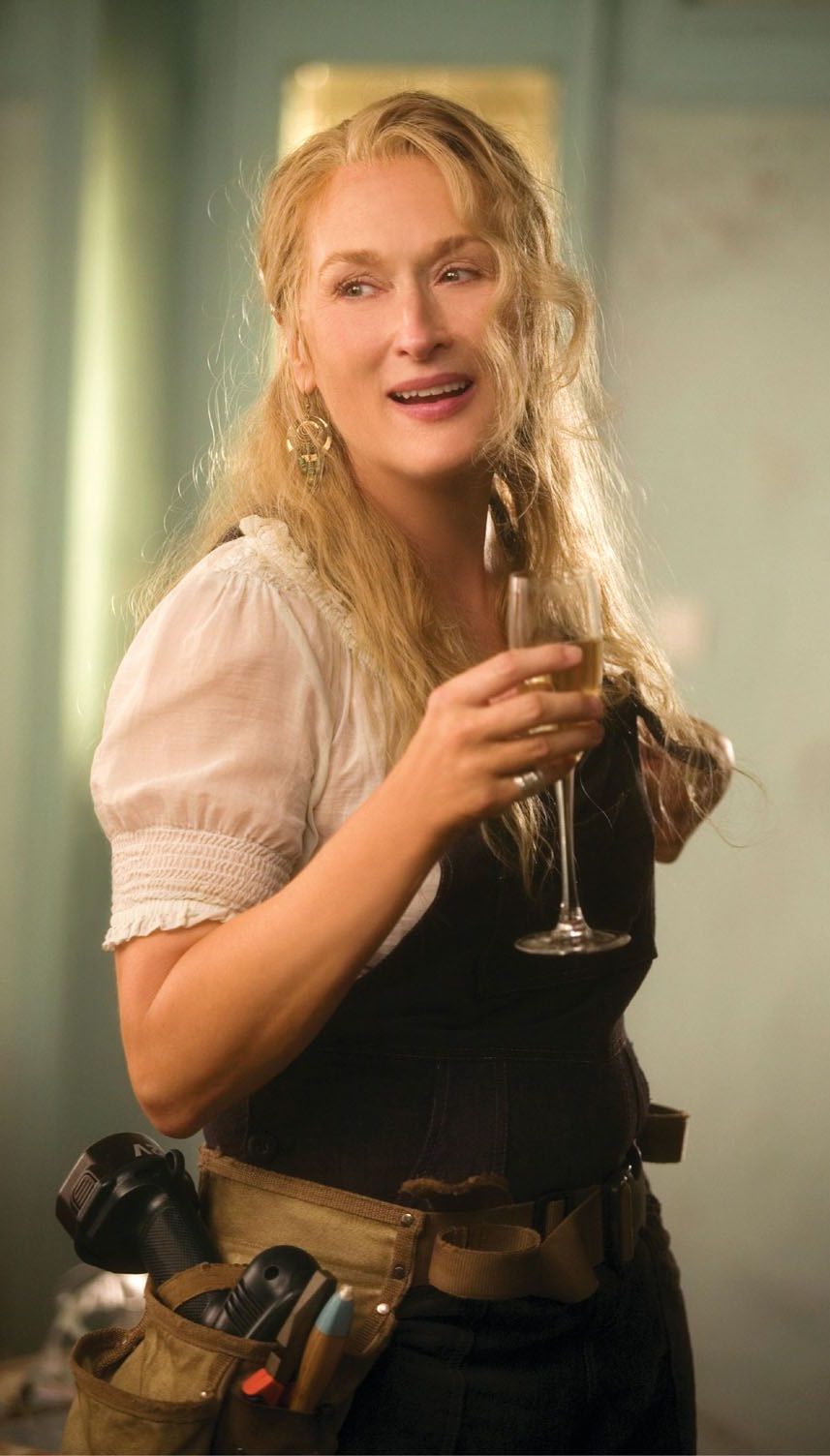 [adunit mobile="RTK_z9hm"]
Before Meryl was cast in Mamma Mia! as Donna, the film's nominal lead, she was almost pipped to the post by another actress with musical experience.
Back in 2006, the Guardian reported that Michelle 'Grease 2' Pfeiffer was a frontrunner to take the part.
[adunit mobile="RTK_dVa8″]
Instead, Pfeiffer did Hairspray, while Streep – a fan of the stage musical – took Mamma Mia!
In the end it worked out for both of them with both films being huge hits.
[adunit mobile="RTK_wCZW"]
22. Some huge ABBA hits were cut from the film
[adunit mobile="RTK_z9hm"]
Considering the band has such a backlog of bangers, it was always going to be difficult to fit every ABBA favourite into Mamma Mia!'s 109-minute running time.
[adunit mobile="RTK_dVa8″]
Knowing Me, Knowing You (removed from the script), The Name of the Game (filmed but cut) and Fernando (hummed briefly by Meryl, but otherwise absent) are all missing from the film.
[adunit mobile="RTK_wCZW"]
21. ABBA refused to write an original song for the film
It's no secret that there's no love lost between the members of ABBA these days.
[adunit mobile="RTK_z9hm"]
So it was always going to be a long shot when producers asked Agnetha and the gang to write an original song for the film adaptation of Mamma Mia!
Execs thought they would try for an Original Song nomination for the film this way, but ABBA refused to participate.
[adunit mobile="RTK_dVa8″]
It was probably for the best, the oldies are the best anyway!
20. Dawn French's terrible singing lost her a role in the film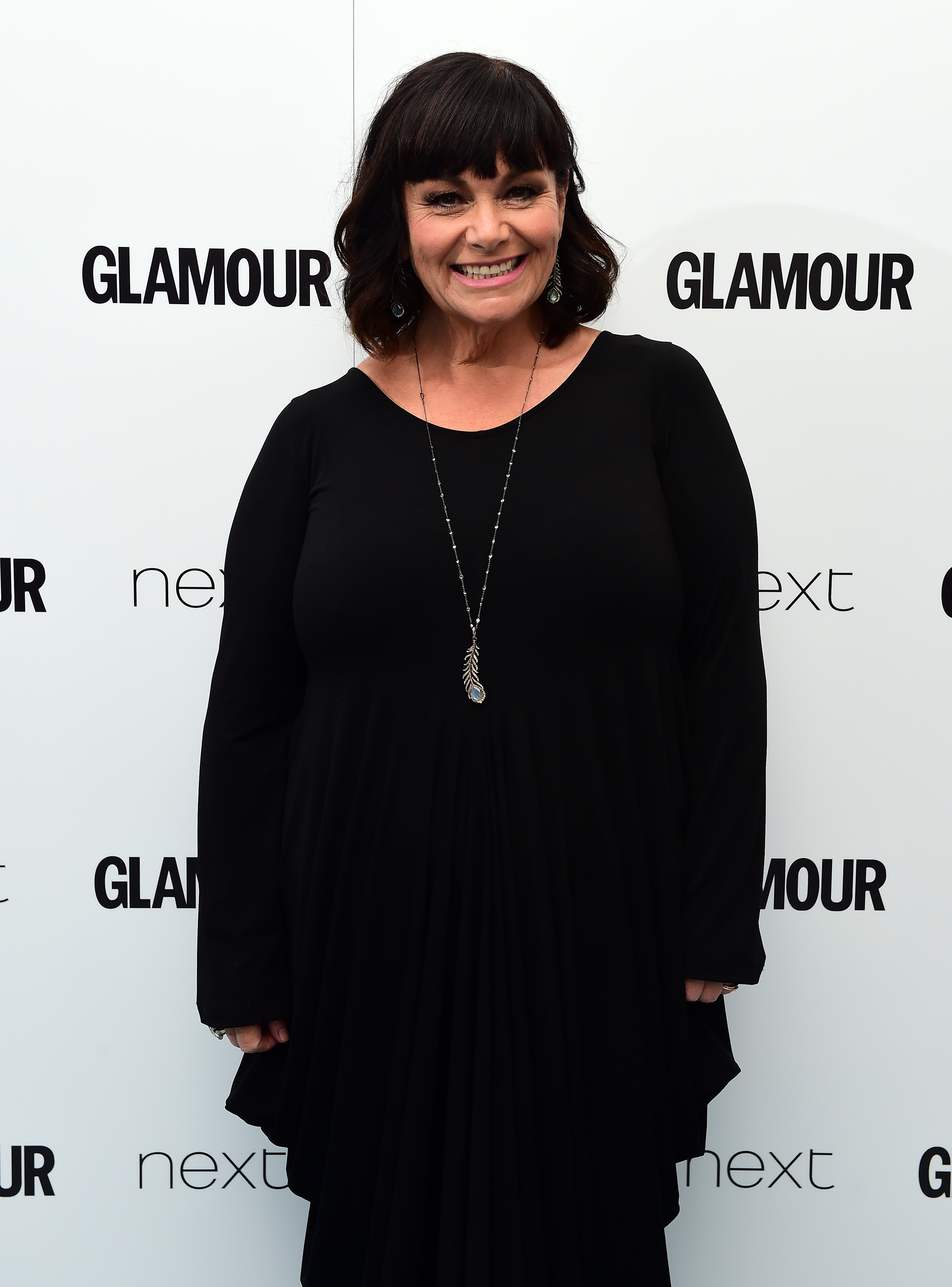 [adunit mobile="RTK_wCZW"]
Originally guaranteed a role in Mamma Mia! by her agent, according to Dawn French it took just one bad audition to sink her dreams of starring alongside Meryl and co.
[adunit mobile="RTK_z9hm"]
She told Graham Norton last year: "I just had to do a musical audition but it was definitely in the bag. Everyone at the audition was lovely and chatty with me until I sang…By the time I got downstairs my agent had texted to say, 'This just isn't going to work love!'"
[adunit mobile="RTK_dVa8″]
19. Cher had to turn a role down
Cher almost became a member of the Mamma Mia! franchise a decade ago. Asked to play Tanya, the singer's touring commitments meant she had to turn the role down, leaving the part open for Christine Baranski.
[adunit mobile="RTK_wCZW"]
This was a real shame for Cher, who had been keen to participate in the film.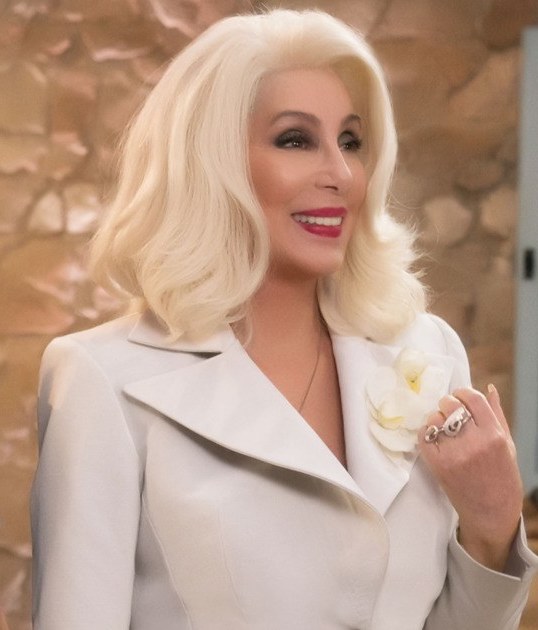 By the time casting came around for Mamma Mia! Here We Go Again, however, Cher had become available.
She stars in the sequel as Donna's mother.
[adunit mobile="RTK_z9hm"]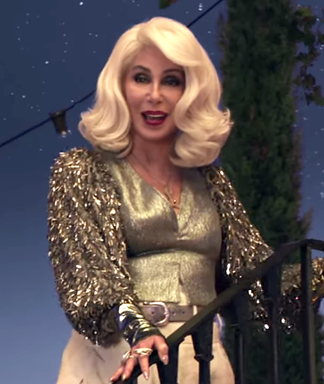 18. Two members of ABBA cameo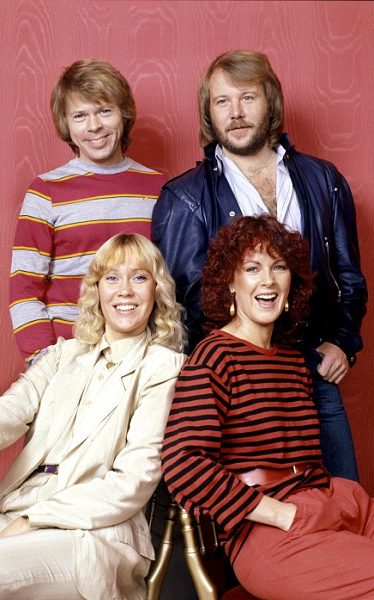 [adunit mobile="RTK_dVa8″]
Blink and you'll miss them.
It's not just the music of Benny Andersson and Bjorn Ulvaeus that features in Mamma Mia!: the two ABBA legends also appear in the film in cameos.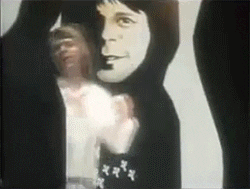 Yep that's right – next time you watch the film make sure you keep a close eye out for the two singers.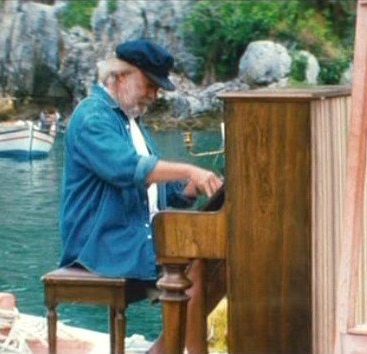 [adunit mobile="RTK_wCZW"]
Bjorn appears dressed as a Greek god in the closing credits, while Benny can be seen playing piano during the Dancing Queen sequence.
[adunit mobile="RTK_z9hm"]
17. There is a definitive answer as to who Sophie's father is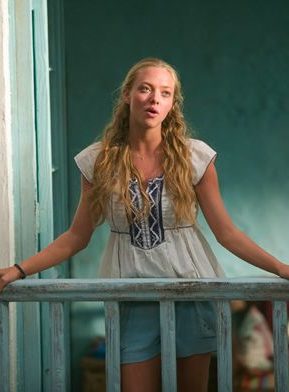 The film never reveals for certain who Sophie's father actually is, but Mamma Mia! writer Catherine Johnson and the film's director Phyllida Lloyd know for definite.
[adunit mobile="RTK_dVa8″]
According to them, Bill Andersson, played by Stellan Skarsgard, is Sophie's real dad.
This makes a lot of sense, considering the musical's connection to Sweden.
[adunit mobile="RTK_wCZW"]
16. Meryl's singing got the ABBA seal of approval
[adunit mobile="RTK_z9hm"]
Meryl Streep's rendition of The Winner Takes it All, a standout moment in the film, didn't just wow general audiences.
It actually impressed one of the original composers of the song.
When she recorded her vocals before Benny Andersson – nailing it in one take, no less – Andersson was so impressed that he described Streep as "a miracle".
[adunit mobile="RTK_dVa8″]
She really is incredible!
15. Real photos of the cast are used
[adunit mobile="RTK_wCZW"]
Only the most eagle-eyed viewers will have noticed this one…
At the beginning of the "Dancing Queen" scene, there is a picture of Amanda Seyfried's professional head shot hanging on the wall.
Do you remember seeing it?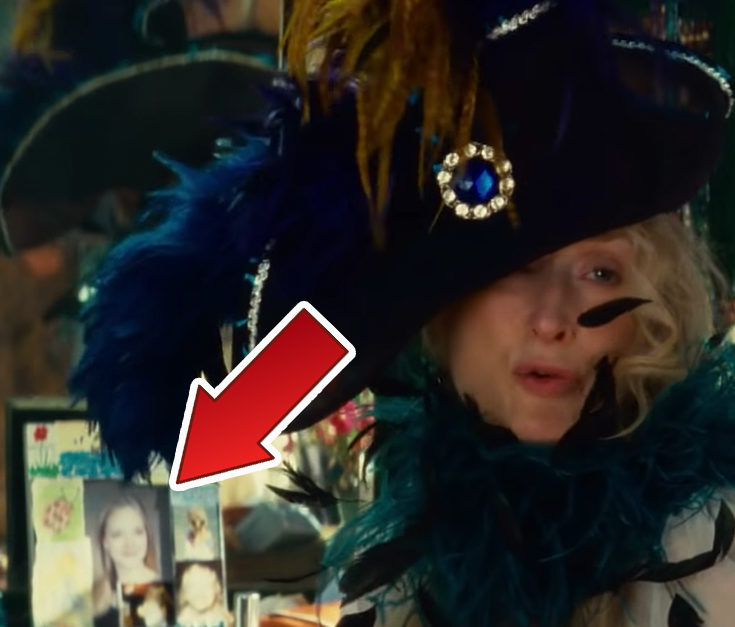 At the end of "Our Last Summer," Donna is holding a collection of photos that includes a baby pic of Seyfried.
So cute!
[adunit mobile="RTK_z9hm"]
The attention to detail and love they put into the film is amazing.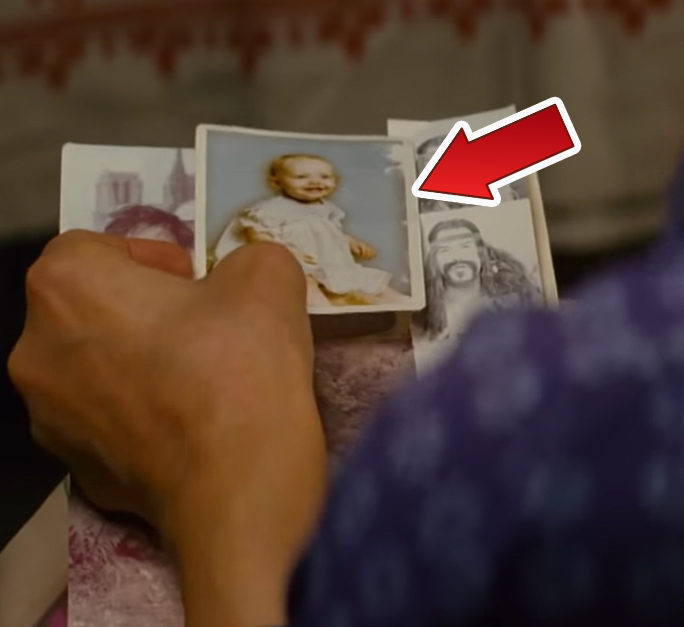 14. Meryl Streep wrote to the producers of the original musical
[adunit mobile="RTK_dVa8″]
Streep first saw the musical in October 2001 with her daughter, Louisa, and her daughter's friends in Manhattan.
[adunit mobile="RTK_wCZW"]
Streep loved it so much that she wrote to the producers to praise them for bringing a little happiness and fun to the lives of New York City's people after the 9/11 terrorist attack.
13. Stellan Skarsgård unexpectedly flashed his bum
[adunit mobile="RTK_z9hm"]
The director was not expecting it when Skarsgård flashed his behind: "We decided I should be cooking on the boat. I thought I should have an apron on.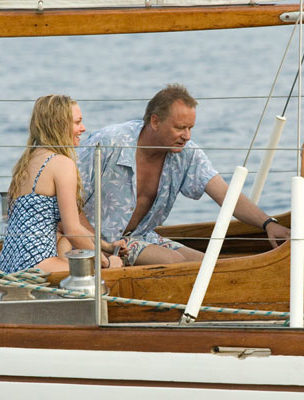 [adunit mobile="RTK_dVa8″]
The director (Phyllida Lloyd) did not know I would be naked under there, and have those butt tattoos.
So when the camera rolled, I turned around right in front of it. The cameraman jumped and screamed, while Phyllida keeled over laughing."
[adunit mobile="RTK_wCZW"]
12. Bill's character celebrates the origin of ABBA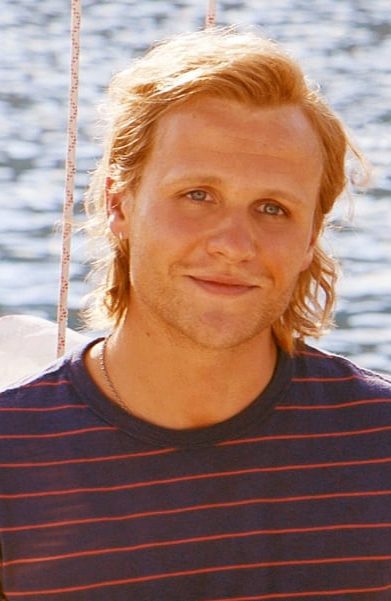 Bill Anderson's boat flies the flag of Sweden.
[adunit mobile="RTK_z9hm"]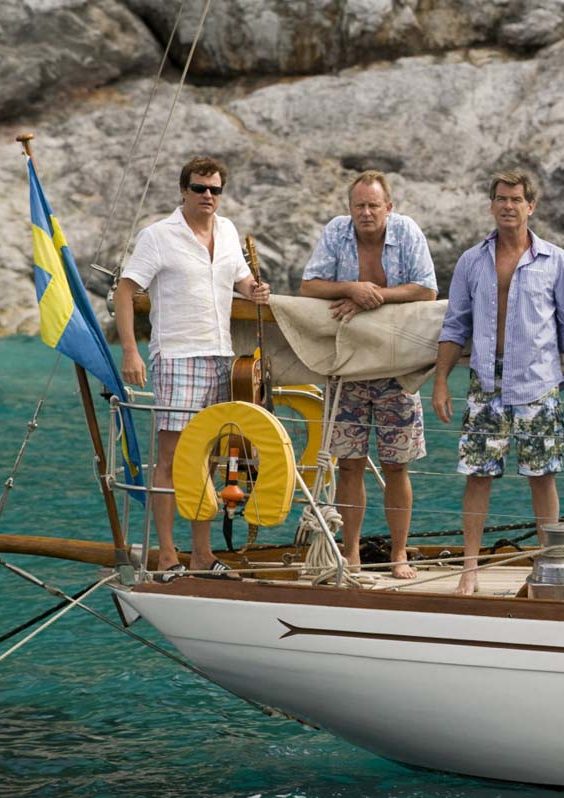 This is the native country of ABBA and of the man who plays him, Stellan Skarsgård.
[adunit mobile="RTK_dVa8″]
11. Another big musical star was considered for the part of Donna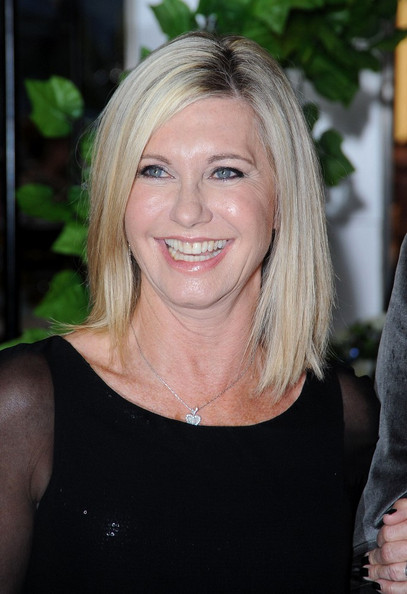 The part of Donna eventually went to Meryl Streep, which we are eternally grateful for.
[adunit mobile="RTK_wCZW"]
As well as Michelle Pfeiffer, Olivia Newton-John, of Grease fame, was also considered for the part.
Any of these women would've been great but I'm glad it went the way it did.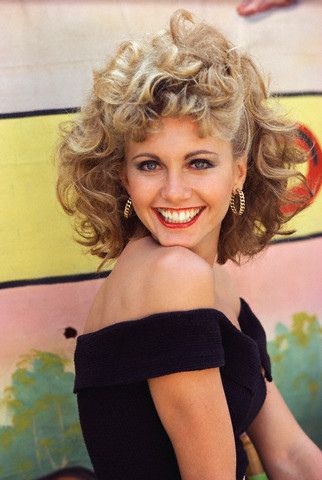 [adunit mobile="RTK_z9hm"]
10. Camera trickery was used to muddle the time of day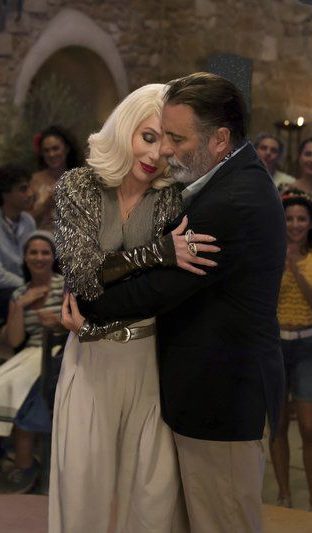 Several scenes that are night scenes were actually shot in the day and then edited in post production.
[adunit mobile="RTK_dVa8″]
It's pretty hard to believe when you see the final result knowing it was shot in the day.
This includes the 'I Have A Dream' scene.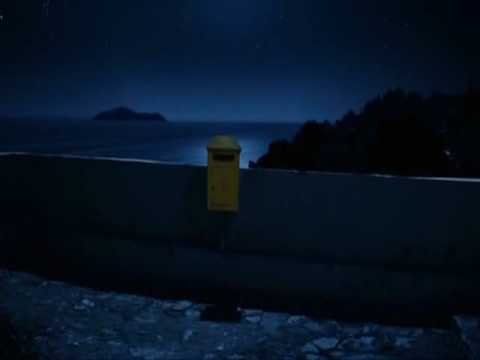 [adunit mobile="RTK_wCZW"]
9. Julie Walters was injured singing "Dancing Queen"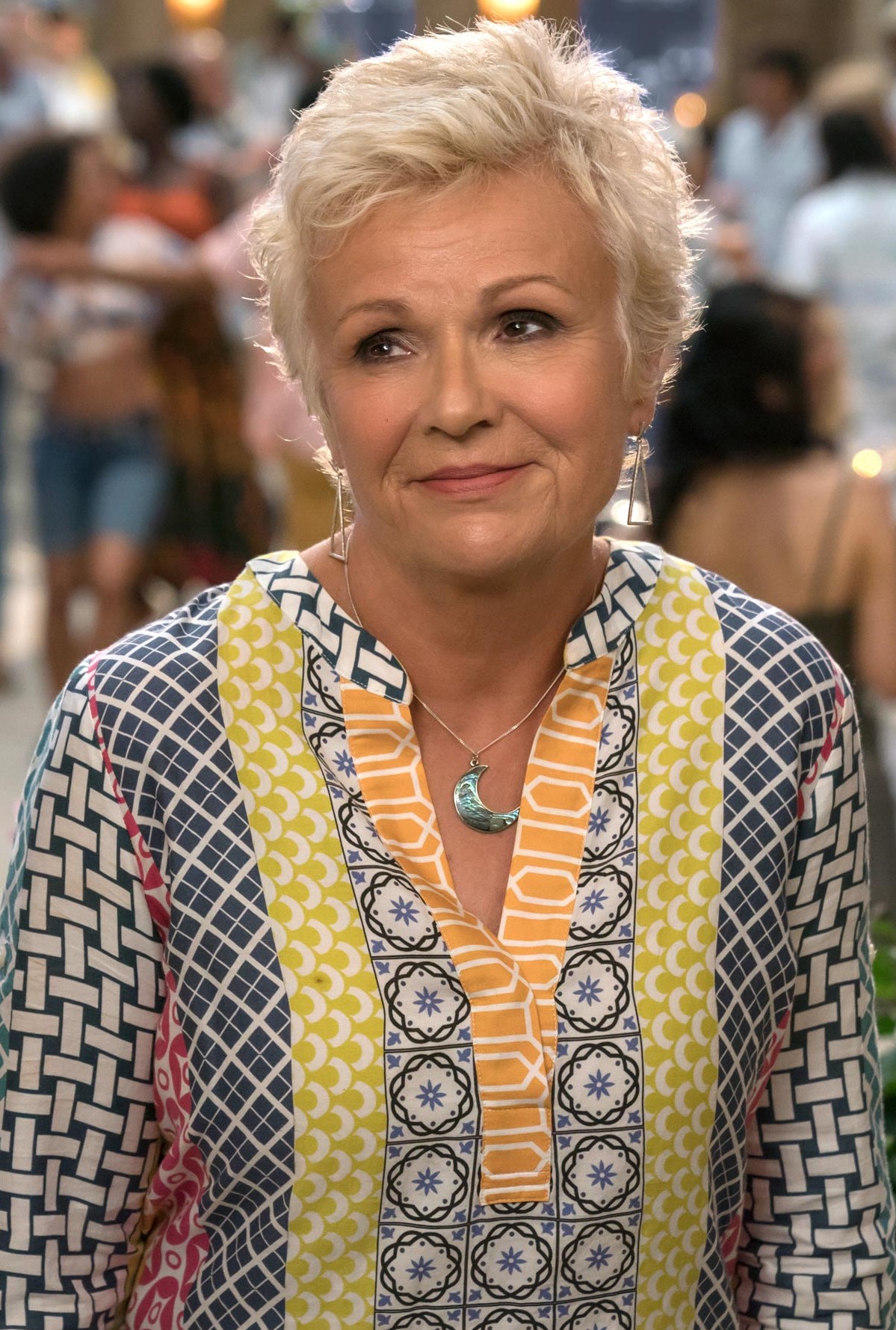 According to Meryl Streep, Julie Walters injured herself while filming the "Dancing Queen" musical sequence, by tripping over some rocks on a cobbled street.
[adunit mobile="RTK_z9hm"]
She "soldiered on" though to finish the scene.
[adunit mobile="RTK_dVa8″]
8. One character's nationality was changed from the stage version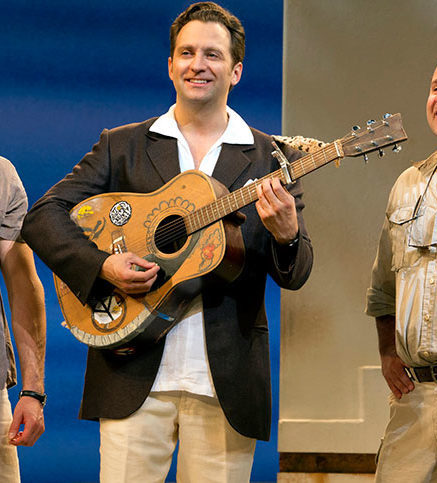 In the original stage musical, the character of Bill Austin was Australian. This paid homage to ABBA's enormous popularity in Australia.
[adunit mobile="RTK_wCZW"]
For the film, Bill Anderson was Swedish, like Stellan Skarsgård who plays him.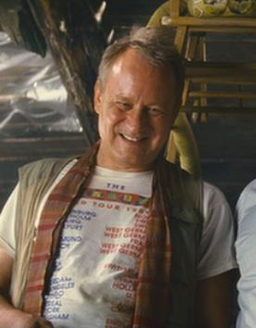 7. It was the first film to be shot on new sound stages at Pinewood
[adunit mobile="RTK_z9hm"]
Mamma Mia was the first film shot on the new 007 Stage at Pinewood Studios. This was following a fire after Casino Royale wrapped filming.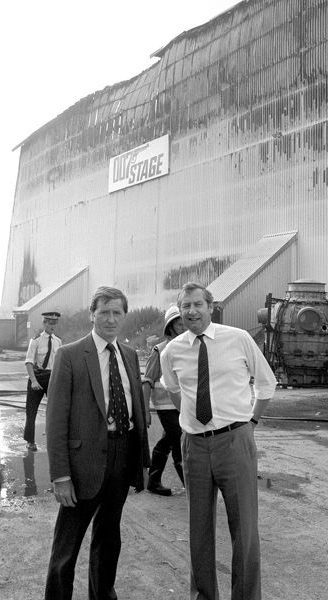 [adunit mobile="RTK_dVa8″]
The new fifty-nine thousand square foot stage was used for song and dance numbers that could not be filmed in the sun in Greece.
It's a massive effort which is obviously worth it when you look at the final result.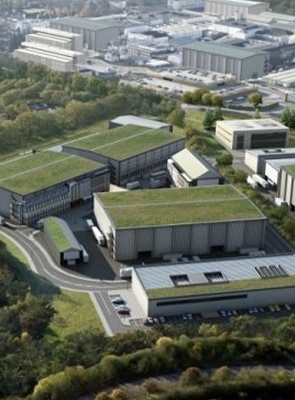 [adunit mobile="RTK_wCZW"]
6. Some dancing was specifically added for the show in Scotland
When the stage show was performed in Edinburgh, the male dancers included a "Highland Fling" during "Lay All Your Love On Me."
[adunit mobile="RTK_z9hm"]
In the film, one dancer performs the same steps during the song. Extra touches like this make all the difference.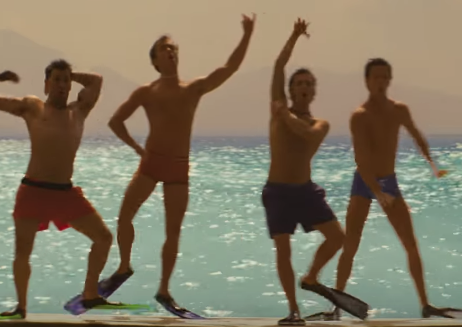 5. A familiar face could have appeared in the film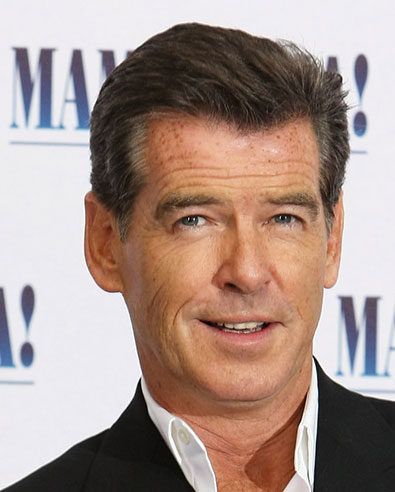 [adunit mobile="RTK_dVa8″]
Whilst the trio of Sam, Bill and Harry were played by an Irish, English and Swede, it could have been an American, English and Swede.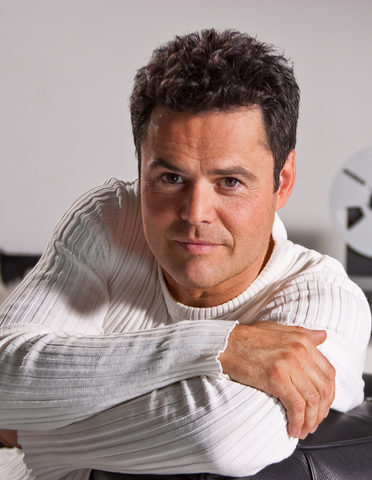 Donny Osmond was considered for the role of Sam before it went to Pierce Brosnan.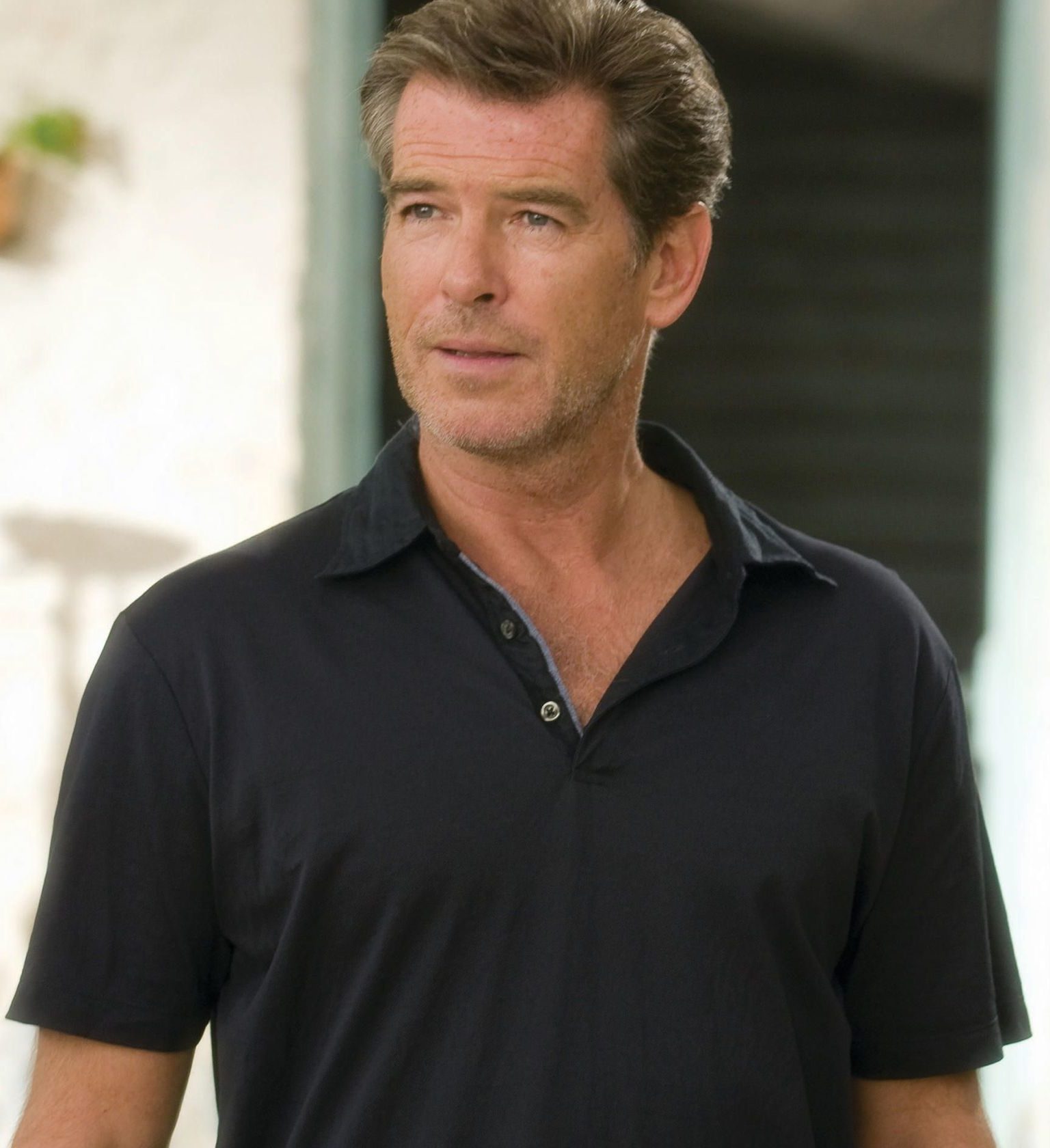 [adunit mobile="RTK_wCZW"]
4. The title font may be familiar to you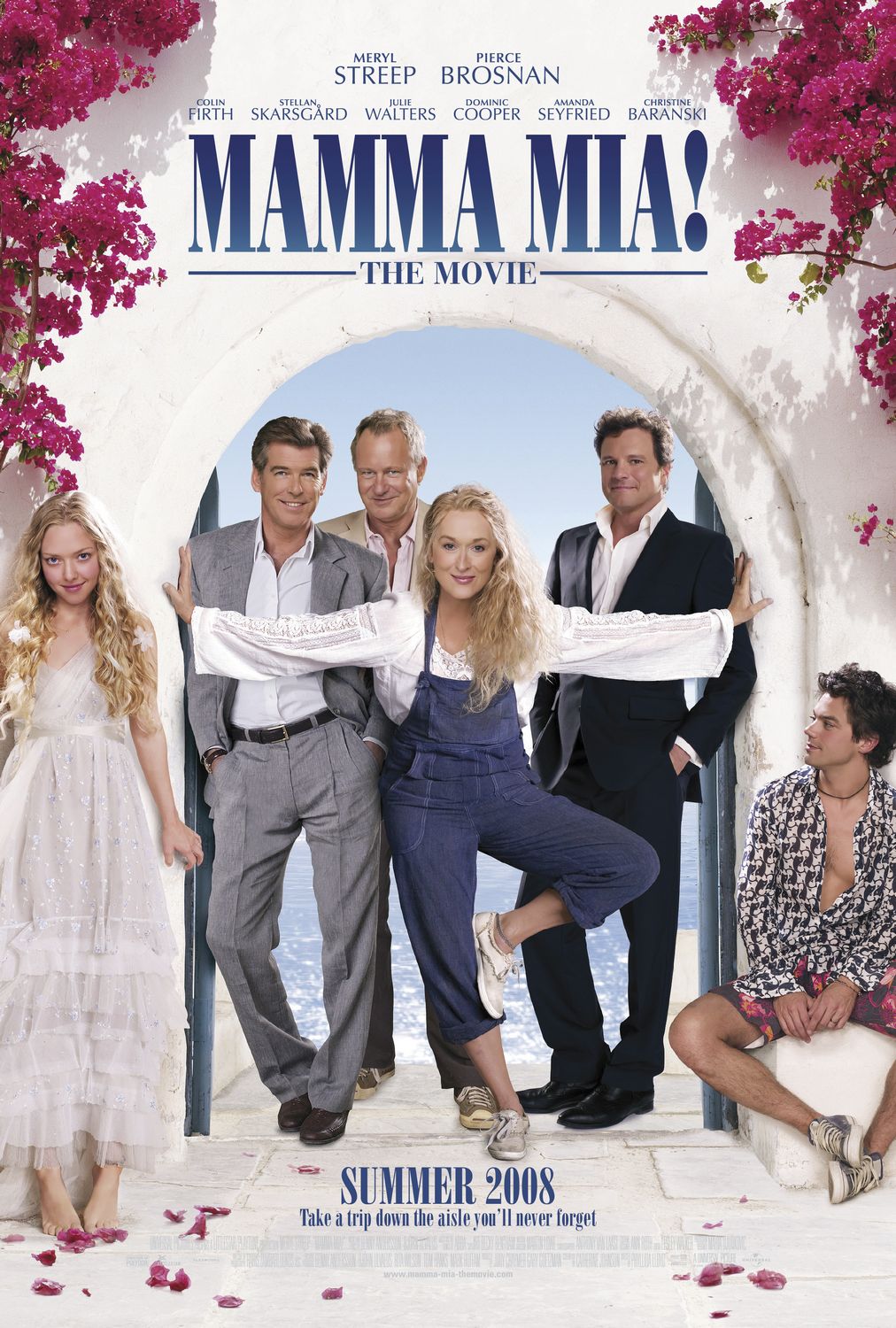 Have you ever looked at the title font of 'Mamma Mia' and thought 'hmm, I've seen this somewhere before?'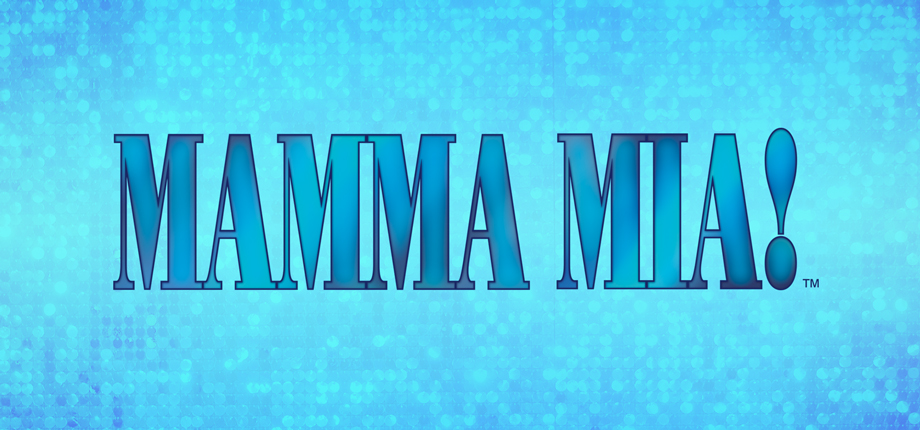 [adunit mobile="RTK_z9hm"]
Probably not, but if you have, then the answer is yes. It's also the same font that Nirvana use on their album covers.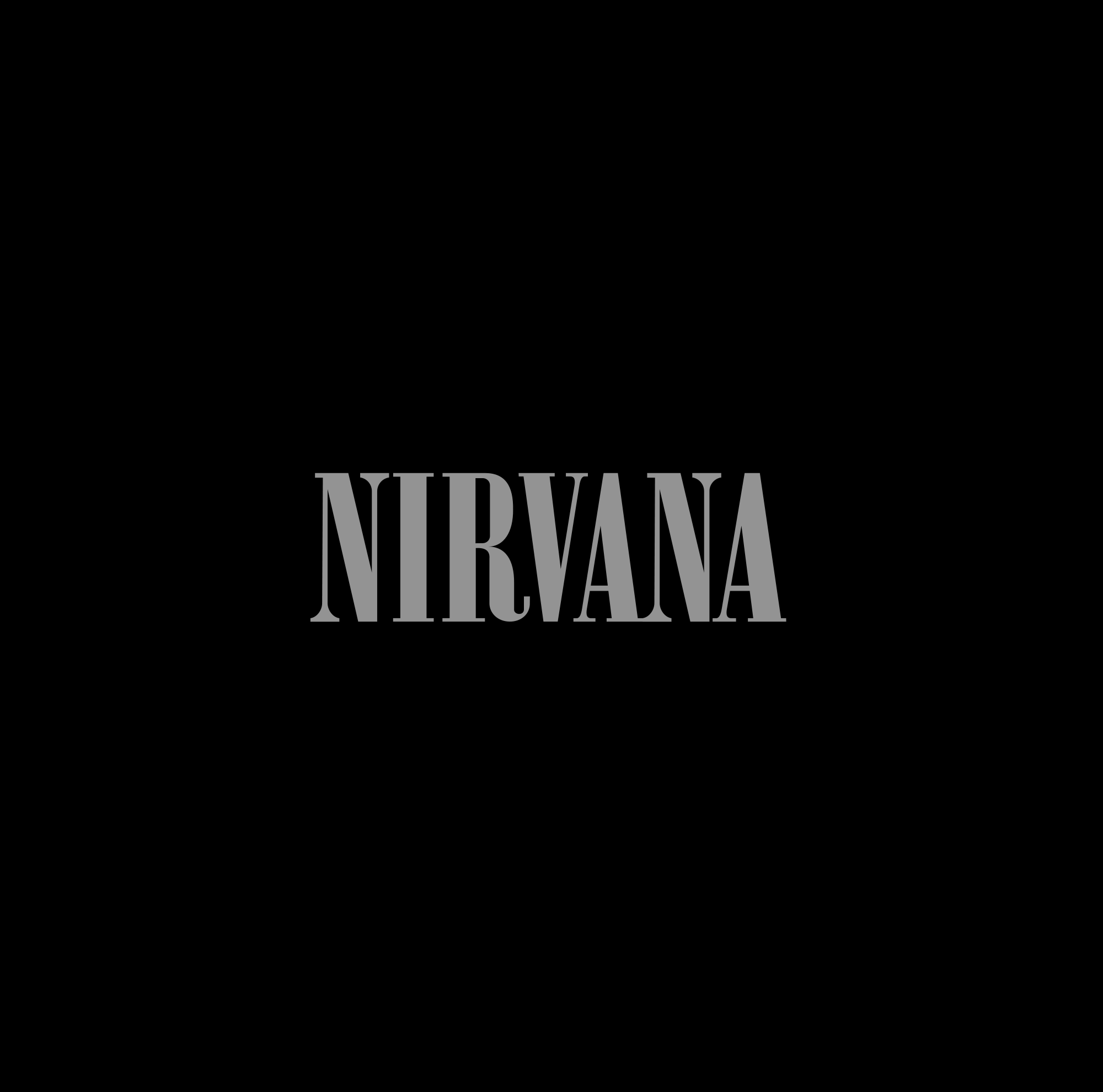 3. A strange technique was used to get some of the cast members to laugh
[adunit mobile="RTK_dVa8″]
The "Slipping Through My Fingers" scene includes a short clip of Meryl Streep and Amanda Seyfried laughing.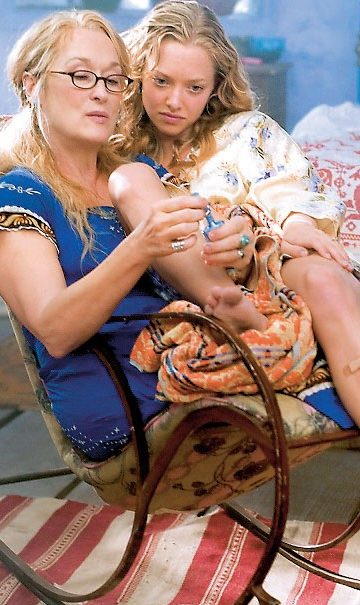 According to Phyllida Lloyd, the crew blasted heavy metal music to get the pair to laugh so much. If it works, it works!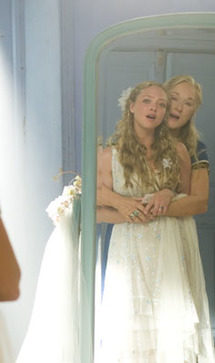 [adunit mobile="RTK_wCZW"]
2. The structure of the film is based on a Greek comedy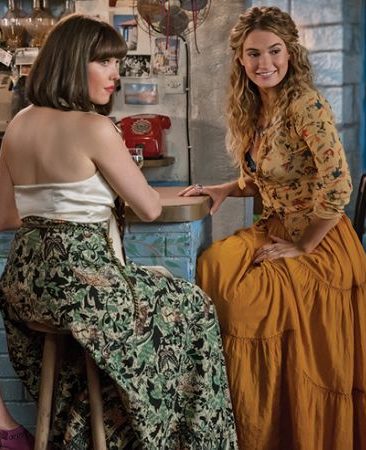 An undercurrent of the film is to structure the story as a Greek comedy (like Aristophanes.)
[adunit mobile="RTK_z9hm"]
This includes patterns of strophe and anti-strophe, a chorus representing the common people, and costumes matched to moods of the characters, including masks and the phallic props typical of Greek comedy.
[adunit mobile="RTK_dVa8″]
1. The director of the film had some previous experience
[adunit mobile="RTK_wCZW"]
The director of the film was Phyllida Lloyd.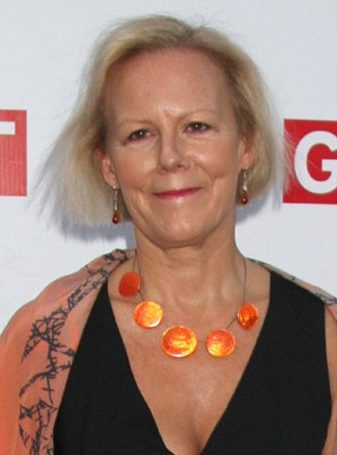 This was obviously the perfect choice since she also directed the show version! The film couldn't have turned out any better
[adunit mobile="RTK_z9hm"]
And for an extra treat, here are the cast of Mamma Mia and their real-life partners! Take a look…we certainly wouldn't pair some of these!
1. Amanda Seyfried & Thomas Sadoski
As the star of the Mamma Mia! films, Amanda Seyfried plays bride-to-be (and later mother) Sophie Sheridan.
[adunit mobile="RTK_dVa8″]
Unlike her mum Donna, Sophie had a much more straightforward romance with her husband Sky – the pair hit a rocky patch in the second film but soon managed to get over it. However, in reality Seyfried's relationship history has been a little messy (to say the least!).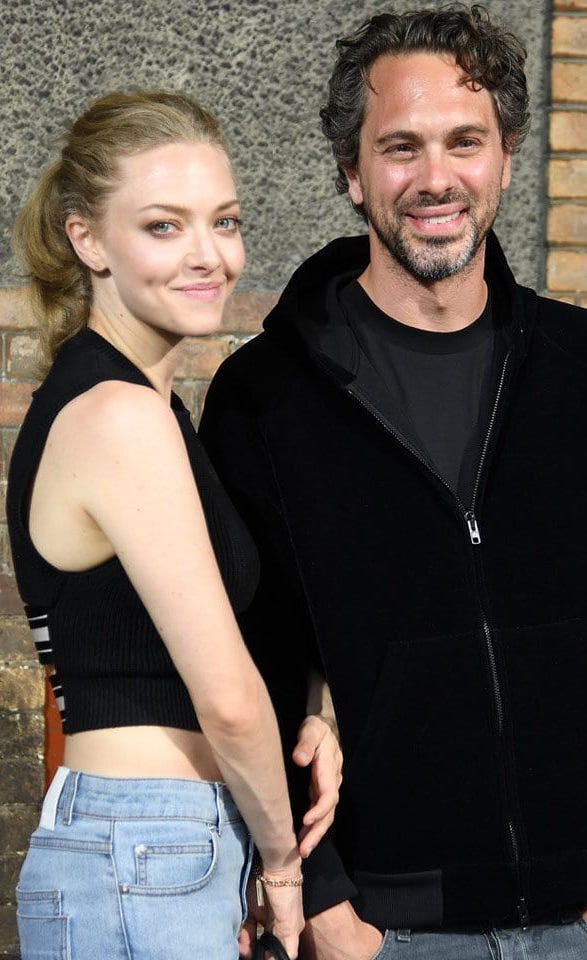 [adunit mobile="RTK_wCZW"]
Seyfried and her co-star Dominic Cooper (who plays Sky) embarked on an affair during filming of the first movie, when both actors were in relationships with other people. Seyfried had been with musician Jesse Marchant for two years before dumping him for Cooper – yikes! However, things didn't work out for the couple and they split a few years after first meeting on set.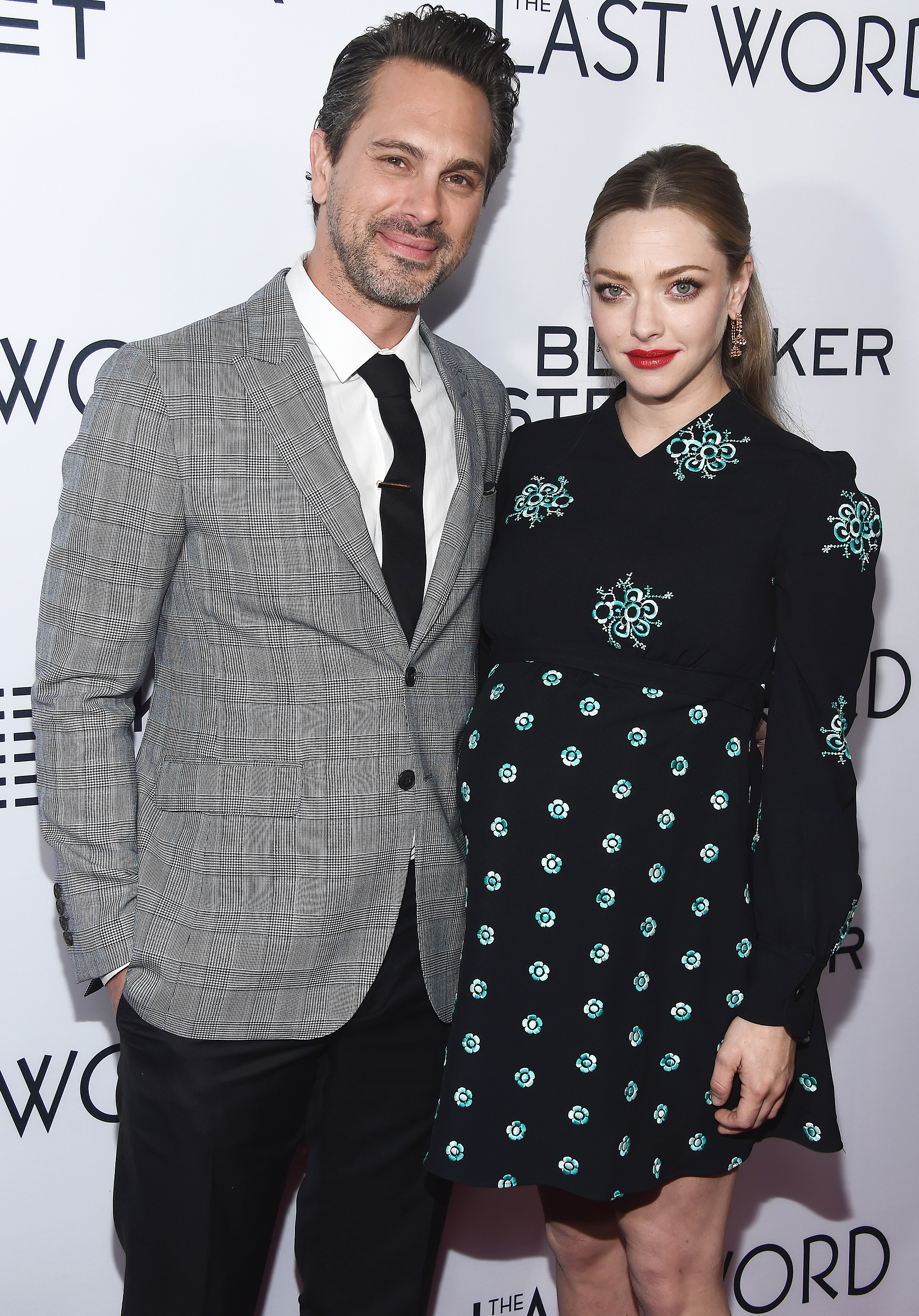 [adunit mobile="RTK_z9hm"]
Seyfried then went on to date actor Justin Long before marrying her husband Thomas Sadoski in 2017 and giving birth to their daughter later that year. It doesn't look as though Sadoski was too happy about Seyfried teaming back up with her ex for the second movie though – Seyfried stated in an interview that her husband had 'jealousy issues' during filming. Cringe!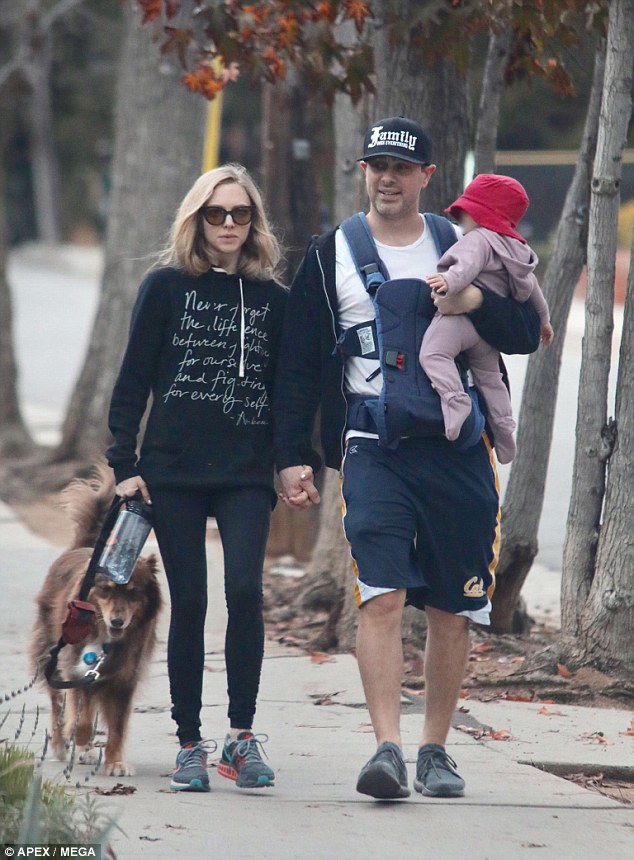 2. Amanda Seyfried & Dominic Cooper
The on-screen couple became off-screen lovers for over three years from 2008 to 2011.
[adunit mobile="RTK_dVa8″]
But before that, Cooper had been in a thirteen year relationship with Joanna Carolan, the former assistant to the late playwright Harold Pinter. Carolan was understandably upset at the betrayal and made her feelings known to the press.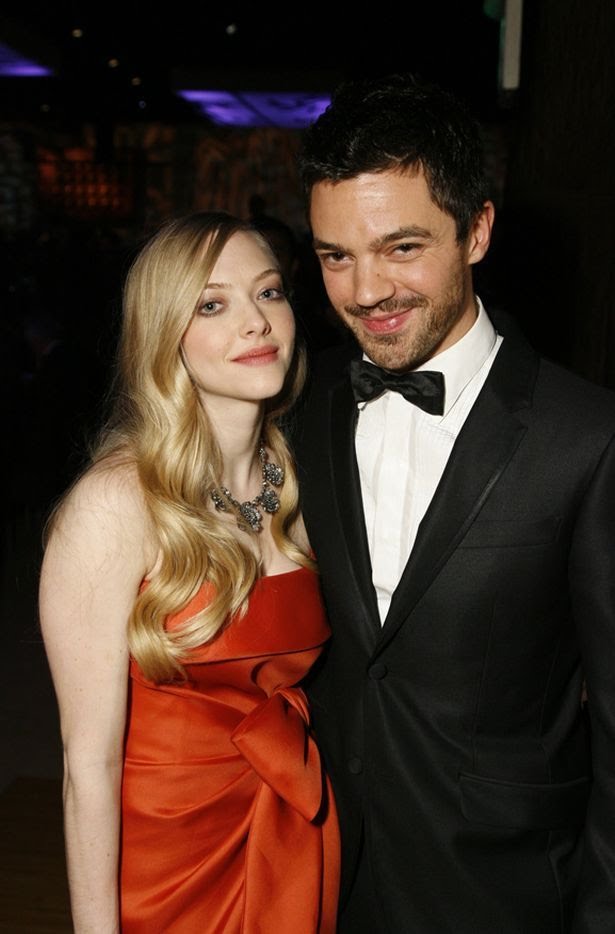 [adunit mobile="RTK_wCZW"]
She once told Grazia magazine: "I've cried a lot of tears and have woken up to the reality that the future I wanted is never going to happen. Life changes, people change and success does things to people. You have to decide whether you can put up with that – and I couldn't."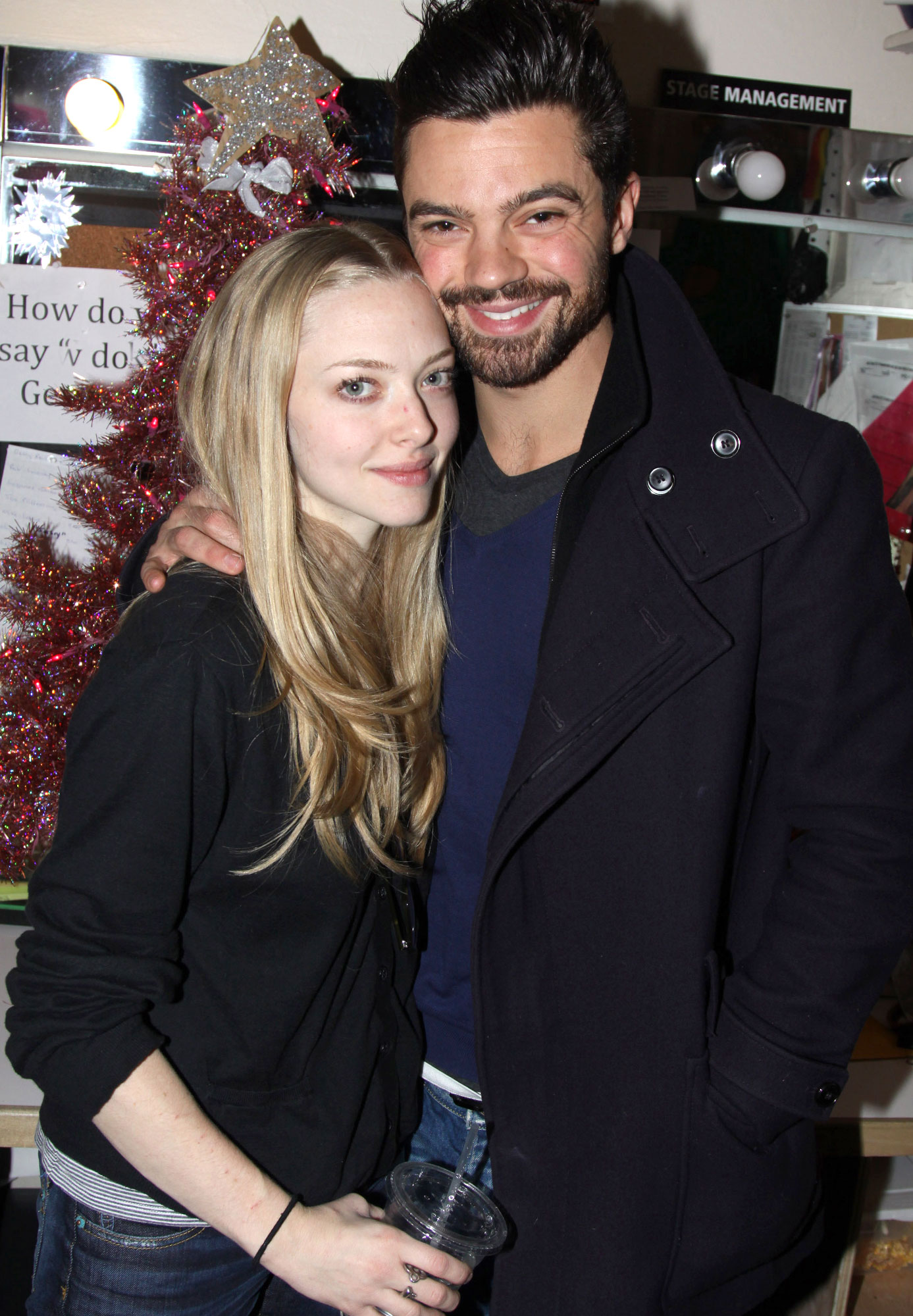 [adunit mobile="RTK_z9hm"]
Carolan had been aware of Seyfried and Cooper's affair, but held out hope of a reunion when Cooper got back from filming. She had initially hoped the dalliance would be a 'five-minute fling' but the two actors continued to see each other behind her back, a fact she only found out from mutual friends.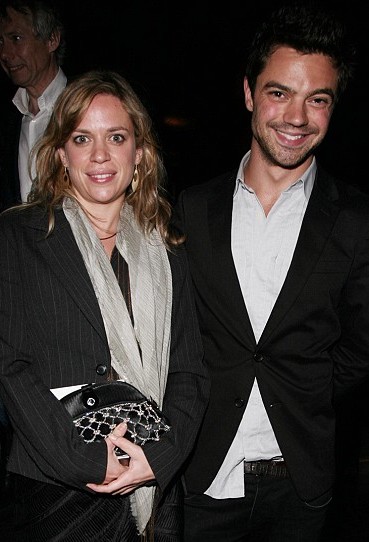 Thanks to Seyfried and Cooper's romance, Carolan was forced to end things: "I had to kick him out. I'm no longer in love and can't think about taking him back. I can't be with a man who'd let me go through this."
3. Meryl Streep & Don Gummer
Legendary actress Meryl Streep surprised everyone with her appearance in Mamma Mia!.
[adunit mobile="RTK_dVa8″]
However, like pretty much everything else she does in life, Streep nailed the role of Donna Sheridan. Donna famously has to try and figure out which of her past ex-lovers is her daughter Sophie's father – luckily in real life, Meryl doesn't have that problem at all.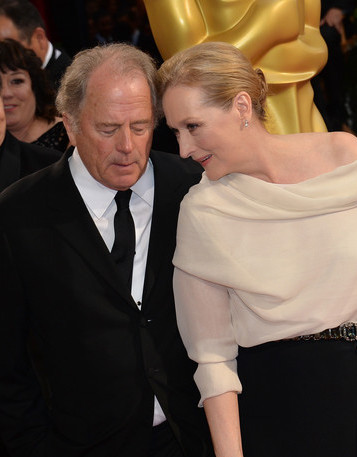 [adunit mobile="RTK_wCZW"]
Meryl has been with sculptor Don Gummer since the 70s – the pair got hitched in 1978 and they share four children together. Although Gummer isn't part of the showbiz scene whatsoever, Meryl has credited her husband with being the 'linchpin' of her entire life. The pair met in strange circumstances, only a couple of weeks after the tragic death of her longtime partner John Cazale.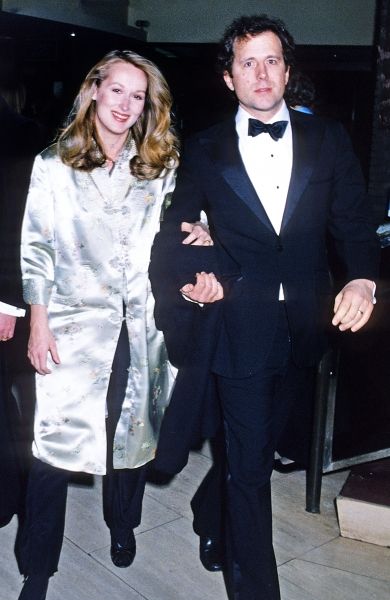 [adunit mobile="RTK_z9hm"]
Meryl couldn't bear to live in the flat she and Cazale had once shared, so Don (a friend of her brother's) lent her his apartment whilst he was travelling. Don later reflected: "Meryl was shattered by John Cazale's death and I did what I could to help and pretty quickly I realised I was falling in love with her."
They got married only about half a year after Cazale passed away, but Meryl stated: "I haven't got over John's death, but I've got to go on living and Don has showed me how to do that." Aw!
4. Pierce Brosnan & Keely Shaye Smith
Pierce Brosnan plays the smooth-talking architect Sam Carmichael, who ends up proposing to Donna and becomes Sophie's stepfather in the process.
[adunit mobile="RTK_dVa8″]
Audiences were a little bemused to see the ex-Bond actor Brosnan singing and dancing on camera, but somehow the cheesiness worked and the former Bond actor proved a hit with fans the world over!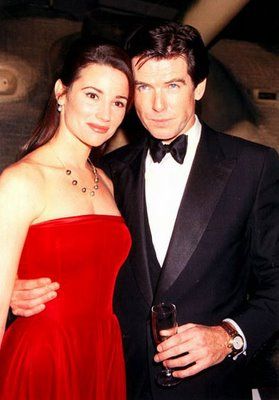 [adunit mobile="RTK_wCZW"]
Unlike his on-screen counterpart, Brosnan has had a stable and loving relationship with his wife Keely Shaye Smith for the last couple of decades. The cute couple got married in 2001 and now have two sons together. They celebrated their 25th wedding anniversary during the release of Mamma Mia 2 and Brosnan posted a sweet Instagram message to his wife to mark the occasion.
[adunit mobile="RTK_z9hm"]
"Thank you for the love, my love of these past 25 years," he wrote. "Onwards." What a charmer! The couple reportedly celebrated both the release of the film's premiere and their milestone anniversary with a romantic meal in NYC.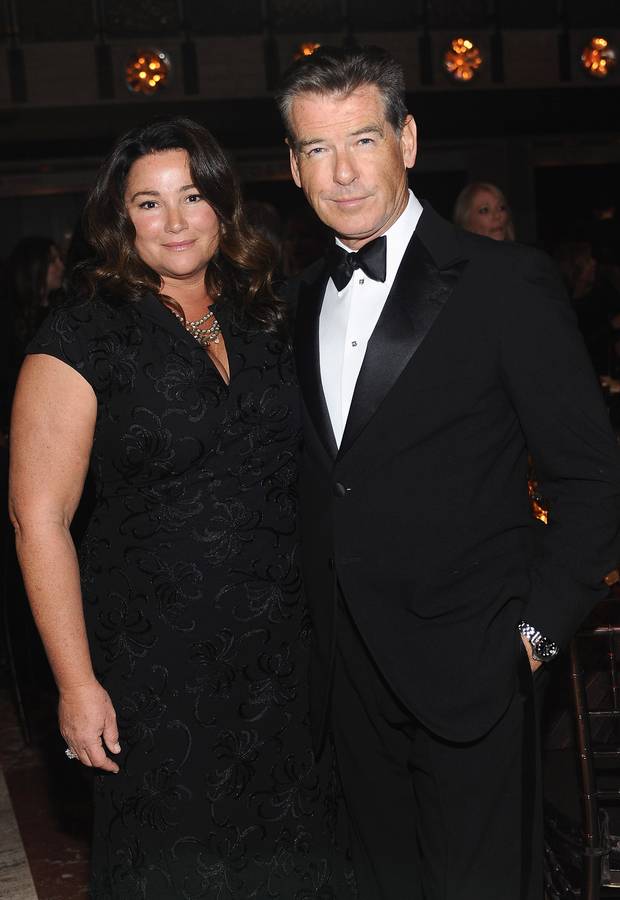 5. Dominic Cooper & Ruth Negga
Dominic Cooper seems to have a history of getting together with his co-stars!
[adunit mobile="RTK_dVa8″]
The actor first met his girlfriend of eight years Ruth Negga back in 2009 when both actors were working on the stage version of Phèdre with Helen Mirren. Since then they've worked together on the supernatural TV series Preacher – Negga revealed that producers had cast them both without realising that Cooper and Negga were a real-life couple.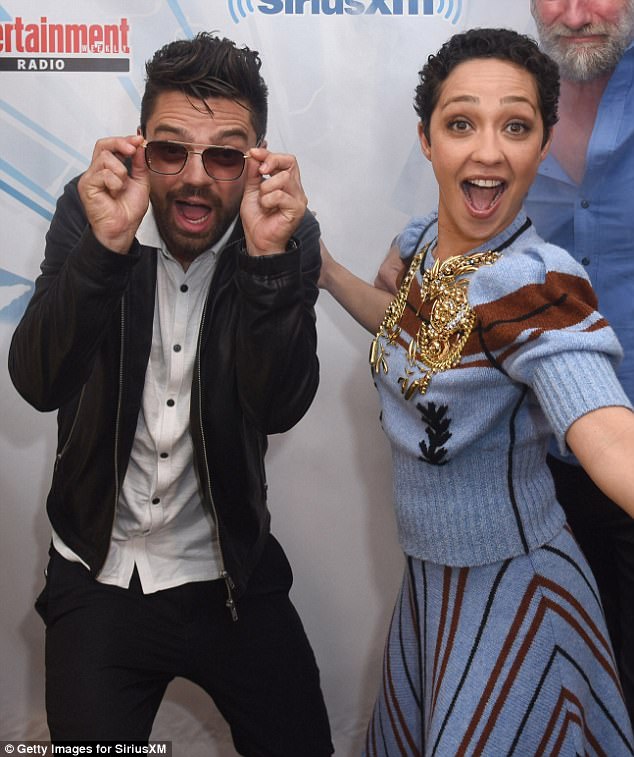 [adunit mobile="RTK_wCZW"]
Negga stated in an interview that she enjoyed working so closely with her boyfriend and that he provided an excellent support mechanism during gruelling stints shooting Preacher. "It can be so lonely filming, so it's like your buddy and your back up. He's got my back and I've got his. Very much so," she told Harper's Bazaar.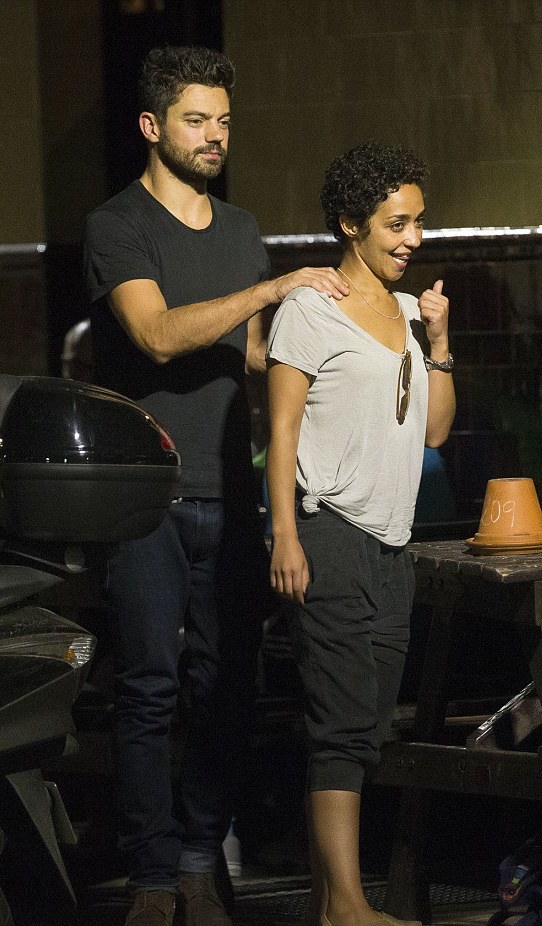 [adunit mobile="RTK_z9hm"]
Unfortunately the good-looking couple split in April this year, and since then they've had to deal with their break-up whilst also putting on a brave face during publicity and filming for their TV series. Apparently the romance had simply 'run its course', so any Cooper fans out there will be hoping to bump into him on a night out soon!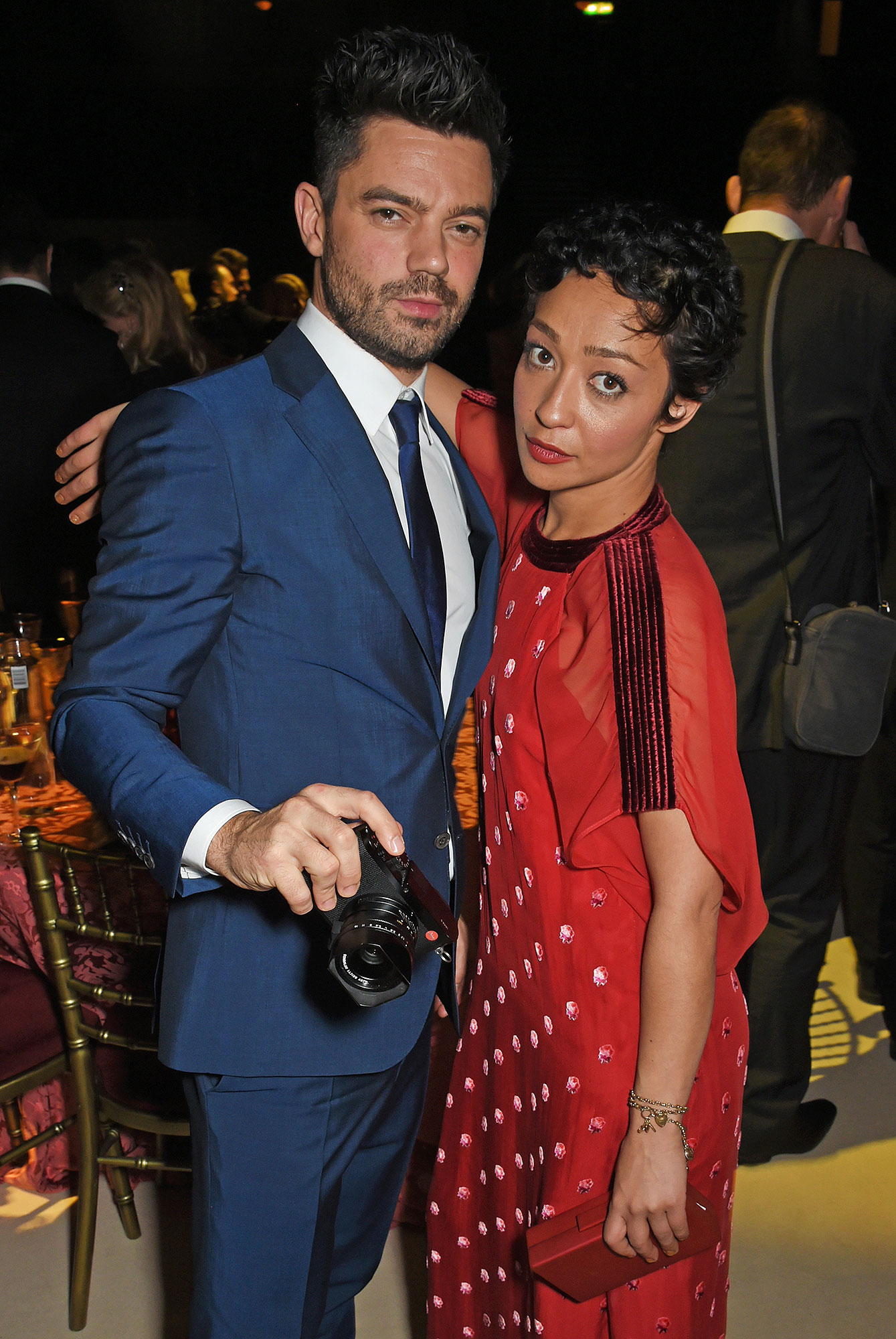 6. Christine Baranski & Matthew Cowles
Most people probably know Christine Baranski for her role in The Good Wife, but she also stars in the Mamma Mia franchise as Tanya Chesham-Leigh, one of Donna's closest friends.
[adunit mobile="RTK_dVa8″]
In reality, Baranski was married to fellow actor Matthew Cowles for over thirty years before his tragic death in 2014. Cowles passed away unexpectedly at the age of 69 and the cause of death was attributed to congenitive heart failure. Baranski naturally described 2014 as a 'difficult year' for her but found a lot of comfort in returning back to work.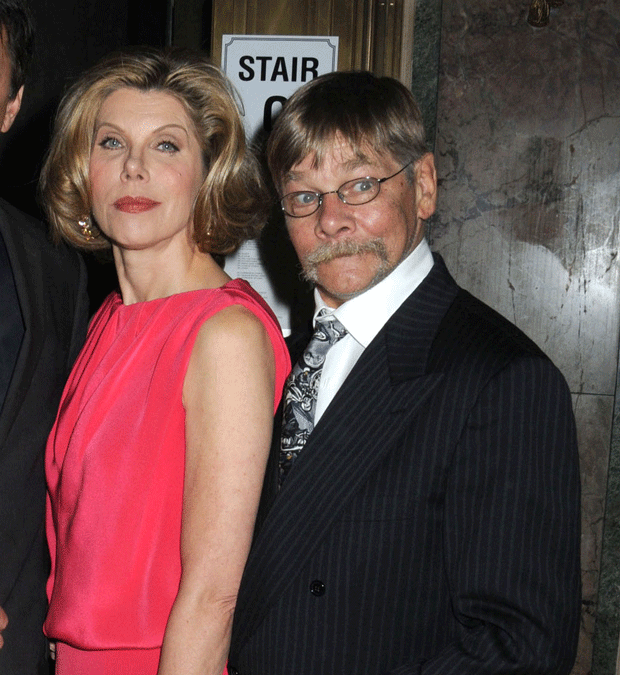 [adunit mobile="RTK_wCZW"]
"A few months after Matthew passed away, I had to be back in front of a camera — but it helped to be with my community of people. They all knew and loved me, so going back to work was good." Aw! It's nice to know that there was such a strong bond between the cast mates during the filming of Mamma Mia!.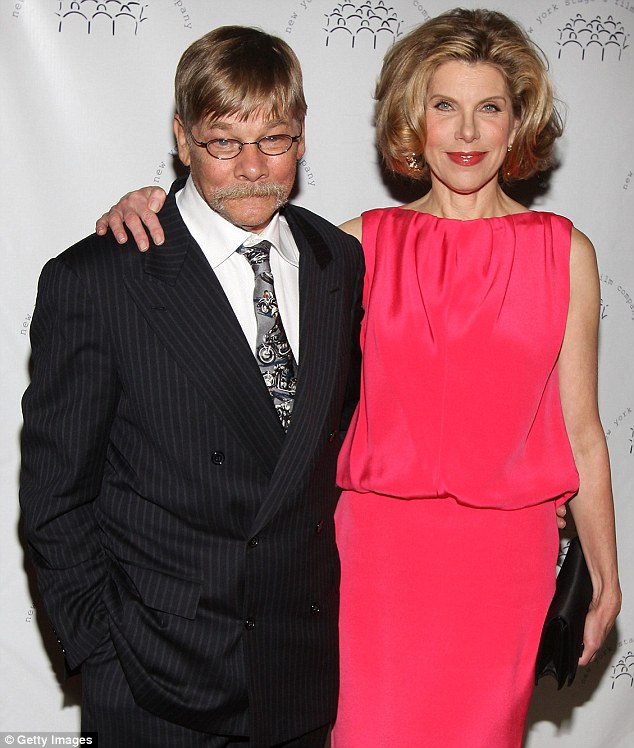 [adunit mobile="RTK_z9hm"]
Baranski and Cowles first met in the early 80s on the set of a play, and Baranski has previously confessed that she was immediately attracted to the long-haired 'black sheep' Cowles. He offered to drive her home on his motorbike, and they became a couple straightaway!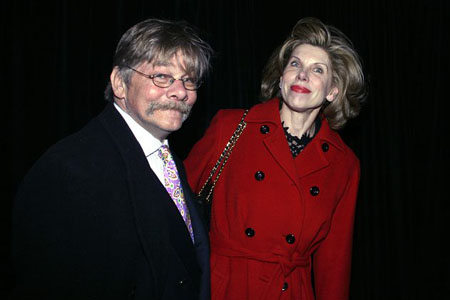 7. Colin Firth & Livia Giuggioli
Colin Firth was another surprise casting which somehow managed to work!
[adunit mobile="RTK_dVa8″]
Firth played the role of Harry Bright, an English banker and yet another of Sophie's potential fathers. In reality, the actor has arguably suffered some messy relationship drama of his own in recent years. Firth married Livia Giuggioli in 1997 and the couple have two sons together.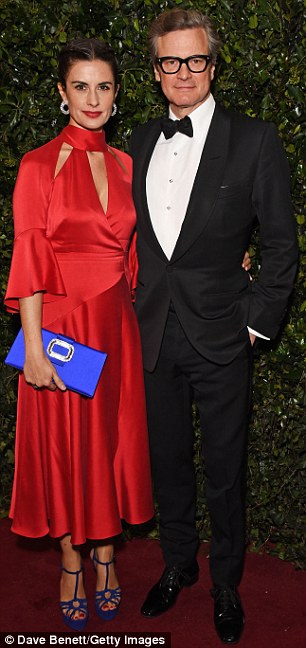 [adunit mobile="RTK_wCZW"]
However, things weren't as rosy as they seemed on the outside, because in 2015 it was revealed that the pair had decided to separate a few years earlier when Livia got involved with her longtime friend Marco Brancaccia. They were forced to release details of the fling to the press because Brancaccia had recently been arrested for stalking Livia.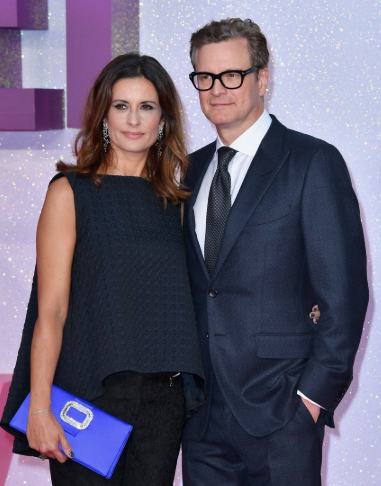 [adunit mobile="RTK_z9hm"]
Apparently Brancaccia couldn't deal with the fact that Livia and Colin had decided to patch things up: "The Firths have since reunited," a rep for the couple told E! News. "Subsequently, Mr Brancaccia carried out a frightening campaign of harassment over several months, much of which is documented." Yikes…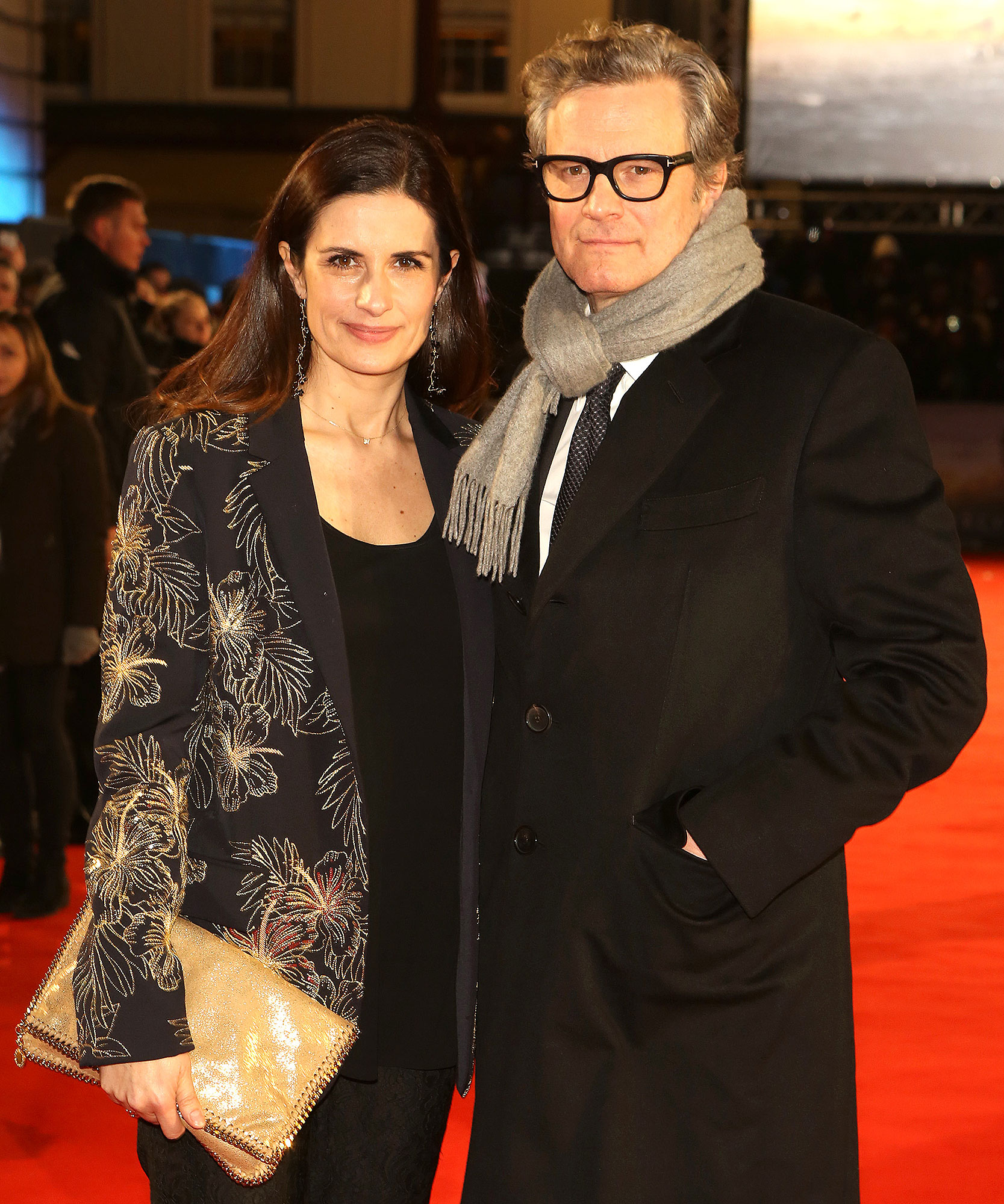 8. Julie Walters & Grant Roffey
Julie Walters gave a memorable turn in the all-singing, all-dancing musical film as Rosie Mulligan, the fun-loving friend of Donna whose head is turned by Bill.
[adunit mobile="RTK_dVa8″]
Away from the cameras, fans of the actress might not realise that Walters is in fact happily married to Grant Roffey, a former AA patrolman who keeps her grounded in the world of show business. Walters had a serious relationship with actor Pete Postlethwaite before meeting Grant in 1985.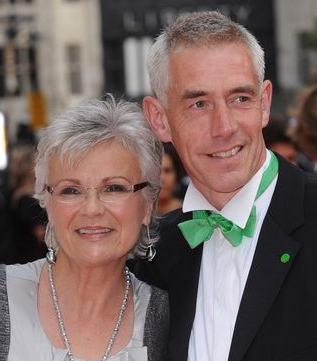 [adunit mobile="RTK_wCZW"]
She was drunk in a bar in Fulham and shouted: 'I bet there's nobody in here that votes Labour, is there?' Grant turned around and said that he did, and they ended up going home together! They haven't left each other's side since. They have a daughter, Maisie, together and ended up getting married in 1997; the couple now live a bohemian lifestyle on an organic farm in Sussex.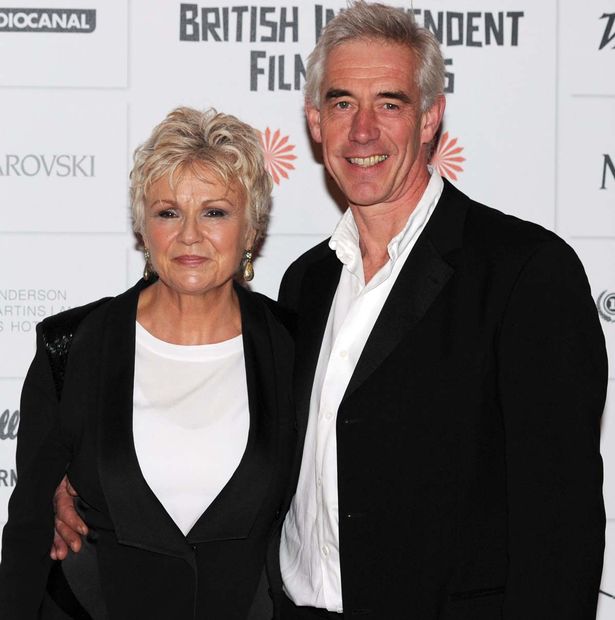 [adunit mobile="RTK_z9hm"]
When asked whether Grant resented her success as an actress, Walters replied: 'No, he's always been completely supportive. And gradually he's built a proper business (an organic farm in Sussex) and made a success of it. We have been able to support each other's dreams.'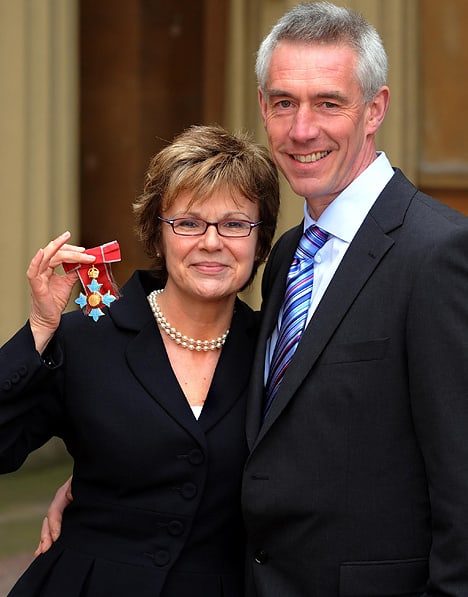 9. Stellan Skarsgård & Megan Everett
Stellan Skarsgård is the patriarch of the famous Skarsgård family of actors.
[adunit mobile="RTK_dVa8″]
He hails from Sweden and has played some meaty roles in Hollywood over the years, starring in films such as Good Will Hunting and The Hunt For Red October. However, he was cast as the Swedish adventurer and writer Bill Anderson in Mamma Mia! and nailed his role as the exotic third father figure.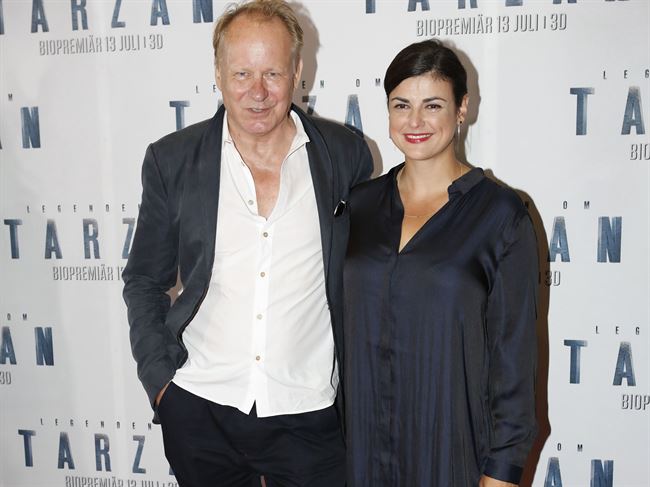 [adunit mobile="RTK_wCZW"]
In reality, Skarsgård is used to being a dad and thankfully for his kids, he definitely knows who the mothers are. The actor is currently married to Megan Everett and the couple share two children together. They've been an item since 2009 and luckily for Skarsgaård, Everett gets on really well with his ex-wife My and the six(!) kids they had together in the 80s and 90s.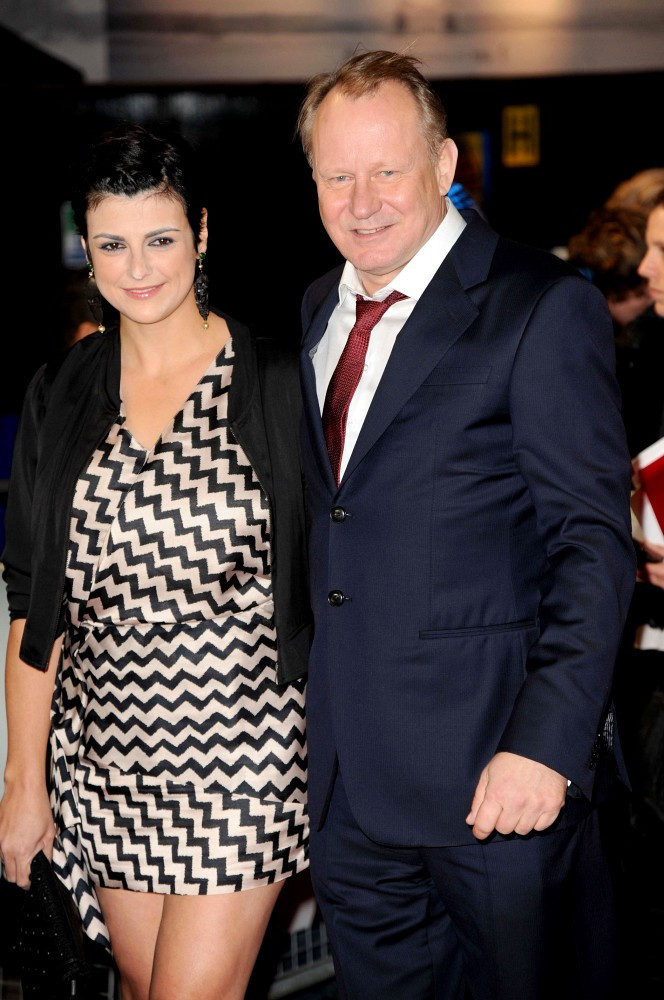 [adunit mobile="RTK_z9hm"]
Yep, Skarsgaård is a father of eight and still maintains a friendly relationship with his ex wife of over thirty years. In an interview with the Irish Times, the actor revealed that they all love to get together on set: "When I was shooting in Italy, we rented a house and we had 43 Swedes in one place. I'd come home after working for 15 hours and there was always a party going on. I'd have a drink for five minutes and then go to bed. This way everybody is happy and you don't feel guilty."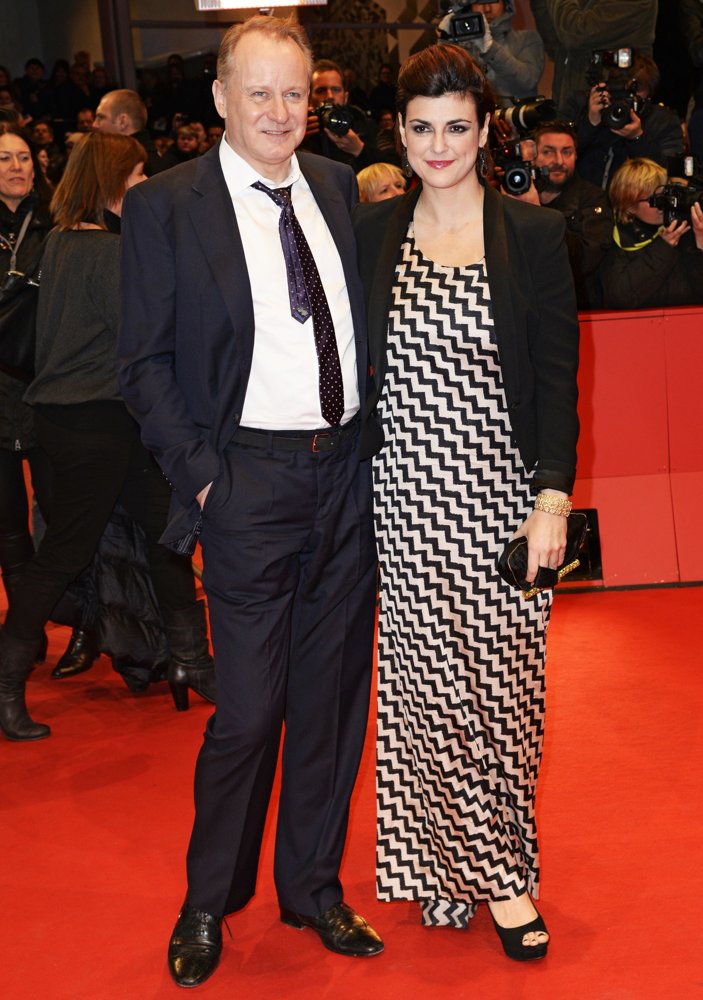 10. Rita Wilson & Tom Hanks
Usually it's Rita accompanying Tom on the red carpet to one of his many award-winning film premieres.
[adunit mobile="RTK_dVa8″]
However, in 2018 Tom was playing second fiddle to his talented wife Rita Wilson. Both actors were executive producers on the first Mamma Mia! movie, and they loved it so much that Tom's production company, Playtone, stepped in to produce the second instalment.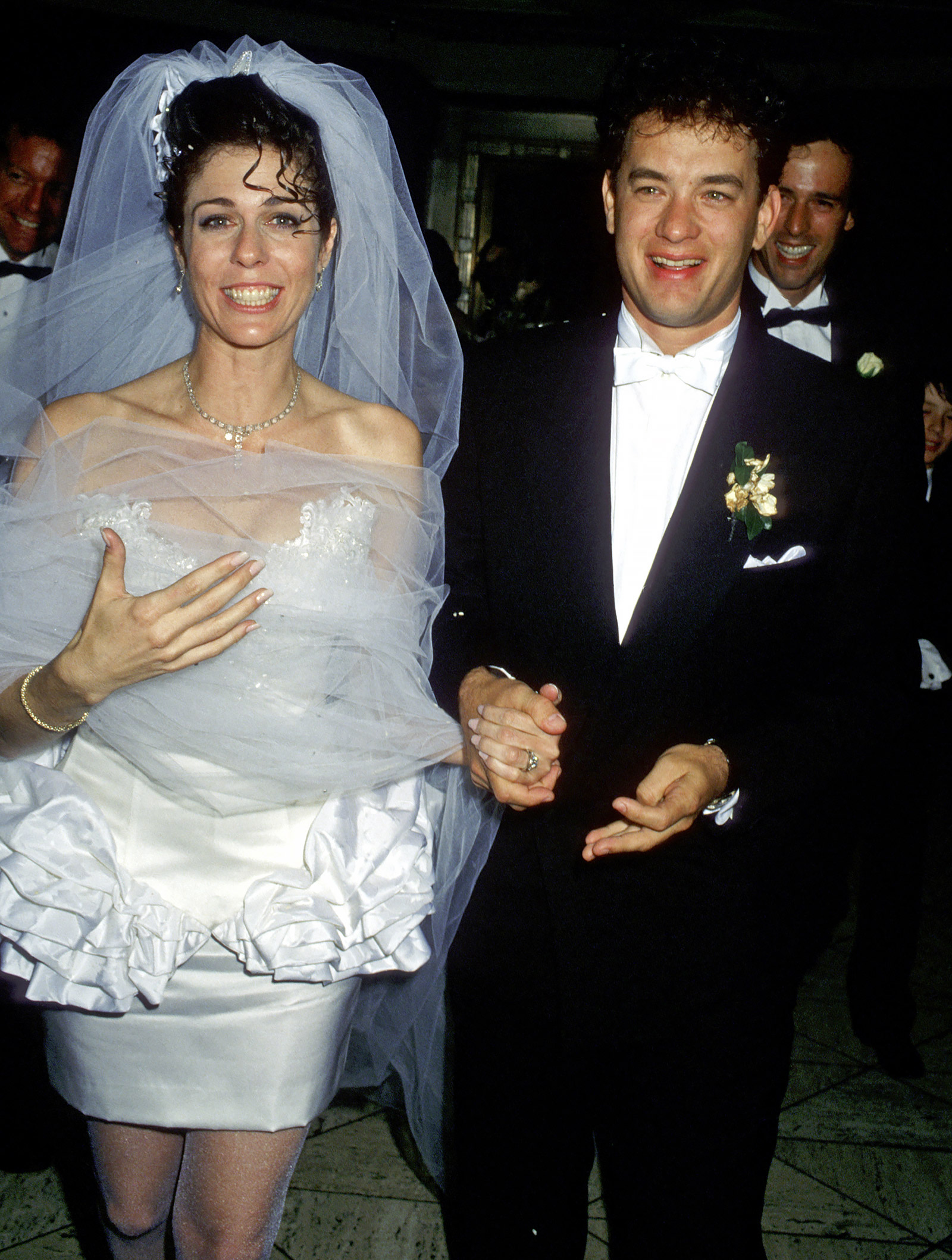 [adunit mobile="RTK_wCZW"]
Rita had a brief cameo in the film as a Greek goddess – eagle-eyed viewers will have spotted her during the closing credits sequence. Away from the camera, she and Tom have enjoyed a solid marriage for over thirty years. They actually met on the set of a film entitled Volunteers in 1985 and according to Hanks, it was love at first sight.
[adunit mobile="RTK_z9hm"]
"Rita and I just looked at each other and — kaboing — that was that," the actor once told GQ. "I asked Rita if it was the real thing for her, and it just couldn't be denied." So cute!
11. Lily James & Matt Smith
Lily James and Matt Smith are definitely one to watch…
[adunit mobile="RTK_dVa8″]
They're not married yet, but rumours of an engagement have been swirling for months. Lily was given the daunting task of playing a young Donna in the second instalment of Mamma Mia!, taking over the mantle from Meryl Streep (who only appears briefly in the second film).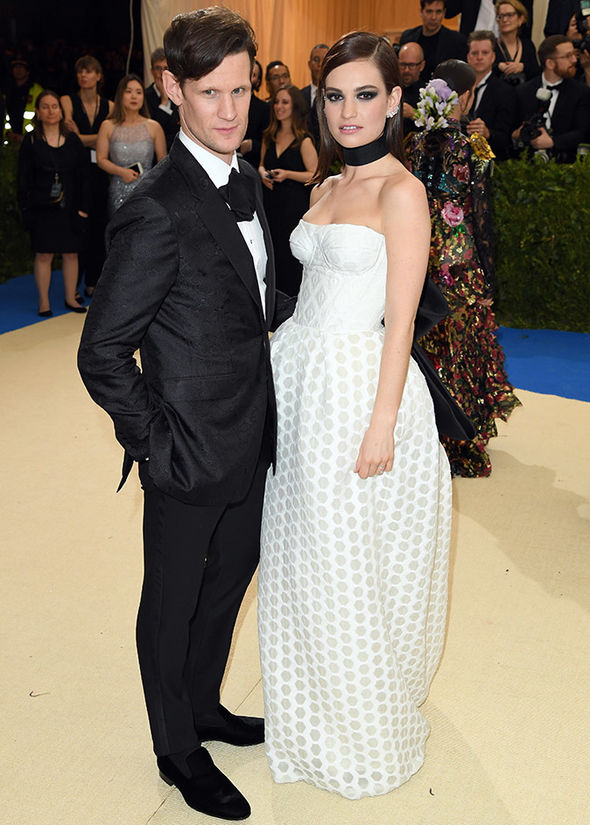 [adunit mobile="RTK_wCZW"]
Lily rose to the occasion and played young Donna to perfection, meaning that viewers got a fascinating insight into how and why the central character was unable to decide who Sophie's father was. Lily dated fellow actor Jack Fox for a short while but it was Dr Who star Matt Smith who really caught her attention.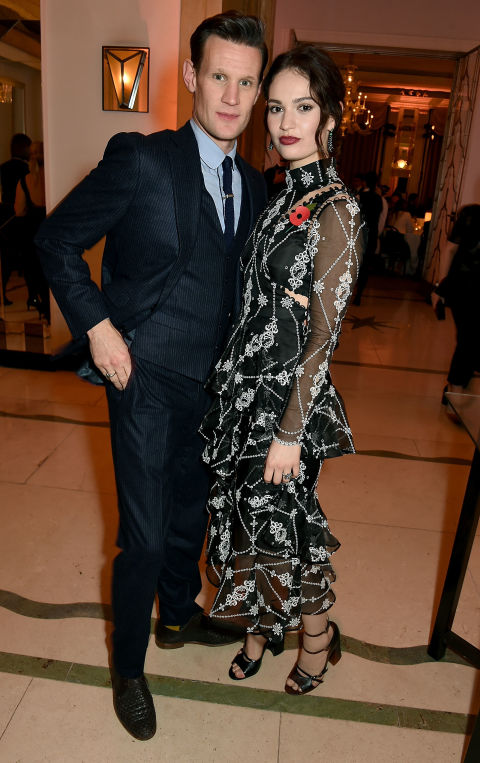 [adunit mobile="RTK_z9hm"]
They've been together since 2014 and caused a stir earlier this year when Lily was pictured wearing a massive sparkler on her finger at the 2018 BAFTA awards. Turns out it wasn't an engagement ring, but we've got a feeling they'll be making a special announcement soon – Matt recently revealed that he wants to have lots of children, and Lily quite likes the idea too apparently!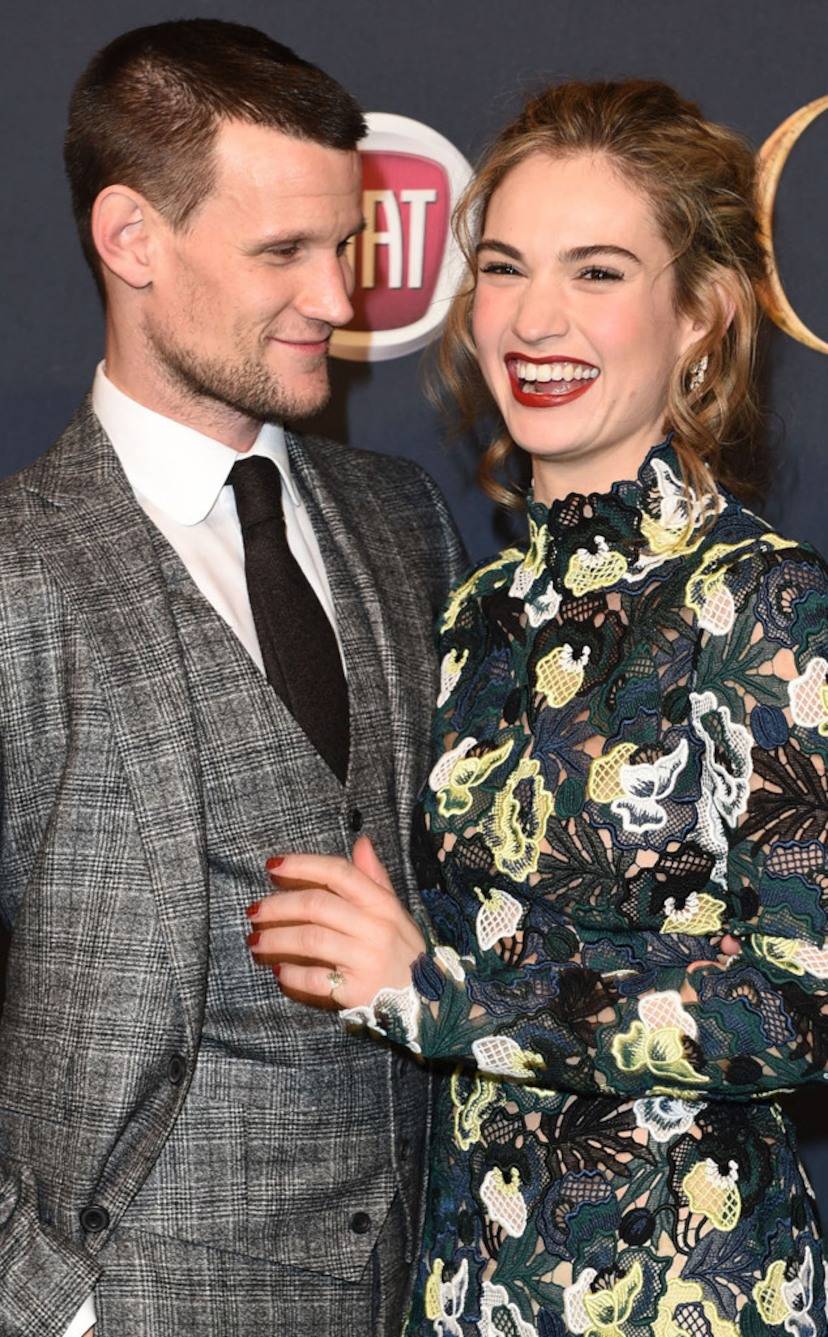 12. Cher & Gregg Allman
Veteran singer and actress Cher made a highly-publicised cameo in Mamma Mia 2 as Ruby Sheridan, Donna's mother and Sophie's glamorous grandmother.
[adunit mobile="RTK_dVa8″]
In reality, Cher has had a string of high-profile loves, including a one-night stand with Warren Beatty (who hasn't?) and relationships with Val Kilmer and Richie Sambora. She even claims to have had a brief night of passion with Tom Cruise, whom she later labelled one of her top five lovers!
[adunit mobile="RTK_wCZW"]
However, she had a fiery relationship with Southern Rock pioneer Greg Allman – in the space of two years between 1975 and 1977, the couple met, got married, divorced, remarried and then had a son together! The musical duo even made an album together entitled Two the Hard Way before splitting for good in the seventies.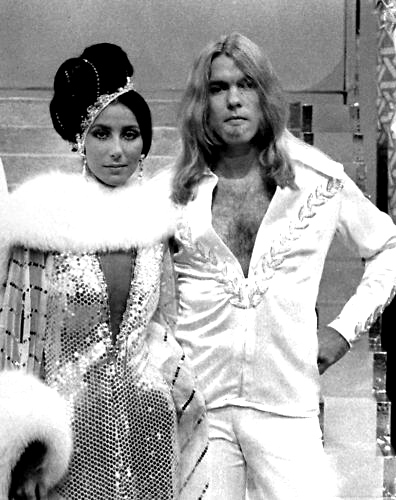 [adunit mobile="RTK_z9hm"]
Rumour has it that Cher divorced Greg due to his drug addiction, which was driving a wedge between them. However, she clearly didn't hold it against him and tweeted her sadness at his recent passing in 2017. Cher also once stated about her long list of ex-lovers: "I enjoyed them all."
13. Cher & Sonny Bono
Cher's most famous marriage was to Sonny Bono from 1964 to 1975.
[adunit mobile="RTK_dVa8″]
The couple launched their careers as the musical duo Sonny & Cher, with Sonny writing many of their hit singles including 'I Got You Babe' and 'The Beat Goes On'. They even starred in a popular variety show in the 70s called The Sonny and Cher Comedy Hour.
[adunit mobile="RTK_wCZW"]
He and Cher had a daughter together, Chastity (who has now transitioned to a man named Chaz). Despite the fact that they split in 1975 and immediately went on to marry other people, the pair remained friends and Cher even gave the eulogy at his funeral in 1998.
[adunit mobile="RTK_z9hm"]
However, things haven't always been rosy for the pair – in 2010 Cher revealed that her marriage to Sonny had been less than perfect, with the songwriter treating her 'more like a golden goose than a wife'.
14. Jeremy Irvine & Jodie Spencer
Jeremy Irvine appears in the second Mamma Mia! film as a younger version of Pierce Brosnan's character Sam Carmichael.
[adunit mobile="RTK_dVa8″]
Fans of the series instantly fell in love with the hunky actor Irvine and despite the fact that his fame has catapulted in recent months, he's kept his feet firmly on the ground. A lot of that might have to do with his current girlfriend, who isn't in show business herself.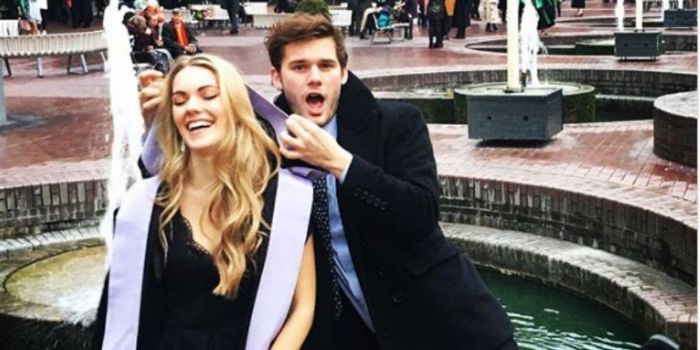 [adunit mobile="RTK_wCZW"]
Irvine is 28 years old and is currently dating Jodie Spencer, a midwife who has supported him on the promotional trail for Mamma Mia!
The couple were recently pictured enjoying a break in Positano, Italy whilst Irvine has been busy promoting the musical extravaganza.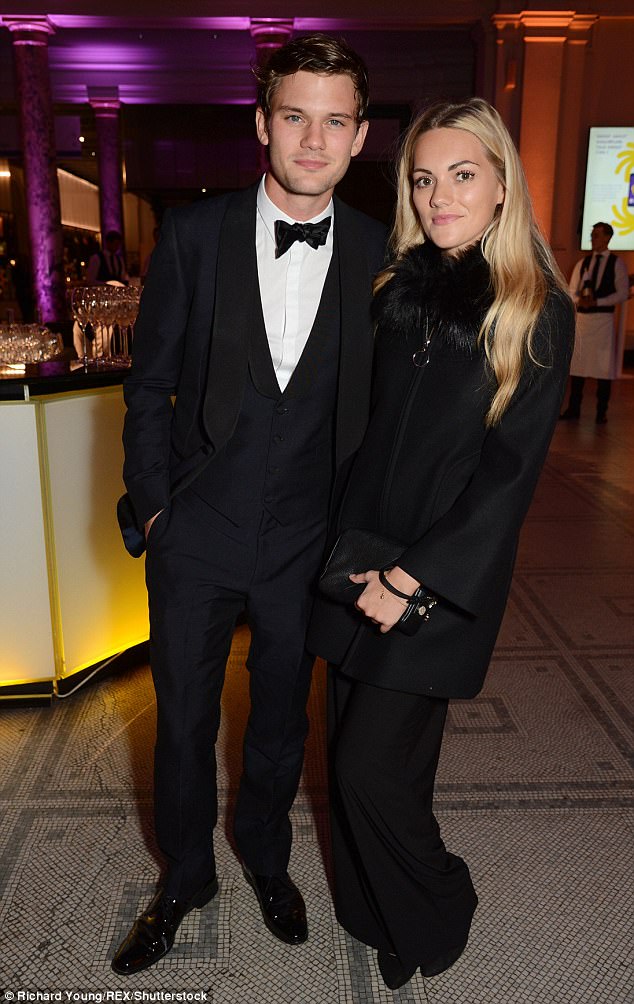 [adunit mobile="RTK_z9hm"]
Despite the fact that he's clearly in a loving relationship, fans of the actor will be interested to learn that Irvine still doesn't think he's very good at the whole dating scene.
He once explained: "I find it as difficult as I always did."
Luckily it seems as though he and Jodie are very happy together at the moment!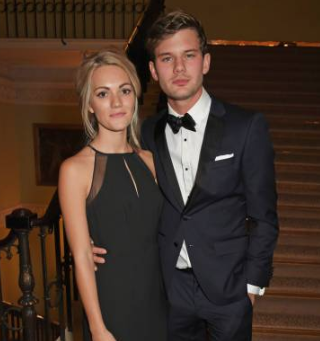 15. Andy Garcia & Marivi Lorido Garcia
Veteran actor Andy Garcia appeared in 2018's Mamma Mia: Here We Go Again as Fernando (guess which Abba song he was named after?).
[adunit mobile="RTK_dVa8″]
Producers realised that they had managed to include all of their favourite ABBA songs into the second film – all except Fernando. Cue the entrance of Garcia as the brooding hotel manager Fernando, who it's revealed once enjoyed an affair with Ruby, Donna's mum.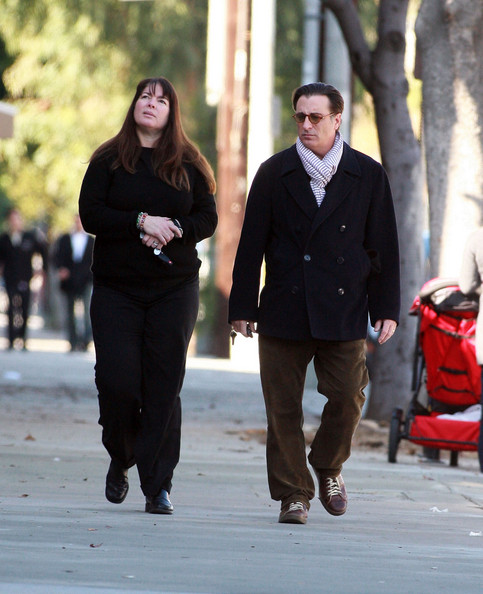 [adunit mobile="RTK_wCZW"]
Away from the cameras, Garcia has had a better time of things than his on-screen counterpart Fernando. The actor has been married to his wife Marivi since 1982, and the couple have four children together. Apparently the pair met in college and dated for seven years before tying the knot and finding their happily ever after.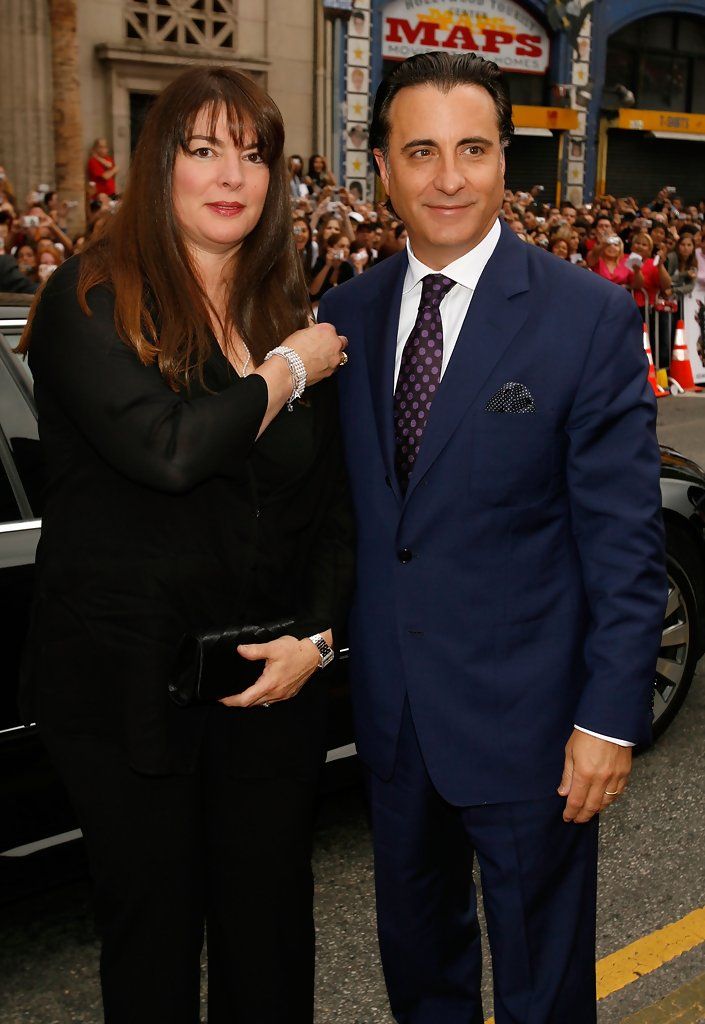 [adunit mobile="RTK_z9hm"]
Since having children Andy has prioritised his family whilst managing to keep his wife and kids firmly out of the public eye. However, now that they're getting older, his children are starting to become more and more interested in acting, so it probably won't be long before we see the next generation of Garcias in a blockbuster film.
16. Meryl Streep & John Cazale
Before Meryl got married to Don Gummer, she was deeply in love with actor John Cazale.
[adunit mobile="RTK_dVa8″]
Cazale is probably best known today for his iconic performance as Fredo Corleone in The Godfather series. The couple met when Cazale was a big-name actor and Streep's career was only just taking off – they worked together on a production of 'Measure for Measure' and fell head over heels in love.
[adunit mobile="RTK_wCZW"]
They moved in together and Cazale promised Streep that they would get married when they got their big break. The couple didn't have to wait long because they were cast together in The Deer Hunter. However, things took a tragic turn when Cazale was diagnosed with terminal cancer – producers tried to get him removed from the film as a result, but both Streep and the director threatened to walk.
[adunit mobile="RTK_z9hm"]
Streep nursed Cazale through his illness and even moved into the hospital he was staying in to be by his side. Co-star Robert de Niro famously noted how devoted Streep was to her partner: "I've hardly ever seen a person so devoted to someone who is falling away like John was. To see her in that act of love for this man was overwhelming."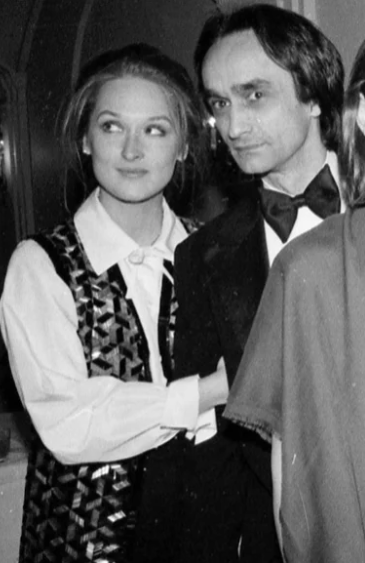 17. Amanda Seyfried & Justin Long
Amanda has had a string of high-profile romances, and one of her lengthier relationships was with fellow actor Justin Long.
[adunit mobile="RTK_dVa8″]
The couple first got together in 2013 and were together for over two years, before things came to an end.
Long was reportedly devastated at the split after previously stating that they were 'in it for the long haul' in a TV interview.
[adunit mobile="RTK_wCZW"]
Sadly the relationship ended in 2017 after the couple hit a rocky patch and couldn't find a way to make things work. One source revealed to the Daily Mail that 'They had different schedules and different lives. They just grew apart.' The writing was on the wall for Long and Seyfried after the actress spoke to Vogue magazine about how demanding life on the set of a film can be.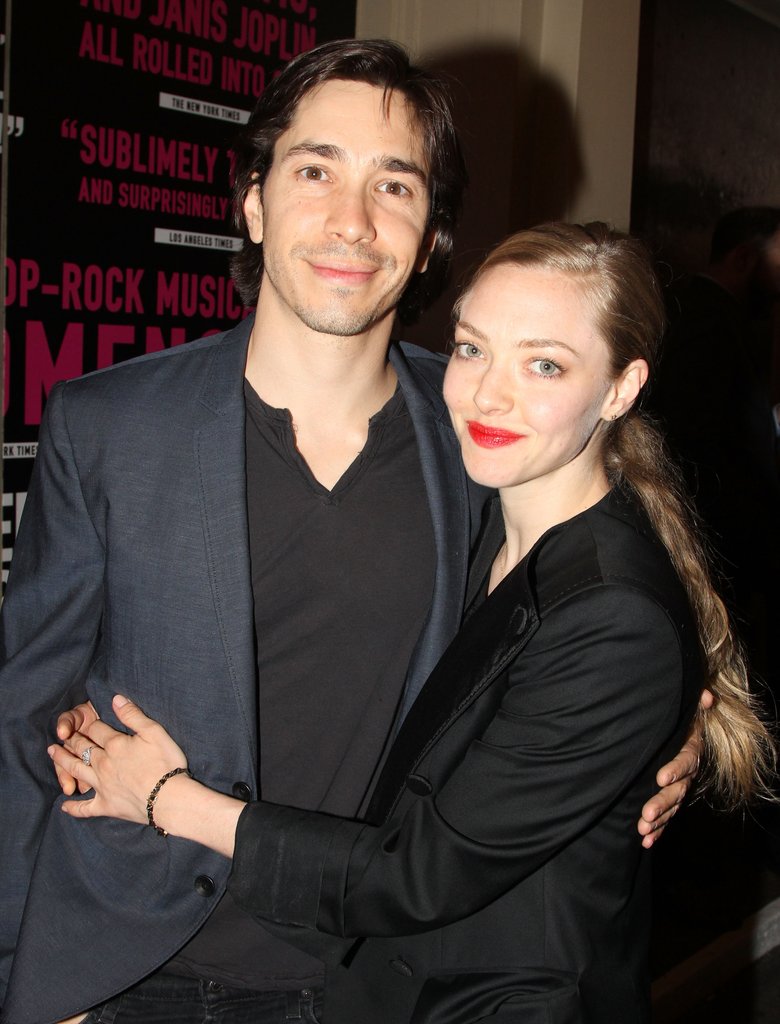 [adunit mobile="RTK_z9hm"]
She previously stated : 'Making movies is two solid months of 12-, 14-hour days. I mean, it can ruin your relationship.' Sadly Seyfried and Long couldn't deal with the pressure and both actors moved out of the NYC apartment they shared together.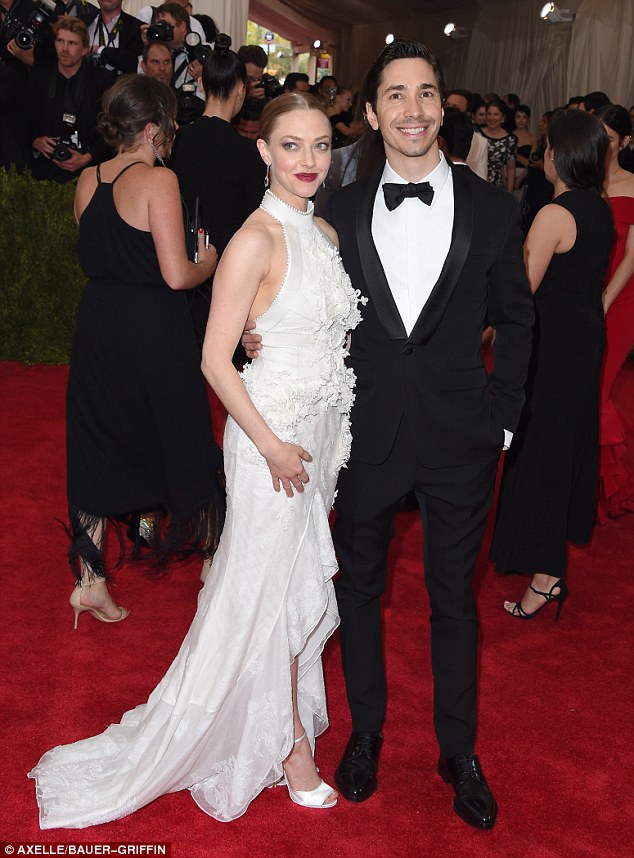 18. Jeremy Irvine & Ellie Goulding
[adunit mobile="RTK_dVa8″]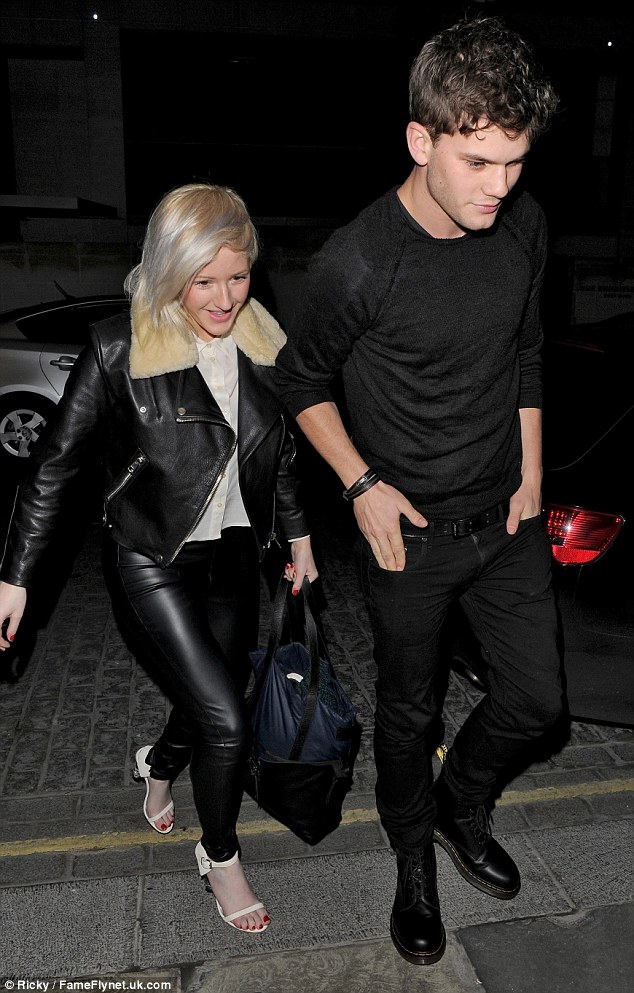 Jeremy Irvine might not think he's that good at dating, but he managed to bag himself a Grammy Award-nominated artist in the form of singer Ellie Goulding.
[adunit mobile="RTK_wCZW"]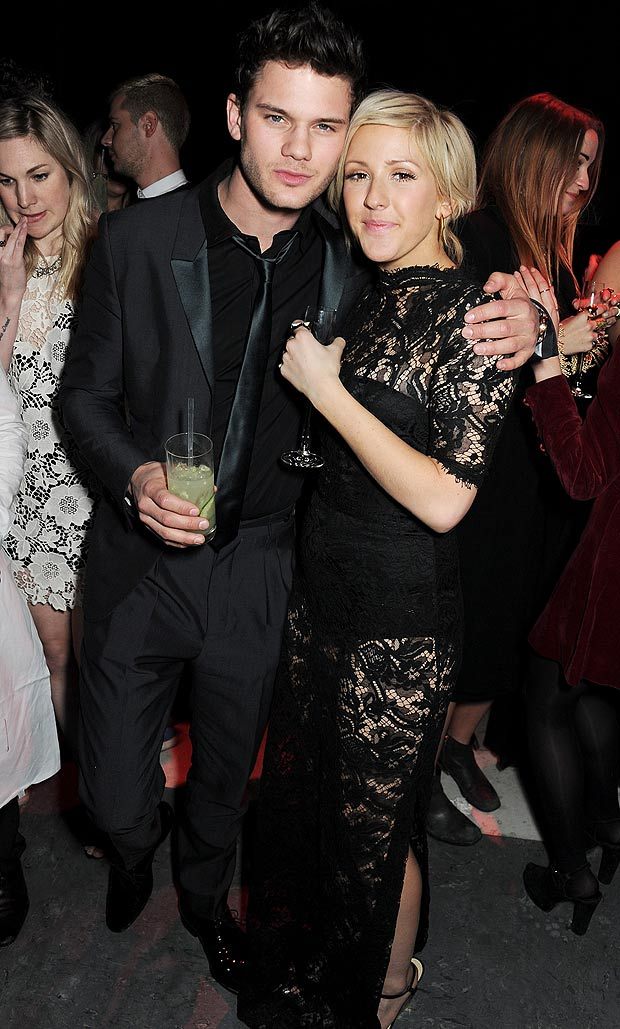 The celebrity couple were together for a year from 2013 to 2014, and were often seen out and about at various show biz events.
They even put in a memorable performance at the BRIT awards one year when they got a little too hot and heavy in front of their fellow guests!
[adunit mobile="RTK_z9hm"]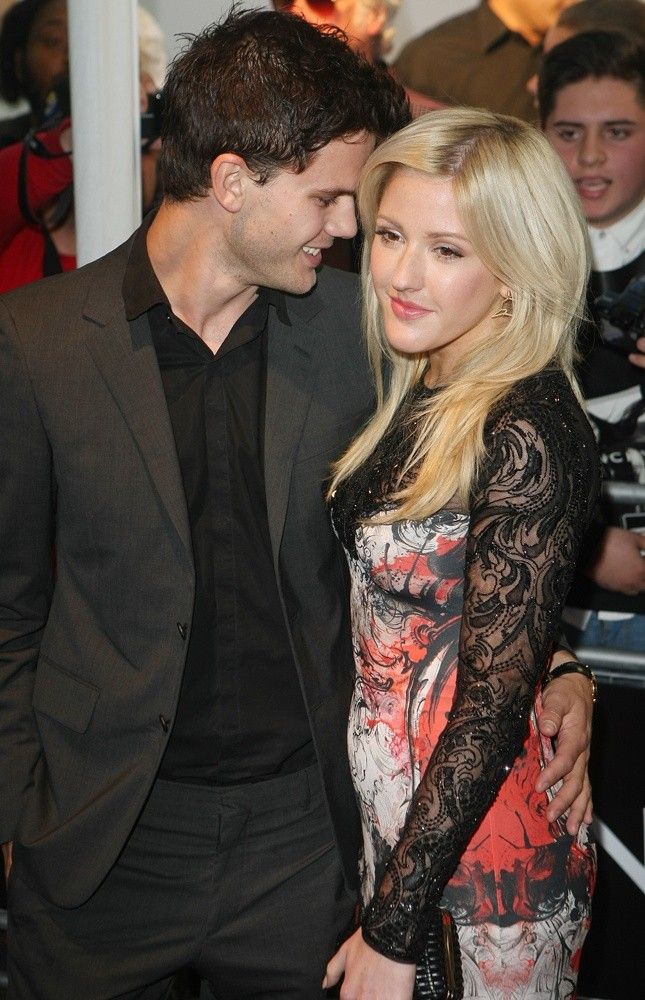 However, the spark didn't last forever and the couple eventually split in 2014 after things fizzled out.
19. Pierce Brosnan & Cassandra Harris
Before his lengthy marriage to Keely, as a young man Brosnan was married to Aussie actress Cassandra Harris.
[adunit mobile="RTK_dVa8″]
The couple met in the mid 70s when Cassandra was a well-known TV actress and Pierce was barely on the acting radar.
They both stated that their relationship was pretty much love at first sight.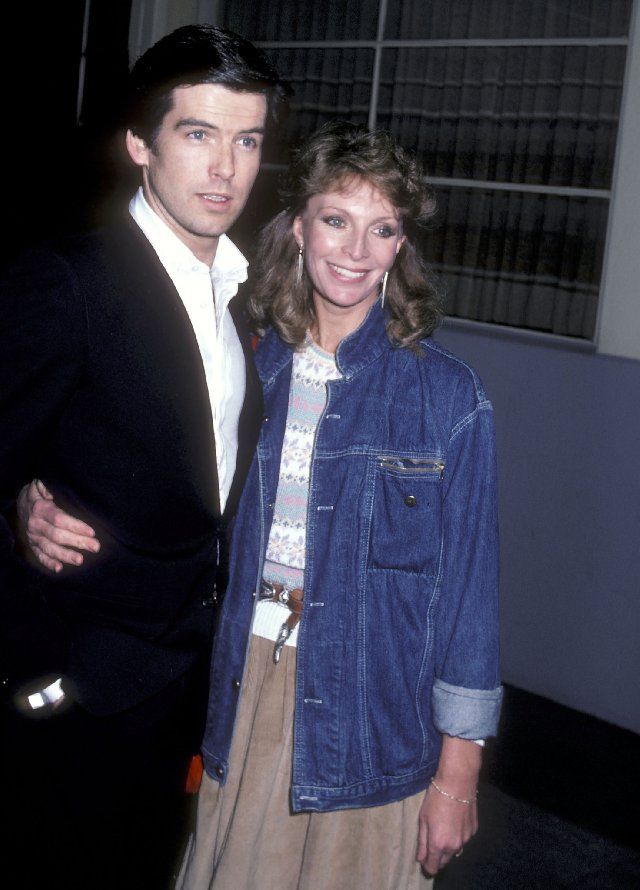 [adunit mobile="RTK_wCZW"]
Harris emphasised just how much they had in common with each other: 'once we started talking, we never stopped', whilst Brosnan said he had been 'totally bowled over by this beauty'. Aw! They got hitched in 1980 and had a son together, with Brosnan even adopting Harris' two kids from a previous marriage when their father died.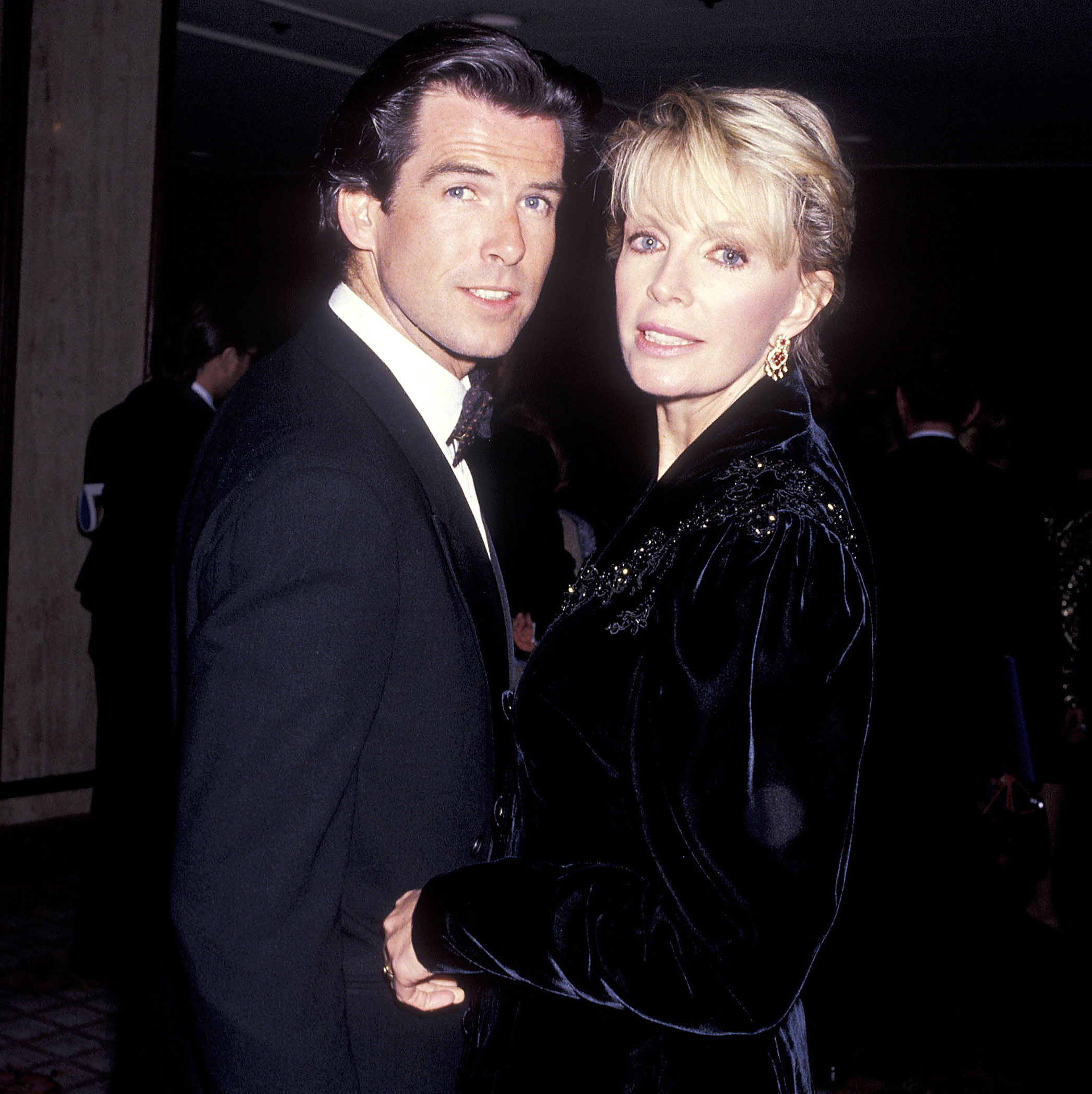 [adunit mobile="RTK_z9hm"]
However, their union tragically came to an end in 1991 after Cassandra lost a massive four-year battle with ovarian cancer at the age of 41. Their daughter Charlotte sadly passed away from the same disease in 2013 at the age of 41.
20. Colin Firth & Meg Tilly
Colin Firth met Meg Tilly in the late 80s when Tilly was at the peak of her fame and Firth was virtually unknown.
[adunit mobile="RTK_dVa8″]
They fell head over heels in love with one another and decided to raise a family in the depths of Canada's secluded countryside.
[adunit mobile="RTK_wCZW"]
However, things didn't last and instead after five years together, he and Meg split up with Colin moving back to England to pursue his acting career. He instantly became a star, which Tilly has recently revealed she always knew would happen: "I always knew he was so talented. I think that's part of why I fell in love with him. I just knew he was talented and the rest of the world didn't."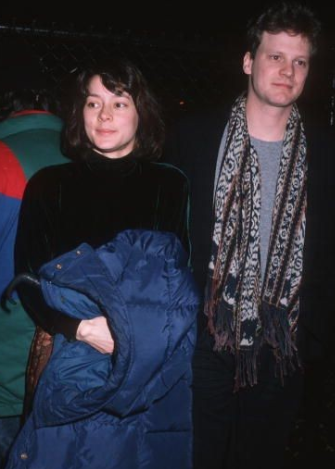 [adunit mobile="RTK_z9hm"]
The ex-couple are still on friendly terms as they co-parent their son Will together: "We're so proud of him. He's a wonderful actor and he's a wonderful man. He's been a good father to Will, his son, but he's also stayed very present in my other two children's lives, Emily and David. He's showed up for graduations, births of babies. He's a sweetheart."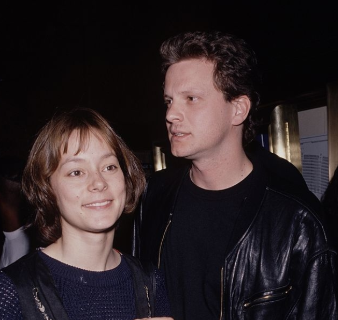 21. Omid Djalili & Annabel Djalili
British comedian Omid Djalili has a habit of popping up in blockbuster movies!
[adunit mobile="RTK_dVa8″]
The same applies to his hilarious cameo in the second Mamma Mia film.
Fans of the movie will probably remember that Djalili plays a Greek customs officer who is checking everyone's passports during the end credits.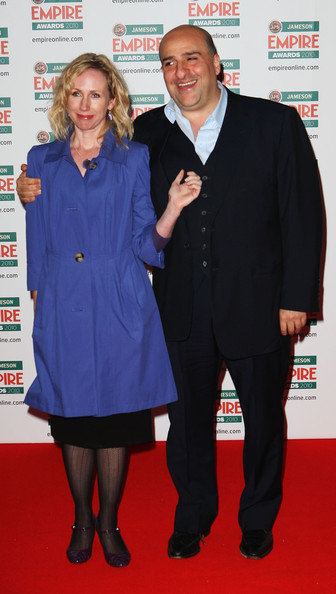 [adunit mobile="RTK_wCZW"]
He even has the final singing number of the film, when he reveals that he's gay before breaking into song!
In reality Djalili has been happily married to his wife Annabel since 1992.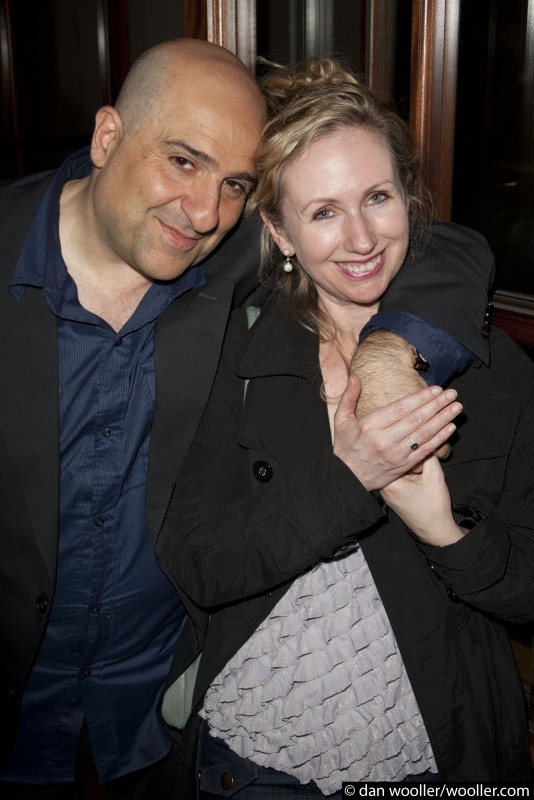 [adunit mobile="RTK_z9hm"]
The couple live in London and have three children together.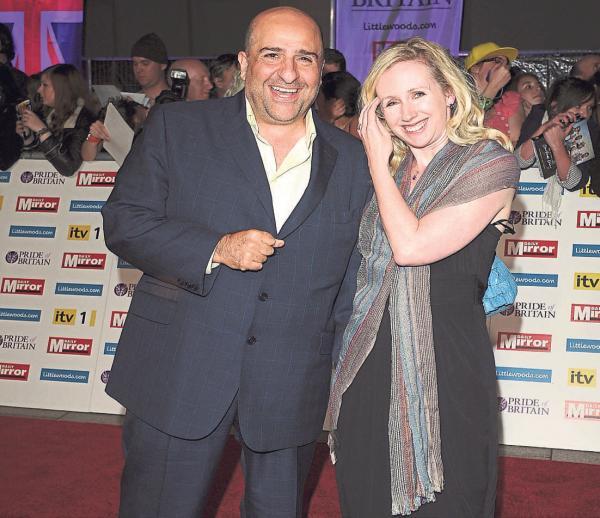 Were you aware of all of these real life partners? Are you a Mamma Mia fan? Let us know in the comments section below!