Only Fools and Horses, the hit BBC sitcom that originally ran from 1981 to 2003, is making a comeback – but not in the way you might expect.
After a 15-year television hiatus, Only Fools will make its return on the West End next year.
Only Fools and Horses: The Musical has been in development for the last five years and is set to make its debut in February.
Paul Whitehouse, of Fast Show fame, has written the script for the comedy musical along with Jim Sullivan, son of the late Only Fools creator John Sullivan.
The show will feature 20 original songs, including some written by the late Chas Hodges of rockney duo Chas and Dave. As well as writing, Whitehouse will star as Grandad, while PhoneShop actor Tom Bennett will play Del Boy.
Set in Peckham in 1989, Only Fools and Horses: The Musical will see Del looking for love, Rodney gearing up to marry Cassandra and Grandad 'taking stock' of his life.
Only Fools and Horses: The Musical will play from February 9 at Theatre Royal Haymarket, London.
One of the most famous British sitcoms of all time, Only Fools and Horses for more than 22 years followed the exploits of Del Boy, a resourceful market trader, and younger brother Rodney. At the peak of its popularity, the show drew in millions of viewers each week, and in 1996 gained a record 24.3 million viewers for its Christmas special.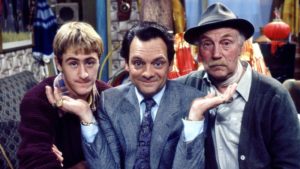 David Jason and Nicholas Lyndhurst played the two lads from Peckham, who initially lived with their Grandad (Lennard Pearce) in a grotty old flat in Nelson Mandela House. After Pearce's death in 1984, Grandad was replaced by the loveable Uncle Albert (Buster Merryfield), and the cast eventually widened to include Del and Rodney's love interests, Raquel (Tessa Peake-Jones) and Cassandra (Gwyneth Strong).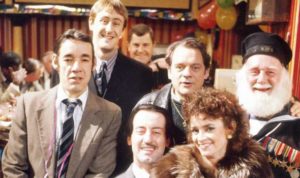 Let's take a look back at everybody's favourite sitcom with 22 fascinating facts you might not have known about Only Fools and Horses!
22. The show should have ended in 1986
Fans of the series might not realise that Only Fools and Horses was initially set to come to an end in 1986, only five years after it started.
The famous trio very nearly came to an abrupt end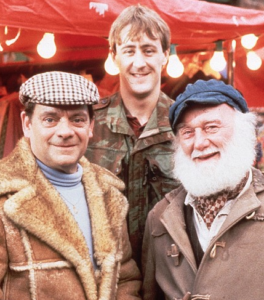 Once Del Boy left, the show was set to change drastically. David Jason said he wanted to leave the show and so his character Del Boy initially decided to leave for Australia with his friend Jumbo Mills.
Without Jason, the programme was to become known as "Hot Rod" and would have revolved around Rodney as the main character instead of Del Boy.
Would "Hot Rod" have been a success?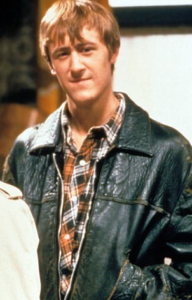 In the end Jason had a complete change of heart and decided to stay on in the iconic role, meaning that the programme was saved from becoming a Rodney spin-off.
Only Fools and Horses actually ran for another 17 years after Jason made the decision to stay, so it's a good thing he was persuaded not to leave the iconic role.
Imagine if Jason had really left the series…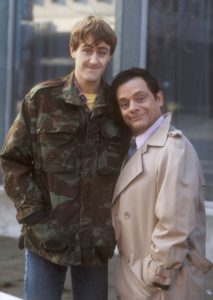 The writers managed to fit Jason's decision to stay into the storyline by including a scene where Del makes a conscious decision to stay in the UK rather than follow Jumbo to Australia.
21. Peckham wasn't really Peckham
The cost of insurance for filming in Peckham was simply too high for producers, meaning that the outdoor scenes for Only Fools and Horses were filmed in Bristol instead.
Peckham was simply too expensive to film any outdoor scenes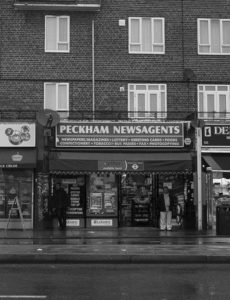 Although the later series used outside locations in Bristol the early series and the pictures of the tower blocks in the opening credits are of the South Acton estate.
That's right – the iconic buildings which always feature at the start of the programme aren't actually located in London at all.
The tower blocks always feature in the opening credits of the show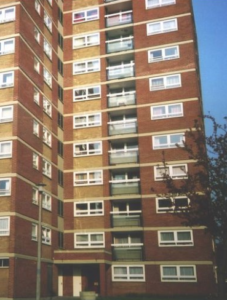 Whilst filming costs were too high for the production team to shoot scenes in Peckham, there was actually another reason why Only Fools And Horses moved its outdoor scenes to Bristol.
The show's popularity meant that the cast were constantly being surrounded and asked for autographs which interrupted filming.
David Jason was always being hounded by fans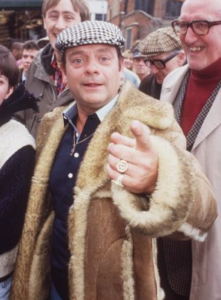 Instead the outdoor scenes were moved to Bristol, with red buses included in the background to give the exterior set more of a London feel
20. David Jason hated the location shoots
Lead actor David Jason revealed in his autobiography that he actually hated filming any of the location shoots, particularly ones that involved driving around in one of the motor homes.
The motor homes weren't great
Jason later recalled: "We sat in the back of a cheap second-hand motor-home, with the sink and the stove stripped out, and in their stead, a battered sofa, a knackered chair and a rack for your clothes."
The actor's recollections of those production motor-homes were still burned into his memory so vividly that he even recounted the horrible smell of the vehicles in his autobiography.
Jason didn't enjoy travelling to and from the outdoor sets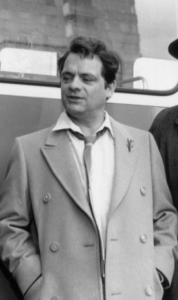 "The smell in the place was a heady mix of damp carpet, petrol fumes and the aroma of 10,000 previously smoked woodbine cigarettes.
"An underfunded housing project. The drivers of these motor-homes couldn't do anything because they were unionised and would have got into trouble if they did any work.
It doesn't sound all that 'cushty'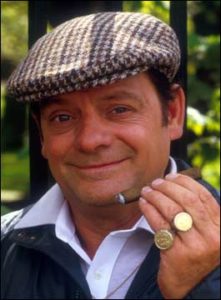 Driving them was a job I could never have done. I would have been banging my head against the windscreen in frustration after about 40 minutes." Luckily Jason and co-star Nicholas Lyndhurst shared a motor-home from the first season onwards and instantly struck up a rapport during the journey to and from Bristol.
19. Trigger had a real name
Trigger was a firm fan favourite and the odd-ball character provided plenty of comic relief over the course of the series.
Everybody loved Trigger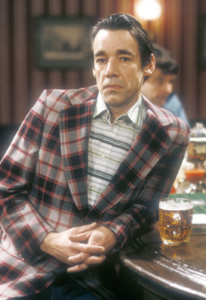 His friends down the pub always refer to him as Trigger, but in reality the character's name is actually Colin Ball.
We're pretty sure that not even the most diehard Only Fools and Horses fans would be able to recall Trigger's real full name!
He was never referred to as 'Colin'
The nickname is actually first explained in the pilot, when Del Boy states that Trigger earned his nickname because he 'looks like a horse'.
The nickname stuck and the character continued to be referred to as 'Trigger' for the entire duration of the long-running sitcom.
Poor Trigger had an unfortunate nickname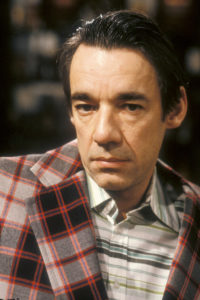 Trigger is actually the name of the protagonist's horse in the famous 1970 film A Man Called Horse starring Richard Harris.
18. Nicholas Lyndhurst and David Jason used to wind up 'Grandad' all the time
'Grandad' Trotter was played by English actor Lennard Pearce, who starred in the series for three years until his death in 1984.
Pearce was much loved by his fellow cast mates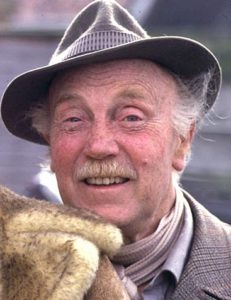 His fellow co-stars Lyndhurst and Jason used to love winding him up on set. The pair were thick as thieves and were known for their biting sense of humour with the other cast mates.
The pair often said that they were the 20 minute warm-up act for his one killer gag, implying that he was a lazy sod!
Luckily Pearce had an excellent sense of humour

However, apparently Pearce could hold his own and often turned to his age as an excuse for stealing all of the best gags.
After fifty years in the acting business, we're sure it wasn't the first time he had to deal with some cheeky co-stars winding him up.
He didn't let Nicholas and David get to him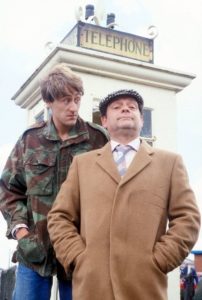 He would often reply to jibes from Lyndhurst and Jason about his mostly silent on-screen presence by responding "I'm old – I'm allowed"!
17. Buster Merryfield had an interesting career before joining the cast of Only Fools and Horses
Buster Merryfield joined the cast of the programme during the fourth series after Pearce's sudden death. He played the role of Uncle Albert, an ex-Navy man who loved telling stories about the action he saw during WWII.
Uncle Albert had a distinctive sense of style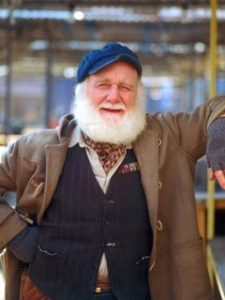 However, Merryfield had no prior acting experience before joining the series and had actually worked as a boxer and a bank manager with Natwest before reading for Only Fools and Horses.
As a result, Merryfield was extremely nervous during the first couple of weeks on the show and often had to re-record his scenes.
Merryfield was understandably jittery at first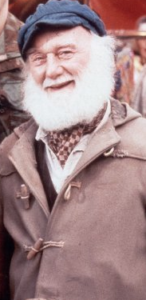 The pressure of re-shooting meant that Merryfield often forgot his lines, which started to make him fear he wouldn't last long in the role.
Eventually Jason and Lyndhurst sat their co-star down and offered him some friendly advice that would turn Merryfield's fortunes around.
The rookie actor was in good company
They both said that the trick is to make the audience think you don't care – if you relax then so does the audience and they feel like part of the joke. Merryfield's nerves immediately disappeared and he became the Uncle Albert we still know and love today.
16. The lads actually had more than one yellow van
The Trotters Independent Trading Van is one of the most iconic set pieces of all time, and at one time everyone who bought the Only Fools and Horses DVD box set probably owned a miniature version.
The iconic yellow van
However, although the van is almost as famous as the main characters themselves, during the filming of the show producers actually used several different vehicles to represent the iconic Trotters van.
That's right – nostalgic fans might like to think that it was always the same car in each series, but in fact several different vans were used during filming.
The famous Trotters slogan on the rear of the van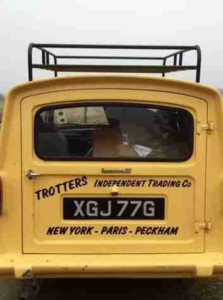 Rumour has it that over a dozen different Reliant Regal models were used during the filming of Only Fools And Horses.
The Reliant Regal was a regular sight on British road from the 1950s onwards – the distinctive three-wheeler was manufactured between 1953 and 1973.
Eighties kids will remember Reliant Regals on the road
Rather than one trusty van being used the whole way throughout the series, the props department had to find several different Reliant models and make sure that both the company logo and the 'New York – Paris – Peckham' writing were added in later.
15. The programme took a while to get popular
Despite the fact that it's now one of the most popular UK sitcoms of all time, Only Fools and Horses actually got off to a very slow start.
Not everybody loved the famous trio at first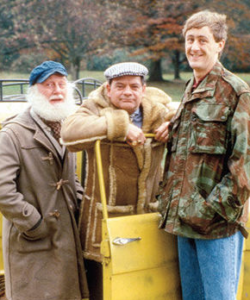 The first couple of seasons struggled to attract viewers and the programme's fortunes only began to take a turn during season four.
It was after this particular series that Only Fools began to rake in over 15 million viewers with each episode.
Soon Del Boy and co became television gold
Interestingly, fans of the show who first watched it in the 80s may well remember that television back then looked very different to how it does today.
Netflix and other streaming services didn't exist, plus there was no such thing as cable television with hundreds of channels to choose from.
It became one of the most iconic sitcoms in UK television history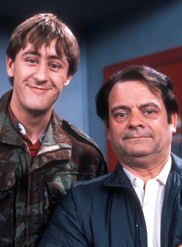 When Only Fools and Horses first aired in 1981, there were only three channels on TV and no such thing as home computers for people to stream programmes online.
14. Jim Broadbent was first choice to play Del Boy
Believe it or not, Oscar-winning actor Jim Broadbent was first in the running to play everyone's favourite wheeler-dealer.
Broadbent was first in line to play Del Boy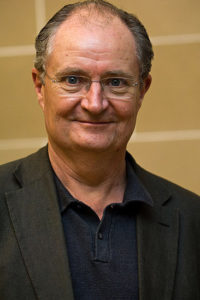 Broadbent was unavailable to play the role due to a scheduling conflict and instead David Jason famously earned himself top billing.
However, Jason had actually been third choice behind Broadbent and Enn Reitel, who turned down the role because he was unavailable.
Luckily he had a recurring role in the series
However, it wasn't the end of Broadbent's association with the programme – the actor later appeared in the series as DCI Roy "The Slag" Slater.
His appearance came about after writer John Sullivan requested that Broadbent appear somewhere in the sitcom.
Broadbent starred as 'The Slag' Slater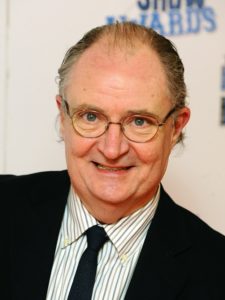 Fans of the series still remember Broadbent's three appearances as the evil DCI Slater, who harboured a grudge against his fellow pupil Del Boy.
13. Some of the less PC language now gets cut out of re-runs
The original run of the show was filmed during the 1980s, which was still a time when the term 'political correctness' didn't exist.
Del Boy wasn't a bastion of political correctness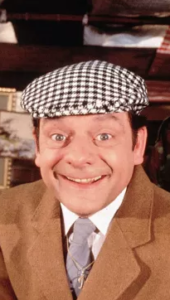 As such, the programme often features non-PC phrases and words in the dialogue, many of which would be considered racist in today's society.
Recent news reports have shown that some younger audiences find parts of Only Fools and Horses offensive, and whilst the streaming giant Netflix has chosen not to edit the series, the BBC hasn't been so kind.
The show is very much 'of its time'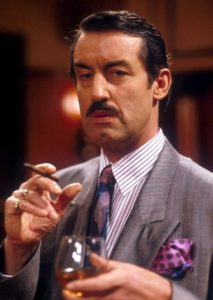 To combat any complaints, re-runs of Only Fools on the BBC are now edited to ensure that any content which might be deemed offensive is removed.
This seems rather drastic and doesn't really allow people to reflect on how and why certain attitudes have changed over time.
Some of the more racist remarks have been deleted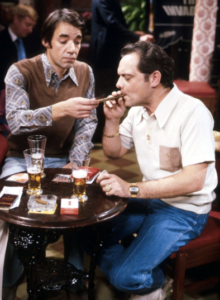 Editors have even gone so far as to remove references to Jimmy Saville, in light of the disgraced DJ's spectacular fall from grace in recent years.
12. Elizabeth Hurley auditioned for the role of Cassandra
Rodney's girlfriend Cassandra could have had a bit of added star power if one particular actress had been chosen to play the role…
Liz Hurley is an English actress and model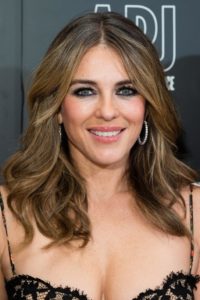 That's right, veteran star Elizabeth Hurley auditioned for the role of Cassandra but didn't manage to make the final cut.
Instead the part went to Gwyneth Strong, who joined the cast in 1989 (just as the series was starting to really take off).
Unfortunately she didn't get the part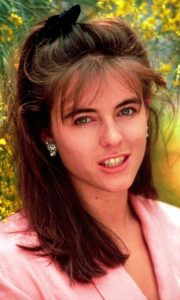 Sadly many viewers were originally unhappy with the producer's decision to go with Strong and at first it was unclear just how long she would last on the sitcom.
Cassandra was supposed to be 21 years old when she married Rodney and Strong appeared much older on-screen.
Gwyneth Strong made the role her own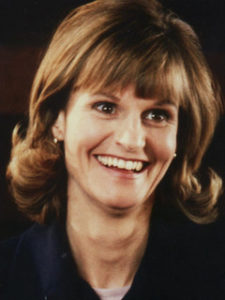 However, the actress soon made the part her own and now we can't imagine anyone else playing the role of Cassandra in quite the same way (least of all Liz Hurley!).
11. Buster Merryfield only revealed his real name to the cast after years of badgering
Not only did Buster Merryfield have a fascinating life before joining the cast of Only Fools, he also had a strange hatred of his real first name.
Merryfield had an interesting career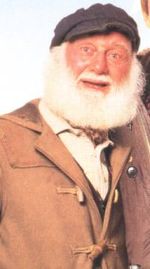 He initially refused to reveal his real name to any of his cast members and only answered to his nickname 'Buster'.
As a result, Merryfield suffered years of badgering from the other Only Fools actors about what he was really called.
His real name was a closely guarded secret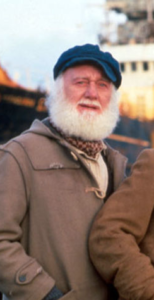 Eventually the actor revealed that his real name was Harry, but he was adamant that he would only answer to Buster.
We don't know what's wrong with Harry at all, but it seems as though Buster took an instant disliking to it and much preferred his nickname.
Buster was a popular actor on set
Apparently the cast were also desperate to see him without his distinctive white beard, but Merryfield never gave in to the pressure.
10. David Jason once stole Jack Nicholson's thunder
Believe it or not, Jason was so popular in the UK at one point that he actually managed to steal the spotlight from Hollywood star Jack Nicholson!
Jack Nicholson is an Oscar-winning actor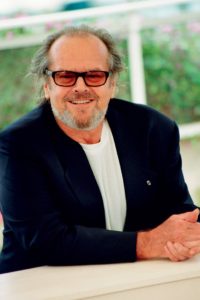 Jason is a tennis fan and was attending Wimbledon in the same year as Nicholson, who was sat a few rows below him in the front row.
The Only Fools and Horses actor had assumed that all the cameras would be on Jack, but in fact the Del Boy actor was dead wrong.
He won the Oscar for Best Actor twice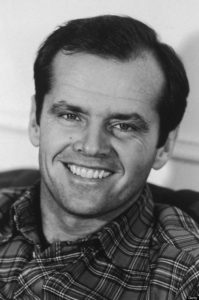 He was thronged by fans before and after the match, whilst people generally tended to stay away from Nicholson.
Jason later believed that this was because fans were too shy to approach such a big name and instead turned to Jason for an autograph.
Jason was already well-known amongst British audiences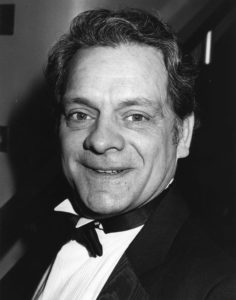 Jason also has a history of playing approachable TV characters – as well as Del Boy, he also starred in The Darling Buds of May as family patriarch Pop Larkin.
9. David Jason collaborated with the costume designer at the start of every series
Del Boy was well-known for his distinctive style choices throughout the series, which often involved plenty of flat caps, gold jewellery and questionable fur coats.
Who can forget Del Boy's flat caps?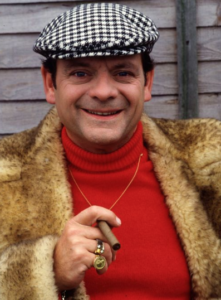 Apparently David Jason worked extensively with the wardrobe department to ensure that Del's look was as authentic as possible.
The actor met with a costume designer at the start of every series and the pair went shopping for Del's wardrobe together.
Del's look was carefully cultivated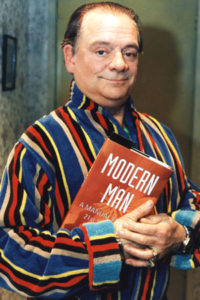 Jason was once asked to describe Del's style and stated that the wheeler-dealer's fashion sense was "a bit bright. A bit Jack the lad."
This was always made very clear to the viewers thanks to Del's garish jumpers and brightly-coloured pyjamas.
He also liked the odd fancy dress outfit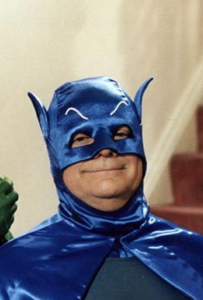 Apparently Jason became so attached to Del's clothes that he even kept some of the pieces after they were used in the series. On some level the actor felt that it would have been wrong to throw them away.
8. Jason and Lyndhurst were notorious pranksters on set
David Jason and Lyndhurst became firm friends on the set of Only Fools and Horses, and they often ended up causing trouble together with their elaborate jokes and schemes.
The actors were friends in real life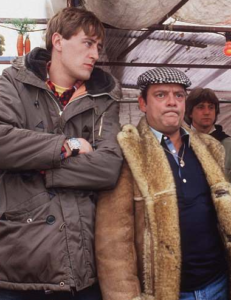 In fact, they once brought a bag of firecrackers into rehearsals and hid them amongst some stacked chairs and the toilet doors.
The pair waited around to see who their first victim would be, and it wasn't long before someone got a huge shock on set.
They had a great chemistry in front of the camera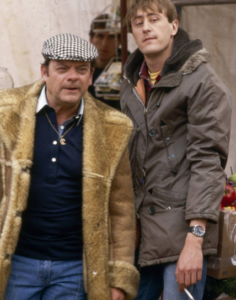 Production assistant Tony Dow reportedly began to unstack the chairs and was given the fright of his life after the firecrackers went off.
Jason and Lyndhurst were howling with laughter after Dow became afraid of touching the chairs again, unaware of what had caused the explosion.
They liked to carry out pranks from time to time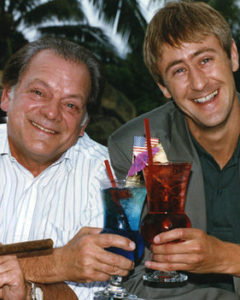 However, the prank came to an abrupt end after a cleaning lady went into the gents and nearly died of fright when one of the bangers went off and scared her half to death.
7. The series was only saved by a technicians' strike
Many fans of the programme might not realise just how close Only Fools and Horses came to being cancelled back in the early days.
Goodbye, Only Fools and Horses?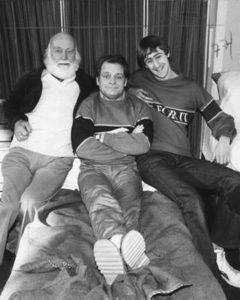 In fact, the only thing that really saved it from cancellation was a well-timed technicians' strike at the BBC.
The strike occurred in July 1983 and subsequently caused several flagship programmes to be cancelled, which in turn created a lot of holes in the channel's scheduling.
Boycie and Marlene closely survived the chop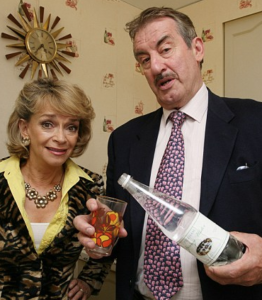 Executives at the BBC had to quickly find repeats to fill the gaps, and the second series of Only Fools and Horses was one of the lucky programmes to be selected.
In the end, over 7 million viewers tuned in to watch the repeats, an impressive figure for any programme being shown during the midsummer season.
Imagine British TV without these familiar faces?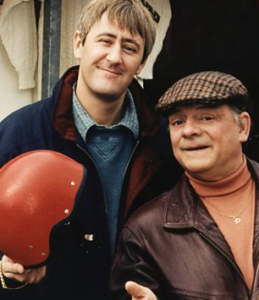 Much to the relief of cast and crew, this popularity saved the show from being permanently cancelled. Instead, John Sullivan was commissioned to write a third and fourth series. The rest, as they say, is history!
6. Only Fools And Horses slowly evolved into a comedy-drama
At the start of its creation, Sullivan wrote Only Fools as a standard sitcom based around Del Boy, Rodney, Grandad and their efforts to try and get rich quick.
Del Boy was a classic wheeler-dealer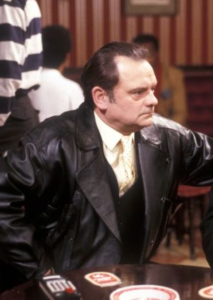 However, the series eventually developed into more of a comedy-drama, with several darker storylines included in the programme (such as Cassandra's miscarriage).
Lead actor Jason has claimed that this evolution began when Only Fools saw its episode run times extended to nearly an hour.
Rodney and Del Boy got themselves more screen time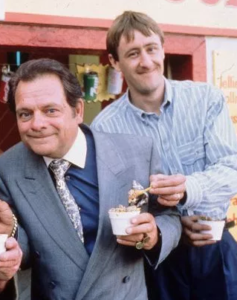 There was now far more time for Sullivan to develop the relationships between characters and explore different scenarios which didn't always conform to a standard sitcom format.
Jason has declared that this change made Only Fools unique amongst other sitcoms of its time on British television.
Only Fools and Horses changed drastically over the years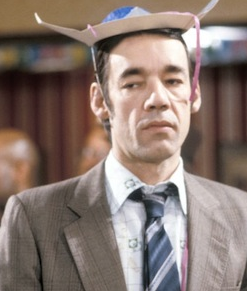 In particular, Jason said that without the extra running time, Del and Raquel's relationship would never have gone beyond a superficial romance (a criticism which also applied to Rodney and Cassandra's relationship).
5. The cast once smuggled a Trotters Independent Traders van into an RAF Hercules!
In a bizarre turn of events, Jason and Lyndhurst once smuggled an entire Trotters Independent Traders van into a Hercules airplane and sent it to Kuwait! Jason spoke to someone who worked at RAF Command Headquarters and found out that the soldiers enjoyed racing yellow 3 wheel vans against each other.
A C-130J Hercules in action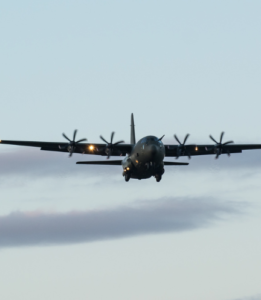 Jason and Lyndhurst decided to ship a Trotters van out to Kuwait during the Gulf War, so that soldiers on the front line could enjoy their own races.
They placed the van into a Hercules and filled it with treats including chewing gum, toothpaste, cake and copies of various films.
Jason was inspired to help soldiers during the Gulf War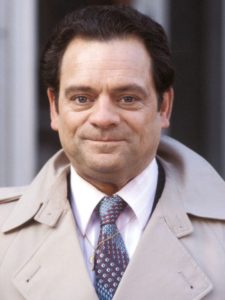 The actors didn't publicise the prank and intended it to be a private joke between the RAF and the cast members of Only Fools and Horses.
The Trotters van was covered up in the hold of the plane with medical supplies and ammunition to ensure that it arrived safely at its destination.
He and his fellow actors were in on the prank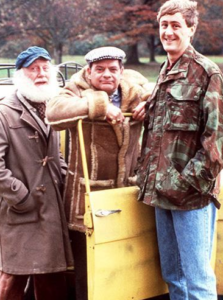 It eventually arrived in Kuwait, where it was reportedly met with a lot of laughter by the soldiers in camp.
4. The BBC wanted to change the name of the series
Believe it or not, the distinctive Only Fools and Horses title nearly never happened at all. The BBC wanted to change the name of the programme because executives felt that it was too obscure.
The distinctive title credits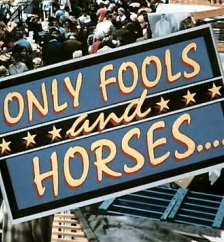 However, Sullivan and his team insisted that the title remain the same, and eventually it managed to make the final cut.
The working title was Readies but Sullivan landed on the title we all know and love after becoming aware of an old vaudeville saying.
The title design features prominently on the DVD covers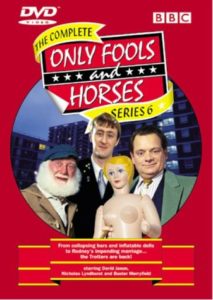 The full saying reads "only fools and horses work for a living", which was actually an American phrase originating in the 19th century.
The saying had also been the title of an episode of Citizen Smith, and Sullivan liked it enough to name his sitcom after it.
We can't imagine any other title for the series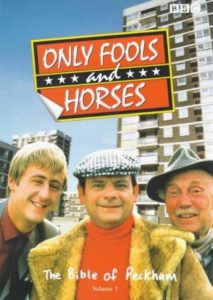 Sullivan also reportedly believed that the longer title of the series would attract attention from viewers and help it to stand out from the crowd.
3. Most fans of the show consider the 1996 Christmas trilogy to be the true ending of the series
Between 1981 and 2003, John Sullivan wrote over sixty-four episodes of the hit series, with the final burst of episodes coming between 2001 and 2003.
Scenes from the 1996 Christmas trilogy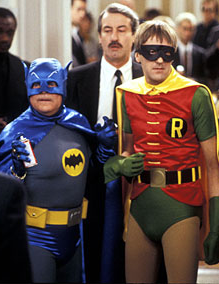 However, many fans of the programme consider the last episodes of Only Fools and Horses to be fairly pointless when the 1996 Christmas trilogy had already brought the entire series to a tidy conclusion.
It was unclear why producers decided to carry on making more specials in light of the perfect ending that the 1996 series had put forward.
Del Boy and Raquel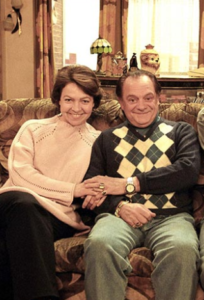 Even some of the cast members agreed that the final handful of episodes between 2001 and 2003 were surplus to requirement.
Leading man David Jason agreed with fans that the 1996 Christmas special really represented the 'true' ending to the series.
Rodney and Cassandra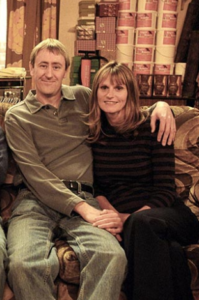 Jason has previously stated that "everything about the narrative pointed to these being the last ever episodes of Only Fools. The Trotters now officially on their way to wealth." The rest of the story should have been left up to the fans' imagination.
2. Each episode took two hours to film
Nearly every episode of Only Fools and Horses was recorded in front of a live studio audience, with a laugh track occasionally being used to fill in for live filming.
The actors filming an exterior scene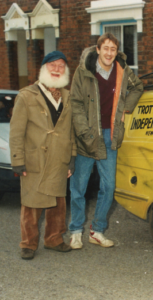 Although David Jason was already an established actor by the time he joined Only Fools, he still found the experience of filming in front of a live audience extremely nerve-wracking.
It's hard to imagine a screen veteran like Jason getting nervous about a live performance, but he has recalled on several occasions how stressful filming could be.
Cast and crew prepare for another outdoor scene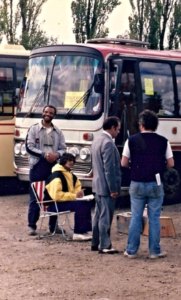 Jason likened filming each new episode to presenting a brand new play to an audience on the first night. In other words, there were plenty of factors which could go wrong each week!
Actors had to retake their lines quickly if they fluffed them, whilst the crew had to make sure that cameras were moved into the right places and all of the sets were altered accordingly.
The crew filming Only Fools and Horses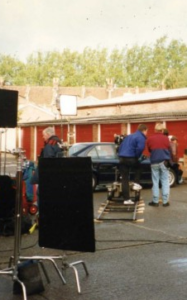 This meant that both cast and crew had to face a tight two hour schedule of filming each week!
1. Chas & Dave were supposed to sing the Only Fools And Horses theme song
80s rockney favourites Chas and Dave were meant to sing the iconic opening theme song to Only Fools and Horses, but sadly this never happened due to a scheduling conflict.
Chas and Dave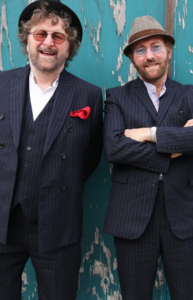 The pair were unable to record the theme song and instead John Sullivan himself was persuaded to sing it by the show's producer Ray Butt.
Sullivan didn't have any prior vocal training but in the end he decided to have a go and the end result was priceless.
The two singers were unavailable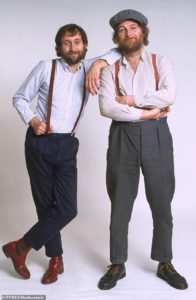 The first series of the programme featured a mundane instrumental track which Sullivan quickly decided needed to change.
Instead the iconic theme music was produced by Ronnie Hazlehurst in August 1981 and became one of the most recognisable themes in British TV history.
Del Boy, Rodney and Uncle Albert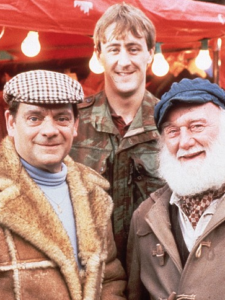 The voice you can hear singing the title theme is actually Sullivan, whose South London accent perfectly fits the song.
Did you know these facts about Only Fools and Horses? Let us know in the comments section below!