He's been in so many iconic films, it's hard to pic Harrison Ford down to one role that he is best known for. A few come to the forefront of the mind, most notably Han Solo and Indiana Jones. They are characters that we grew up to love, along with the actor who so brilliantly portrayed them.
*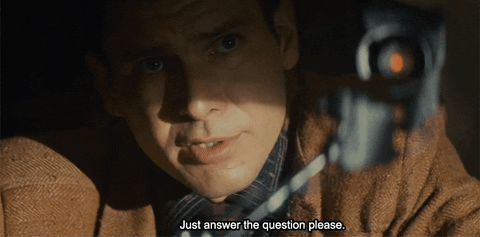 Harrison was born on 13th July 1942 at the Swedish Covenant Hospital in Chicago, Illinois to Christopher Ford (born John William Ford), an advertising executive and former actor, and Dorothy (née Nidelman), a former radio actress.
His career has spanned six decades. As well as appearing in both Star Wars and Indiana Jone, he is also known for playing Rick Deckard in Blade Runner and his parts in films such as Patriot Games and Clear and Present Danger.
*
As of 2016, the U.S. domestic box-office grosses of Ford's films total over US$4.7 billion, with worldwide grosses surpassing $6 billion, making Ford the second highest-grossing U.S. domestic box-office star.
You may have watched all of his movies (or a large majority at least,) but how much do you actually know about the megastar that is Harrison Ford. Here are 38 things you may not have known about him…
*
1. He Was Voted The Best Movie Star Of All Time
In 1997, Harrison Ford was ranked Number 1 in Empire magazine's 'The Top 100 Movie Stars of All Time' list.
2. He Is The Second Biggest Box Office Star Of All Time
The United States domestic box office grosses of his films total over $4.7 billion, with worldwide grosses surpassing $6 billion, making Ford the second highest-grossing US domestic box-office star.
*
3. He's Often Credited With An Extra Initial
Ford is often credited as 'Harrison J. Ford', to avoid confusion with Harrison Ford, the silent screen actor with exactly the same name.
4. He Doesn't Love Being In The Public Eye
Harrison Ford isn't known for his love of being in the public eye, as this brilliant clip from the film 'Bruno' attests!
*
5. He Doesn't Always Get On With His Co-Stars
Whilst filming Blade Runner, Harrison Ford and Sean Young (who played replicant Rachael), had such a bad relationship that crew members jokingly referred to their love scene as 'the hate scene'.
6. He's Only Ever Been Nominated For One Oscar
Ford's only Oscar nominated performance came in the 1985 film 'Witness', which was about a detective protecting a young Amish boy who becomes a target after he witnesses a murder in Philadelphia.
*
7. He's Now In His Mid Seventies
Yes, Ford was born on 13th July 1942, making him 75 years old!
8. He May Have Intentionally Given A Bad Performance
After terrible preview screenings for Blade Runner, a voice-over was written for the main character Deckard to make the film easier to follow. Urban legend has it that Harrison Ford intentionally gave a bad performance on it hoping (unsuccessfully) that the voice-over would be binned.
*
9. He Has A Facial Scar From A Car Accident…
Ford has scar on his chin which he gained when losing control of his car after he tried to do up his seat-belt whilst already driving.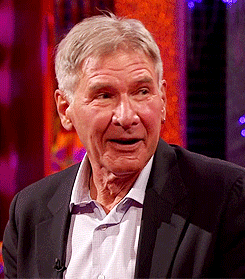 10…That Has Been Explained Away In Some Of His Films
His scar been explained away in two of his films: in the River Phoenix intro sequence in Indiana Jones and the Last Crusade, and in Working Girl.
*
11. He Is The Only Actor To Star As Jack Ryan Twice
Ford twice starred as Jack Ryan, a character created by the author Tom Clancy, and is the only actor to portray him more than once.
12. He Had An Expensive Divorce
Ford's divorce from Melissa Mathison was listed as the 'number 4 most expensive celebrity divorce', costing him around $85 million.
*
13. He Once Crashed A Plane
A long time pilot, Ford was involved in some trouble after he had to make a crash landing on a golf course in California after experiencing engine trouble.
https://www.youtube.com/watch?v=8LjxieNRgG0
14. He's Set To Star As Indiana Jones Once Again
The Indiana Jones Franchise has seen 4 entries, with a 5th, still starring Ford (that whole Shia LeBeouf thing didn't quite work out) and still directed by Spielberg, set to arrive in summer 2019.
*
15. He Once Rescued A Hiker In His Helicopter
On 31 July 2000, he piloted his helicopter to rescue dehydrated 20-year-old hiker Sarah George from Table Mountain near his ranch in Jackson Hole, Wyoming.
16. He Replaced Kevin Costner in Air Force One
The star replaced Kevin Costner in Air Force One when Kevin had to turn the part because he was still heavily involved in filming The Postman (1997) and suggested Harrison for the part.
*
17. He Turns Down Quite A Few Films
Harrison Ford has turned down several high-profile films including: the romance-action film Proof of Life (2000) (the Russell Crowe role), the summer-blockbuster The Perfect Storm (2000) (the George Clooney role), and the war-epic, The Patriot (2000) (the Mel Gibson role).
He said he turned down The Patriot because it was too violent for his taste.
*
18. A Scene Was Changed In Raiders of The Lost Ark Due To Some Dodgy Bowel Movements
Because Ford was suffering with a bout of dysentery during the filming of Raiders of the Lost Ark, he asked Spielberg if the scene in Cairo with the swordsman in black could be shortened.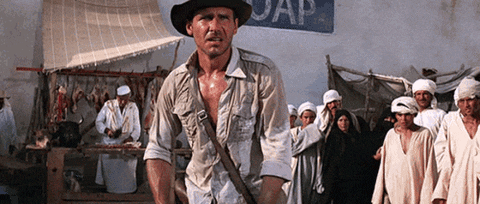 The scene in the script required a long fight. Spielberg's reply was that the only way it could be done would be if Indy pulled out his gun and "just shot the guy". The rest of the crew, not aware of the change, laughed at this, and it remained in the final cut.
*
19. He Named a Current Breed of Butterfly
Because of his work with the environment, Ford was asked to name a breed of Butterfly. Charmingly, he named it after his daughter, Georgia.
20. Kevin Costner Replaced Him In Another Film
Just as Ford replaced Kevin Costner in Air Force One, Costner replaced Ford in the 2002 film, Dragonfly. The film was written with Ford in mind for the lead role.
*
21. In Fact, His and Costner's Casting Choices Have Crossed Path Many Times
There are more examples than just Dragonfly and Airforce where their casting choices have crossed paths. For example, Ford turned down the Jack Ryan role in The Hunt for Red October (1990), as did Costner. Ford instead made Presumed Innocent (1990) and Costner made his Oscar-winning Dances with Wolves (1990). The Jack Ryan role went to Alec Baldwin.
*
22. As Well As Naming A Species, He Has Species Named After Him
Harrison Ford has a species of Central American ant (Peidole harrisonfordi) and spider (Calponia Harrisonfordi) named after him in honour of his conservation work.
23. Han Solo Ranks On The List of '51 Greatest Smartasses.'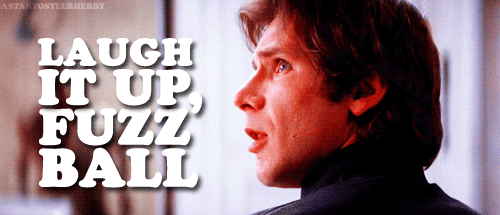 Harrison's Star Wars character, Han Solo, was ranked number 33 in Comedy Central's "Mouthing Off: 51 Greatest Smartasses."
*
24. He Changed A Line In Star Wars: Episode V – The Empire Strikes Back
When Han Solo is frozen in carbonite, during Star Wars: Episode V – The Empire Strikes Back (1980), Carrie Fisher says, "I love you" and Ford was supposed to reply "I love you too", but he suggested changing it to "I know". That's much more like Han Solo.
*
25. He Never Signed A Contract For Star Wars
Of all of the three leads of the original Star Wars trilogy (the others being Mark Hamill and Carrie Fisher), he was the only actor to appear in all three films without ever signing a contract.
26. He Didn't Want Sean Connery Playing His Father
Harrison was initially against the idea of Sean Connery. This was because Connery was only 12 years older than he was. Ford later changed his mind. He really enjoyed working with Connery.
*
27. He Tore A Ligament While Filming A Trailer for The Fugitive
Whilst shooting a special trailer for the 1993 movie, The Fugitive, Harrison tore a ligament in his knee. He had originally took the role after Alec Baldwin backed out. During the PR campaign for the film, Harrison complained that he had made it through the entire shoot unscathed, only to injure himself shooting a trailer for the movie afterwards.
*
28. He Was Offered A Part in Jurassic Park
In Jurassic Park, the role of Dr. Alan Grant was originally offered to Harrison Ford. The role went to Sam Neill instead.
29. He Has A Song Named After Him
The Danish pop duo, "Souvenirs," named a song after the actor. The track "Harrison Ford" is on the CD "Villa Danmark" from 1998.
*
30. He's Friends With Politicians
The actor was close friends and golf partners with former President Bill Clinton. He also attended high school with Hillary Clinton and Karen Black at Maine East High School in Park Ridge Illinois.
31. Family Guy Acknowledged That He Did A Good Job In Star Wars
In Family Guy: Blue Harvest, a Star Wars spoof, Harrison Ford was the only actor not to have his career destroyed by featuring in Star Wars: Episode IV – A New Hope (1977).
*
32. His Films Have Been Classed As Being "Culturally, Historically or Aesthetically Important
He has appeared in seven films that have been selected for the National Film Registry by the Library of Congress as being "culturally, historically or aesthetically" significant: American Graffiti (1973), The Conversation (1974), Star Wars: Episode IV – A New Hope (1977), Apocalypse Now (1979), Star Wars: Episode V – The Empire Strikes Back (1980), Raiders of the Lost Ark (1981) and Blade Runner (1982).
*
33. He Became A Spokesperson for Japanese Electronics in the 1980s
Due to his role in Blade Runner, Harrison Ford became a product spokesperson for Japanese electronics during the 1980s.
34. His Performance As Indiana Jones Is His Favourite
Harrison Ford has stated in interviews that Indiana Jones is both his favourite part, and the one he is most proud of.
*
35. He Accepted An Oscar On Behalf Of Roman Polanski
In 2003, Harrison Ford accepted the "Best Director" Oscar on behalf of the filmmaker, Roman Polanski. The director was not present at the awards due to him being a fugitive from the United States justice system after fleeing the country in 1978. He delivered the Oscar personally to him in Paris.
*
36. His Daughter Has Quite A Few Famous Friends
His daughter Georgia attends Wildwood School in Los Angeles, where the children of Demi Moore, Bill Pullman, Bruce Willis, Eddie Murphy, Steven Spielberg and several over music and entertainment personalities attend, and is great friends with Elliot Murphy, son of Eddie. I guess it helps to have a famous dad when it comes to who your friends are.
*
37. He Very Nearly Didn't Get The Part In Star Wars
He was originally brought in by George Lucas to feed lines to other actors auditioning for Star Wars: Episode IV – A New Hope (1977) because he wasn't allowed to audition (Lucas wanted new faces for the film). He eventually won Lucas over and the role of Han Solo went to him.
*
38. He Frightened Steven Spielberg By Testing A Bridge's Safety
He scared director Steven Spielberg and the crew during Indiana Jones and the Temple of Doom (1984) when, without warning, he ran out across the rope bridge used in the film's climax to test its safety. Spielberg later quipped "What can I say? Harrison really IS Indiana Jones." Thankfully the bridge was safe.
*