Jimmy Kimmel is the hugely popular host of Jimmy Kimmel Live! which has been on the air since 2003. He's also hosted both the Oscars and the Emmys, and he also enjoyed a successful career on the Comedy Central channel. So what do we know about the man who regularly pulls in millions of viewers to his talk show each week?
He popularised the hilarious 'Mean Tweets' segment of his show, and also has a bizarre long-running 'feud' with actor Matt Damon. He was once in a long-term relationship with fellow comedian Sarah Silverman and got into trouble after mocking First Lady Melania Trump's Slovenian accent.
But there's still plenty of things about Jimmy Kimmel that might surprise you. In the article below, we've brought you 21 things you didn't know about the talk show host. Find out which serious medical disorder he only got diagnosed with as an adult, plus we reveal the geeky childhood instrument that Kimmel still plays to this day. Enjoy!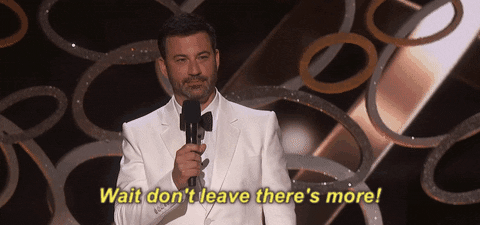 21. He used to be an altar boy
Most people probably know by now that Jimmy Kimmel is a devout Catholic.
[adunit mobile="RTK_dVa8″]
In 2017 he got into a well-publicised spat with Republican Senate candidate Roy Moore about Christianity and gay marriage, which revealed Kimmel's true religion to the rest of America.
However, it seems as though Kimmel has always been a man of God – to the point where he once served as an altar boy at his local church! The chat show host has reminisced about his time as an altar boy with plenty of his celebrity guests.
[adunit mobile="RTK_wCZW"]
Kimmel once joked to George Clooney that he also knew all about "wearing a dress for a job" before the pair recalled fond memories of their Catholic upbringings.
Kimmel isn't the only chat show host who was an altar boy either – Jimmy Fallon also volunteered for the role as a young child and at one point he wanted to become a priest.
[adunit mobile="RTK_z9hm"]
Funnily enough, Kimmel's middle name is 'Christian'…which seems appropriate!
20. He was fired from four different radio shows at the start of his career
Kimmel is currently worth millions of dollars thanks to his television career.
[adunit mobile="RTK_dVa8″]
But the comedian started off life as a disc jockey in local radio, after realising his passion for broadcasting during a stint as a college radio DJ in Arizona. Kimmel didn't quite get off to a great start though…
His professional career began at the age of 21 years old, so it's fair to say that he was fairly inexperienced when he first started presenting over the air waves.
[adunit mobile="RTK_wCZW"]
However, Kimmel just couldn't seem to last at any local radio station long enough, and ended up being fired from morning radio shows in Seattle, Tucson, Phoenix and Tampa!
Yikes…luckily things took a turn for Kimmel and he eventually found a home on Los Angeles' KROQ as "Jimmy the Sports Guy". After that, his comedy career went from strength to strength.
[adunit mobile="RTK_z9hm"]
His net worth as of 2019 is reportedly around the $35 million mark.
19. He suffers from narcolepsy
Wow! This must be tough to deal with, especially when your whole job involves looking interested on live television.
[adunit mobile="RTK_dVa8″]
Unfortunately Kimmel suffers from the sleep disorder narcolepsy. He made the shock revelation during an interview with New York Times Magazine and revealed that the condition had caused him to fall asleep in some embarrassing and even dangerous situations.
Kimmel stated that he had fallen asleep in his car before, and also joked that he often started napping during afternoon writers meetings which is "not the best way to make people feel good about their material."
[adunit mobile="RTK_wCZW"]
The show host also discussed his condition with Esquire in 2003. He told the magazine that he hadn't been diagnosed with narcolepsy until he was an adult that it felt as though "somebody's gently sitting on your brain."
Fortunately Kimmel is able to keep the condition under control with the help of medication.
[adunit mobile="RTK_z9hm"]
Who knew?! That's definitely one extra hurdle for Kimmel to deal with when he's sat in front of the cameras.
18. He once broke the Guinness World Record for the longest distance commuted
This is one crazy thing to be able to put on your CV…
[adunit mobile="RTK_dVa8″]
Fans of Live with Regis and Kelly might remember that in October of 2007, Kimmel was selected to guest host with Kelly while Regis was away for a week. Cue a little travel dilemma for Kimmel…
Jimmy Kimmel Live is filmed in New York and as a result, the presenter has made his home in NYC. However, Regis and Kelly is taped in Los Angeles.
[adunit mobile="RTK_wCZW"]
This meant that Kimmel had to commute every single day between New York and Los Angeles in order to keep his commitments to both projects. That's dedication!
Kimmel actually ended up breaking the Guinness World record for the longest distance travelled in one working week. He managed to rack up 22,406 miles (36,059 km) – plus a lot of frequent flyer miles – during his time as co-host with Kelly.
[adunit mobile="RTK_z9hm"]
We're guessing there weren't too many environmentalists out there who were impressed by the feat.
17. He plays the bass clarinet
Kimmel is a man of many hidden talents.
[adunit mobile="RTK_dVa8″]
Apparently as a young child growing up in Las Vegas, the future talk show host was a model student and did really well in school. He also had one or two hobbies that you might not have known about.
Kimmel plays the bass clarinet and has done since he was a kid (check out the cute photograph above!). He's also performed live a number of times.
[adunit mobile="RTK_wCZW"]
For instance, Kimmel has performed with The Mighty Mighty Bosstones on their hit song "The Impression That I Get" several times.
In fact, he's so good that he was once invited to play with them at the House of Blues in Los Angeles. What an honour!
[adunit mobile="RTK_z9hm"]
We never knew that bass clarinet could be so cool.
16. He used to be a wedding DJ
It's clear by now that Kimmel has had a fascinating career to date.
[adunit mobile="RTK_dVa8″]
He started off as a disc jockey on local radio, before progressing to the big leagues. But Kimmel could have had a whole other career as a wedding DJ if things had gone differently.
The presenter was attending the wedding of his friend and former colleague Kent Voss in 1992 when a problem arose.
[adunit mobile="RTK_wCZW"]
Apparently the DJ who was originally hired for the gig was so bad that something needed to change – asap. So what did Jimmy do?
He stepped behind the booth himself and proceeded to DJ for the rest of the wedding! Now that's what we call a good friend.
[adunit mobile="RTK_z9hm"]
Nice one Jimmy. At least if he loses his millions he always has a career to fall back on.
15. Carson Daly used to work as Jimmy's intern
Carson Daly has had a number of different jobs over the years.
[adunit mobile="RTK_dVa8″]
He's the host of Last Call with Carson Daly and has also worked for MTV, the Today show and The Voice. But his broadcasting career originally began at the infamous California KROQ radio station.
Daly was only 16 years old when he was discovered by none other than Jimmy Kimmel. Kimmel found out that Carson's dad was in a fraternity with Bill Foster (a star of The Man Show).
[adunit mobile="RTK_wCZW"]
As a result, Kimmel immediately hired Carson as his intern on K-ROQ, and Carson eventually worked his way up to a full-time DJ spot.
The pair remain good friends to this day, and Kimmel was once supposed to be Daly's best man. However, Daly eventually broke off his impending marriage to Tara Reid.
[adunit mobile="RTK_z9hm"]
Nice to know that these two still get along after all these years!
14. He's addicted to cookbooks
It's safe to say that Jimmy Kimmel loves cooking.
[adunit mobile="RTK_dVa8″]
He can often be seen cooking along with his celebrity guests and once revealed that he has dinner both before and after the taping of his show! But that's not where his cooking obsession stops…
Apparently the talk show host is a self-confessed cookbook addict. Kimmel claims to own over 1,000 different recipe books and often keeps them by his bedside table (he once revealed in an interview that he was 'reading' Serious Barbecue by Adam Perry Lang).
[adunit mobile="RTK_wCZW"]
One of Kimmel's favourite memories of childhood is related to food – he still remembers pulling up to his grandparents house and being able to 'smell the marinara sauce from the car'.
Kimmel also revealed that his favourite countries to travel to are Italy and Mexico, thanks to their delicious cuisine.
[adunit mobile="RTK_z9hm"]
Writing this list has started to make us feel very hungry all of a sudden…
13. He's a really good artist
According to his mother, Kimmel is an excellent artist!
[adunit mobile="RTK_dVa8″]
As a child he was constantly drawing, and it's been reported that he was a particular fan of drawing comic book art. Which makes sense considering that Stan Lee was an idol of his.
Kimmel clearly has some untapped talent that he wants to explore, because he revealed the true extent of his drawing passion to New York Times Magazine back in 2015.
[adunit mobile="RTK_wCZW"]
The show host stated: "When I was a kid, I wanted to be an artist. I'd stay up late, drawing for hours, watching Carson and Letterman on the small black-and-white TV I commandeered from out kitchen."
"Eventually, I became more interested in the television." Aww! Still Kimmel can often be found defacing pictures of his arch-nemesis Matt Damon (see above).
[adunit mobile="RTK_z9hm"]
He also had a drawing session with Damon when they engaged in a 'therapy session' to try and work out their issues!
12. Some people think he could be the next President of the United States
Do you see Kimmel running in 2020?
[adunit mobile="RTK_dVa8″]
Apparently Ben Stein, who used to be the co-host of Win Ben Stein's Money, believes that Kimmel is the only comedian who could do a good job at being President. Why?
Stein has said that Kimmel is incredibly intelligent and very quick on his feet. The pair worked together on Win Ben Stein's Money, which happened to be Kimmel's first ever TV job.
[adunit mobile="RTK_wCZW"]
Kimmel's former employer has also claimed that Kimmel is a "man of the people", which is more than we can say for Donald Trump!
What do you think? Would you vote for Jimmy? He hasn't announced his presidential campaign yet but you never know…
[adunit mobile="RTK_z9hm"]
He would have a tough time going up against Oprah though.
11. He used to love pulling pranks as a kid
Kimmel used to be quite the joker as a young child.
[adunit mobile="RTK_dVa8″]
In fact, his mischievous sense of humour even extended to his visits to church on a Sunday. Kimmel's old priest revealed that Kimmel was constantly pranking his fellow church goers, but said that the show host's jokes were always good-natured rather than outright mean.
It's a good job that Kimmel's pranks weren't too mean because he's previously confessed that he does regret moments in his life where he was needlessly mean to people as part of his job.
[adunit mobile="RTK_wCZW"]
Unfortunately, the host hasn't completely changed his ways, because he once got caught up in a prank war with John Krasinski, the star of The Office US and A Quiet Place.
Krasinski and Kimmel are good friends, and they've been engaged in a prank war that has been going on for years! It all started when they used to live opposite one another and Krasinski snook into Kimmel's house and put up some Christmas decorations.\
[adunit mobile="RTK_z9hm"]
Since then things have escalated out of control, with the pair exchanging everything from reindeer poop to garden zombies to inflatable Christmas decorations. How festive!
10. He once bought his parents a house
Kimmel might be a prankster but he's also a nice guy at heart.
[adunit mobile="RTK_dVa8″]
And since earning his millions, the talk show host has been more than willing to share the wealth with his nearest and dearest. In fact, in 2006 Kimmel bought his parents a brand new beach house, a fact which was only revealed when Kimmel's parents revealed the generous act in an interview.
Kimmel's father explained: "[In 2006], we're in Hermosa Beach. We're supposed to go for dinner with the family but he tells us that we're going to go over to some park first and my great-nephew is going to play t-ball…
[adunit mobile="RTK_wCZW"]
"My nephew Sal was there with his family and he said, 'Aw, it got called off, the weather was windy.' Jimmy said, 'What are we going to do? We've got a couple of hours to kill before dinner at eight o'clock.'
"So, he turned around and there were these townhouses and an open house sign…While we're upstairs, we happened to look at the fireplace and over the fireplace was a picture of Joan and I in Italy. We looked at each other and he looked at us and then we started crying."
[adunit mobile="RTK_z9hm"]
Kimmel said he bought the house because of a strong childhood memory in which his parents had both stated they would love a house near the beach.
9. He's always been attracted to funny women
Jimmy Kimmel definitely likes his women to have a sense of humour.
[adunit mobile="RTK_dVa8″]
Kimmel divorced his first wife Gina Maddy (pictured below) in 2002, and not long after that he started up a long-term relationship with his fellow comedian Sarah Silverman. The couple were together for five years but eventually broke up in July 2008.
After the initial split, they briefly reconciled after both of them attended Howard Sterns wedding to Beth Ostrosky. However, the couple ended things for good in March 2009. They've since remained good friends and Silverman even appeared on his show in 2014.
[adunit mobile="RTK_wCZW"]
Silverman isn't the only funny woman that Kimmel has been involved with though. He started dating his current wife Molly McNearney in October 2009. McNearney was working as a head writer on his show at the time, so she definitely had a good sense of humour.
Things went from strength to strength for the pair – they got married in 2013 and now have a daughter together named Jane.
[adunit mobile="RTK_z9hm"]
Cute!
8. He really likes shoe shopping…
Kimmel is an interesting kind of guy, and his wife isn't afraid to reveal some potentially embarrassing details about Kimmel's hobbies!
[adunit mobile="RTK_dVa8″]
Molly once stated that she had never known a man to be so macho and also have so many random feminine qualities at the same time. Kimmel loves doing a lot of things that your stereotypical man doesn't enjoy – such as cooking, cleaning and even shoe shopping. Lucky Molly!
Kimmel even confessed to his love of shoe shopping over the years. During an interview with Glamour magazine, the show host stated: "I've never been good at buying clothing for the women in my life, but somehow over the last few years, I've figured out shoes.
[adunit mobile="RTK_wCZW"]
"And it delights me to no end when I find shoes that I think my daughter and wife will like, and they actually do! I recently sent my wife an email with a link to a purse to see if she thought it was cool. So these are the things we discuss. To be honest, it drives her crazy, but I can't help myself."
Awww! So really he just likes buying nice things for his wife and daughter…that's cute. And it should definitely earn him some husband points down the line.
[adunit mobile="RTK_z9hm"]
We're just surprised he confessed all this to Glamour magazine!
7. …But he hates exercising
He might like shoe shopping, but Kimmel is not a fan of the gym.
[adunit mobile="RTK_dVa8″]
The host famously lost a lot of weight in 2010 after buying a scale and really trying to keep his diet on track. Kimmel reportedly shed most of his pounds by following the popular 5:2 diet.
This involves eating fewer than 500 calories for two days a week, then eating anything you want on all of the other days. Kimmel didn't bother upping his exercise regime at the same time though, like most dieters do.
[adunit mobile="RTK_wCZW"]
The host stated: "The idea that you would not only exercise, but that you would enjoy it is very difficult for me to understand. I just hate it….I do have a treadmill desk in my office, and for a while I would walk on it while checking email and going through jokes.
"I haven't walked on it in probably four months. Now it's more of an upright dining table for me."
[adunit mobile="RTK_z9hm"]
Yikes! Still, Kimmel is looking trim nowadays so whatever works, we guess.
6. He has a production company named Jackhole Industries
Kimmel isn't only a DJ and TV host.
[adunit mobile="RTK_dVa8″]
He's also got his own production company named Jackhole Industries. After appearing on Win Rick Stein's Money for over two years, he and his friends decided to set up their very own TV company together.
Two years into his game show success, Kimmel, in cooperation with longtime friends Adam Carolla and Daniel Kellison, established a production company under the name Jackhole Industries.
[adunit mobile="RTK_wCZW"]
Their mascot (pictured above) is Shope the donkey wearing a rather fetching sombrero. The company has been responsible for some popular comedy TV shows over the years.
The Man Show, Crank Yankers and The Adam Carolla Project were all produced by Jackhole industries. But definitely the most popular TV show that Jackhole Productions is responsible for is Jimmy Kimmel Live!
[adunit mobile="RTK_z9hm"]
Jackhole has been involved in the series since 2003.
5. He's voiced a lot of animated dogs
Kimmel definitely has a very distinctive voice.
[adunit mobile="RTK_dVa8″]
And over the years, animators have decided to take advantage of this by casting him in their TV shows and films! Bizarrely enough, Kimmel often gets chosen to voice dog characters.
Have you ever noticed this? His voice has appeared as a dog in both Garfield and Trip, as well as the popular animated series Family Guy.
[adunit mobile="RTK_wCZW"]
In Family Guy, Kimmel starred in the episode "Mr. Saturday Knight" and voiced the character Death's Dog. He even got a little memento from his time on the show…
When Seth Macfarlane appeared on an episode of Jimmy Kimmel Live!, the Family Guy creator gifted Kimmel a little figurine of the Death Dog.
[adunit mobile="RTK_z9hm"]
Awww! That's a nice little piece of TV memorabilia.
4. His ex-girlfriend made a "I'm F***ing Matt Damon" spoof video
When Kimmel and Silverman were together, they definitely had a sense of humour about their relationship!
[adunit mobile="RTK_dVa8″]
And nowhere was that more apparent than in Silverman's hilarious spoof video entitled "I'm F***ing Matt Damon". Yep that's right – Silverman made a video suggesting that she was having an illicit affair with none other than Kimmel's arch-nemesis Damon.
The video became an instant hit on Youtube and so Kimmel just had to respond. He made a video called "I'm F***ing Ben Affleck" as "revenge" for Silverman's betrayal with Damon!
[adunit mobile="RTK_wCZW"]
Of course, Kimmel manages to squeeze in an insult to Damon every time he ends his show with the immortal lines "My apologies to Matt Damon, we ran out of time."
When Damon actually appeared on Jimmy Kimmel Live!, the actor sat down in the chair only to be informed by Kimmel that "Sorry, but once again we are completely out of time."
[adunit mobile="RTK_z9hm"]
Damon got annoyed and seemingly went off to have an illicit affair with Sarah Silverman as revenge!
3. He served as the roastmaster for Hugh Hefner at the Friars' Club
We're guessing most comedians would have loved to attend Hugh Hefner's roast.
[adunit mobile="RTK_dVa8″]
And the honour of roastmaster fell to none other than Jimmy Kimmel himself when the Playboy founder put himself up for a bit of torture at the Friars' Club.
The talk show host was also in charge of Pamela Anderson's roast on Comedy Central. Double whammy!
[adunit mobile="RTK_wCZW"]
There can't have been too many hard feelings between Kimmel, Hefner and Anderson though – it's all in the name of comedy after all.
We'd just love him to be in charge of a comedy roast involving Donald Trump, but we're not sure the Don would be able to take it!
[adunit mobile="RTK_z9hm"]
Still, never say never…
2. He's good buddies with his parking lot security guard Guillermo
Everybody knows Guillermo Rodriguez now.
[adunit mobile="RTK_dVa8″]
But did you know that he rose to fame after acting as Kimmel's parking lot security guard?! Audiences quickly fell in love with him after he started appearing in some comedy sketches on Jimmy Kimmel Live!
Since then, Rodriguez has made a full-time career out of comedy and doesn't have to guard any more parking lots. One of his most popular skits involves impersonating Matt Damon's character Jason Bourne.
[adunit mobile="RTK_wCZW"]
Kimmel has also appeared in other programmes with Rodriguez, and even took him along to a taping of ABC's Dancing With the Stars.
Rodriguez is even popping up in Hollywood blockbusters now, thanks to his friendship with Kimmel. Did you see Guardians of the Galaxy Vol. 2?
[adunit mobile="RTK_z9hm"]
Guillermo had a minor role as a cop in the movie!
1. He's hosted the American Music Awards over five times
Kimmel has presented plenty of awards shows over the years.
[adunit mobile="RTK_dVa8″]
But there's one particular ceremony that he just can't seem to get enough of…it's the American Music Awards of course!
Kimmel has had the honour of presenting at the prestigious music awards over five times.
[adunit mobile="RTK_wCZW"]
He must really be into his music in his spare time. Or they pay him a lot of money to do it. Either way…
Did you enjoy all of these Jimmy Kimmel facts? Let us know in the comments section!
[adunit mobile="RTK_z9hm"]