Father Ted is still arguably one of the funniest and most original sitcoms in British (and Irish!) TV history. Written by BAFTA award-winners Graham Linehan and Arthur Mathews, the series followed the adventures of parochial priest Father Ted (Dermot Morgan) and the oddball inhabitants of Crilly Island.
Audiences loved watching nice-but-dim Father Dougal (Ardal O'Hanlon), persuasive housekeeper Mrs Doyle (Pauline McLynn) and foul-mouthed drunkard Father Jack (Frank Kelly) all try and get along under one roof.
The series ran for three seasons between 1995 and 1998, but lead actor Dermot Morgan tragically passed away before the final episode aired.
Below we remember some of the greatest moments from Father Ted, over 20 years on from its first broadcast.

1. Cows…Far Away
In one episode, poor Dougal has trouble understanding some of the basic laws of physics. He spies some cows in a distant field, only to shout "Look at those tiny cows!", betraying a distinct lack of awareness of what perspective is.
It's left to Ted to try and explain that those cows were simply 'far away' and not 'small'.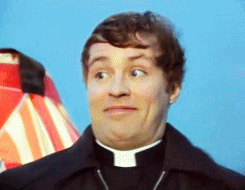 2. Father Noel Furlong
Graham Norton managed to steal most scenes he was in with his hilarious portrayal of chatterbox priest Noel Furlong. Who can forget the infamous screeching competition he tried to start? Or when he put Tony Lynch on his 'list'? One of our favourite moments has to be when Noel crashes Ted and Dougal's holiday, much to Ted's irritation. The party soon gets started with a Riverdance routine that quite literally brings down the house!
3. My Lovely Horse
'My Lovely Horse' was Ted and Dougal's unforgettable attempt to try and create A Song For Europe. Plagiarism abounds when they suffer writers block and decide to pass off an old Norwegian entry as their own. The video features the pair laughing and joking with their lovely horses whilst wearing Alan Partridge-style gilets. Other clips from the video see them rocking 80s style blue blazers and doing their very best to impress the Eurosong judges. Lovely!
4. Dougal The Teenager
Who do you prefer, Oasis or Blur? Dougal finds himself having to guess the right answer when he makes friends with the cool new priest on the block, Father Damo. Some ill-advised piercings and general naughty behaviour start to shake things up around the parish, and Ted is not impressed. Check out the clip below to watch Dougal falling under the influence of his rebellious new friend.
5. Kicking Bishop Brennan Up The Arse
Fans of Father Ted will certainly remember Ted's rivalry with irritating fellow priest Father Dick Byrne (emphasis on his first name). Things finally come to a head when he loses a bet to his archnemesis and is forced to…kick Bishop Brennan up the arse!
The Bishop was a terrifying man at the best of times, and Ted has to muster all of his courage to get the job done. Watch the clip above to relive Bishop Brennan's unforgettable facial expression and the eventual fallout from the mother of all forfeits.
6. Spider-Baby
Viewers got a taste of classic Dougal right from the very first episode, thanks to the young priest's bizarre account of a real-life …spider baby. Or is it a baby that's a spider? Either way, we definitely wouldn't like to meet one.
7. The Lovely Girls Competition
https://www.youtube.com/watch?v=89RwsGe-fSw
Irish viewers would have immediately recognised that 'The Lovely Girls Competition' was in fact a spoof version of the real-life 'Rose of Tralee' beauty pageant. In Father Ted, many of the priests seem just delighted to be given the chance to watch some lovely girls walking around traffic cones and giggling into the microphone. And who can blame them? After all, as Ted notes in the clip above, the girls do all have lovely bottoms. Offended millennials, look away now!
8. Down With This Sort Of Thing!
Bishop Brennan orders Ted and Dougal to protest the release of a controversial new film, The Passion of St. Tibulus. As the title suggests, there's more than a little nudity involved and Brennan wants to make sure that no-one on Crilly Island gets a look. Ted and Dougal's protest leaves a lot to be desired, and various mishaps ensure that The Passion of St. Tibulus becomes the most successful film to be screened on the island since Jurassic Park.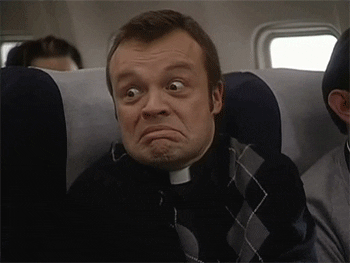 9. That Would Be An Ecumenical Matter
With yet another visit by the Bishop imminent, Ted tries to cover up the fact that Jack can pretty much only say the words 'Drink', 'feck', 'women' and 'arse' by teaching him to say 'yes' and the slightly trickier 'that would be an ecumenical matter'. Ted's idea turns out to be a brainwave – at one point, one of the bishops is convinced that Jack is a spiritual genius.
10. I Don't Believe It!
Our final entry of the list features another 90s comedy…One Foot In The Grave. In a hilarious crossover moment, Ted and Dougal spy that-guy-who-plays-Victor Meldrew attempting to have a holiday in Ireland. Ted's cunning plan to strike up a rapport with him is shot down with hilarious results. Enjoy!