Unmistakeable in her long gloves and large hats, Diane Keaton has graced the red carpet for over 50 years. Though best known for her roles in Annie Hall and the Godfather franchise, Keaton first won fame in a controversial rock musical.
She's since established herself in plenty of other fields besides acting, from photography to luxury real estate. Here are 20 things you probably didn't know about Keaton.



20. She was in the original Broadway cast of Hair
Breaking into acting with one of the most controversial musicals of all time, Keaton joined the original cast of Hair in 1968.
[rtk_adunit_top]
This play about the hippie counterculture drew a lot of attention for showing drug use, free love and anti-war activism.
Notably, Keaton refused to join in with a scene in which all the characters are nude.
[rtk_adunit_middle]
She's since changed her opinion on nude scenes, performing one in Something's Gotta Give, her 2003 romantic comedy with Jack Nicholson.
Speaking to the Sydney Morning Herald in the same year, Keaton described the nude scene as "no big deal."
[rtk_adunit_bottom]
""If Jack's running around with his butt hanging out in a hospital gown, then I've got to be this naked fiftysomething woman, you know?" she summarized. "Jack makes a fool out of himself, why shouldn't I?"
19. Her real-life name and persona inspired her character Annie Hall
Keaton has said her Academy Award-winning role of Annie Hall in the comedy of the same name was partly based on herself.
[rtk_adunit_top]
Woody Allen co-wrote and directed this movie and starred as the male lead, Alvy Singer.
According to Keaton, Alvie and Annie's relationship was partly inspired by her real-life romance with Allen in the early 70s.
[rtk_adunit_middle]
What's more, Diane Keaton's birth name was Diane Hall, from which Woody Allen created his heroine's name, Annie Hall.
Within the film itself, Alvie ends up staging a play about his relationship with Annie.
[rtk_adunit_bottom]
The character Annie Hall became a pop culture icon, particularly through her masculine outfits and breaking of gender stereotypes.
18. As a real estate developer, she sold a mansion to Madonna
This multi-talented star has also worked in real estate, renovating mansions in Southern California and selling them on to her fellow celebrities.
[rtk_adunit_top]
Among her clients is Madonna, who bought a $6.5 million Beverly Hills mansion from Keaton in 2003.
Keaton has also campaigned to save historic buildings. She's particularly interested in Spanish Colonial Revival architecture.
[rtk_adunit_middle]
She joined the campaign to protect Los Angeles' Ambassador Hotel, infamous as the spot where Senator Robert Kennedy was assassinated.
When this campaign failed and the hotel was demolished, she wrote an article for the LA Times about the "guilt" she felt at losing the site.
[rtk_adunit_bottom]
"We've treated old buildings like we once treated plastic shopping bags — we haven't reused them, and when we've finished with them, we've tossed them out," she wrote. "This has to stop."
17. She worked as a photographer for Rolling Stone magazine
A keen photographer, Keaton took pictures for Rolling Stone in the late 70s. She particularly loved taking shots of grand old hotel lobbies and ballrooms.
[rtk_adunit_top]
"These places were deserted, and I could just sneak in anytime and nobody cared," she wrote in her 2003 memoir. "It was so easy and I could do it myself. It was an adventure for me."
In 1980, Keaton gathered all her hotel photos and published them as a collection called Reservations.
[rtk_adunit_middle]
A trustee of the National Trust for Historic Preservation, Keaton has been outspoken about viewing buildings and architecture as an art form.
"I'll never understand why architecture is considered a second cousin to painting and film," she's noted.
[rtk_adunit_bottom]
"We've never been married to our romance with architecture. A building, unlike a canvas or a DVD, is a massive work of art with many diverse uses."
16. She adopted two children after she turned 50
Although Keaton has dated Woody Allen, Al Pacino and Warren Beatty, she has never been married.
[rtk_adunit_top]
She's denounced the stereotype of being an "old maid" as "garbage": ""I don't think that because I'm not married it's made my life any less."
At the age of 50, she became a single mother when she adopted her first child, Dexter. Five years later, Keaton also adopted her son Duke.
[rtk_adunit_middle]
Keaton's perspective on dating has shifted a lot over the decades. In 2014, she said of her past opinions on dating: "I think I was not practical."
"I had some insane idea that I had to be in love," she summarized. "Now I see what it really takes: real consideration that you're a good team together."
[rtk_adunit_bottom]
However, in 2019 she told InStyle Magazine: " I haven't been on a date in, I would say, 35 years."
15. She went on a date with Steve Jobs in the 80s
In the 80s, Keaton went on a date with the CEO of Apple, Steve Jobs. However, Keaton stopped seeing him because she wasn't interested in his anecdotes about computers.
[rtk_adunit_top]
In a 2011 interview on Ellen, Keaton recalled their meeting: "He starts talking and all he's talking about is the computer thing."
"He keeps talking about how everyone is going to have a computer in their life, in their world, in their home," she remembered.
[rtk_adunit_middle]
"And I'm going, 'Right, Right.' And I never saw him again ever, because obviously I just wasn't prepared for that," she added. "I thought, 'Is he nuts?'"
""Can you imagine? What an idiot I was," she laughed. She was appearing on Ellen to promote her new memoir, and she noted that she had written her book on a Mac computer.
[rtk_adunit_bottom]
Steve Jobs became a billionaire in 1995, around the time that Pixar – for which he was the majority shareholder – became a publicly listed company.
14. Her pageant-winning mother, 'Mrs Los Angeles', inspired her to become an actress
Keaton was raised in Los Angeles, but her first taste of the showbiz world came through her stay-at-home mother, Dorothy Deanne.
[rtk_adunit_top]
When Keaton was nine years old, Deanne won a pageant for homemakers in their local neighbourhood.
In an interview with NPR, Keaton remembered watching her mother onstage: "She was crowned Mrs. Highland Park."
[rtk_adunit_middle]
"And the curtain opened, and then there was this cornucopia of gifts, like a Philco washer and dryer, a Selby television set and, you know, coronation roses," she said.
"And all I remember was, I wanted to be on that stage. It really did define the fact that I was going to definitely go into the performing arts, as they say."
[rtk_adunit_bottom]
Six months later, Deanne went on to win "Mrs Los Angeles" in the same pageant.
13. She describes her fashion sense as "extreme"
Keaton is famous for her outlandish and experimental outfits, often dressing for the red carpet in huge hats and satin gloves.
[rtk_adunit_top]
Speaking to Reader's Digest, Keaton noted, "I think I've gone a more extreme route with my fashion interests."
"I go kind of far, constantly covering myself," she said. "I love fashion, you know. I'm curious about all of it."
[rtk_adunit_middle]
But as a survivor of skin cancer, Keaton has also said that her swathes of clothing help to protect her from the sun.
Stewart Cook
"When I was growing up, [sun protection] wasn't even around or discussed. … I'm so protected now," she's since noted.
[rtk_adunit_bottom]
"You've got to put the sunblock on, you've got to go to the dermatologist, you have to take care of yourself and pay attention, and you have to apply it more than once when you're laying in the sun," she said.
12. She treasures a tile taken from actor James Stewart's house
Keaton is a huge fan of the actor James Stewart, who is famous for starring in It's A Wonderful Life and The Philadelphia Story before his death in 1997.
[rtk_adunit_top]
Before Stewart's old house in Beverly Hills was demolished, Keaton apparently saved a tile from the property, which she treasures to this day.
Described as "the starriest street in Beverly Hills", Roxbury Drive has been home to both Stewart and Keaton over the years.
[rtk_adunit_middle]
James Stewart lived there with his wife Gloria Hatrick McLean from 1951 until his death in 1997.
This actor used to grow sweetcorn and tomatoes on Roxbury and give them away to his famous neighbours.
[rtk_adunit_bottom]
George Gershwin, Cyrano de Bergerac, Mia Farrow and Rosemary Clooney are among the other celebrities who have lived on this famous avenue.
11. She suspects she had ADHD in her youth
During her schooldays, Keaton was more interested in acting and singing than formal lessons, and she often found it hard to focus in the classroom.
[rtk_adunit_top]
"I think I had ADD," she wrote in her 2011 memoir Then Again. "Instead of listening I'd be lost in the teacher's face."
She discovered her talent for acting whilst starring as Blanche DuBois in her school's production of A Streetcar Named Desire.
[rtk_adunit_middle]
Keaton filled her schooldays at Santa Ana High with acting and singing classes, and went on to study at Santa Ana College.
After studying acting for a year at Orange Coast College, she dropped out to pursue show business in New York City.
[rtk_adunit_bottom]
In her early career, Keaton supplemented her income by singing at nightclubs – as does her character Annie Hall in the movie of the same name.
10. She aced a school audition with All I Want For Christmas Is My Two Front Teeth
In a 2011 interview with Macleans.ca, Keaton said her mother gave her constant support at the onset of her acting career.
[rtk_adunit_top]
At school, Keaton recalled, her mother gave her some advice to ramp up the comedy onstage.
"I audition[ed] for the talent show when I was in junior high school and I was going to sing All I Want for Christmas is My Two Front Teeth," Keaton said.
[rtk_adunit_middle]
"But it was my mother's idea that I black out my teeth at the tryout, and that of course secured my position on the list of people who would be in the talent show," she explained.
Keaton's mother's support helped her to stand out against the acting competition throughout Keaton's teen years.
[rtk_adunit_bottom]
"When I was at Santa Ana Junior College, I was the big musical comedy star, I took a tour of the Orient for the USO when I was a student at Orange Coast College, and just everywhere my mother was supportive," Keaton also remembered.
9. She directed an episode of Twin Peaks
Perhaps one of Keaton's lesser-known works is Episode 22 of Twin Peaks, which she was invited to direct.
[rtk_adunit_top]
Also entitled Slaves And Masters, this episode sees the police investigating the murder of Jeffrey Marsh.
It aired in February 1991, and it included guest star performances by David Patrick Kelly, Miguel Ferrer and Wendy Robie.
[rtk_adunit_middle]
Keaton also directed one episode each of Pasadena, the drama China Beach and the teen educational series CBS Schoolbreak Special.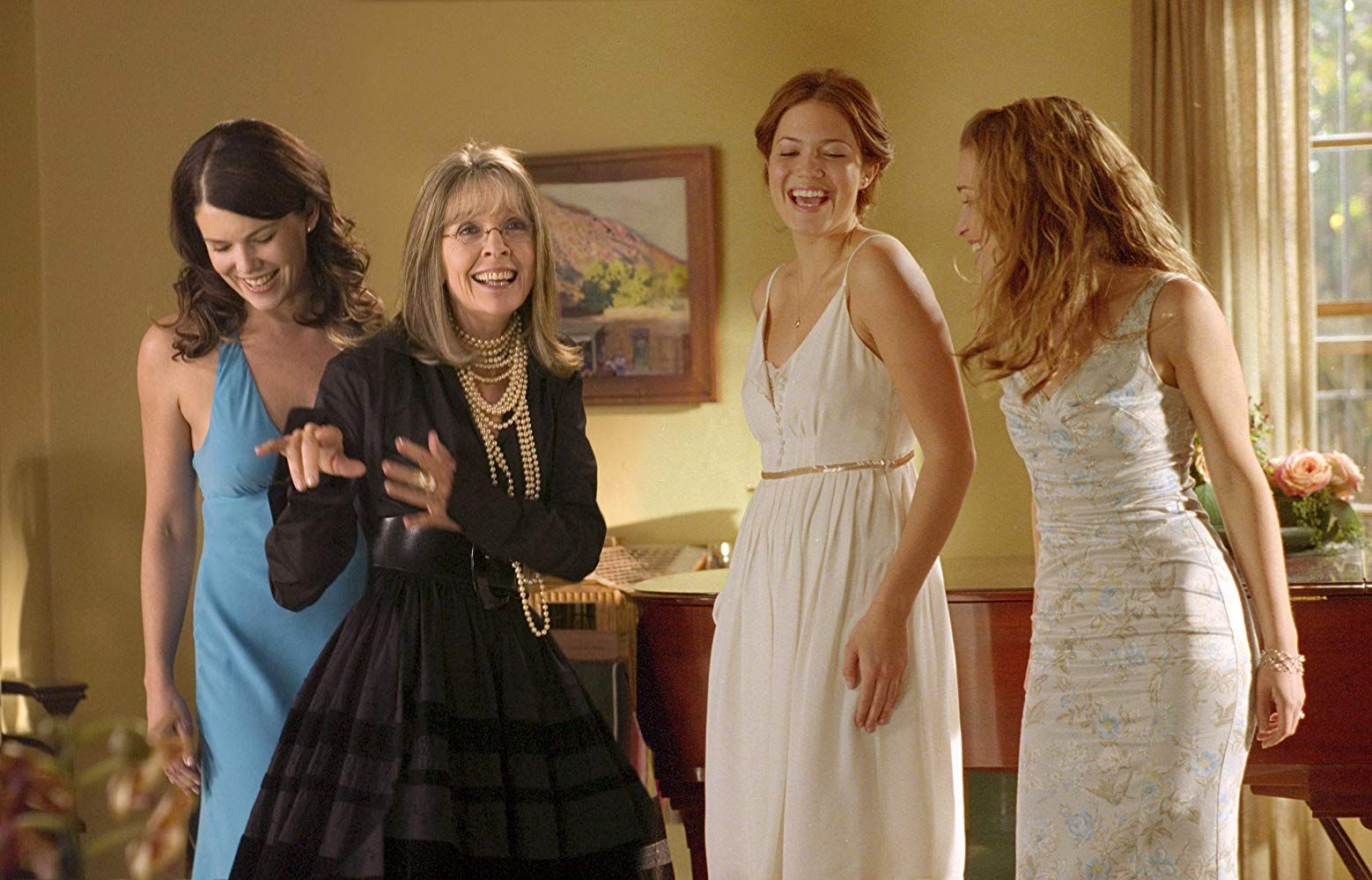 Keaton's directorial credits for films are the TV movie Wildflower, Unstrung Heroes and Hanging Up.
[rtk_adunit_bottom]
Writing for the New York Times in 2000, Keaton stated: "When I find myself in the absurd position of sitting in the director's chair, I try to sit quietly. I try to leave the actors alone as much as possible."
8. There's a street named after her outside her high school
Keaton grew up in Los Angeles and graduated from Santa Ana High School in 1964.
[rtk_adunit_top]
In 2000, her old school decided to celebrate her accomplishments by naming a stretch of road after her.
Named Diane Keaton Lane, this passage runs through the school's campus between Walnut Street and 1st Street.
[rtk_adunit_middle]
At the same time, another local road was named Chantay Boulevard after the surf rock band The Chantays, whose members first met at the school.
In a 2014 interview with the Guardian, Keaton recalled a happy memory of her father, an engineer who often worried about his unconventional daughter, coming to see a school show.
[rtk_adunit_bottom]
He watched her sing Mata Hari in the school's production of Little Mary Sunshine, a parody musical written in 1959, and Keaton recalled that he was glowing with pride.
7. She planned to remake the 1930 film The Blue Angel with Madonna in the lead role
The Blue Angel is a tragicomic film from 1930, created and set in the heyday of Weimar Germany.
[rtk_adunit_top]
It follows the exploits of an academic who falls in love with a cabaret singer, with the leading characters played by Emil Jannings and Marlene Dietrich.
The movie was a huge international success, and it is still considered one of the greatest works of German cinema.
[rtk_adunit_middle]
Keaton dreamt of remaking this film that launched Marlene Dietrich's career, and in the 80s she purchased the rights to the original script.
She intended to cast Madonna in the lead role, and to co-produce the film with Joe Kelly. She also hoped to make the film with Alan Parker, who directed Fame.
[rtk_adunit_bottom]
However, Keaton's plans for the remake fell through. She instead produced and starred in the box office flop The Lemon Sisters, which came out in 1990.
6. In The Good Mother, Keaton played granddaughter to Teresa Wright, who is only 27 years older than her
In the 1988 drama The Good Mother, Diane Keaton plays a Boston piano teacher and single mother. Her love interest is played by Liam Neeson.
[rtk_adunit_top]
Teresa Wright was cast as Keaton's character's grandmother – despite the fact that Wright is only 27 years older than Keaton herself.
Born in 1918, Wright's most famous movies include the The Pride of the Yankees, The Rainmaker and the Hitchcock thriller Shadow of a Doubt.
[rtk_adunit_middle]
The Good Mother met with a mixed critical response, and Keaton later described it as "a big failure. Like, BIG failure."
Critic Roger Ebert described it as "one of the most confused and conflicted serious movies in a long time – a film that feels great passion about its subject matter but has no idea what it wants to say or how to say it."
[rtk_adunit_bottom]
On the other hand, Hal Hinson of the Washington Post singled out Keaton's performance, commenting, "Even shackled to banalities, Keaton has the power to amaze."
5. Keaton stars in five films that were nominated for Best Picture, three of which won the award
Keaton's Annie Hall famously won her an Oscar for Best Actress as well as the Oscars for Best Picture, Best Original Screenplay and Best Director.
[rtk_adunit_top]
What's more, the Writers Guild of America even named it the funniest screenplay ever written.
But this wasn't the first movie Keaton starred in to win the Best Picture Award.
[rtk_adunit_middle]
In 1972, Keaton played Kay Adams in The Godfather, which took Best Picture as well as Best Actor and Best Screenplay. The Godfather Part II, which saw Keaton return to her role, also won Best Picture.
The director, Francis Ford Coppola, has said he picked Keaton for the role because she stood out as eccentric.
[rtk_adunit_bottom]
Keaton went on to star in The Godfather Part III and the historical drama Reds, which both received Best Picture nominations.
4. She directed the music video for Heaven Is a Place on Earth
https://www.youtube.com/watch?v=P-WP6POdTgY
Belinda Carlisle's pop rock anthem Heaven Is a Place on Earth became an instant hit when it was released in 1987.
[rtk_adunit_top]
It won the top spots in both the UK and USA, as well as seven other countries.
But it may surprise you to hear that the music video to accompany this world-famous tune was directed by none other than Diane Keaton.
[rtk_adunit_middle]
This unusual and somewhat spooky video shows children in dark masks and capes, and it was partly filmed at the Six Flags Magic Mountain Theme Park in California.
Carlisle's husband, the politician and actor Morgan Mason, also appears briefly in the music video.
[rtk_adunit_bottom]
Keaton went on to direct the music video for Carlisle's lesser-known song I Get Weak, which came out in the following year.
3. She's not related to Michael Keaton, though he's a big fan – his real name is Michael Douglas
Star of Beetlejuice and Batman, Michael Keaton shares his surname with his fellow actors Diane Keaton and Buster Keaton.
[rtk_adunit_top]
But he's clarified that he is not related to either of them, nor did he pick the stage name "Keaton" as an homage to them.
"I'm a huge fan of both, truly," he told Stephen Colbert. "But, no, it had nothing to do with [Diane or Buster]."
[rtk_adunit_middle]
Michael Keaton clarified that he picked out Keaton while he was browsing through a dictionary.
Keaton had to pick a stage name because his birth name, Michael Douglas, was already taken by the famous producer and actor.
[rtk_adunit_bottom]
Likewise, Diane Keaton had to pick a stage name, since her birth name "Diane Hall" was already registered with the Actors' Equity Association. She picked Keaton, her mother's maiden name.
2. She once recovered a wallet that she'd lost 50 years previously
Anton Lulgjuraj is a keen treasure hunter. In 2018, he went to an auction and purchased an old storage unit in Brewster, New York.
[rtk_adunit_top]
Inside it, he found an old wallet with a driver's license belonging to Diane Hall – a name he didn't recognise.
It was only when he found a membership card to the Actors' Equity Association, signed Diane Keaton, that he realised who the wallet's celebrity owner was. He arranged to reunite it with Keaton, who hadn't seen the item in over 50 years.
[rtk_adunit_middle]
In a state of shock, Keaton took to Twitter to thank Lulgjuraj for returning her long-lost property.
"This is the craziest story!" she wrote. "I don't remember losing this but I'm not surprised because I've lost my wallet many times! Thank you, Mr. Lulgjuraj!"
[rtk_adunit_bottom]
The wallet also contained photos from Keaton's childhood, and early snapshots of her parents.
1. She felt she was "miscast" in The Godfather and Interiors
Speaking to CBS in 2010, Keaton admitted that she felt she wasn't the best person to play Kay Adams in The Godfather.
[rtk_adunit_top]
"I felt I was miscast," she reflected, adding that she often felt insecure about her zany persona early on in her career.
Keaton said that before her breakthrough with The Godfather, "I would always fail [in auditions] because they would always say to me, 'You're too kooky.' And so you don't get the part because you're too kooky."
[rtk_adunit_middle]
Likewise, Keaton noted in her 2011 memoir that she felt miscast in Interiors, Woody Allen's 1978 drama.
Reflecting on her insecurities, Keaton told CBS, "I'm going to fight [them]. I'm going to keep going."
"I'm going to try as many things as I possibly can," she concluded. "Except for flying. I don't want to fly."
[rtk_adunit_end]