It turns out that when she's not running through fields of wheat, Prime Minister Theresa May can be found rummaging through the wardrobes of ex-Play School characters.
May has recently been spotted out-and-about wearing Humpty Dumpty's old Play School outfit, complete with a brightly-coloured check suit jacket and red buttons.
Some Twitter users have even claimed that the prime minister acquired her striking outfit through some rather unsavoury means:
We hope for Humpty's sake that isn't true!
Nevertheless, the eye-catching tweed jacket has caught the attention of onlookers, with many people on social media taking the time to reminisce about one of their favourite childhood programmes.
Play School ran from 1964 til 1988 and featured a whole host of regular toys including Humpty, Poppy, Jemima, Little Ted and Big Ted.
However, it seems as though Theresa May is the only public figure so far to draw fashion inspiration directly from the children's show.
Funnily enough, it's not the first time that one of May's outfits has been compared to a popular British children's TV character. May has been known to 'take risks' with some of her fashion choices (to say the least) and social media users have established that the prime minister generally looks to 70s and 80s kid's TV programmes for potential influences.
Here she is rocking an outfit that looks suspiciously like Great Uncle Bulgaria's tartan shawl from The Wombles:
Coincidence?
If Theresa's style choices have suddenly got you all nostalgic then why not check out our post below on 12 TV shows that will remind you of being a kid?
Enjoy!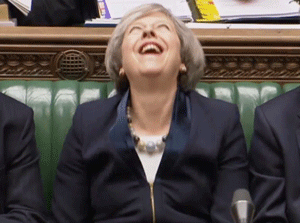 In a previous post we reflected on the fact that our TV viewing habits have changed somewhat since the 1980s, mainly due to the fact that streaming services such as Netflix have made us rather spoilt for choice when it comes to our TV viewing…
But despite having less choice 3 decades ago, we still weren't short of some brilliant TV shows to watch, and below you can read about 12 that will definitely remind you of when you were a kid. How many of these shows do you remember watching? Which was your favourite? And which TV show can you not believe that we haven't included?
1. Button Moon
Like a bad LSD trip, Button Moon encouraged us to follow a spoon shaped man to a moon that was actually a button. If you remember, there was also a living hoover on the moon that did the cleaning. It was all rather bizarre but as kids we absolutely lapped it up.
2. Fraggle Rock
My sister, now in her 30s, is still petrified of Fraggle Rock for some reason, was she the only person who found it really scary? To be fair to her, the creatures that lived outside Fraggle Rock's exit called the 'Gorgs' were rather intimidating.
3. Jackanory
Recently voted the 17th greatest children's TV show of all time, Jackanory first aired all the way back in 1965, lasted for over 3 decades, and was designed to encourage kids to read books.
4. Jonny Briggs
Jonny Briggs featured the exploits of a young boy (played by Richard Holian), his pet dog Razzle, and his eccentric family members. If we're honest we don't remember the great deal about the show itself, but Jonny coming down a slide as the brass band theme tune started up is etched into our memory.
5. Monkey
Known as 'Journey to the West' in its native Japan, and also often referred to as 'Monkey Magic' (which was the name of the theme tune), Monkey was based on a 16th century Chinese novel by Wu Cheng'en, and it originally hit our TV screens from 1978 to 1980.
6. Record Breakers
"Dedication, dedication, dedication, that's what you need. If you wanna be the best, if you wanna beat the rest, ooo-ooo dedication's what you need." Do we need to say any more?
7. Simon And The Witch
The Simon and the Witch TV show was based on a children's book by Margaret Stuart Barry. Simon was of course a young schoolboy who befriended a real life witch.
8. Terrahawks
We don't know about you, but we mainly remember Terrahawks for all the nightmares it gave us! It featured a band of humans who defended the Earth against the evil alien queen Zelda, and she may well have been a puppet, but there was just something about her that still gives us the shivers today.
9. The Krypton Factor
The Krypton Factor was presented by the legend that is Gordon Burns, and it ran from 1977 all the way through to 1995. Were you a fan?
10. Thomas The Tank Engine And Friends
We don't know if you've seen the new computer generated Thomas and the Tank Engine TV show, but it's not a patch on the original with its real life models and Ringo Starr voice-over.
11. Tucker's Luck
Tucker's Luck was a Grange Hill spin off, running from 1983 to 1985 and focussing on the two lead characters Tucker and Alan trying to find work.
12. Worzel Gummidge
You may remember Worzel Gummidge with much fondness, but don't forget that he used to take his own head off and replace it with another one. For better or worse, you simply do not get anything close to this in children's TV shows these days!
If you have enjoyed reading this post, please do spread some lovely, warm, nostalgic TV memories to your friends and family by sharing it with them!