Roseanne originally ran from 1988 to 1997 and featured a huge cast of loveable characters – plus some hilarious guest stars – all of whom brought the story of the Conner family to life in vivid detail. The sitcom was praised for its realistic depiction of working-class American life and regularly placed amongst the most-watched programmes in the US during the late 80s and 90s. However, it was the cast members, headed up by comedian Roseanne Barr, that viewers really tuned in for.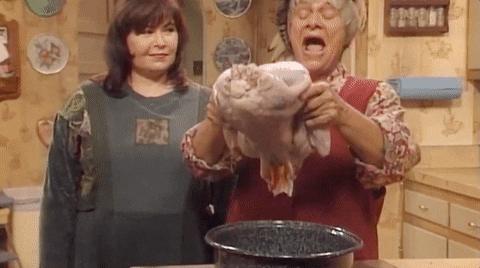 We got to see their on-screen love lives play out over the years (and in the recent revival too) but who were the actors dating in real life? In the article below, we bring you a list of the real life partners of the Roseanne cast. Enjoy!
1. Roseanne Barr & Johnny Argent
Roseanne Barr has had a rocky love life in the past – she's gone through three divorces and a very public break-up with her second husband and co-star Tom Arnold.
[adunit mobile="RTK_dVa8″]
But it looks as though the comedian has found love with Johnny Argent, a writer and composer, whom she has been dating since 2003. They met after Barr had divorced her third husband, Ben Thomas, and Argent was hired to write a blog for her.
The couple have been inseparable ever since, but it's probably fair to say that Roseanne isn't bothered about walking down the aisle for a fourth time because the pair have never got married. For Roseanne and Johnny, the couple that works together stays together.
[adunit mobile="RTK_wCZW"]
Argent is credited as a writer and producer on many of Barr's projects including the Comedy Central Roast of Roseanne, Roseanne Barr: Blonde and Bitchin' and Rockin' with Roseanne.
However, reports have been swirling in the press that things aren't quite so rosy (excuse the pun) as they used to be. Argent is concerned about the effects of Roseanne's Twitter scandal on her mental health and fears that she might have a breakdown.
[adunit mobile="RTK_z9hm"]
Still, they've been seen out and about since the controversy first broke on social media and it looks as though they're together…for now.
2. John Goodman & Anna Beth Goodman
John Goodman is the portly actor known for playing Dan Conner in Roseanne, a role he won a Golden Globe for in 1993. So when he's not pretending to be Roseanne's on-screen husband, who is he hitched to in real life?
[adunit mobile="RTK_dVa8″]
Goodman has been married to his wife, Anna Beth, since 1989. The couple have a daughter together, Molly, who now works as a production assistant in the film industry. But John and his wife have had to weather their faire share of troubles over the years.
Goodman has previously confessed that he was an alcoholic for over thirty years, and only became fully sober in 2007. In one interview, the actor stated: "I don't know how much the old Jackie Daniel's franchise ruined my memory, which is going anyway, because of my advancing decrepitude."
[adunit mobile="RTK_wCZW"]
"I had a 30-year run, and at the end I didn't care about anything. I was just fed up with myself. I didn't even want to be an actor anymore."
Goodman and his wife now reside in New Orleans, Louisiana (Anna Beth is a native of the Pelican state). The couple met at a Halloween party, with Goodman joking that he "couldn't figure out why anyone that pretty was talking to me". Aww!
[adunit mobile="RTK_z9hm"]
They have managed to get through the actor's struggles with food and alcohol together – Goodman said that their long marriage is down to 'listening and patience' with an added dose of rehab.
3. Sara Gilbert & Linda Perry
Sara Gilbert has played Darlene Conner in both the original Roseanne and its reboot. Darlene was always a bit of a tomboy and loved playing sports, but in the new spin-off The Conners she now plays a family role similar to that of her mother, Roseanne.
[adunit mobile="RTK_dVa8″]
She was also married to David Healy and they had two kids together before he dumped her to travel round the world. In reality, Gilbert is happily married to 4 Non Blondes frontwoman Linda Perry.
In a case of life mirroring art, Gilbert actually dated her Roseanne co-star Johnny Galecki for a while, but it was during this time that the actress realised she was a lesbian. From 2001 to 2011, Gilbert dated Allison Adler, a television producer, and the couple had two sons together.
[adunit mobile="RTK_wCZW"]
However, Gilbert has now found lasting happiness with Perry – the pair met not long after the break-up with Adler and announced their engagement in April 2013.
The happy couple got hitched just under a year later, and Gilbert gave birth to their son Rhodes in February 2015. Despite keeping her sexuality hidden from view for a long time, Gilbert and her wife can often be spotted on the red carpet together. Judging from these photographs, it's fair to say that Perry definitely has a love of hats!
4. Michael Fishman & Jennifer Briner
Michael Fishman has come a long way since first appearing in Roseanne as D.J. Fishman at the tender age of six years old.
[adunit mobile="RTK_z9hm"]
He scored the job after Roseanne asked him to tell her a joke at an audition and he said: "Why did the turtle cross the road? it was the chicken's day off." Fishman appeared in the Roseanne re-boot and is also a character in The Conners. D.J. was boisterous and as the first son in the family he loved to wind up his sisters. Later in the series he married Geena Williams and had a daughter together.
Away from the screen, Fishman's life has followed the same trajectory as his character.
[adunit mobile="RTK_dVa8″]
He is married to Jennifer Briner and the couple have two children together. Briner prefers to stay away from the limelight but she can be seen on the red carpet with her actor husband from time to time. The couple got married in 2009 and they have two children – Aaron and Isabelle. Apparently Briner was diagnosed with a rare kidney disease which has changed the way their household works.
The actor once revealed in an interview: "When my kids were little my wife was diagnosed with a rare kidney disease."
[adunit mobile="RTK_wCZW"]
"It required us to alter how we organized our house, and ultimately in many ways it pushed them to take on greater awareness and responsibility at times." Aww!
5. Laurie Metcalf & Matt Roth
Roseanne fans have always loved watching Laurie Metcalf in action as Jackie Harris, Roseanne's younger sister. At one point Roseanne describes Jackie as the 'backbone of the family'.
[adunit mobile="RTK_z9hm"]
It's unclear what Metcalf's current relationship status is, but she was married to her Roseanne co-star Matt Roth for over twenty years before they divorced in 2014. The ex-couple met in the early 90s when Roth played Jackie's abusive boyfriend Fisher.
By 1993 they had already had a son, Will, together and the show biz couple ended up getting married a couple of years later. Metcalf and Roth worked together on several projects, including Blink in 1994 and Chicago Cab in 1998.
[adunit mobile="RTK_dVa8″]
They even made a guest appearance on Desperate Housewives together. They had a daughter, Mae, and adopted a son, Donovan, before separating in 2008 and divorcing in 2014.
It's been reported that Metcalf kept a country house in Idaho while Roth stayed in the family's LA home. Metcalf also got a couple of snowmobiles, a camper van and even a tractor in the divorce deal!
6. Johnny Galecki & Kaley Cuoco
Before he made millions of pounds on a little-known series called The Big Bang Theory, Johnny Galecki played David Healy (Darlene's boyfriend and husband) on Roseanne.
[adunit mobile="RTK_wCZW"]
He became a permanent cast member in 1992 and even returned to the Roseanne re-boot earlier this year. He has a history of dating co-stars – after a brief relationship with Sara Gilbert, Galecki famously dated his Big Bang Theory cast mate Kaley Cuoco.
The couple met on the series in 2007 and played each other's on-screen love interests.
[adunit mobile="RTK_z9hm"]
Their relationship quickly blossomed away from the cameras and the pair dated for over two years until 2009. However, things weren't awkward with the former couple even though they still had to spend several years starring opposite each other. In fact, the exes are really good friends to this day.
In 2013, Galecki said about Cuoco: "She's not an ex, she's a part of my life." Sadly the pair decided to split after having to keep their relationship a secret. Cuoco once confessed: "This is the first time I've ever talked about it, ever.
[adunit mobile="RTK_dVa8″]
"It was a wonderful relationship but we never spoke a word about it and never went anywhere together. We were so protective of ourselves and the show and didn't want anything to ruin that. But that also made it sad, too."
7. Sarah Chalke & Jamie Afifi
Sarah Chalke is probably more familiar to younger generations as Elliot Reid in Scrubs, but fans of Roseanne will remember Chalke as the second Becky Conner from the hit 90s series.
[adunit mobile="RTK_wCZW"]
The actress has kept her private life extremely low-key despite spending such a long time in the limelight.
She is currently engaged to Jamie Afifi and the pair have two children together. Their son Charlie was born in 2009 and the actress recently gave birth to a daughter, Frankie, in 2016.
[adunit mobile="RTK_z9hm"]
Afifi is not a member of the Hollywood scene – he's a lawyer instead.
Not much is known about the couple, but the actress did reveal that their son Charles was born with Kawasaki disease, an extremely rare condition which affects the body's blood vessels. The actress once stated: "Thank god he's okay. Every Kawasaki experience is different, but one common thing for KD parents is that they go through a lot of misdiagnosis."
8. Emma Kenney & ?
Emma Kenney plays Harris Conner in the Roseanne revival.
[adunit mobile="RTK_dVa8″]
She is also known to US audiences as Debbie Gallagher in Shameless. Kenney is only 19 years old and its unclear what exactly her relationship status is at the moment – but she was spotted at a farmer's market with a mystery man not long ago.
The actress has been spotted out and about with someone who is probably her boyfriend, but she's not confirmed anything as of yet.
[adunit mobile="RTK_wCZW"]
In fact, Kenney has been struggling with some demons in the past few years and recently checked herself into rehab.
In an interview, the actress stated: "I just didn't know how to deal with stress, so I would have an occasional wild night. I would go out to clubs and bars with older friends in Hollywood. Now, in treatment, I will work on finding other ways to cope with boredom, find hobbies and better learn how to deal with stress."
[adunit mobile="RTK_z9hm"]
Feel better soon Emma!
9. Glenn Quinn
Glenn Quinn was an Irish actor best-known for playing Mark Healy in Roseanne. He appeared from season 3 as Becky Conner's boyfriend (then husband) and continued in that role until the show's end in 1997. Mark was a rebel without a cause who eloped with Becky and didn't always see eye-to-eye with Roseanne, to say the least.
Sadly Quinn passed away in 2002 of a heroin overdose.
[adunit mobile="RTK_dVa8″]
He had been struggling with drug addiction and homelessness in the weeks leading up to his death and was eventually found dead at a friend's home in North Hollywood on December 3rd, 2002.
It's not known if Quinn was seeing anyone before his death, but the Roseanne reboot recently paid tribute to Quinn by dedicating their fourth episode to the actor.
[adunit mobile="RTK_wCZW"]
RIP Glenn Quinn.
10. Estelle Parsons & Peter Zimroth
Roseanne fans will definitely remember Estelle Parsons, who played Beverly Harris, the highly-critical but somehow-lovable mother to Roseanne and Jackie. In the series, Beverly had a tough time of things with an angry and cheating husband whom she eventually divorced.
[adunit mobile="RTK_z9hm"]
However, in reality Parsons' love life couldn't be more different.
The actress has been happily married to Peter Zimroth since 1983 and the pair were together for 10 years before they even got hitched. Zimroth is a high-profile lawyer who previously acted as Assistant U.S. Federal Attorney, Assistant District Attorney and court-appointed monitor of the NYPD's policies regarding stop-and-frisk.
[adunit mobile="RTK_dVa8″]
That's an impressive resume!
The actress revealed that she took the job on Roseanne because Barr said they could be completely flexible with her schedule. Zimroth would look after their son while she was shooting the sitcom in the evening. The couple are still happily married and Zimroth can often be seen supporting his wife at various show biz events. Cute!
11. Martin Mull & Wendy Haas
Martin Mull played Leon Carp on Roseanne.
[adunit mobile="RTK_wCZW"]
He was Roseanne's gay boss and frenemy who got married to Scott before the pair tried to adopt a baby girl. In reality, Mull is heterosexual and has been happily married to Wendy Haas since 1982. The couple have a daughter named Maggie together.
It's not the first time Mull has been married though. Twice-divorced, Mull was with his first wife Kristin Johnson from 1972 to 1978. He then tied the knot with Sandra Baker in 1978 but their marriage only lasted three years and ended in divorce in 1981. It looks as though Mull has found lasting happiness with Haas though.
Haas is a keyboardist and vocalist who worked with bands such as Santana, Azteca, Alice Cooper and Spencer Davis.
[adunit mobile="RTK_z9hm"]
About ten years into her marriage to Mull, Haas retired from performing and has devoted herself to raising their daughter Maggie.
12. Michael O'Keefe & Emily Donahoe
Fred was an interesting character – he married Jackie after getting her pregnant but eventually the couple realised they didn't have much in common and decided to part ways. In reality, things are a lot happier for actor Michael O'Keefe who is married to Emily Donahoe, an actress.
The couple got hitched in 2011 and they have one child together.
[adunit mobile="RTK_dVa8″]
Donahoe is primarily a stage actor and has won awards for her performances in Shakespeare in Hollywood and The Christians. Donahoe also runs a consultancy firm which specialises in training female speakers called WOMENSPEAK Training.
O'Keefe was previously married to the blues singer Bonnie Raitt from 1991 to 1999. Apparently they got married in a traditional Celtic ceremony to honour Bonnie's Scottish heritage and O'Keefe's Irish background.
13. Sandra Bernhard & Sara Switzer
Sandra Bernhard's career has gone from strength to strength since she played Nancy in Roseanne.
[adunit mobile="RTK_wCZW"]
Nancy was one of the first bisexual characters to be depicted on US television. She had a number of relationships during the course of the show, but started out life as Arnie's estranged wife. In reality, Bernhard is also bisexual and has a longtime partner named Sara Switzer.
Bernhard gave birth to a daughter named Cicely in 1994 and Bernhard raises her with Switzer. Apparently the couple first met when Switzer was working at Harper's Bazaar. Bernhard wrote in her memoir: "Years ago she was an editor at Harper's Bazaar and asked me to write a piece for her.
[adunit mobile="RTK_z9hm"]
"We bumped into each other later and just connected. It's a great relationship; she's a really solid person." However, before settling down, Bernhard had been linked with a number of famous faces.
There were rumours that the Roseanne actress was a 'good friend' of Madonna's (which Bernhard has declined to talk about). She was also in a relationship with Patricia Velasquez, the world's first Latina supermodel.
[adunit mobile="RTK_dVa8″]
Bernhard now lives in New York with her daughter and Switzer.
14. James Pickens Jr. & Gina Taylor-Pickens
Chuckie Mitchell was one of Dan's poker buddies – he worked with Dan at one point and his wife Anne-Marie was a longtime friend of Roseanne.
[adunit mobile="RTK_wCZW"]
Since working on Roseanne Pickens Jr has found success in the hit medical drama Grey's Anatomy as Dr Richard Webber. Fans will be pleased to know that away from the cameras, Pickens Jr has a solid and happy romantic life.
In real life James has been married to his wife Gina for 35 years.
[adunit mobile="RTK_z9hm"]
They have two children together – Carl Tharps and Gavyn Pickens – who are both trying to emulate their father and make it in the world of show business. James and Gina currently reside in Los Angeles County, California.
Pickens Jr has now returned to the Roseanne reboot in the role of Chuckie for two episodes. Even though he wasn't the biggest character in the sitcom (Pickens Jr appeared in 19 episodes), Dan's poker buddy was one personality who definitely helped to bring the town of Lanford to life.
15. Fred Willard & Mary Willard
Fred Willard put in a memorable appearance as Leon's husband Scott, a high-flying executive who first arrives in the show to try and win back his old flame Carp.
[adunit mobile="RTK_dVa8″]
Their wedding is shown in the season 8 episode 'December Wedding'. In reality, Willard is heterosexual and he was happily married to his wife Mary since 1968. However, tragedy has since hit the Willard family.
Mary sadly passed away in July 2018, leaving her husband and their daughter Hope behind. However, despite their long relationship the marriage was not without its ups and downs.
[adunit mobile="RTK_wCZW"]
Willard was arrested in 2012 on suspicious of a misdemeanour lewd act in an adult theater. Although he was never charged, the actor had to take a sexual education diversion programme.
Mary was a playwright and TV writer who mentored young comedic talent in Hollywood.
[adunit mobile="RTK_z9hm"]
She worked with several prominent comedy figures and was a cheerleader for her husband and everything he did.
16. Tom Arnold & Roseanne Barr
Tom Arnold played Arnie Thomas in Roseanne. Arnie was another of Dan's poker buddies and also the estranged husband of Nancy.
[adunit mobile="RTK_dVa8″]
During his time on the show he was married to Roseanne Barr in real life – the pair had originally met several years ago and married in 1990 after Thomas successfully battled his drug and alcohol addictions. However, their marriage was not without its controversy – many people accused Arnold of using Roseanne after she cut ties with her lawyer, publicist and even her sister on her new husband's orders.
Arnold converted to Judaism to marry Barr and still practices the religion to this day.
[adunit mobile="RTK_wCZW"]
However, his relationship with the comedian didn't stand the test of time and the couple divorced only four years later in 1994. Arnold once revealed that despite Roseanne's success, he did not take any alimony when the settlement was agreed. However, he did have his tattoo of Roseanne's face turned into a portrait of Stephen King!
Arnold is now on his fourth wife. He married Ashley Groussman in 2009 and actor Dax Shepard was his best man.
[adunit mobile="RTK_z9hm"]
The couple have two children together and a whopping four dogs! Arnold still likes to discuss his ex-wife in the press from time to time and recently said he was unsurprised by the Twitter outburst due to Roseanne's multiple personality disorder.
17. Bonnie Bramlett & Delaney Bramlett
Bonnie Bramlett will be known to hardcore Roseanne fans as Bonnie, a friend and co-worker of Roseanne's who likes to sing and play guitar.
[adunit mobile="RTK_dVa8″]
This is because Bonnie Bramlett is actually a well-known rock and blues artist who has worked with the biggest names in the music industry. She made music history as the first ever white woman to sing with Ike and Tina Turner as one of the Ikettes and has worked with the likes of Billy Joel and George Harrison.
Bramlett moved to LA and met singer Delaney Bramlett in 1967 at a bowling alley.
[adunit mobile="RTK_wCZW"]
They married each other within a week of meeting and had a daughter together – Bekka (who later joined Fleetwood Mac in the 90s) – the following year. The husband and wife duo became known as Delaney and Bonnie, and were popular amongst music industry legends – they toured Europe with Eric Clapton but sadly never managed to make it big.
After the couple divorced, Bonnie married Danny Sheridan in 1988 and the pair appeared in Roseanne after making a name for themselves in Hollywood.
[adunit mobile="RTK_z9hm"]
Bonnie became a series regular and was often seen performing live with her husband Danny (who was billed as Hank the bass player).
18. Debbie Reynolds & Eddie Fisher
Hollywood icon Debbie Reynolds appeared in the penultimate episode of Roseanne as Audrey Conner, Dan's mother who has recently been discharged.
[adunit mobile="RTK_dVa8″]
The episode was written by none other than Carrie Fisher, Debbie's daughter (and Princess Leia), and featured a storyline in which Audrey kept talking about trying to murder her own son! Reynolds was a legend of the Hollywood Golden Age and was married to famous crooner Eddie Fisher.
The good-looking couple married in 1955 had two children together – Carrie and Todd. However, the marriage famously came to an abrupt end when Fisher decided to run away with Elizabeth Taylor, who was Reynolds' best friend at the time!
[adunit mobile="RTK_wCZW"]
The incident was a huge public scandal at the time and led to the cancellation of Fisher's TV programme.
However, Reynolds and Taylor later reconciled in the early 70s when they were both aboard a cruise on the Queen Elizabeth. Reynolds sent a note to her old friend's room and Taylor then asked her to dinner to make up.
[adunit mobile="RTK_z9hm"]
Reynolds said "we had a wonderful evening with a lot of laughs." She also revealed that she had forgiven her former husband for the drama surrounding their divorce.
Reynolds passed away of a stroke on the 28th December 2016, only a day after her daughter Carrie died of a heart attack.
19. George Clooney & Amal Clooney
Before George Clooney became one of the biggest film stars in recent years, he was a fresh-faced TV actor trying to make it big.
[adunit mobile="RTK_dVa8″]
And he actually had a recurring guest role on Roseanne from 1988 until 1991, a couple of years before he joined the cast of ER. Clooney played Booker, the hunky foreman at the factory where Roseanne worked. He even had time for a love interest in the show and briefly dated Jackie Conner.
Clooney was a famous bachelor for many years before marrying Amal Clooney, a British-Lebanese human rights lawyer, in September 2014.
[adunit mobile="RTK_wCZW"]
Amal gave birth to twins Ella and Alexander in 2017. The famous couple can often be seen popping up on the red carpet and at royal weddings together, and Clooney hasn't been shy about professing his love for his lawyer wife.
On why he fell in love with Amal, George once stated: "She's an amazing human being. And, she's caring. And, she also happens to be one of the smartest people I've ever met. And, she's got a great sense of humor.
[adunit mobile="RTK_z9hm"]
"There's a number of reasons why [he fell in love]." Aww! He's definitely come a long way since his time on Roseanne.
20. Joseph Gordon-Levitt & Tasha McCauley
Joseph Gordon-Levitt is a child actor turned Hollywood superstar who had a recurring role on Roseanne as D.J.'s weird friend George in a handful of episodes between 1993 to 1995.
[adunit mobile="RTK_dVa8″]
Obviously he wasn't old enough then to have a regular partner, but now Gordon-Levitt is all grown up and happily married to Tasha McCauley.
The couple married in December 2014 and they now have two sons together. The actor has managed to keep his private life away from the limelight but the paparazzi have spotted Gordon-Levitt and his wife Tasha out and about together in the past.
[adunit mobile="RTK_wCZW"]
Tasha is a highly successful tech and robotics expert in her own right and describes herself as someone who "enjoys building things, discovering how things work, and spends a lot of time thinking about how to make user interfaces that facilitate and enhance creativity."
The two have managed to keep things private and Gordon-Levitt always remains tight-lipped about his marriage and family life in interviews.
21. Leonardo DiCaprio & Camila Morrone
And last but certainly not least, even the most hardcore Roseanne fans might not realise that Leonardo DiCaprio once made an uncredited appearance in the sitcom as one of Darlene's classmates!
[adunit mobile="RTK_z9hm"]
No we're not kidding, the star of Titanic, The Revenant and The Great Gatsby started off his career with a little-known appearance in Roseanne. Check out Leo in the photo below:
Although it's extremely hard to keep up with which Victoria's Secret model Leo is currently dating, we do know that the Oscar-winning actor is currently with Camila Morrone, a 21-year-old and stepdaughter to Al Pacino.
[adunit mobile="RTK_dVa8″]
The pair have been spotted on holidays together and even watching football in Paris. The famous actor has dated a string of famous women in the past, from Gisele Bundchen to Bar Refaeli. But rumour has it that Leo is ready to settle down with Camila, who is 23 years his junior…hmmm, we'll have to see about that one!
We're not sure how long it will last, but it's nice to see Leo has taken a break from dating blondes and has gone for a brunette instead for a change!
[adunit mobile="RTK_wCZW"]
There have been some very bizarre sightings of Leo and Camila on double dates with Al Pacino and his longtime partner Lucia Sola. This is made all the more weirder when you consider the fact that Leo has known Pacino and his partner for many years, when Camila would still have been a pre-teen girl!
Did you know all of these real life partners? And did you realise that Leo was once in Roseanne?
[adunit mobile="RTK_z9hm"]
Let us know in the comments section below!