The Sopranos ran from 1999 until 2007 and followed the exploits of New Jersey mobster Tony Soprano, a wise guy who can't keep his panic attacks under control. One of the best things about the series was the ensemble cast, which was made up of some seriously talented actors and actresses who all helped to bring Tony's 'colleagues' and family members to life.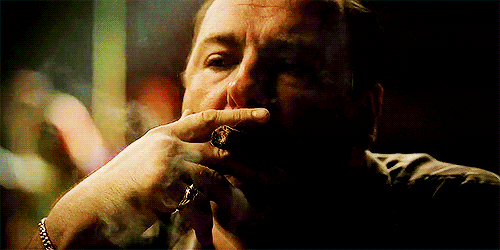 In the article below, we've taken a look at what the cast of The Sopranos looked like then and now. Find out which famous character from the series completely shunned acting after the show ended, plus we reveal which cast member released a horrendously bad album in a bid to launch their own music career on the side.
[rtk_adunit_top]
Scroll down the list below to find out what the cast of The Sopranos are up to now…and don't forget the gabagool!
James Gandolfini played the larger-than-life mob boss Tony Soprano. In between crippling panic attacks and secret therapy sessions, Tony tried to run a criminal empire across New Jersey – usually with a cigar hanging out of his mouth and his faithful crew in tow.
[adunit mobile="RTK_dVa8″]
After winning three well-deserved Emmys for his performance as Tony, Gandolfini continued acting after The Sopranos came to an end. He starred in the 2013 rom-com Enough Said and had roles in In The Loops and Zero Dark Thirty. Sadly Gandolfini passed away suddenly at the age of 51 years old while on holiday in Rome with his son. The iconic actor was found collapsed in his hotel room just days before he was due to pick up an award at the Taormina Film Festival.
2. Edie Falco – Carmela Soprano
Carmela Soprano may have been a mob wife, but she knew how to stick to her guns and god forbid anyone who tried to cross her. Carmela had to endure her husband's constant cheating while also putting up with two bratty kids and an extended family which gave her no end of troubles. In spite of everything, Carmela the housewife always seemed to have a constant supply of deli meats and homemade pasta on hand!
[adunit mobile="RTK_wCZW"]
Edie Falco was excellent as Carmela, and her acting career continued to thrive after The Sopranos. Her most notable role came in the comedy drama Nurse Jackie – Falco played the lead role of Jackie Peyton, a nurse with addiction problems. The actress has also had roles in the Louis CK web comedy Horace and Pete, as well as Law & Order: True Crime.
Falco is a Buddhist and a vegan.
3. Jamie-Lynn Sigler – Meadow Soprano
Meadow was the oldest Soprano child, and she spent most of the series acting like a self-righteous spoiled brat. Her arguments with Carmela were probably more vicious than any hit that Tony ordered. At the end of the series, Meadow was engaged to Patrick Parisi and about to enter law school (in spite of her father's profession!).
Jamie-Lynn Sigler has struggled to find the same kinds of acting jobs since The Sopranos came to an end. She did try and launch her own music career, but the 2001 album she released entitled 'Here to Heaven' was a massive flop. Sigler herself has even confessed that the album was a mistake! She has had a number of appearances in music videos for Mariah Carey and The Lonely Island. She recently had a guest appearance in the Magnum, P.I. reboot.
[adunit mobile="RTK_z9hm"]
Sigler was diagnosed with multiple sclerosis when she was 20 years old and writes a blog about her experience of the condition.
4. Robert Iler – AJ Soprano
AJ Soprano grew increasingly more annoying as the series wore on – he went from an innocent, fresh-faced young boy to a confused and depressed teenager. But his bratty behaviour and the way he spoke to both Carmela and Tony made him seriously unpopular among most fans of The Sopranos.
[adunit mobile="RTK_dVa8″]
After the series ended, Robert Iler completely shunned acting. He appeared in a single episode of Law & Order in 2009 before changing career paths to become a professional poker player. Iler claims that he hasn't read a script in several years and instead lives in Las Vegas. He can regularly be spotted at the World Series of Poker.
5. Michael Imperioli – Christopher Moltisanti
Christopher Moltisanti was one of the best characters in The Sopranos. A surrogate son to Tony, he was head strong and ambitious – two qualities which often got him into trouble with Tony and the rest of the crew. He was also a drug user and beat his girlfriend Adriana regularly. In the end, Christopher turned out to be his own worst enemy.
[adunit mobile="RTK_wCZW"]
Michael Imperioli put in an excellent performance as Christopher. Since then, Imperioli has become a rat and gone over to the other side, playing members of law enforcement in Life on Mars, The Lovely Bones and Law & Order. The actor is also a writer in his spare time – he wrote a few episodes of The Sopranos but also co-write Summer of Sam (which was directed by Spike Lee). He currently plays Eddie in the comedy Alex, Inc.
6. Lorraine Bracco – Dr. Jennifer Melfi
Dr. Melfi provided Tony with her support as a psychiatrist on and off throughout the series. Although Melfi generally provided an outsider perspective on all of Tony's dealings, sometimes their personal lives crossed paths.
[adunit mobile="RTK_z9hm"]
Lorraine Bracco famously refused the offer to play Carmela, because of how similar it was to her role in Goodfellas. Since appearing in The Sopranos, Bracco has largely turned her back on the world of acting – save for a few episodes of voiceover work in Bojack Horseman. The actress suffers from depression and has written two self-help books on the issue.
She currently owns a vineyard in Tuscany.
7. Steve Van Zandt – Silvio Dante
Tony had several crew members surrounding him at all times – and none was more loyal than Silvio Dante. Silvio was Tony's second-in-command, a calming presence in the group who was honoured with the title of consigliere. As well as offering advice and support, he also carried out Tony's orders and always made sure he had a flashy looking suit on.
[adunit mobile="RTK_dVa8″]
As well as acting in The Sopranos, Van Zandt is a pivotal member of Bruce Springsteen's E Street Band. He has toured with plenty of famous names over the years and even owns his own record label. Although Van Zandt had never acted before The Sopranos, he later went on to star in the Netflix series Lilyhammer as an ex-mobster on the run.
8. Tony Sirico – Paulie Gaultieri
Paulie Gualtieri definitely helped to provide some of the comic relief in the series. He was a long-time member of Tony's crew and proved to be a valuable capo – he was fiercely loyal and defensive of Tony, qualities which helped him to survive throughout the series. Paulie is eventually promoted to underboss.
[adunit mobile="RTK_wCZW"]
Tony Sirico was actually a criminal before being cast in The Sopranos, and only agreed to take the part if executives agreed that Paulie would never become a rat. Sirico has starred in several mobster projects since the iconic series ended – he voiced Vinny the dog in Family Guy and has also appeared in The Grinder and Lilyhammer (opposite Van Zandt).
9. Aida Turturro – Janice Soprano
Janice was arguably the most volatile Soprano in the series – even more of a live wire than her brother Tony! She and her family members often had very complex relationships, but somehow Janice always managed to survive – usually by conning other people out of money, or swooping in on Bobby the minute his wife died.
[adunit mobile="RTK_z9hm"]
Aida Turturro hasn't appeared regularly in a big series since The Sopranos, but she has often popped up in a number of well-known programmes including Grey's Anatomy, Curb Your Enthusiasm, ER and Brooklyn Nine-Nine. She also starred in an episode of Nurse Jackie opposite her former co-star Falco. She also had a recurring role in The Blacklist as Heddie Hawkins from 2017 to 2018.
10. Drea de Matteo – Adriana La Cerva
Adriana La Cerva was Christopher's beautiful and glamorous girlfriend. She was head over heels in love with Christopher, despite the fact that she regularly experienced vicious beatings at the hands of her boyfriend. Her storyline took a dark turn in later seasons when she was forced into spying on her friends for the FBI.
Drea De Matteo won an Emmy for her performance as Adriana in 2004. Since then she is probably best known for playing Joey Tribbiani's sister Gina on the Friends spin-off Joey. She also appeared as Detective Tess Nazario on Shades of Blue from 2016 to 2018, and now has a recurring role in A Million Little Things.
What do you think of all these Sopranos cast members then and now? Let us know in the comments section!