It's quite ironic that Kelsey Grammer's most famous role was as a psychiatrist, because his life story probably contains more trauma than all of Frasier's patients combined.
[playbuzz-branded]
For those people who don't know, Grammer (who starred in Cheers and Frasier) has led an extremely traumatic life away from the cameras. Growing up, the actor's experience of life was filled with horrific acts of violence, drug abuse and random tragedy which often affected the people closest to him.
Grammer's grandfather once told him that there was a 'family curse' and it's really not hard to see why.
[adunit mobile="RTK_dVa8″]
The actor's father was shot dead by a clinically insane murderer, while his sister was brutally gang raped and stabbed to death. His two half brothers were later killed after being eaten by sharks.
And that's not the only tragedy to befall Grammer (pictured below in his high school year book photo). He endured a difficult childhood, a battle with drink and drug abuse, as well as three failed marriages and several miscarriages.
It's amazing to think that Grammer was struggling with all of these demons and yet simultaneously making people around the world cry with laughter thanks to his unforgettable performance as Dr. Frasier Crane. Grammer won a string of awards for his acting, including five Primetime Emmys and three Golden Globes.
However, Grammer has revealed that he is currently fighting a legal battle to ensure that the men who assaulted and murdered his sister Karen stay behind bars.
[adunit mobile="RTK_wCZW"]
The brutal rape and murder of his sister Karen deeply affected Grammer
Karen Grammer (pictured below) was only 18 years old when she was kidnapped from her place of work in Colorado. Karen was working as a waitress at the Red Lobster restaurant, only to find herself bundled into a car by four men.
The men took her to an apartment and took turns raping her in a horrific ordeal which lasted for four hours. The attackers then put a cloth over her head and promised to take her home. Instead they transported Karen to a trailer park and stabbed her in the back and neck before leaving the young woman for dead.
Despite her injuries, Karen was able to crawl to the porch of a nearby home, but she died before she was able to ring the doorbell.
[adunit mobile="RTK_z9hm"]
It was her brother Kelsey who travelled to Colorado Springs a week later and identified her body. The actor has often admitted that this horrific turn of events affected him more deeply than anything else in his life: "I lost it. I abandoned the effort to find a reason to be alive."
With that in mind, the actor is now battling to ensure that his sister's killers stay firmly behind bars. Two of Karen's attackers had their death sentences changed to life imprisonment, and ringleader Freddie Glenn is now up for parole.
It's not the first time that the actor has had to speak at a parole hearing. In 2009, he told the board: "She was so smart and good and decent. We could laugh for hours together. I was supposed to protect her – I could not.
"It very nearly destroyed me. When we heard this man might be paroled, the suffering began anew."0
Grammer experienced a very difficult childhood
Grammer was born in the US Virgin Island of Saint Thomas. It sounds idyllic, but the actor's life quickly changed forever at the age of 2 years old when his parents divorced and he moved with his sister and mother to New Jersey, in order to live with Grammer's grandfather.
[playbuzz-branded]
His grandfather died from cancer at the age of 63, when the future Frasier star was only 12 years old.
Grammer then experienced another shocking tragedy when his father was shot dead by a strange man who had lured him outside by setting fire to his car.
The attacker in question, Arthur Niles, was later found guilty by reason of insanity and was promptly sent to a psychiatric facility to live out his days.
[adunit mobile="RTK_dVa8″]
Meanwhile Grammer was left to pick up the pieces. He turned to acting as an escape and decided to transform his love of performance into a career.
He was expelled from the Juilliard School after succumbing to drink and drugs
Grammer was accepted to the prestigious Juilliard School of Performing Arts in New York. But he struggled to cope with his family history and turned to alcohol and drugs as a way to escape from the demons that were following him around.
The actor later discussed this period of his life with Oprah, and revealed that he was expelled from Juilliard after failing to attend classes.
On his addictions to drink and drugs, Grammer stated: "I liked it. I liked the way it made me feel. Maybe it was because I was running away from the feelings that weren't, you know, as comfortable as I wanted them to do be, and maybe I do have a self-destructive part of me."
[adunit mobile="RTK_wCZW"]
Although Grammer managed to find his way to sobriety in the end, the actor's appearances on Cheers and Frasier were still married by addictions to cocaine and alcohol. In fact, many of his cast members tried to stage interventions to Grammer help.
Writer Dan O'Shannon once revealed the true extent of the actor's depression: "He would ooze into the studio, his life all out of sorts. Jimmy would say "Action," and he would snap into Frasier and expound in this very erudite dialogue and be pitch-perfect.
"And Jimmy would yell "Cut!" and he would ooze back into Kelsey—glazed-over eyes, half asleep, going through whatever he was going through. It was the most amazing transformation I'd ever seen."
[adunit mobile="RTK_z9hm"]
Grammer's two half brothers were also killed in a tragic accident
In June 1980, tragedy struck the Grammer family again. This time, the actor's half brothers Stephen and Billy were the victims.
They were scuba diving off the coast of St. Thomas when Stephen suffered an embolism after surfacing too quickly and passed away. Meanwhile, Billy's cause of death has never been officially established.
But rescuers believe that the most likely scenario is that Billy was eaten by sharks.
Grammer continued to take drugs and drink alcohol while his career went from strength to strength. By 2001, the actor was earning a whopping £700,000 per episode of Frasier.
Sadly he didn't manage to bring the same level of stability to his love life.
The actor has had a number of failed marriages over the years
Grammer met Doreen Alderman, a dancer, in 1982 and quickly got married – they share a daughter named Spencer together, who was born in 1983. The couple split in 1990 and two years later Kelsey found himself a father again after having a one-night stand with a make-up artist. His daughter Kandace was born in 1992.
The Frasier star got hitched to Leigh-Anne Cshuany (pictured below), a former exotic dancer, in 1994, but the relationship turned out to be a nightmare for the actor.
Cshuany was a toxic personality who regularly spat in Grammer's face, threatened to kill him and tore up pictures of his relatives. The actor filed for divorce from Cshuany when she was three months pregnant, which led her to try and commit suicide.
This meant that Cshuany lost the baby and she and Grammer parted ways for good.
[adunit mobile="RTK_dVa8″]
Finally Kelsey decided to visit rehab in 1996 and sort out his demons. Grammer is now clean and sober, and has said that his religious beliefs have helped him to stay on the right track.
In August 1997, not long after leaving the Betty Ford clinic, Grammer married Camille Donatacci. This would turn out to be his longest marriage yet, lasting 13 years before the couple parted ways in 2010. They have two children together.
It's unclear why exactly the marriage turned sour, with Grammer citing "irreconcilable differences" while Camille claimed that her ex-husband was a cross dresser.
[adunit mobile="RTK_wCZW"]
An accusation of statutory rape made by his child's babysitter
Most people might not know that Grammer has also had some very serious legal issues over the years. In 1995, the actor was accused by his child's babysitter of statutory rape – she was only 15 years old at the time.
However, a grand jury decided not to convict Grammer due to the lack of physical evidence in the case. They did listen to some voicemail messages but this was not deemed to have been enough proof to convict Grammer of the crime.
1995 turned out to be a very stressful year for the actor – as well as the statutory rape accusation, an ex-girlfriend of Grammer's named Cerlette Lammehe sued the Frasier star for defamation of character and invasion of privacy over some claims he made in his autobiography So Far.
[adunit mobile="RTK_z9hm"]
Only one year into his marriage with Camille in 1998, Grammer again found himself having to fight a lurid legal battle after the actor filed a lawsuit against Internet Entertainement Group, claiming that they had stolen a sex tape of him and another woman from his house.
The case was eventually dropped although the IEG president later admitted that somebody else had come forward with a different sex tape of the actor.
Grammer later reflected on all of the drama and admitted that he should have been more careful: "Whether or not you're a celebrity—even if you're just an old slob with a video camera—you don't realize you shouldn't do it.
"So you throw the tape in the back of a dark closet until your old girlfriend remembers it's there because you're famous now and she's not. But if you're not prepared to do the time, don't do the crime."
A near-death experience
While still married to Camille, Grammer actually stared death in the eyes himself after suffering a heart attack while on vacation in Hawaii in 2008. He and his family were paddleboarding when the actor suffered a cardiac arrest.
The actor later told Oprah that his heart had completely stopped, but stated that the experience "was a good event in my life" because it forced him to adjust his lifestyle and confront his past.
Grammer explained: "I just put [that pain] where it is: in the past. But it's a pain that you can always stumble into again. It's with you 24/7, especially in the case of tragic death, and there have been a few of those."
[adunit mobile="RTK_dVa8″]
There's now talk of a Frasier reboot
Grammer has come out in the past few days to reveal that the plot for an upcoming Frasier reboot is now in the works. There have been rumours for the past year or so that the hugely successful sitcom would be making a comeback, but now the star of the show has confirmed these suspicions.
Grammer has basically stated that the scripts are currently being written and he even has a good idea of what the plot of a Frasier reboot would look like.
The 64-year-old actor said that the series would go back to its original premise of focusing on Frasier's relationship with his very different father, Martin Crane (played by the late John Mahoney). This time though, it will be the bond between Frasier and his son Frederick which takes centre stage.
[adunit mobile="RTK_wCZW"]
Grammer stated: "Whether he's got six children and a wife in the islands somewhere, he needs to come back to probably resolve things with his son Frederick, which mirrors the show in the first place."
Fans will remember that the Frasier pilot saw the radio psychiatrist moving into a very nice bachelor pad in Seattle. However, it quickly became clear that his father Martin was unable to live alone anymore after struggling with a hip injury.
Martin, Eddie the dog and a very ugly armchair quickly moved into Frasier's apartment and we got to see just how things transpired between the pair.
Of course, they were also joined along the way by Daphne Moon (Jane Leeves), who looked after the guys, plus Frasier's younger brother Niles (David Hyde Pierce) who – as we all know – had a massive crush on Daphne.
[adunit mobile="RTK_z9hm"]
Unfortunately, Mahoney's death last year means that Frasier dealing with his on-screen father's death will feature heavily in the upcoming reboot.
Grammer explained: "We would need to deal with that within the storytelling. But I'd want everybody back, if they want to come back. They seem to."
Fans were previously under the impression that Frasier would be moving from its iconic Seattle location to Chicago instead, after the psychiatrist famously moved to the Windy City in 2004's series finale.
However, it seems as though fans have nothing to worry about because Grammer has repeated several times that he will only come back if the rest of the cast want to.
The Metro has also reported that "stories are being pitched and writing rooms are being booked" but "cheques haven't been written" just yet.
Furthermore, Frederick was only 15 years old when he last appeared on Frasier, meaning that he would be 31 years old if the show hits our screens in 2020.
[adunit mobile="RTK_dVa8″]
It's likely that Frederick's role will become a lot more prominent in the upcoming reboot, possibly to replace the gaping hole left by Mahoney's death last year.
Fans will also be hoping that Frasier's ex-wife Lilith (Bebe Neuwirth) and mother to Frederick will also make a return. Stay tuned for more information!
A happy ending for Kelsey Grammer?
Despite all of his troubles, the actor is now happily married to his fourth wife, Kayte Walsh. Walsh is a former air hostess who is 25 years Grammer's senior – the couple married in 2011 and have been together ever since.
Grammer's acting career is also experiencing a rejuvenation, after years of trying to shake off Frasier Crane. He is now about to star in a new drama entitled Proven Innocent which centres around finding the truth in the courtroom.
[adunit mobile="RTK_wCZW"]
Grammer has explained: "In the court room the lawyers are enemies battling it out.
"And they bend and manipulate the truth to show that their version of the story is the truth.
"And that's why it's so important that justice is blind. So, nothing can obscure the truth and the hope is that, that is what we all work towards. The truth."
However, Grammer's tragic past is always in the back of his mind. He once told the Daily Mail that he doesn't like it if his family members don't stay in touch with him regularly: "I get nervous something horrible has happened.
[adunit mobile="RTK_z9hm"]
"I don't think, 'I bet they had a flat tyre'. I think someone has taken them."
Are you a fan of Kelsey Grammer? Let us know in the comments section!
If you were a massive fan of Frasier Crane, then why not keep scrolling down to find out 10 fascinating facts about what went on behind the scenes at Frasier?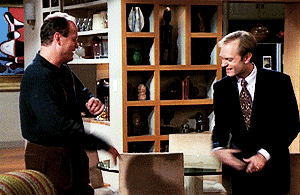 Enjoy!
10. Lisa Kudrow won the role of Roz before producers decided to get rid of her
Things could have turned out completely differently for two major American sitcoms!
[adunit mobile="RTK_dVa8″]
Lisa Kudrow (who famously played Phoebe on Friends) actually won the part of Roz Doyle, Frasier's producer. She even attended several rehearsal sessions before filming of the pilot began and acted alongside Kelsey Grammer in the iconic role.
[adunit mobile="RTK_wCZW"]
However, producers had a change of heart about Kudrow. They felt that she was an extremely funny actress but her personality wasn't forceful enough to match Grammer head-on. Instead they needed a female 'alpha' and that's when second choice Peri Gilpin received a fortuitous phone call!
[adunit mobile="RTK_z9hm"]
Incidentally, Roz's character is named after one of the producers of Wings, who sadly died of breast cancer in 1991.
9. Frasier was never originally supposed to be about Frasier Crane!
It sounds as though the whole idea for the series is in the series title, right?
[adunit mobile="RTK_dVa8″]
Wrong! Believe it or not, Frasier was never actually supposed to be about Frasier Crane. Grammer and the other show's creators felt that a series revolving around Frasier would draw too many unfair comparisons to Cheers.
[adunit mobile="RTK_wCZW"]
So they initially decided to have Grammer play a paralysed medial mogul who was going to be cared for by some kind of street-smart nurse in a fancy Manhattan penthouse. No, really! Frasier could have been a very different (and short-lived) series altogether.
[adunit mobile="RTK_z9hm"]
Fortunately Paramount hated the idea and successfully convinced Grammer and the rest of the creative team that it would be wise to cash in on the enduring popularity of Cheers.
8. The show's creators made sure to set Frasier as far away from Boston as possible
However, the show did manage to get a little bit of distance from the infamous Boston bar.
[adunit mobile="RTK_dVa8″]
Creators decided to set Frasier in Seattle (literally on the other side of America) to make the show feel fresh, new and very much separate from Cheers. They already knew that executives would want familiar characters to guest star in Frasier whenever possible.
[adunit mobile="RTK_wCZW"]
So they decided to set Frasier in Seattle to minimise the amount of times Cheers characters would feasibly be on the West Coast of America! Nice. The coffee scene in Seattle was just kicking off at the time, which gave all the main characters a perfect meeting place.
[adunit mobile="RTK_z9hm"]
Incidentally, the show's creators had originally planned on setting Frasier in Denver, Colorado. However, in late 1992 the state repealed a number of anti-gay discrimination laws and Frasier's creative team disagreed with the move.
Instead they travelled further west to Seattle.
7. Kirstie Alley refused to appear in Frasier because she was a Scientologist
Kirstie Alley famously played the role of Rebecca Howe on Cheers.
[adunit mobile="RTK_dVa8″]
But despite being one of the most prominent cast members, Alley didn't want anything to do with the show's Seattle spin-off. She was extremely pro-active about her dislike for Frasier and contacted co-creator David Lee before filming had even begun.
[adunit mobile="RTK_wCZW"]
Alley stated that she couldn't guest star on the series because she is a Scientologist and doesn't believe in psychiatry. Lee responded coolly, "I don't recall asking." Yikes! Fortunately, several characters from Cheers did manage to make an appearance.
[adunit mobile="RTK_z9hm"]
As Frasier's ex-wife, Lillith made the most appearances but Sam, Diane and Woody all stopped by to say hello.
6. Eddie the dog received the most fan mail out of any cast member
Who can forget everybody's favourite pet, Eddie the dog?
[adunit mobile="RTK_dVa8″]
It seems he may well have been the most popular cast member because as soon as Frasier hit its stride, Eddie ended up receiving more fan mail than any of his human colleagues! He was also the only cast member to appear on the cover of Entertainment Weekly's special report on the sitcom.
[adunit mobile="RTK_wCZW"]
Eddie was played by a Jack Russell Terrier named Moose who had been given up to a rescue organisation. Mathilde de Cagny – a professional dog trainer – spotted him and decided he would be excellent on camera thanks to his boundless energy.
[adunit mobile="RTK_z9hm"]
Producers went through several doggie auditions until landing on Moose, as he was the only dog able to 'stare' at Kelsey Grammer without flinching.

5. Niles was created specifically for David Hyde Pierce
The character of Niles might never have existed if it hadn't been for a photograph of David Hyde Pierce.
[adunit mobile="RTK_dVa8″]
There was no plan to give Frasier a younger brother until an assistant casting director handed the show's creators a photo of David Hyde Pierce and asked "Doesn't he look like Kelsey did 10 years ago?" Executives were shocked by the resemblance and immediately got to thinking.
[adunit mobile="RTK_wCZW"]
They did some research and found some old tapes of Pierce acting in a political sitcom called The Powers That Be as a shy and suicidal Congressman. A meeting was arranged with the actor and Pierce was swiftly offered the newly-created role of Niles Crane!
[adunit mobile="RTK_z9hm"]
Now we can't imagine a series without him!
4. Kelsey Grammer ended up playing Frasier Crane for over twenty years…
Kelsey Grammer has played the character of Frasier Crane for over twenty years!
[adunit mobile="RTK_dVa8″]
If you include the time he spent on Cheers, the actor has been playing the loveable snob consecutively for two decades. This is a joint record with another TV actor, James Arness, who played Marshall Dillon on Gunsmoke for the same amount of time.
[adunit mobile="RTK_wCZW"]
Apparently Grammer invited Arness to join him on a special appearance of The Today Show in 2004, but Arness didn't want anything to do with it! Apparently he rejected the idea with a very short and sweet "f*** you".
[adunit mobile="RTK_z9hm"]
Yikes! Frasier Crane wouldn't associate with such a foul-mouthed individual anyway.
3. Jane Leeves had lessons with a voice coach to modify her accent
Actress Jane Leeves played the loveable Daphne Moon on Frasier.
[adunit mobile="RTK_dVa8″]
However, her accent drew a lot of criticism from British viewers. Daphne was supposed to hail from Manchester but Leeves grew up near London, meaning that her Mancunian accent on the series was somewhat affected.
[adunit mobile="RTK_wCZW"]
Leeves worked with a voice coach to make sure that US audiences could understand what she was saying, but sadly Northerners everywhere could never quite get over how bad the accent was. Funnily enough, John Mahoney (who plays Martin Crane) originally hails from the North West of England.
[adunit mobile="RTK_z9hm"]
He then grew up in Manchester(!) but emigrated to the US when he was 19 years old and slowly got rid of his British accent. What a weird coincidence!
2. Moose (the original Eddie) was brought onstage for one last performance in the final episode
Moose was almost fourteen years old by the time Frasier came to an end.
[adunit mobile="RTK_dVa8″]
By this time he had been replaced by a younger dog, but Moose would always be the original Eddie and decided to make a cameo for the final episode of the sitcom. Moose's fur was snow white and the dog was almost completely deaf, but his trainer carried him on-stage after the final episode to take a bow with everyone else.
[adunit mobile="RTK_wCZW"]
Pierce later said that it was one of the most emotional points in the evening. Apparently Moose was able to recognise the set and even reacted to the audience's applause for one last time. We've got tears just thinking about it!
[adunit mobile="RTK_z9hm"]
Moose eventually passed away in June 2006.
1. The one hundredth episode of the show is the only one to be filmed in Seattle
Seattle quickly became synonymous with Frasier.
[adunit mobile="RTK_dVa8″]
The city's distinctive outline appears in the title credits and the whole coffee culture that sprung up from there created a great setting for the main characters to inhabit. However, only one episode of the series was ever filmed in the city.
[adunit mobile="RTK_wCZW"]
Yep that's right! The one hundredth episode of Frasier is the only one to be filmed on the streets of Seattle. You can watch Frasier and Niles riding the Monorail, walking through Pike Place Market and even standing in front of the iconic Space Needle.
[adunit mobile="RTK_z9hm"]
Did you know all of these facts about Frasier? Let us know in the comments section below!