Jeremy Clarkson has made a shocking announcement at the end of filming for the third series of The Grand Tour.
Clarkson and his co-stars James May and Richard Hammond revealed that they will no longer be filming any live studio car shows together.
Clarkson was tearful as he told the Grand Tour audience: "It's the end of an era." The trio have been filming studio shows together for over 17 years.
Instead, the three ex-Top Gear presenters will be starring in a series of big-budget specials in far-flung corners of the world. Rumour has it that the pre-recorded programmes will be shown on TV over the next couple of years.
Clarkson explained his decision by stating that the formula was starting to feel a bit tired: "There are only so many times you can watch a BMW go round the track."
However, the presenter was still highly emotional after making the announcement, and told
The Sun
: "It's a really sad day. I will miss the banter with each other and with the audience.
"But we've been doing that show for effectively 17 years — sitting around in studios, watching cars race around the track.
"There are only so many times you can watch a BMW go round the track — what more can you say? It's got four wheels and a seat.
"We all agreed that we've been doing it a long time and everything eventually runs its course.
"Besides, I'm 58 and I'm too fat to be climbing on to the stage."
Clarkson appeared in a whopping 22 series of Top Gear before making the switch to Amazon in 2015 after assaulting producer Oisin Tymon. He was accompanied by his co-stars May and Hammond – together they starred in The Grand Tour together.
Inside sources who were presents at the filming of their final episode together were taken aback by how emotionally-charged the announcement really was.
One fan revealed: "They ran through the show as normal, but I noticed that Clarkson and Hammond had their families in the audience.
"Clarkson's girlfriend and two daughters were there, plus Hammond's wife and daughters.
"When they got to the end of the show, I noticed that most of the family members were in tears.
"Everyone wondered what was going on. Then Clarkson stood up and a sort of hush fell over the audience.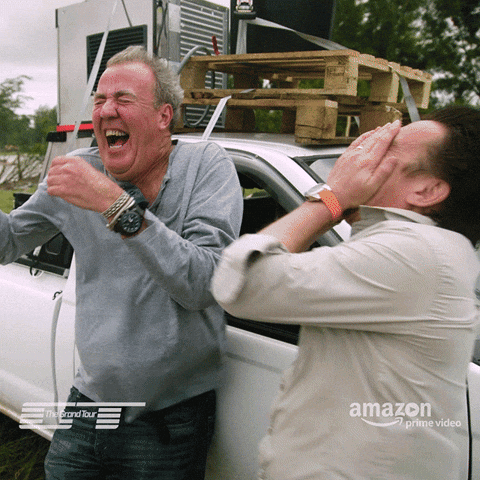 "He announced that this would be their last studio show after years together. There was a bit of banter, but they all seemed quite emotional.
"As he was speaking, Jeremy started to well up and then they showed a montage of their best bits, going right back to their Top Gear days.
"When that was done, the show ended silently and then Jeremy said, 'It's a sad day', and they all left.
"Everyone in there was a diehard fan, and everyone was shocked by Jeremy's announcement."
The third series of the show is set to be released on Amazon Prime next month. However, it will be the last of its kind. Instead, the trio have signed a two-year deal with Amazon which will see them creating four different specials each year.
Possible locations that the petrol heads would like to visit include North Korea and Zimbabwe.
What do you make of the announcement? Will you be watching the Amazon specials?