Fans of The Lost Boys will be loving the news that the cult vampire movie is set to return to our screens as a television series.xf
It's just been confirmed that the 80s classic – which originally starred Kiefer Sutherland and Jason Patric – will be getting a reboot for TV.
According to Deadline, The CW network is now in talks to adapt the horror-comedy classic for television, and rumour has it that writer Heather Mitchell (a screenwriter for Grey's Anatomy) is going to be heading up the project.
[adunit mobile="RTK_dVa8″]
The upcoming reboot has had to overcome more than a few obstacles along the way.
In 2016, reports emerged that The CW was going to invest in a reboot by Rob Thomas, but the long-awaited project fell through.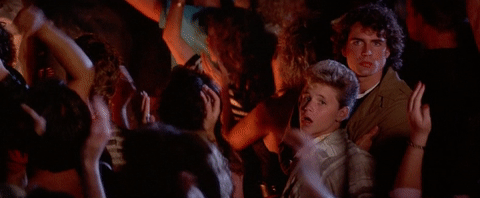 Thankfully, a description of the new series has been revealed, and it sounds extremely similar to the 80s film we all know and love:
"Welcome to sunny seaside Santa Carla, home to a beautiful boardwalk, all the cotton candy you can eat…and a secret underworld of vampires. After the sudden death of their father, two brothers move to Santa Carla with their mother, who hopes to start anew in the town where she grew up.
"But the brothers find themselves drawn deeper and deeper into the seductive world of Santa Carla's eternally beautiful and youthful undead."
[adunit mobile="RTK_wCZW"]
Thomas originally wanted to make a whopping seven seasons devoted to the story of The Lost Boys. The story would initially be set in the 1960s during San Francisco's Summer of Love, spanning a period of 70 years until the late 2030s.
Producers must have liked Thomas' idea for the reboot because he has been named as executive producer for the upcoming TV series.
The original Lost Boys was released in 1987 and grossed over $32 million in total. It proved to be yet another hit for Sutherland, who had already appeared in 80s classic Stand By Me the year before. The success of the vampire movie spawned two direct-to-video sequels released in 2008 and 2011, entitled Lost Boys: The Tribe and Lost Boys: The Thirst, but only Corey Feldman returned from the original cast.
What do you think of the TV reboot? Will you be watching? Let us know in the comments section!
[adunit mobile="RTK_z9hm"]