Winona Ryder has starred in some of the greatest films of the 80s and 90s, including Beetlejuice, Heathers and Edward Scissorhands. Not only that, but she's starred in some of the biggest projects of the 2010s, from her smash hit comeback in Stanger Things to starring in Destination Wedding with her longtime collaborator, Keanu Reeves.

With all that success, we thought it was about time that we paid tribute to this queen of the screen with the following interesting facts.
20. She grew up surrounded by some of the most famous names of the Beat Generation
Throughout her career, Winona Ryder has always gravitated towards Hollywood's more strange and unusual roles, and that's not surprising when you learn who she grew up around.
[rtk_adunit_top]
Both Ryder's parents were influential figures in the world of literature, becoming close with some very famous names.
Cmichel67 CC BY-SA 4.0
As a result, Ryder grew up around the legendary Beat poet Allen Ginsberg, as well as prolific Beat Generation publisher Lawrence Ferlinghetti.
[rtk_adunit_middle]
Another regular fixture in the Ryder household was Philip K. Dick, the famous science fiction author responsible for books like Do Androids Dream of Electric Sheep?, which was adapted into Blade Runner, and The Man in the High Castle.
In a fun bonus fact, Winona Ryder eventually starred in an adaptation of one of Phillip K. Dick's books, A Scanner Darkly.
[rtk_adunit_bottom]
A Scanner Darkly is one of the three movies that Winona Ryder starred in alongside Keanu Reeves, and it was apparently Ryder's most complicated and difficult role to date.
19. She was arrested for shoplifting in 2001
Though Ryder has managed to keep out of the spotlight in recent years, she wasn't always able to stay so drama-free.
[rtk_adunit_top]
In 2001, Ryder was arrested, after stealing $5,500-worth of designer clothes and accessories at a Saks Fifth Avenue store.
In a highly publicised trial, Ryder was accused of having taken a number of prescription drugs prior to the theft without a valid prescription.
[rtk_adunit_middle]
She was eventually given 480 hours of community service, and was sentenced to three years of probation, as well as an order to pay back both the store and the city.
Ryder later said in an interview that she was struggling with the pressures of fame at the time, and was deeply depressed, leading her to take medications that clouded her judgement.
[rtk_adunit_bottom]
The doctor who prescribed Ryder the substances lost his medical license after the trial, since he shouldn't have been providing actress with the medications in the first place.
18. She once offered a $200,000 reward in a kidnapping case
As well as experiencing her share of drama, Winona Ryder has also done her fair share of good deeds and philanthropy.
[rtk_adunit_top]
Most famously, she once offered $200,000 of her own money as a reward for the safe return of a kidnapping victim.
The victim's name was Polly Klaas, and she was the subject of a high profile kidnapping in 1993.
[rtk_adunit_middle]
Klaas grew up in the same town that Ryder herself had grown up in, which is why the actress felt the impulse to reach out and help.
Unfortunately, Winona Ryder's reward was never claimed, and Klaas was later found dead.
[rtk_adunit_bottom]
It's a tragic story, which Ryder later said had a profound impact on her mental wellbeing.
17. She tried to get Girl, Interrupted made for ten years
When you think of Girl, Interrupted, you probably think of Angelina Jolie's performance as Lisa Rowe first.
[rtk_adunit_top]
That would hardly be surprising, since Jolie's nuanced and unhinged performance earned her both an Oscar in the category of Best Actress in a Supporting Role, and a Golden Globe for the same.
However, Jolie actually owes both her wins to Winona Ryder, since it was Ryder who pushed for the movie to be made.
[rtk_adunit_middle]
It was actually Ryder who discovered the novel the film was eventually based on, and she spent ten years struggling to get a studio to agree to adapt the project.
Not only that, but it was Winona Ryder herself who asked James Mangold to direct the film, and she even earned herself an executive producer credit for all the work she put into the movie.
[rtk_adunit_bottom]
Jolie did recognise Ryder's above-and-beyond contributions to the film though, as she went on to thank Ryder in her Oscar acceptance speech.
16. She initially didn't want to be in Beetlejuice
Beetlejuice was Winona Ryder's big break, with her dark but compelling performance as Lydia Deetz rocketing her into the spotlight.
[rtk_adunit_top]
In retrospect, the teenage outcast and ghost photographer seems like the perfect part for Ryder, but she wasn't initially enamoured with the project.
In fact, when Ryder was first approached with an offer to play the part, she politely declined outright.
[rtk_adunit_middle]
Her reasoning was that the script made the movie sound too weird, and Lydia wasn't the kind of character she was interested in playing.
After some persuasion from both her agent and the casting team, Ryder changed her mind and the rest is history.
[rtk_adunit_bottom]
If Ryder had stuck to her guns and refused the role, we most likely would have seen Alyssa Milano playing the part of Lydia instead.
15. Julia Roberts used to take the roles Ryder didn't want
On the face of it, it seems like there aren't any actresses less similar than Winona Ryder and Julia Roberts.
[rtk_adunit_top]
While the former made a name for herself starring in creepy Tim Burton movies and dark comedies, Julia Roberts is best known as the queen of romantic comedies and feel-good true stories.
With that said, at the beginning of their careers, the two were very much intertwined, with the two actresses constantly being scouted for the same parts.
[rtk_adunit_middle]
The similarities were only one way, though, with Ryder being offered roles that Roberts would eventually take, but not the other way around.
Ryder was even offered but turned down one of Roberts' most famous early roles, Shelby in Steel Magnolias.
[rtk_adunit_bottom]
Ryder was also offered the part of Alice Sutton in Conspiracy Theory, a role which also ended up going to Julia Roberts.
14. She grew up in a hippie commune
Ryder began her career playing unusual young people, from a grieving teenager who learns to see ghosts, to a blonde girl-next-door who falls in love with a monster.
[rtk_adunit_top]
It actually makes sense that Ryder was drawn to these eccentric characters since her own childhood was not exactly an average one.
For much of her childhood, Ryder lived on a 300-acre commune in California, known only as Rainbow.
[rtk_adunit_middle]
Ryder lived there with seven other families, and the group used no electricity at all, resulting in a pretty unusual upbringing for young Winona.
Growing up in the commune caused Ryder to fall deeply in love with books, and she spent most of her time reading by candlelight.
[rtk_adunit_bottom]
However, her family also used a projector to show films on the side of the commune's barn, which gave Ryder the inspiration that would eventually cause her to pursue acting.
13. She's actually a natural blonde
Throughout her career, it's fair to say that Winona Ryder has been typecast as someone who's a little bit of an outcast.
[rtk_adunit_top]
From Lydia Deetz to Veronica Sawyer, this has for some reason involved Ryder playing the role with dark hair, from the spiked bangs of Lydia to Veronica's fluffy black 80s bob.
Ryder's dark hair became so much her signature that she has kept it for most of her life, even when a specific character did not require it.
[rtk_adunit_middle]
Even in Stranger Things, she has opted for a dark brown hair cut, rather than her natural colour which is, surprise surprise, blonde!
That's right, as unlikely as it might sound, Winona Ryder is actually a natural blonde, but has been constantly dyeing it since her early years in film.
[rtk_adunit_bottom]
The only early work in which she wore her natural hair was Edward Scissorhands, even if they did have to bleach her darker roots to get the look completely right.
12. She was the matchmaker for Christian Bale and his now-wife
Dating as a celebrity is pretty difficult, so those in the public eye have to be pretty savvy to keep up their dating lives.
[rtk_adunit_top]
Christian Bale's approach to meeting his wife was pretty unusual even by celebrity standards, though, since he let Winona Ryder play matchmaker.
Both Bale and Ryder were working together on 1994's Little Women when Ryder introduced Bale to her personal assistant, Sibi Blazic.
[rtk_adunit_middle]
Bale and Blazic hit it off right away and began dating not long after, although the two didn't tie the knot until the year 2000.
In a heartwarming update, the two are still together to this day, having been married for 20 years and having dated for longer.
[rtk_adunit_bottom]
The couple even have two children together, a daughter and a son – and it's all down to Winona Ryder.
11. She signed on for a Beetlejuice sequel back in the 80s – but it never happened
Beetlejuice became an instant cult classic on release in 1988, so it's not too surprising that there were plans to make a sequel right off the bat.
[rtk_adunit_top]
What you might not know is that Winona Ryder was totally on board, and Michael Keaton had also signed on for the project!
The concept for the sequel was that it took place on a tropical island, and was operating under the working title Beetlejuice Goes Hawaiian.
[rtk_adunit_middle]
So why didn't it happen? Well, it was delayed indefinitely, mostly because of Batman and Batman Returns.
Keaton and Burton both worked together on the Batman movies, which pushed the Beetlejuice sequel into development hell.
[rtk_adunit_bottom]
By all accounts it's still there, so who knows, maybe we'll get another Beetlejuice movie at some point this decade.
10. She might have married Keanu Reeves by mistake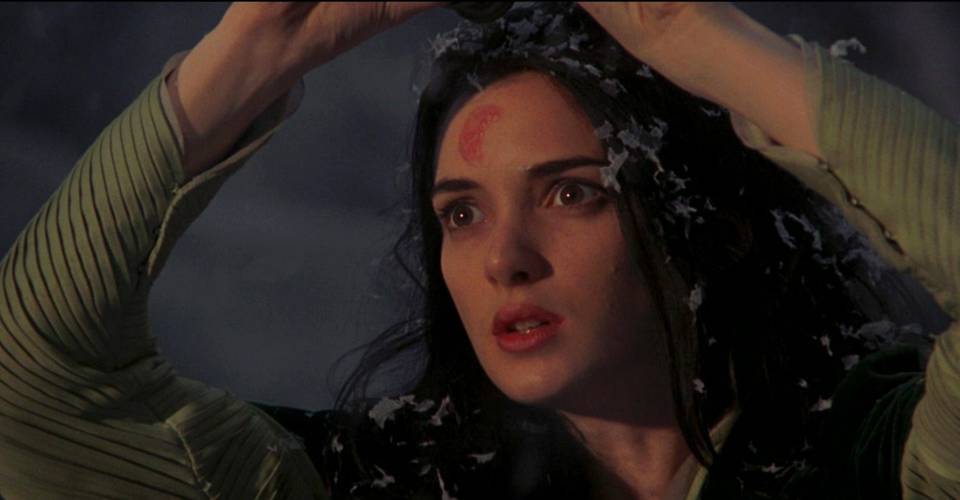 Winona Ryder has had a pretty high profile love life, having been one half of the 90s power couple that consisted of her and actor Johnny Depp.
[rtk_adunit_top]
Despite that, Ryder has never been married, saying that her parents' happy, lifelong marriage has made her want to wait, rather than having to get divorced later on.
It's an honourable decision, but one that might be overridden by the fact that Ryder did technically get married, and to her co-star, no less.
[rtk_adunit_middle]
That's right, the jury is out on whether Winona Ryder technically got married to her Dracula co-star Keanu Reeves.
It might sound unbelievable, but when their characters were married in the film, Reeves and Ryder filmed a full-length ceremony, including binding vows.
[rtk_adunit_bottom]
Not only that, but the actor playing the priest really was an ordained member of the church – meaning that, in the eyes of God at least, the two really did get married on set.
9. Her godfather is "the most dangerous man in America"
Winona grew up around some of the biggest names of the Beat Generation, but that's not her only awesome familial connection.
[rtk_adunit_top]
Ryder's godfather is the infamous Timothy Leary, who former US President Richard Nixon once called "the most dangerous man in America".
Leary was a huge presence throughout the 1960s, as a writer and psychologist who pioneered the use of psychedelics in therapy.
[rtk_adunit_middle]
Leary was one of the biggest names of the hippie movement, which made him a super polarising figure in the media.
Dr Dennis Bogdan CC BY-SA 3.0
Leary is such a unique and interesting figure that anyone would be blessed to have him as a godfather.
[rtk_adunit_bottom]
It's awesome to imagine what kind of stories Leary must have had to share with Ryder, even though she probably had to wait until she was older for most of them.
8. She and Al Pacino used to call each other up whenever they couldn't sleep
Throughout Winona Ryder's career, she has gotten to work with some of the biggest names in the world of film.
[rtk_adunit_top]
This has resulted in some unlikely friendships, such as with her Looking for Richard co-star Al Pacino.
The two have been friends ever since they worked together on Looking for Richard in 1996, and they soon realised that they had something in common.
[rtk_adunit_middle]
It turns out both of them suffer from insomnia, and struggle to get to sleep at night, and so they came up with a pretty sweet strategy to cope.
For a fair few years, Ryder and Pacino would call each other and chat whenever one of them was struggling to get to sleep, which is pretty adorable.
[rtk_adunit_bottom]
The only thing that would make this fact any better is if Ryder had starred alongside Pacino in Insomnia. Unfortunately, she did not.
7. She renamed herself after rock musician Mitch Ryder
Winona Ryder's birth name is Winona Laura Horowitz, but she opted to change her name before embarking on a career in film.
[rtk_adunit_top]
Everybody knows that she changed it to Winona Ryder, but the reasoning behind that choice is actually pretty obscure.
ThKraft CC BY-SA 2.5
Winona chose her new second name to pay tribute to Mitch Ryder, a soul and rock musician that her dad was a fan of.
[rtk_adunit_middle]
Mitch Ryder has been making records for a solid four decades, and is still working on music to this day (the kind of success and longevity Winona Ryder must want to emulate).
Annoyingly though, it does not seem like Winona Ryder and Mitch Ryder have ever even met, at least as of the time this article is being released.
[rtk_adunit_bottom]
Instead, there are just a few random instances of people wondering if Mitch Ryder is Winona Ryder's father, which he obviously isn't.
6. She's petrified of water, having nearly drowned in an accident aged 12
Being an actor might be one of the most envied professions in the world, but that doesn't mean that it's without its difficult moments.
[rtk_adunit_top]
Depending on the movie, shooting can involve being cold or wet for multiple days, or even having to wear uncomfortable harnesses and shoot dangerous stunts.
Even worse, for Winona Ryder, shooting a movie once meant confronting her biggest fear of being in the water.
[rtk_adunit_middle]
Ryder has had a lifelong fear of water, ever since she nearly drowned in a traumatic accident when she was around 12.
That caused Ryder immense problems when shooting Alien: Resurrection since she had to be submerged in water for extended scenes.
[rtk_adunit_bottom]
It took multiple takes to get Ryder calm enough to get these scenes right, though she pushed through as she was shooting the movie alongside her hero, Sigourney Weaver.
5. Her agent thought Heathers would ruin her career
There's no denying that the part of Veronica Sawyer in Heathers is one of Winona Ryder's most iconic.
[rtk_adunit_top]
That makes it even more surprising that Ryder was strongly encouraged to turn down the movie by almost everyone, including her agent.
Even though playing Veronica would mean getting the starring role in a teen movie, and starring alongside established heartthrob Christian Slater, Ryder's agent was unsure about the project.
[rtk_adunit_middle]
Thanks to the movie's dark subject matter and strange, dreamlike style, Ryder's agent was worried that Heathers would tank her career for good.
Of course, Ryder's agent was obviously wrong, as Heathers became a cult classic and was adapted into both a miniseries and hit Broadway musical.
[rtk_adunit_bottom]
Ryder's agent was right about one thing, though, since the movie didn't do great at the box office on release, with the film only becoming beloved in the years since.
4. She was one of the first people to call out Mel Gibson for his antisemitism
Ryder has recently discussed the difficulty in getting people to believe her when she claimed that Mel Gibson was antisemitic.
[rtk_adunit_top]
Ryder came forward about an uncomfortable experience she had many years ago, when Gibson called her a racial slur at a party after finding out she was Jewish.
In the years since, people other than Ryder have discussed Gibson's antisemitic language, and he has even made a public apology.
[rtk_adunit_middle]
The apology came in 2006, after Gibson spouted an antisemitic tirade at police officers, who pulled him over for drunk driving.
Gibson asked to meet with Jewish faith leaders after transcripts of his language leaked, but he was soon embroiled in more drama.
[rtk_adunit_bottom]
The former A-lister was later caught spouting racial slurs, this time about African-Americans, leading to a protracted custody battle for his daughter against his former girlfriend Oksana Grigorieva.
3. She's been open about her mental health issues
For all the great things that come along with being a celebrity, the lifestyle of being constantly in the public eye also has its challenges.
[rtk_adunit_top]
Constantly being scrutinised and watched is an immense amount of pressure for anyone, and Ryder has admitted that it has occasionally made her life difficult.
She has long been open about her personal struggles with depression and anxiety, discussing the consequences of her celebrity in interviews.
[rtk_adunit_middle]
"I'm so sick of people shaming women for being sensitive or vulnerable," she told The Cut in 2016. "It's so bizarre to me…"
Ryder went on to say: "I wish I could unknow this, but there is a perception of me that I'm super sensitive and fragile."
[rtk_adunit_bottom]
"And I am super sensitive, and I don't think that that's a bad thing. To do what I do, I have to remain open."
2. She claims Gwyneth Paltrow stole her role in Shakespeare in Love
Overall, Ryder has a reputation for being very sweet and easy to work with, but not everyone has such a high opinion of her.
[rtk_adunit_top]
Interestingly, one of her detractors used to be one of her very good friends, until a role got in between them and forever ruined their relationship.
Back in the late 90s, Ryder and Gwenyth Paltrow went from very good friends to frenemies, and all because of Shakespeare in Love.
[rtk_adunit_middle]
Winona Ryder allegedly felt that Paltrow stole the part in Shakespeare in Love from her, and didn't react in the kindest way.
Paltrow has since been quoted as saying that Ryder is "venomous, dangerous and hell-bent on taking me down."
[rtk_adunit_bottom]
So, you know, it's probably safe to say that they won't be co-starring in anything any time soon.
1. She has a penchant for starring in music videos
Winona Ryder has had a diverse career, having starred in movies, spearheaded ultra-successful TV series like Stranger Things and even won a Grammy for her work narrating Anne Frank's diary.
[rtk_adunit_top]
What you might not know is that Ryder also has a habit of starring in music videos, and has collaborated with some super famous names in the music business.
For starters, Ryder appeared in the music video for Cher's song The Shoop Shoop (It's in His Kiss), with the two dancing around in some delightfully retro outfits.
[rtk_adunit_middle]
Ryder was chosen to appear in the music video alongside Christina Ricci, since the three all appeared in the movie Mermaids together.
Ryder also appeared in the music video for The Killers' Here with Me, which was directed by Tim Burton. In the Here with Me video, Ryder is dressed and acts like a doll, in an aesthetic similar to her other Burton collaborations.
[rtk_adunit_end]