33 Celebrities You Didn't Know Used To Be Teachers
Teachers are some of the most influential people in your lives. They're the people you tend to remember forever, for either good reasons, or bad reasons. Ask anyone, no matter how old they are, and they will be able to tell you about their favourite, and probably least favourite teachers, even years after you have left school.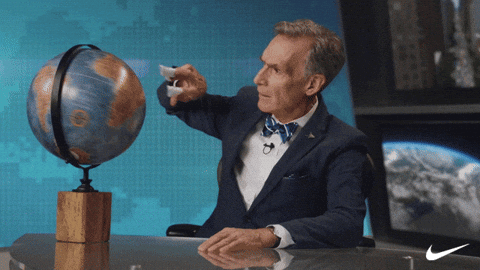 Many teachers will stay in the profession forever, it's in their blood. Some, however, will go on to do different things. Sometimes, those things involve fame and fortune.
From superstar A-lister to future presidents, many celebrities have been teaching at the front of a classroom in some point during their careers.
Here, we take a look at some of those people and what they taught! Enjoy…
33. J.K. Rowling
Before becoming one of the most successful authors of all time, J.K. Rowling was a teacher.
She followed an advertisement in The Guardian, which was seeking someone to teach English as a foreign language.
The position was in Porto, Portugal.
Whilst there, Rowling used to teach English in the evenings and wrote chapters of The Philosopher's Stone during the day.
32. Sylvester Stallone
You may know Sylvester Stallone as one of cinema's number one hard men.
But back in the 1960s, when Sylvester Stallone was attending the American College in Switzerland, he taught gym class on the side.
He did this to earn extra cash for spending money whilst he was overseas.
We're pretty sure he doesn't need the extra cash now.
31. Liam Neeson
In the acting world, Liam Neeson is known for his roles in the Taken series, Schindler's List, Star Wars, The Chronicles of Narnia…the list goes on.
But before this, Liam trained up to be a teacher whilst attending St. Mary's College in Newcastle.
He decided against the profession after punching a student in the face.
"This particular kid did not want to settle down, he wanted to disrupt the whole class. So I went over to him and asked him to leave the classroom and stand outside. The next thing he pulled a knife on me. My reaction was to punch him, which I shouldn't have done but I felt threatened."
30. Mr. T
That's right, B.A Baracus himself used to be a teacher before he found fame on the A-Team.
During the 1980s, which is also when he found his success as a professional wrestler and actor, he worked as a gym teacher.
He did this at the Paul Lawrence Dubar Vocational Career Academy in Chicago.
After doing his bit as a teacher, the actor earned a scholarship to attend Prairie View A&M University.
29. Hugh Jackman
Hugh Jackman has always been in pretty good shape! You have to be if you're playing Wolverine.
Turns out he began his physical perfection through teaching.
He used to be a gym teacher at Uppingham School in England.
Fairly recently Jackman recognised one of his old pupils, who happened to be an entertainment reporter on the red carpet, Rollo Ross.
28. Hillary Clinton
It seems like Hillary Clinton has some good experience in taking on the bullies, because she had to do it in the classroom.
When the former presidential candidate moved to Arkansas in 1974 to be with her husband, Bill Clinton, she started work at the University of Arkansas.
Whilst there, Clinton taught criminal law.
She was only one of two female faculty members of staff.
27. Barack Obama
From one politician to the next, only this one was successful in their presidential bid.
Before finding success as a politician, Barack Obama taught constitutional law and race theory for 12 years.
He did this at the University of Chicago Law School.
According to one former pupil, Obama was an equally diplomatic and challenging lecturer and pushed both liberals and conservatives to assess their own moral views and political leanings.
26. Brian May
You may know Brian May as Queen guitarist and all-round legend.
Queen have once more come into the spotlight thanks to the hugely successful 'Bohemian Rhapsody' film.
But before finding fame, May taught math at Stockwell Manor School in Brixton.
How cool must those lessons have been!
25. Maya Angelou
Maya Angelou is the critically acclaimed author, responsible for I Know Why the Caged Bird Sings.
Before this, she taught at Wake Forest University from 1982 to 2012.
She emphasised that she was not a "writer who teaches" but a "teacher who writes."
It was her experience at the university that made her come to realise this.
24. Gene Simmons
Gene Simmons is the rather extravagant bassist of Kiss.
Before rocking it out, he taught 6th grade in Harlem for 6 months as the band was forming.
"The reason I quit after six months is that I discovered the real reason I became a teacher. It was because I wanted to get up on stage and have people notice me."
"I had to quit because the stage was too small. Forty people wasn't enough. I wanted 40,000."
23. Sting
Before Sting was releasing a string of hits with The Police, he had a much less glamorous job.
The 'Every Breath You Take' singer was actually a certified primary school teacher in the North East of England.
He also doubled up as a soccer coach to earn a bit of extra cash. Sting only quit his day job once his musical career began to gain a bit of traction.
However, the experience of teaching in a primary school definitely left its mark on the famous singer (who would have been known as 'Mr Sumner' in the classroom!).
Sting isn't afraid to voice his political opinions and is still a massive supporter of raising teacher salaries.
He firmly believes that teaching is hugely underpaid, despite being one of the most important jobs in society.
22. Billy Crystal
Billy Crystal is a much-loved comedian and regular Oscars host.
He started off his career as an actor, and went on to star in a number of popular movies such as When Harry Met Sally and City Slickers.
However, before hitting the big time, Crystal worked as a substitute teacher. He moved to New York City to make it as an actor, but quickly found himself struggling to make money.
In order to pay rent, Crystal started working as a substitute teacher on Long Island. Wow! We bet he was fun in the classroom.
While he was teaching, Crystal formed a comedy duo with two of his friends and started performing in coffee shops and other venues.
Eventually he hit the big time and gave up the substitute teaching gig.
21. Stephen King
Stephen King is one of the greatest writers of all time.
He's written over 58 novels and hundreds more short stories. But before his writing career really took off, King worked as a teacher at Hampden Academy in his home state of Maine.
King moved into the profession after graduating from the University of Maine with a Bachelor of Arts in English.
During his time as a teacher, King was submitting short stories to magazines to try and establish his literary career. He developed alcoholism during this time and would be plagued by the problem for over ten years.
Eventually, King found success with one of his first novels, Carrie, and subsequently decided to quit teaching.
Since then he's released hit after hit and seen many of his works adapted for TV and film.
20. Sheryl Crow
Sheryl Crow is a pop/rock/country singer who has won nine Grammy Awards over her career.
It's no surprise that she majored in music education at the University of Missouri at Columbia.
However, did you know that Crow also had a brief foray into the world of teaching?
Crow taught music at an elementary school in St. Louis for a while before becoming a star.
Eventually she decided to leave the classroom and move to Los Angeles to pursue her music career.
It definitely worked out for her in the end!
19. Jon Hamm
Jon Hamm is the heart throb actor who famously starred as the lead role in Mad Men.
Before he got his big break in Hollywood though, Hamm had to find other ways to pay for rent.
After graduating from the University of Missouri, Hamm's first job out of college was as a drama teacher.
He worked at his high school alma mater, the John Burroughs School and taught drama classes for an extended period. During this time, he taught some pretty famous faces!
Hamm taught Ellie Kemper when she was a young high school student – the pair would later star together in Unbreakable Kimmy Schmidt.
During his time as a drama teacher, he also formed a close friendship with fellow actor Paul Rudd.
18. George Orwell
George Orwell is the author of classic novels such as 1984 and Animal Farm.
Before gaining literary fame, Orwell had some very humble career beginnings in the classroom instead.
Orwell was a teacher at The Hawthorns High School in Hayes, West London. During this time, he worked on his writing and managed to find success with A Scullion's Diary.
The novel contained a plot in which the narrator attempts to get himself arrested.
Wow, he really must not have enjoyed teaching! In the mid 1930s, Orwell left The Hawthorns to teach at a much larger school in Middlesex.
During this time, he developed pneumonia and never returned to teaching after he recovered.
17. Steve Wozniak
Steve Wozniak is best-known as the co-founder of Apple.
Needless to say, he's a whizz with computers, and Wozniak decided to use that experience to teach IT at elementary school.
Rather than staying with his famous company, Wozniak left Apple in the early 80s and moved into teaching instead.
Wozniak taught computer classes to fifth through ninth graders. He also taught teachers as well, who were completely unfamiliar with all of this new technology (how times change!).
Wozniak made the move after realising just how important teachers are in children's lives.
He eventually left the classroom to found more businesses in the tech industry.
16. John Adams
John Adams was the second President of the United States.
He is of course best-remembered for his political career, as well as his time working as a lawyer.
But for a short period of time, Adams served as a teacher. After leaving Harvard University, Adams worked as a teacher at the Central School of Worcester.
However, he disliked the profession and found it to be extremely boring.
Adams left his post after less than a year, and decided to become a lawyer instead.
He later became the second ever President of the US, which in fairness is probably a more interesting job than teaching.
15. Jimmy Carter
Speaking of presidents, here we are with yet another famous example…
Jimmy Carter was the 39th President of the USA, serving from 1977 until 1981. Rather than teaching acting as a stepping stone, Carter decided to become a teacher after he had served as president.
That's right, for many years, Carter has embraced his religion and become a Sunday school teacher.
He's 94 years old and still preaches at the Maranatha Baptish Church in Plains, Georgia.
His Sunday school teachings are so popular that people travel for miles around to see him talk.
Truly an inspirational teacher!
14. Lyndon B. Johnson
Lyndon B. Johnson is the next president on our list.
Johnson took up a teaching post after realising that he needed a way to pay for his education at Southwest Texas State College.
He entered the classroom in 1928 at Welhausen School in Cotulla, Texas (a town on the US-Mexico border).
Although Johnson had many students who only spoke Spanish, Johnson fell in love with the profession and helped his students to improve their knowledge of the English language.
Needless to say, his love of teaching would affect his decisions as President of the United States.
He passed the Elementary and Secondary Education Act which granted federal aid to ensure that every young child receives an excellent education.
13. Gabriel Byrne
Gabriel Byrne is a respected Irish stage and screen actor.
He shot to fame thanks to appearances in shows like The Riordans and Bracken, but before that things could have been very different indeed.
He took a number of odd jobs before beginning to act, including working as an archaeologist and a cook.
Byrne also worked as a Spanish and History teacher at Ardscoil Éanna in his home town of Dublin, Ireland. We really wouldn't have minded being taught by him…
Byrne later stated on his decision to quit teaching: "In a parallel universe I would be a teacher and would have been really happy doing that, but that decision to leave Dublin changed my life completely."
He would go on to star in major film such as Little Women and The Usual Suspects.
12. Dan Brown
Dan Brown is best-known as the author of The Da Vinci Code.
But did you know that he originally wanted to be a musician? Brown was serious about his ambition and moved to Hollywood to pursue his dream.
And how did he support himself while he was trying to make it as a struggling musician? He did what so many people on this list have done, and turned to teaching!
Brown taught classes at Beverly Hills Preparatory School, before later moving on to Phillips Exeter Academy in New Hampshire.
Brown taught English and Spanish in New Hampshire after giving up on his music dream and switching to writing instead.
It was definitely a wise career move!
11. Jesse Williams
Jesse Williams is best-known for his role as Jackson Avery in Grey's Anatomy.
But fans might be surprised to learn that his stint as a teacher wasn't just a way of supporting his acting dream. Williams genuinely thought he was going to be a teacher for the rest of his life.
Williams graduated from Temple University with a double major in Film/Media Studies and African American Studies.
He went on to teach in the Philadelphia public school system…for six years! Williams' parents were teachers too and the actor believed that he would be in the classroom for the rest of his life.
Williams didn't believe that acting was a viable career option for a very long time. However, in 2009 he was cast in Grey's Anatomy and the rest is history.
He continues to star in the medical drama while also appearing in films from time to time.
10. Alexander Graham Bell
Alexander Graham Bell created the telephone in 1876.
So how did the idea come to him in the first place? Apparently Bell was inspired to invent the device after working as a teacher for a long time.
Bell didn't have just any ordinary teaching job though – he was a teacher for the deaf in both London and Hartford, Connecticut.
His mother and wife were also deaf, which inspired him to begin trying to invent a hearing device. These experiments eventually culminated in the telephone – he won a patent for the design in 1876.
Even after the success of his invention, Bell continued his teaching work. In fact, he refused to have a telephone in his office because he felt it was distracting.
That's one dedicated teacher!
9. Roberta Flack
Roberta Flack is the Grammy Award-winning singer of hits such as "Feel Like Makin' Love".
She's sold millions of records in a long and successful musical career, even earning herself a star on the Hollywood Walk of Fame.
However, before she hit the big time, the singer-songwriter worked as a teacher in her home state of North Carolina.
Flack taught English and Music (which is appropriate) in Farmville, North Carolina, at the age of only 19 years old.
She had just graduated from Howard University after landing a full scholarship thanks to her classical piano skills.
Flack was also destined for musical greatness, but the sudden death of her father forced her to spend time teaching in order to help support the family. She later became a professional singer-songwriter.
8. Ezra Koenig
Ezra Koenig is the lead singer of Vampire Weekend.
The edgy alt band are better known for their hit singles such as 'A-Punk' and 'Diane Young'. However, Koenig once had different ideas about the way his career was going to go.
He graduated from Columbia University and majored in English Literature.
After finishing at university, Koenig enrolled in the 'Teach for America' programme, which places teachers in some of the toughest schools in the US.
Eventually he won a spot as an eight-grade teacher at a school in Brooklyn. He has been described as a 'laid-back' teacher who really bonded with his pupils.
In the end, his 2007 recording contract stopped Koenig's budding teaching career in its tracks.
7. William Golding
William Golding is the Nobel prize-winning author of Lord of the Flies.
But most people don't realise that his early career began in the classroom. Maybe he wanted to follow in his father's footsteps (his father had been a science teacher at a private school).
Golding first taught English and Music at Maidstone Grammar School, before teaching English and Philosophy at a school in Salisbury, Wiltshire.
Eventually Golding cut his educational career short and joined the Royal Navy in 1940, right in the middle of WWII.
Fourteen years later, he wrote the novel that would eventually win him a Nobel Prize.
Golding never returned to teaching after the literary success of Lord of the Flies.
6. Kris Kristofferson
Kris Kristofferson is best known for his country music career.
He also starred in the 1976 version of A Star Is Born opposite Barbra Streisand.
Before achieving fame and stardom in both the music and acting worlds, Kristofferson began a promising career in the army.
He accepted a job teaching English at the highly-regarded West Point academy, but eventually decided against the move.
Kristofferson went off to Nashville to pursue his music career, and things turned out well for him.
After that he didn't need to take any jobs in the classroom.
5. Lin-Manuel Miranda
Lin-Manuel Miranda is the creator of hit musical Hamilton.
But did you know that before becoming a highly-talented composer, lyricist and playwright, Miranda was a high school teacher?
He worked as an English teacher at his old high school, Hunter College High School.
During this time, he was busy working on his own projects such as In The Heights.
He also wrote for The Manhattan Times and composed jingles for commercials.
Eventually Miranda earned the mainstream success which would mean he didn't have to return to the classroom.
4. Art Garfunkel
Art Garfunkel is a talented songwriter and musician who formed one half of Simon & Garfunkel.
He is responsible for hits such as 'The Boxer' and 'Bridge Over Troubled Water'.
But most fans of the duo don't realise that Garfunkel is actually a talented mathematician.
Before finding international success as a musician, Garfunkel was teaching maths at the Litchfield Preparatory School in Connecticut.
He gained an MA in mathematics from Columbia before finding musical success.
The rest, as they say, is history!
3. Robert Frost
Robert Frost was one of America's best-loved poets.
He started off his literary career while working as a teacher at the Pinkerton Academy in New Hampshire.
He got on with his students, who gave him a hilarious nickname during his time as a teacher.
Apparently Frost was known as 'The Hen Man' due to the fact that he had a fear of chickens.
Frost was eventually able to devote his time solely to writing poetry.
He won four Pulitzer Prizes for Poetry during his lifetime.
2. Andy Griffith
Andy Griffith is an American actor, comedian and gospel singer.
So it might not surprise you to learn that he used to be a music and drama teacher.
That's right, before finding fame on The Andy Griffith Show, the comedian earned a Bachelor of Music degree at the University of North Carolina.
He then decided to teach music and drama in his home state, landing a post at Goldsboro High School.
Griffith eventually made a successful transition from comedian to film star and left his teaching career behind.
Still, imagine being taught by Andy Griffith!
1. Raymond Joseph Teller
'Teller' is an American magician and illusionist.
With his creepy stare and strange outfits, it's little wonder to most people that Teller makes his living as a magician.
However, before he was creating his comedy duo Penn & Teller, the illusionist was working as a teacher.
Teller was well-versed in the Classics and taught Greek and Latin at Lawrence High School in Lawrenceville, New Jersey.
We wonder if his taught his pupils any magic tricks too?
Which of these celebrities would you like to have been taught by? Let us know in the comments section!