Cry Baby was a musical comedy that came out in 1990 and starred the fresh face of Johnny Depp before he became the major actor that he is today, it also had some other big up and coming stars in it too.
Cry Baby was set in the 1950's and it was about a good girl who fell for this bad boy against her mother's wishes. It wasn't a major success but has since turned into a cult classic and even a Broadway musical. So, let's see what these actors looked like then and now…
1. Wade "Cry-Baby" Walker – Johnny Depp.
He was the star of this film and it was all about how he had an emotional side to his rough and tough nature. He was still very fresh-faced, but he showed early glimpses of just what a talented actor he would go on to become.
At the time, Johnny was the star of the TV show '21 Jump Street'. He went on to play in some amazing and iconic roles including 'Edward Scissorhands' 'Sleepy Hollow' 'Charlie and the Chocolate Factory' and of course the Pirates of the Caribbean films, to name but a few.
2. Allison Vernon-Williams – Amy Locane.
She was the sweet, conservative girl who fell for 'Cry-Baby'. She played the part perfectly and came across with innocence yet an underlying strength that was there to see.
Locane went on to have a successful career appearing in projects like Melrose Place, Airheads and Legend of The Mummy. Sadly, she has since been convicted for drunk driving and killing a 60-year-old woman and injuring her husband. She was sentenced to three years in prison.
3. Mrs. Vernon-Williams – Polly Bergen.
Mrs Vernon-Williams simply didn't want her daughter to have anything to do with that boy! She played the part straight and with a real talent that made the role even more successful.
Polly Bergen had a long and successful acting career and appeared in some big projects on both the big and small screen. We saw her in the likes of Dr. Jekyll and Ms. Hyde, The Sopranos and Desperate Housewives, before sadly passing away in 2014 at the age of 84.
4. Pepper Walker – Ricki Lake.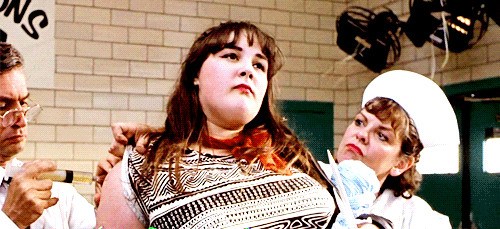 She played Cry-Baby's sister who was already a mother and pregnant with another all while still being in high school, and this only fueled the fire as to why people were against the relationship happening.
Ricki Lake went on to star in the musical film, Hairspray and then to become very successful with her own talk show. Lake still acts on and off and has been seen in the likes of Loving Leah and Gemini, and she always owns the screen when she is on it!
5. Wanda Woodward – Traci Lords.
She was actually a good kid who just so happens to be hanging out with this bad crowd, even though she comes from a good, suburban home. It is a realistic portrayal as to how easy it can be to fall in with the wrong people.
Lords had a controversial time when she was younger and appeared nude and in adult films as a young age, making a notorious name for herself. She has gone on to have a very successful and prolific acting career spanning over 150 projects including Blade, Will & Grace, Nightmare Nurse and Swedish Dicks.
6. Milton Hackett – Darren E. Burrows.
He was a quiet friend of Cry-Baby, and had a smaller part in the film, but still made the part his own whenever he was on the screen with the other stars.
Burrows went on to star in 110 episodes of Northern Exposure, and also appeared in The X-Files, CSI: Crime Scene Investigation and Turning Home, but it's a few years since he last appeared on our screens.
7. Hateful Guard – Willem Dafoe.
This was a tiny role for Willem Dafoe, and he had previously appeared in the movie 'Platoon' so was already a fairly big name.
Since Cry Baby, Dafoe has gone on to star in some major films and shows including Body of Evidence, Spider-Man, Mr Bean's Holiday, John Wick and Murder on The Orient Express, showing he is an amazingly talented and versatile character actor.
Were you a big fan of Cry Baby? Is it one of those films that you can watch over and over without it ever getting old? Let us know all of your thoughts and memories about this great movie in the comments as always!