Chitty Chitty Bang Bang was a classic, a Disney film made around the same era as the magnificent Mary Poppins, and also starring the fantastic Dick Van Dyke.
Chitty Chitty Bang Bang is many people's favourite kids film, and brings back instant memories of when they were growing up, it was also as equally terrifying as it was fun, with the dreaded Child Catcher! And the idea of a flying car is enough to capture the imagination of any child or adult.
This charming movie is based on Ian Fleming's novel Chitty-Chitty-Bang-Bang: The Magical Car (1964), with the screenplay co-written by Roald Dahl and Ken Hughes. Art director Harry Pottle, who worked on the Avengers TV show in the 60s, also joined the crew, while John Stears, best known for creating gadgets and gizmos for James Bond and Star Wars, was the special effects designer.
Although the adventures of inventor Caractacus and his family performed very well at the box office, becoming the tenth most popular movie of 1969, it was so expensive to make that it actually lost money during its theatrical run.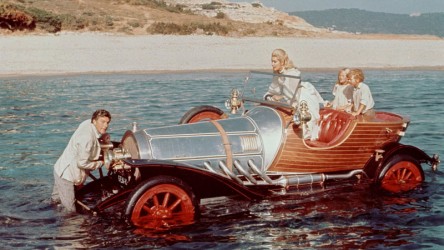 A stage musical of this film reached London's West End in 2002, and Caractacus Potts and his children will surely charm many generations to come.
Here's what became of our favourite stars
Heather Ripley – Jemima Potts
Can you remember Jemima in "Chitty Chitty Bang Bang?" She was played by actress and little girl Heather Ripley.
[adunit mobile="RTK_dVa8″]
She did not stay with the big screen though and has gone down a much different path that you might have thought she would have.
Ripley played Jemima Potts, daughter of Caractacus, in "Chitty Chitty Bang Bang."
And we're pretty sure you'll agree she played the part in this winning family perfectly – for such a young star she did exceptionally well.
This film from 1968 captured many people's hearts as she sang with Dick Van Dyke, who played Caractacus.
Not only was she fantastic acting in the role, but she coped very well with the musical numbers too.
[adunit mobile="RTK_wCZW"]
She definitely wasn't stage-struck working with Dick Van Dyke!
Ripley only starred in one film in her entire life.
She tried some acting as a teen but nothing really came of it, but she has been seen on our screens from time to time, usually when Chitty Chitty Bang Bang is celebrating a big anniversary.
In 2013 Ripley came out to support the theatrical release of the film.
This was originally put on stage in 2002.
[adunit mobile="RTK_z9hm"]
The movie Chitty Chitty Bang Bang has been a massive hit on the stage as well as on the screen and is still well-loved by all today!
35 years later Ripley is doing interviews again.
She didn't welcome the attention that she was getting after becoming famous so she tried to stay hidden. It's understandable for such a young girl being thrust in to the spotlight and must have been a lot of pressure on the young star at the time.
The movie was fun but it took its toll on her life.
Her father was having affairs with other women while her and her mother were on the set filming.
[adunit mobile="RTK_dVa8″]
This was just one more pressure on such a young girl to deal with as she saw the strain this was having on her parents' relationship.
They, of course, got a divorce and Ripley was then teased about it in school.
This was back in a day when divorce was not so commonplace, and kids with parents who had split up were much more in the minority than they are today, so she will have felt very alone and singled out.
She moved with her mum to Dublin to live with her stepfather.
This was yet another massive upheaval for the young girl, and another big change for her to have to deal with and come to terms with.
[adunit mobile="RTK_wCZW"]
As a young adult, she was living in London and found a home in the punk scene.
By her thirties, she had two children and then moved back to Scotland to help her father in his business. This was an attempt to start life over, looking for a chance of normality.
She is more relaxed now about the role she played as a child in the famous flying car.
Image Source
It has taken a long time to come to terms with everything that went on and the strains she underwent, but Ripley is now a lot more positive about the time when she reminisces.
[adunit mobile="RTK_z9hm"]
As she looks back things were not so bad during that time of the filming. She had fun!
She had time on set with other kids a similar age so made some friends and also worked with some adults who were effectively just big kids, too!
She even said that Dick Van Dyke was very playful on and off screen
He helped relieve the tension for the young kids, he was a kid at heart himself and knew how to entertain and amuse the little stars to help them cope with the pressures of stardom and making a big film.
[adunit mobile="RTK_dVa8″]
Check out the theme song once again!
https://youtu.be/2Lx8JNjDQNg
Let's take a quick look at where some of the other stars are now…
Dick Van Dyke – Caractacus Potts
Dick Van Dyke has gone on to have a very good career of his own, and has been seen recently in the Night at The Museum films.
[adunit mobile="RTK_wCZW"]
He also appeared in the 2018 box office hit, Mary Poppins Returns (which we have mixed feelings about, should they have left it alone??).
Sally Ann Howes – Truly Scrumptious
Sally Ann Howes was wonderful as Truly Scrumptious in the film and carried on acting in to the 1990s, but stopped then and has not been seen acting since then.
[adunit mobile="RTK_z9hm"]
She has appeared every so often for anniversary showings of Chitty Chitty Bang Bang but is not someone who is seen in the limelight very often anymore.
Gert Frobe – Baron Bomburst
Much more famous in his native Germany, Frobe was well known for playing Baron Bomburst, who absolutely loathes children, among the Chitty Chitty Bang Bang cast. Loving the sound of an airborne car, the Baron becomes hell-bent on stealing inventor Caractacus' novel contraption for himself.
But Frobe's most famous role was the titular character in Goldfinger, starring alongside Sean Connery.
[adunit mobile="RTK_dVa8″]
Frobe sadly passed away in 1988, and had appeared far more in Germany than anywhere else.
Robert Helpmann – The Child Catcher
The Child Catcher was a truly terrifying character that didn't seem to belong in a film for children, and he gave many a child nightmares for months after seeing the film!
[adunit mobile="RTK_wCZW"]
The Australian ballet dancer Sir Robert Helpmann played this character perfectly. While filming one scene, the Child Catcher's carriage careered off the road, and the 60-year-old Helpmann leapt gracefully from the vehicle to avoid injury.
Behind the scenes, Helpmann was immensely friendly to the rest of the cast, and he would often make the child stars laugh so much between takes that they struggled to film seriously with him.
Aside from acting in 15 films, Helpmann was the co-director of the Australian Ballet. He was also an acclaimed Shakespearean actor. In the 80s, he was still acting and directing stage productions up until his death from emphysema in 1986.
Much admired for his contributions to the arts, Helpmann was given a state funeral in St Andrew's Cathedral in Sydney and a tribute speech in the Parliament of Australia.
Adrian Hall – Jeremy
Playing the part of Jeremy, Adrian Hall managed to portray the character perfectly and had a commanding presence on the screen whenever he appeared.
[adunit mobile="RTK_z9hm"]
Hall did very little acting, and is currently the Principal of The Academy Of Live and Recorded Arts.
Lionel Jeffries – Grandpa Potts
Lionel Jeffries joined the Chitty Chitty Bang Bang family as Grandpa Potts, a racing car aficionado. Unbelievably, in the role of Grandpa, Jeffries was actually six months younger than his on-screen son Dick Van Dyke, as the pair were born in 1926 and 1925 respectively. The pair's co-star Benny Hill (who played the Toymaker) was born in 1924, while the children were both born in 1959.
The London-born Jeffries was often cast as much older characters, as a result of his early balding at the age of 19. Long before starring in this iconic movie, he served in the Second World War and was awarded the Burma Star.
Jeffries had over sixty acting credits to his name before Chitty Chitty Bang Bang, including The Colditz Story (1955), The Revenge of Frankenstein (1958) and Camelot (1967) where he played King Pellinore.
In the 60s, he also took leading roles in the movies Two-Way Stretch, The Trials of Oscar Wilde and Murder Ahoy!
He even scored a Golden Globe nomination for Best Actor in comedy The Spy with a Cold Nose, just two years before Chitty Chitty Bang Bang came out.
After Chitty Chitty Bang Bang, Lionel Jeffries began writing and directing kids' movies like 1970's The Railway Children and 1972's The Amazing Mr Blunden.
However, Jeffries had a strong aversion to television, as he believed the production values weren't anywhere near as good as cinema. He didn't take up small screen roles for decades – and when he did, he narrowly escaped drowning. A 1983 episode of the comedy Tom, Dick and Harriet saw Jeffries caught up in a stunt accident where his car ended up in the lake, with Jeffries breaking out at the last minute.
This acclaimed actor passed away in Dorset in 2010, at the age of 83.
Anna Quayle – Baroness Bomburst
The producers found another talented cast member in Anna Quayle. Born in Birmingham, Anna Quayle made her stage debut at the age of three, and she worked as a fashion model in her youth.
Her other early film work included A Hard Day's Night, Smashing Time and even Casino Royale. She won a Tony for appearing in the original 1963 production of the musical Stop the World – I Want to Get Off
In Chitty Chitty Bang Bang, Quayle starred as Baroness Bomburst, who hires the Child Catcher to rid her town of tots.
Following this famous movie, Anna Quayle starred in eight more films, but became better known for her small screen appearances. She took up roles in Mapp and Lucia, The Georgian House and Grange Hill. You could also spot her as a favourite panellist on 1973's What's My Line?
Quayle passed away at the age of 86 in 2019.
Barbara Windsor – "Blonde"
She didn't have a massive part in the movie, but Dame Barbara Windsor went on to be a huge star and a real British star in the Carry On films and Eastenders.
[adunit mobile="RTK_dVa8″]
She passed away in 2020 after a long battle with Alzheimer's disease.
Has this brought back lots of memories from your childhood?
Were you a big fan of Chitty Chitty Bang Bang cast, or did you just freak out over the Child Catcher? Let us know all your thoughts in the comments as always!