7 Things You Didn't Know About Holly Willoughby and Phillip Schofield
Holly is the face of our morning routine, with the nation's favourite daughter fronting the hit ITV breakfast show This Morning along with Phillip Schofield. Together, they are national treasures!
But despite seeing them on our screens nearly every morning, and more over the past year with Holly filling in for Dec on I'm A Celebrity, Get Me Out of Here, and the pair presenting Dancing on Ice, there are actually quite a few things we don't know about the King and Queen of daytime T.V.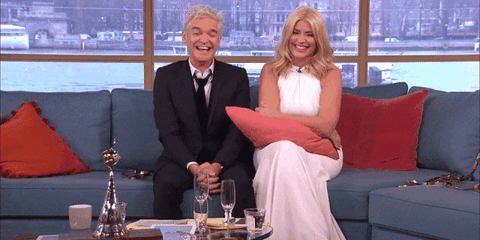 Let's take a look at some of the most little-known and interesting facts about the pair…
1. Holly Is One Of The Highest Paid TV Presenter In The UKI
On the list of highest paid TV presenters in the UK, Holly Willoughby sits in a cool 8th place. Alongside co-hosting This Morning and presenting Surprise, Surprise, Play the the Whistle and regular appearances on Celebrity Juice, she is thought to earn around £1 million a year.
This is along with her partnership deals including a Home Furnishing line. And and Dec top the list, earning £29.5 million between them.
[playbuzz-branded]
This is along with her partnership deals including a Home Furnishing line.
Ant and Dec top the list, earning £29.5 million between them.
2. Philip Schofield Once Received A Letter Full Of Pubic Hair
As celebrities, you can get some pretty weird fan mail from time to time.
Philip has previously revealed that the weirdest fan mail he ever received was an envelope full of pubic hair.
[playbuzz-branded]
"She'd shaved it all off for me."
"But when I opened it in the office it made everyone jump, so I don't think it had the desired effect."
Rightly so…
3. Holly was bullied at school
Did you know Holly got bullied in school due to her having a flat chest? At school she was known as "Flat-Chested Willoughby".. How times have changed!
An appearance as hosting Dancing On Ice last year left some fans wondering if the host had actually had a breast reduction.
[playbuzz-branded]
On social media during the show, one fan wrote:
"Where have Holly's boobs gone?!?" Don't worry fella, they're still there!
Perhaps you should be more concerned about important things like climate change!
4. Phillip once had a song in the UK Top 40 chart
Many people probably don't know that Phillip was once a star of the West End, playing Joseph in Joseph and the Amazing Technicolour Dreamcoat.
Phillip earned himself a spot in the UK 40 with the song Close Every Door from the musical in 1992.
So not only has he earned a host of National Television awards, but he's got that under his belt too!
5. Holly has some pretty unusual bedroom habits
Holly Willoughby loves wearing high heels. But she particularly enjoys wearing them in the bedroom.
She once admitted "I love wearing new shoes during sex and not just because its kinky… I do enjoy saucy games with my hubby but I have found the best way to break in new shoes is to wear them during sex."
Saucy! I was told you should never wear shoes in bed.
6. Holly and Phillip love a good party
Holly and Phillip's partying days and going out clubbing aren't totally behind them… they famously pulled an all night with TV partner Phillip Schofield after they won big at the NTA's back in 2015.
They then turned up to the studio the morning after in the same clothes and presented This Morning.
Rebels, but it was one of the greatest TV moments of recent years!
7. Holly has a younger sister
Holly also has a sister, who has also worked in the television industry too!
Older sister Kelly worked in film and TV production. In later life, she took the role of personal assistant to Eamonn Holmes, to allow her to focus on fulfilling her dreams of becoming an author.
We're not sure why following Eamonn Holmes would help with that.