Danny Dyer is TV's hard man. He made a name for himself in 2004's The Football Factory as a diehard Chelsea fan and since then Dyer has been gracing our screens in various projects over the years.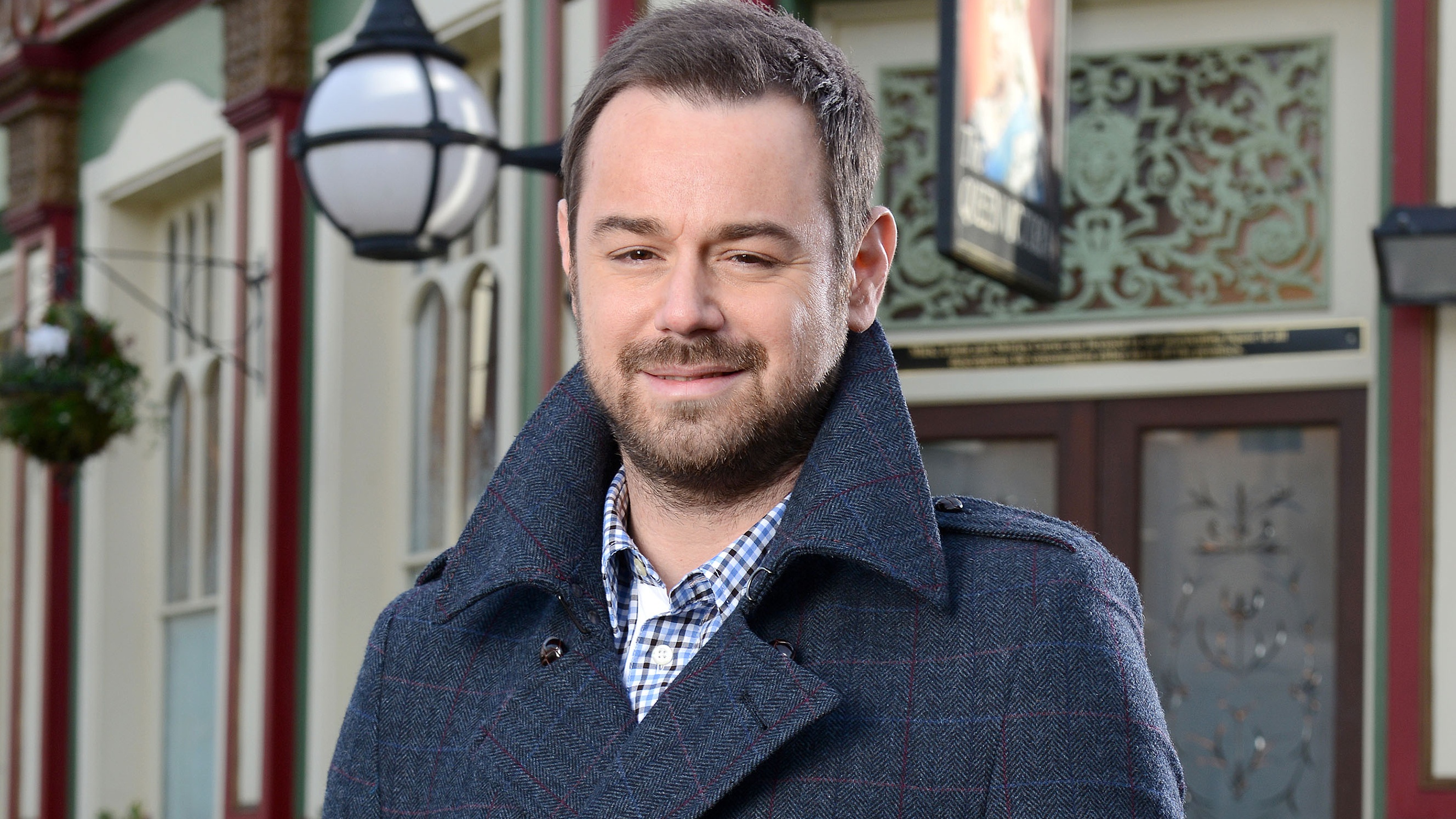 In 2013 Dyer joined the cast of EastEnders as fan favourite Mick Carter, the new landlord of the Queen Vic, and quickly became an 'Enders veteran.
[rtk_adunit_top]
Not everyone is a fan, and many film critics have ridiculed the actor as a 'byword for low-budget, no-quality Brit-trash cinema'. However, whether you love him or hate him, it's hard to deny that Dyer is everywhere these days.
[rtk_adunit_middle]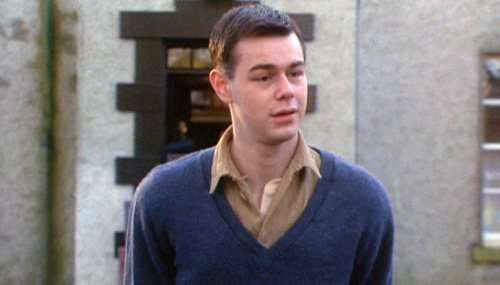 This is thanks in part to his eldest daughter Dani, who recently won the latest series of Love Island and introduced her dad to a whole new generation of fans.
[rtk_adunit_bottom]
In the list below, we bring you 30 things you never knew about the East End hard nut…
30. He was really good friends with Harold Pinter
Bizarrely enough, Danny Dyer was actually a close friend of the celebrated playwright Harold Pinter, who sadly passed away in 2008. Pinter was so influential that he won a Nobel Prize for his literary efforts, but clearly he didn't mind rubbing shoulders with up-and-coming actors despite his reputation.
[rtk_adunit_top]
One of these youngsters was none other than Dyer, who was just making his way into theatre in the 2000s. Dyer starred in two productions based on Pinter's plays – Celebration and The Homecoming. Danny once bared all about his relationship with the playwright in an interview with The Guardian.
Dyer stated: "I miss him, you know, he was a good influence on me. He was the only person who I feared but loved. He had faith in me, he suffered all my shit because he knew I was a talented actor. He was a fucking tyrant, too, you know, but he could get away with it because he was so enchanting. He was a poet."
[rtk_adunit_middle]
29. He believes in aliens
Dyer has been a firm believer in extraterrestrial life since he was a young kid, and still stands by those views today. Once the domain of people on the margins of society, most people probably accept that alien life does exist somewhere out there, considering the size of the universe.
Still, it's not the kind of thing we expect Dyer to be into, but judging from his 2010 BBC documentary 'I Believe In UFOs' the actor is definitely a die hard conspiracy theorist when it comes to little green men. He was inspired to make the documentary after meeting his childhood hero Sir Patrick Moore.
[rtk_adunit_bottom]
During the programme Dyer insists that he saw something 'out there' at one point during recording, but who knows? It might just have been his cheeky Cockney humour at play.
[rtk_adunit_top]
28. Dyer is actually a massive West Ham United fan
Danny Dyer rose to fame after playing diehard Chelsea fan Tommy Johnson in 2004's The Football Factory. However, fans of the actor might be surprised to learn that he's actually a massive West Ham supporter.
Dyer loves his footie and regularly watches games with family and friends. During an episode of Who Do You THink You Are? he was disappointed to learn that his ancestors were linked to rival club Tottenham Hotspur!
[rtk_adunit_middle]
Apparently his 14th century ancestor Sir Henry 'Hotspur' Percy was actually the reason why Tottenham got their name. Uh oh! The actor was clearly unimpressed with the connection and said: "This is a double-edged sword for me, because I'm a West Ham fan."
[rtk_adunit_bottom]
27. He had a 'best woman' at his wedding
Danny Dyer married partner Joanne Mas to much fanfare in 2016 and the ceremony was captured by cameras for a huge photo spread in Hello! However, there was some drama on the big day when Dyer's brother Tony couldn't attend the wedding.
Tony was supposed to be best man but couldn't attend as his wife had gone into labour the same day. Instead his sister Kayleigh (who was five months pregnant at the time) stepped in at the last minute to carry out the best man duties!
[rtk_adunit_top]
Unsurprisingly, it was an all-family affair for the Dyers as their daughters Dani and Sunnie served as bridesmaids. Dyer's on-screen wife Kellie Bright was also a bridesmaid, whilst their son Arty acted as a pageboy.
26. He's already made the Top 100 Favourite EastEnders Actors Of All Time
Danny Dyer has been an EastEnders fan favourite ever since his first appearance on the show. He has starred in the soap as Mick Carter since 2013, and managed to make it to #100 in The 100 Greatest Eastenders Characters of All Time after only two years.
[rtk_adunit_middle]
He plays Mick Carter on the series, the latest landlord of the Queen Vic (having taken over the mantle from Barbara Windsor).
[rtk_adunit_bottom]
Dyer has always been a big fan of the programme and once revealed that his favourite 'Enders character of all time is Tanya Cross (who was played by Jo Joyner).
[rtk_adunit_top]
25. He had already turned down one EastEnders role before being offered the part of Mick
Prior to landing the role of Mick Carter on the soap, Dyer had actually been given an earlier opportunity to feature on the series.
Producers offered him the part of Carl White, but the actor decided to turn it down.
[rtk_adunit_middle]
Daniel Coonan was cast instead. We think Dyer was wise to hang on for the role of Mick instead!
24. He has an entire novelty store dedicated to his many notable quotes
Dyer actually has an entire novelty merchandise shop devoted to selling Danny Dyer-themed mugs, mouse mats and just about everything else.
[rtk_adunit_bottom]
Any Dyer super fans out there can stock their homes with merch featuring some of his favourite quotes. Cushty!
[rtk_adunit_top]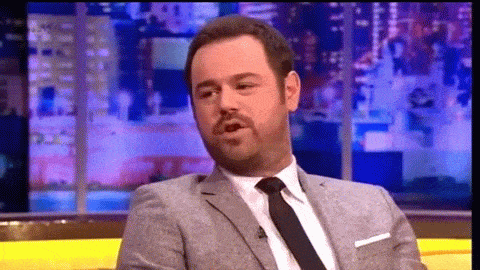 Our personal favourite is the 'You Facking Mug!' mug…
23. His wedding to Joanne Mas was a complete EastEnders-fest
Any readers of Hello! will know that Dyer is very close to his 'Enders castmates, and several of them ended up getting an invite to his and Joanne's special day.
[rtk_adunit_middle]
The full list of 'Enders guests reads as follows: Danny-Boy Hatchard, Maddy Hill, Sam Strike, Ted Reilly, Linda Henry, Matt Di Angelo, Luisa Bradshaw-White, Letitia Dean, Jane Slaughter, Emma Barton, Jamie Borthwick, Scott Maslen, Shona McGarty, Harry Reid, Jasmine Armfield, James Bye, Davood Ghadami and Tilly Keeper.
[rtk_adunit_bottom]
It's nice to know that he and his fellow castmates get on so well in real life!
22. Speaking of Joanne, they've been together since they were fourteen years old
Dyer has actually been with his wife Joanne since they were teenagers – the couple first got together when Danny was 14 years old. Aww!
[rtk_adunit_top]
Dyer then became a father for the first time at the age of 19, when Joanne gave birth to their eldest daughter Dani (of Love Island fame) on 8th August 1996.
Speaking about Joanne during their wedding vows, Danny stated: "Jo is my best girl – the love of my life. Without her, I would be nothing."
[rtk_adunit_middle]
21. He once voiced a character in the Grand Theft Auto series
Dyer is not just a stage and screen actor, he's also a talented voiceover artist too! In fact, the actor has starred in a number of high-profile video games over the years, including one very popular Rockstar franchise.
That's right, Rockstar creators loved the actor's distinctive Cockney accent and quickly hired im to play the role of key character Kent Paul in the hugely popular Vice City and San Andreas instalments.
[rtk_adunit_bottom]
Some of Kent's dialogue definitely seems as though it was written with Dyer in mind: "Yeah, I'm the guvenor 'round here. I sort things out, you know what I mean? I'll treat you. Whatever you want, I'll get you, girl. Don't you worry about a thing, mate."
[rtk_adunit_top]
20. He's actually a direct descendant of Thomas Cromwell
Dyer's 2004 appearance on Who Do You Think You Are? actually turned out to be hugely interesting for another reason too (aside from the unwanted Spurs connection). Apparently Dyer is a direct descendant of Thomas Cromwell (1485-1540), who famously served as Henry VIII's chief adviser!
As well as the amazing Cromwell connection, Dyer found out he had a few other famous ancestors as well. His family had links to King Edward III, as well as William the Conqueror too.
[rtk_adunit_middle]
Who knows, maybe Dyer will turn up on our screens in a BBC period drama about the life of Cromwell? We're sure he'd pull it off somehow.
[rtk_adunit_bottom]
19. He once joked that Channel 4 was responsible for his balding head
Danny Dyer once had to dye his hair ginger for a role in Channel 4's All In The Game but it soon began to fall out after the dye had taken hold. He stated that patches of his hair began to fall away and attributes the Channel 4 role to his hair thinning.
[rtk_adunit_top]
"I couldn't get it out of my hair. It took me six months. I couldn't f***ing get it out. I kept washing it," he said. "I think I started losing my wig after that. I'm receding a bit but it only started after I dyed it. If the worst comes to the worst, I'll sue. It's down to Channel 4 I'm losing my [hair]."
[rtk_adunit_middle]
It might be a case of the actor not quite being able to face up to reality though, as many people had noticed his hair was beginning to thin before that particular role…
[rtk_adunit_bottom]
18. He got his acting break after being spotted at his local Sunday school
Surprisingly, a young Danny Dyer earned his big acting break after agents spotted him out and about at his local Sunday school!
Executives auditioned him for the role of Martin Fletcher in Prime Suspect 3 (1993). He won the part, setting him on the path to stardom.
[rtk_adunit_top]
He eventually became a household name in the UK thanks to his role in The Football Factory.
17. He once appeared in drag onstage
Dyer has a reputation as a hard nut, so it might surprise some of his fans to learn that the actor once appeared in drag for a music video!
[rtk_adunit_middle]
Dyer appeared in the 2016 music video for Lucy Rose's song 'Nebraska' and decided to channel his inner RuPaul with an eye-catching drag outfit. It's not the first time that Dyer has starred in a music video, either.
[rtk_adunit_bottom]
https://www.youtube.com/watch?v=O_C24ygT1FM
He also made a starring turn in The Twang's 2007 music video for "Two Lovers", which you can watch him in by clicking on the video above.
[rtk_adunit_top]
16. He starred in the worst British film of all time
Whilst Dyer has never exactly been Oscar material, even he will probably want to forget his starring turn in 2012's Run For Your Wife.
It featured a host of C-list celebrities including Denise Van Outen and Neil Morrissey, and told the story of a London cabbie who tries to keep his two marriages secret.
[rtk_adunit_middle]
Understandably, the flop was quickly panned by critics and raked in a measly £747 during its opening weekend! The film was subsequently named the worst British film of all time. Gutted.
15. He and Mark Wright have serious beef
Essex brethren they may be, but it seems there's no love lost between Danny Dyer and former TOWIE star-turned-TV host Mark Wright – especially not after the feud escalating into violence at a music festival in 2016.
[rtk_adunit_bottom]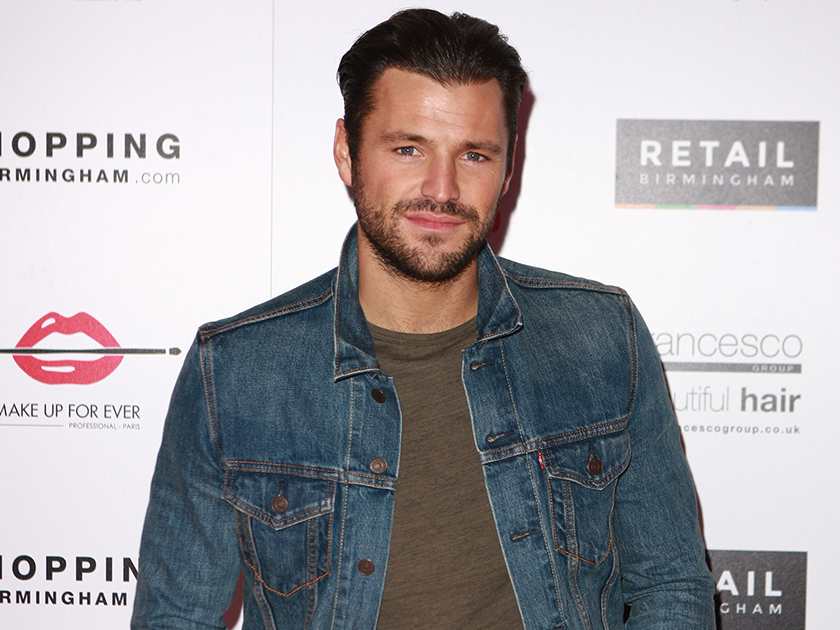 It was at V Festival that Dyer got into a physical confrontation with a group of Wright's friends, after Danny's daughter Dani allegedly began shouting abuse at them.
[rtk_adunit_top]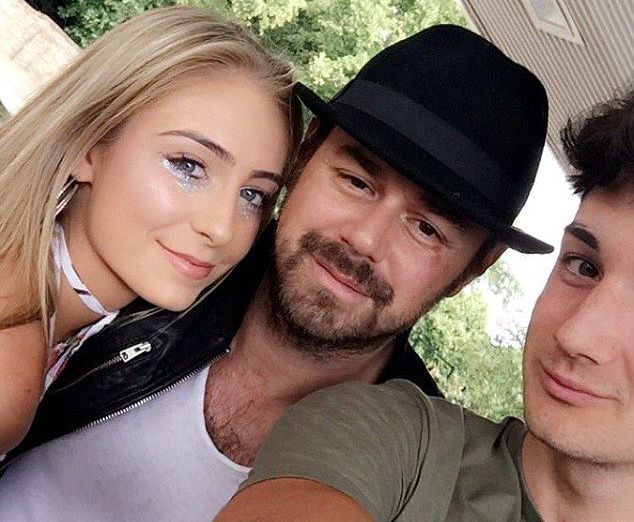 Dyer was left with a black eye, but Wright himself was absent from the fight, something Dyer was keen to later point out to him on Twitter: "Where was ya?? Do you wanna declare who ya snakey 2 Bob mates are?? Especially the 1 squaring up to my Dani."
[rtk_adunit_middle]
14. He once wrote a column advising a reader to "cut your ex's face"
Altercations with TOWIE stars isn't all Danny Dyer has got into hot water for. Perhaps Dyer's most controversial moment came in 2010.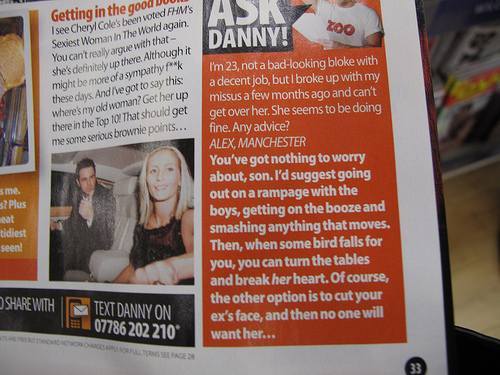 At the time, Dyer was a columnist for the lads mag Zoo, offering his thoughts on current events and, occasionally, offering questionable life advice. This included telling a reader he could get over his ex by cutting her face, "then no one will want her".
[rtk_adunit_bottom]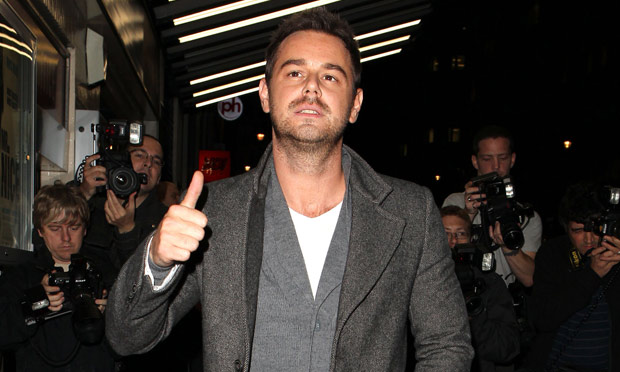 Dyer was sacked by the magazine, but has since claimed he was misquoted, and that he didn't even write the column at all: "that actual line is from when I played a pimp in Prime Suspect. It was a ridiculous line. And I said it, in a jokey, ridiculous way".
[rtk_adunit_top]
13. He's been open about repeatedly cheating on his wife
Danny Dyer has never made the claim that he's a saint, and though his relationship with wife Joanne seems solid these days, he has admitted to being "tempted by forbidden fruit" in the past.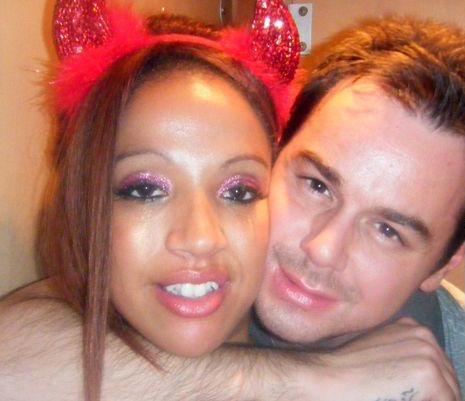 This included a one night stand he had with a 21-year-old fan in 2014, a threesome he had in the same year and another one night stand with a 20-year-old fan as his wife was pregnant with their third child.
[rtk_adunit_middle]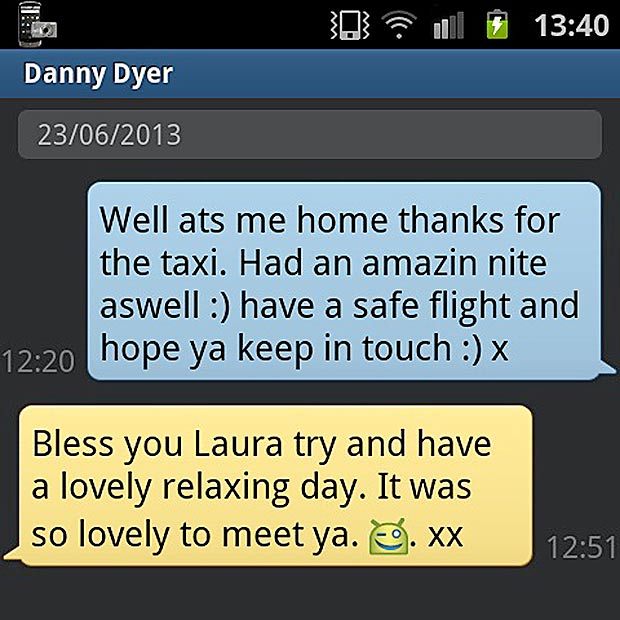 Dyer has been open about his dalliances, but wife Joanne has stuck through it all with him. Dyer for his part calls his wife his "f***ing rock".
[rtk_adunit_bottom]
12. He's had affairs with some very famous women
Dyer hasn't limited his affairs to non-celebs – he's also been linked with some very famous women over the years.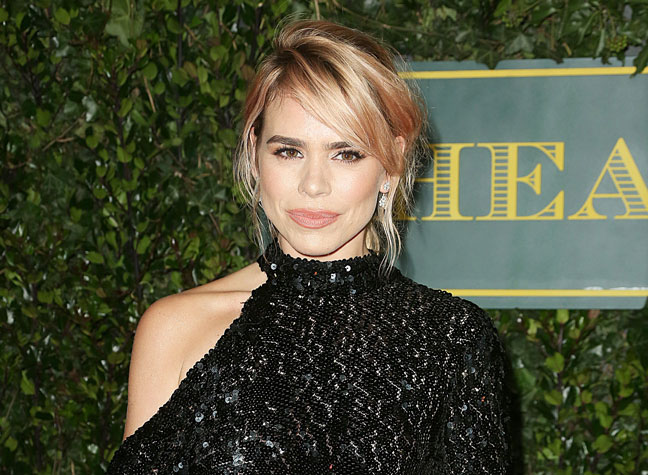 The celeb women Dyer has reportedly had flings with include Billie Piper, whom Dyer dated until Chris Evans came along in 2001, and Lily Allen, who Dyer was papped with over a few alcohol-fuelled days in 2008.
[rtk_adunit_top]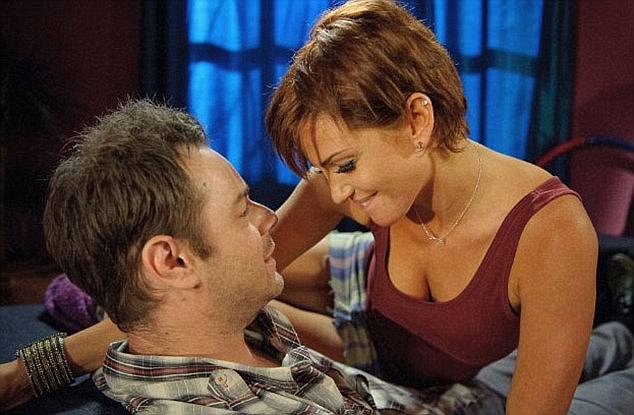 It's also been said that Dyer had an affair with ex-Girls Aloud singer Sarah Harding on the set of their movie Run for Your Wife in 2012, with inside sources telling the press in 2017 that the pair "had a wild relationship. He fell in total lust with her".
[rtk_adunit_middle]
11. He thinks drugs should be legalised
When it comes to political matters, Danny Dyer is reliably outspoken.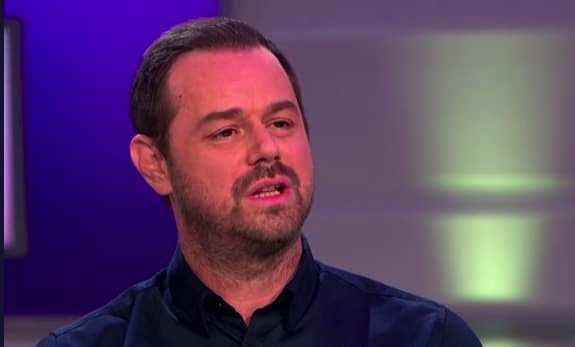 In 2015, Dyer argued for the full legalisation of drugs, saying that "Banning drugs hasn't worked. Ain't it about time to try something different?"
[rtk_adunit_bottom]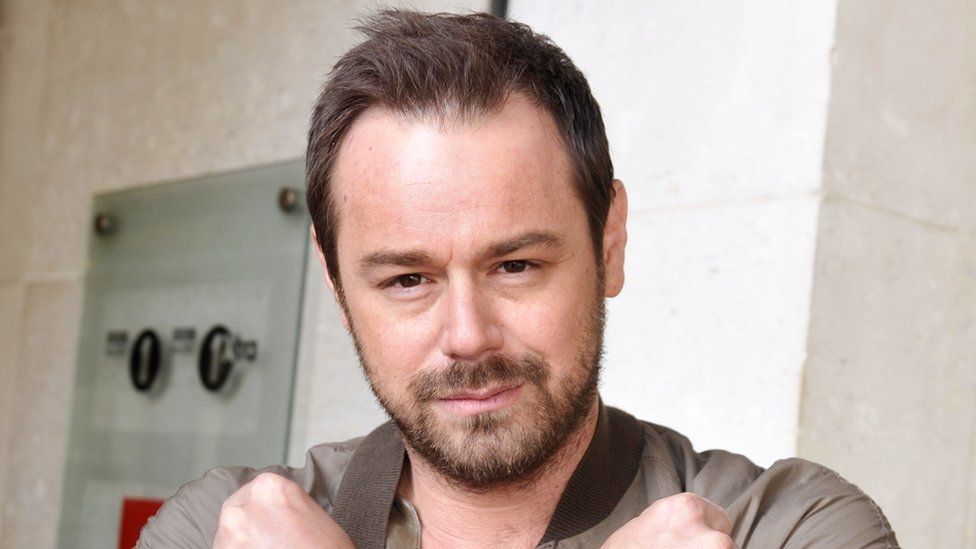 Dyer added that cocaine, "it seems to me, is easier to get than a part for your boiler in this country…It seems to me the blindingly obvious thing to do about drugs is to licence them, tax them and offer some sort of quality control like we do with alcohol and cigarettes".
10. He's been a heavy drug user himself
Danny Dyer's views on drugs have no doubt been influenced by the fact that he's been an openly heavy user himself.
[rtk_adunit_top]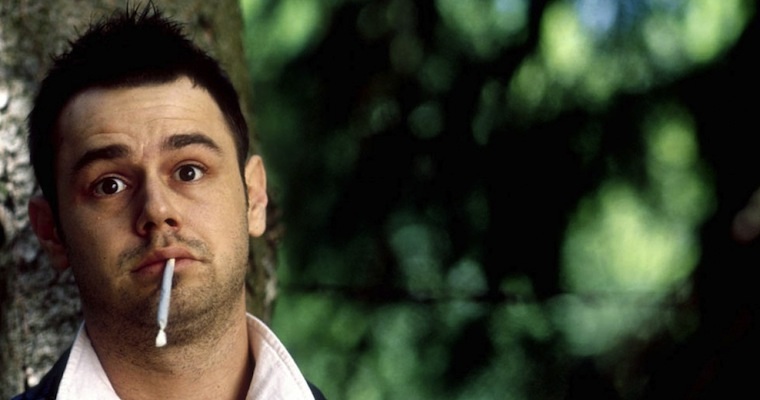 In his 2010 autobiography, Dyer admitted that "I've always taken drugs and I probably always will", adding that he has been known to "get a hooter full of class As…talk b******s all night and then take a couple of sleeping pills and crash out".
[rtk_adunit_middle]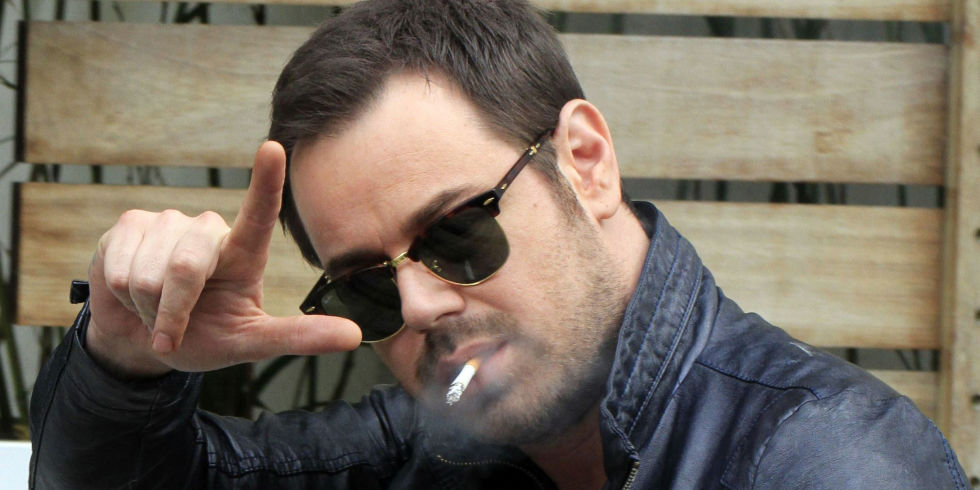 Though he considers himself a casual user, Dyer has admitted to having had a problem with crack cocaine in the past, which he took to "like a duck to water, which should have been the warning to leave it alone".
9. He called David Cameron a "tw*t" live on television
It's not just the issue of drugs that Danny Dyer is outspoken on. Despite his Essex wide boy image, Dyer is a surprisingly political animal.
[rtk_adunit_bottom]

He's given hot takes on Ed Miliband (his politics are "a bit too heavy"), Lord Sugar ("you have the looks, wit and charm of a slightly comatose tramp") and, of course, Donald Trump ("he's off his nut").
Dyer reserved his most stinging putdown for David Cameron, however, declaring live on television earlier this year that the former Prime Minister was, simply, a "tw*t".
[rtk_adunit_top]
8. He drunkenly licked Mary Berry at an awards show
Now we've established that Danny Dyer likes to unapologetically party, let's take a look at the time he got drunk at an awards show and licked Mary Berry's face.
The incident occurred in 2014, at the TV Choice Awards. Dyer had already won an award for Best Soap Actor early in the night, but it was when he went on stage with his Eastenders castmates to collect the award for Best Soap from Bake Off queen Berry that Dyer initiated contact.
[rtk_adunit_middle]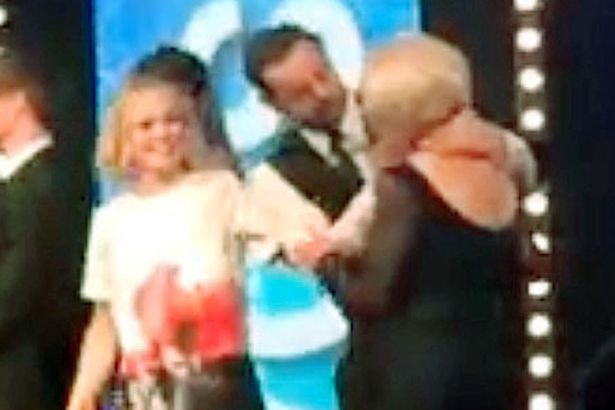 Dyer, who later admitted to being "off my head", embraced Berry and reportedly licked her ear. Berry called Dyer a "naughty boy", while Dyer claimed that he just wanted "to send my love to Mary Berry, who I respect and love".
[rtk_adunit_bottom]
7. His Katie Hopkins feud has been savage
Ever since she criticised Dyer for allowing himself to be proposed to, not to mention what she called his "naff bum-fluff beard", professional troll Katie Hopkins has been in Danny Dyer's firing line.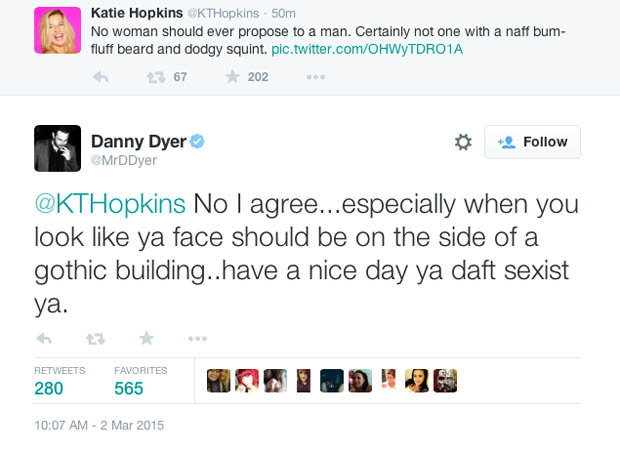 After Hopkins laid into his appearance, Dyer responded by compared her to Albert Steptoe, a gargoyle, a hideous witch from 1990's The Witches and a 'tampon with a face'.
[rtk_adunit_top]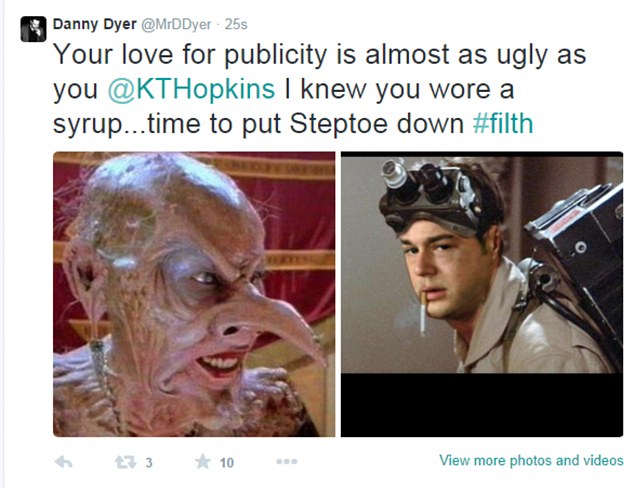 Dyer and Hopkins' media feud didn't end there. Upon winning an award in 2015, Dyer dedicated the prize to "Steptoe", adding "please don't make vile people famous".
6. He's threatened to "put the nut on" Mark Kermode
For many years now, one of Danny Dyer's fiercest critics has been the BBC and Observer critic Mark Kermode, known for frequently ridiculing Dyer and impersonating him (badly).
[rtk_adunit_middle]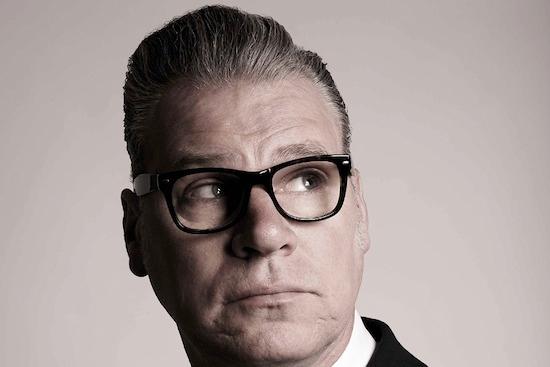 Dyer isn't too impressed by Kermode's constant ribbing, as it turns out. For Dyer, it's a class issue – he told the Independent in 2013 he thought Kermode was simply a snob, commenting that "posh people think they're so superior to the working class".
[rtk_adunit_bottom]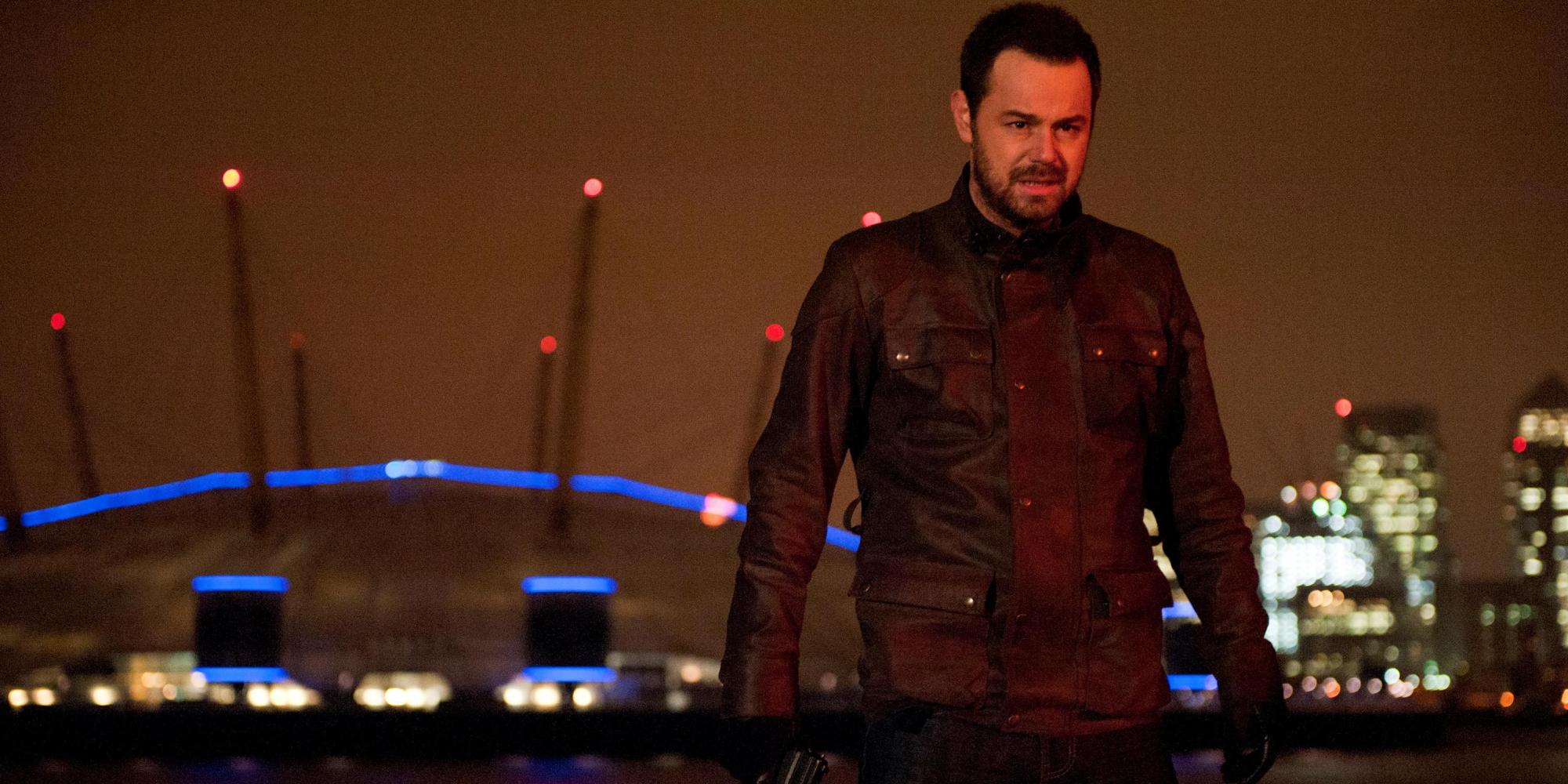 When asked what Dyer would do if he ever met Kermode, he responded "I don't know how I'm going to react…I'll probably just put the nut on him".
5. He got his first acting gig aged 15 opposite Helen Mirren
He's only 41, but Danny Dyer is already a veteran of the business. With 84 acting credits to his name, Dyer is, in his own words, no "Danny Day-Lewis", and has starred in a range of TV shows and films over the course of his career.
[rtk_adunit_top]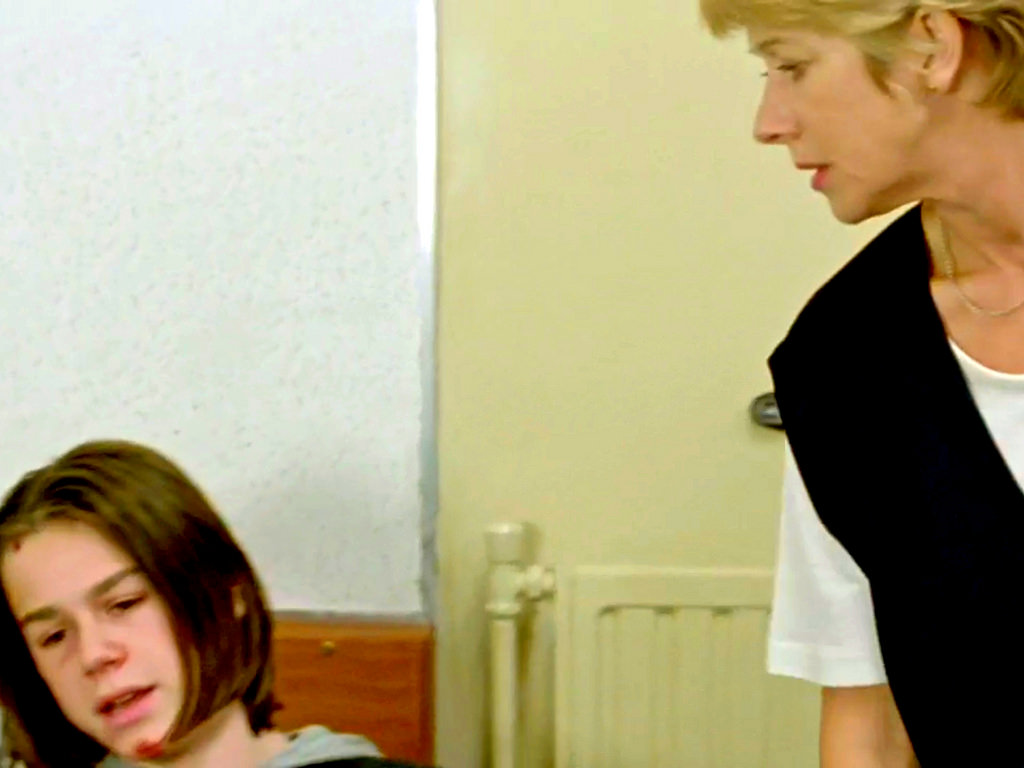 Dyer's very first gig, however, already saw him playing in the big leagues. His first role saw him acting opposite Helen Mirren, in 1993's Prime Suspect 3.
[rtk_adunit_middle]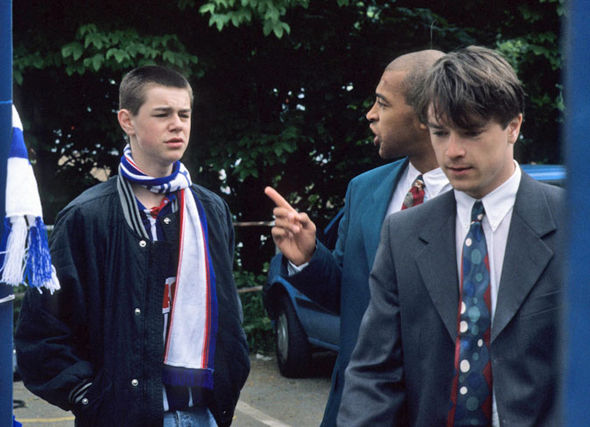 This would have been a big deal for any actor, but even more remarkable was the fact that Dyer was just 15 when he got this first role.
[rtk_adunit_bottom]
4. He's a gay icon
He doesn't necessarily understand how it's happened, but Danny Dyer – twice a cover star of Attitude magazine – is more than happy to accept the mantle of gay icon.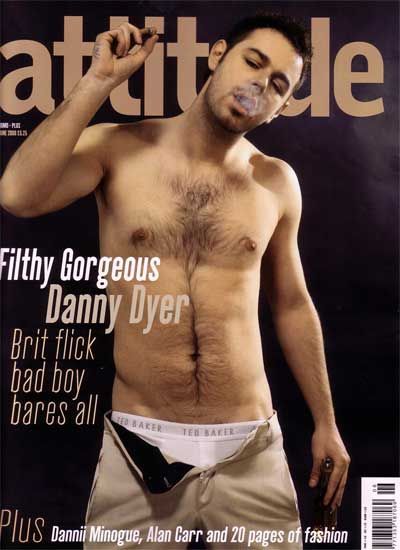 In particular, the 2014 Eastenders episode in which the son of Dyer's Mick Carter came out as gay brought Dyer a whole new set of fans.
[rtk_adunit_top]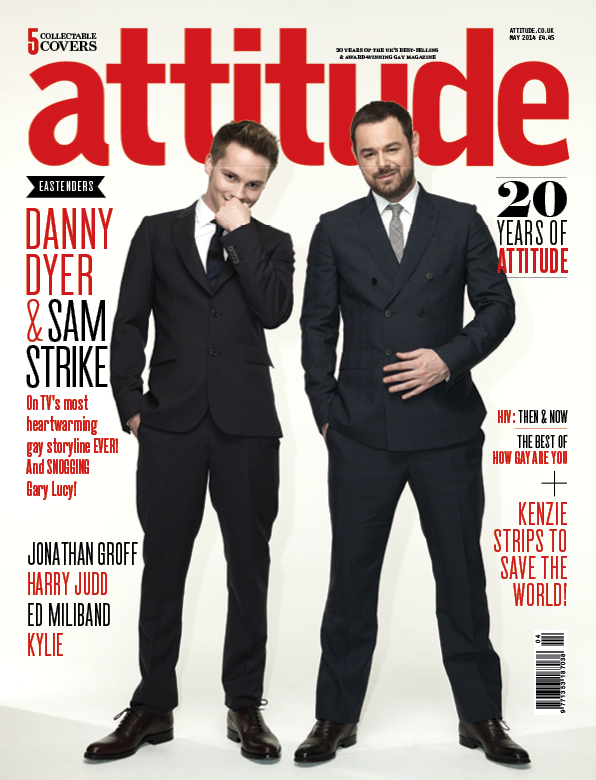 Dyer said he was touched by the response, telling the Daily Star in 2018: "There can be nothing worse than not being able to be you. I have had hundreds of letters from young gay men who came out the next day because of that scene. It worked."
[rtk_adunit_middle]
3. Dyer himself was bullied at school for 'being gay'
Though Dyer has established himself as something of a ladies man, that didn't stop him from experiencing homophobia himself as a youngster.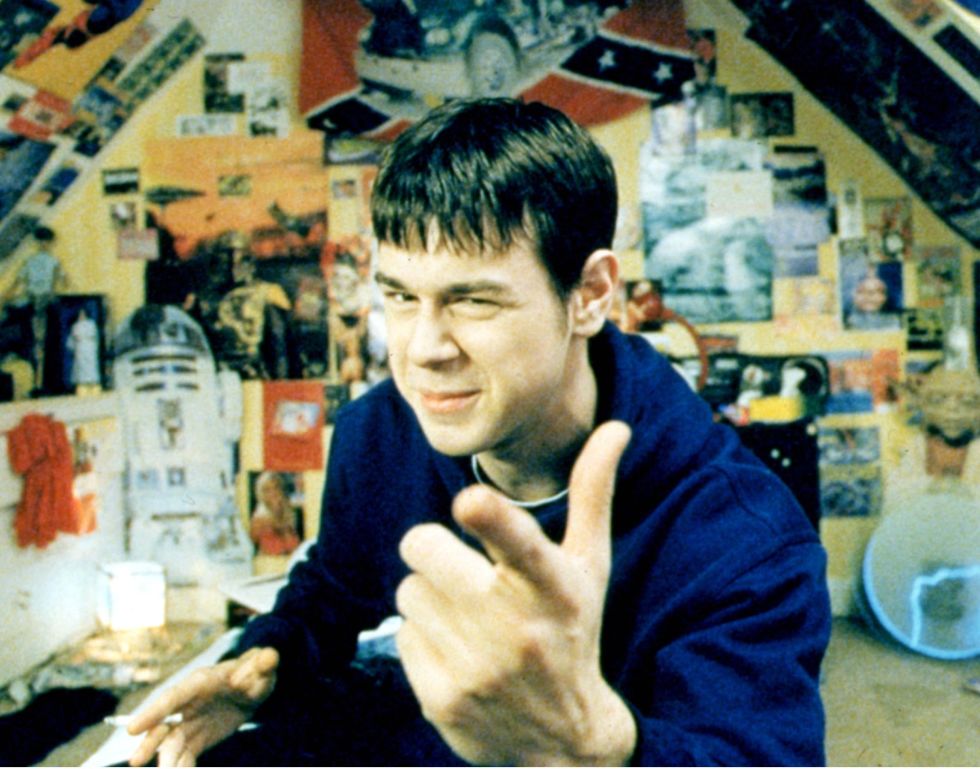 In his 2015 autobiography, Dyer wrote that "to my mates, and some who weren't quite as matey, being an actor is exactly the same as being homosexual. The bullying I got was sometimes horrible."
[rtk_adunit_bottom]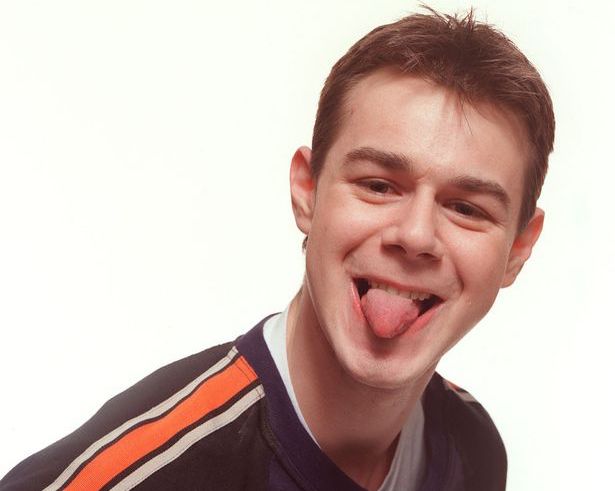 Dyer revealed in the same book that his father also "hated gay men", but blamed a culture that reinforced the notion that "gay is wrong".
[rtk_adunit_top]
2. You might remember him from a 90s Coca-Cola ad
It might not have always been plain sailing for Danny Dyer as a teen, what with the bullying over his chosen profession, but the on-screen success at least came thick and fast fairly immediately.
A year after starring alongside Helen Mirren for ITV, Dyer landed himself another big gig, one that could be seen across all channels by UK viewers.
[rtk_adunit_middle]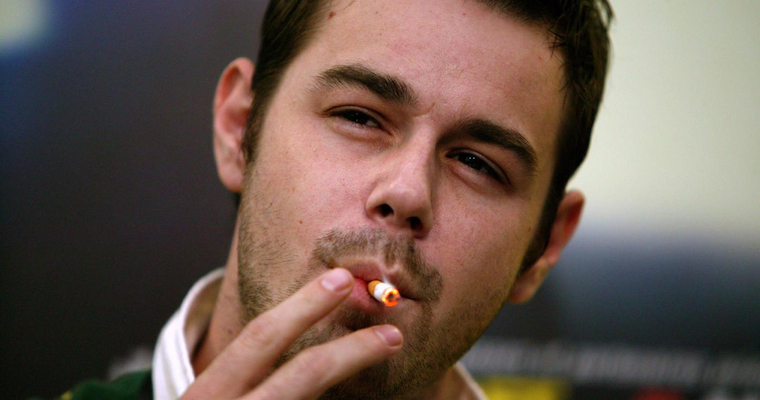 In 1994, Dyer starred in a Coca-Cola ad, playing a teen disgruntled by the fact his mum's got some imitation coke in and not the real thing.
1. His daughter's also an actor
We may now know her best as one of the winners of this year's Love Island, but Dani Dyer had appeared on screens before.
[rtk_adunit_bottom]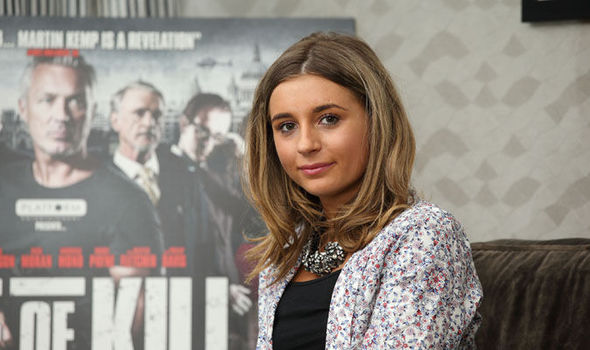 It turns out the apple doesn't fall far from the tree in the Dyer family's case: Dani has nine acting credits to her name so far, having appeared alongside her dad in films including Doghouse and Vendetta.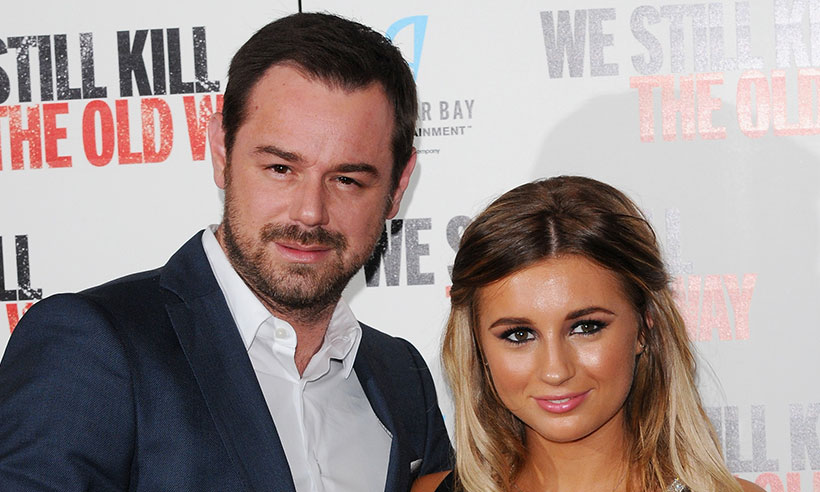 Dani told reporters earlier this year that she had "always wanted to do acting. My dad's an actor. Having that in your family, when you're on set, it was weird for me, being brought up with it, I thought, 'I like this'."
Did you know these facts about Danny Dyer? Let us know in the comments section below!