Jack Nicholson has been one of the biggest stars in Hollywood for years, and although he retired from the movie industry over a decade ago, there was no stopping the three-time Oscar winner back in the day.



With iconic roles in films such as The Shining and One Flew Over The Cuckoo's Nest, Nicholson has proved himself to be one of the most talented character actors in Hollywood. Away from the screen he's had a colourful life (to say the least!). Back in the 60s he experimented heavily with drugs whilst his life-long love of the ladies has led to him being nicknamed 'The Great Seducer'.
With that in mind, we've brought you 30 fascinating facts you probably never knew about one of the all-time acting greats – Jack Nicholson. Enjoy!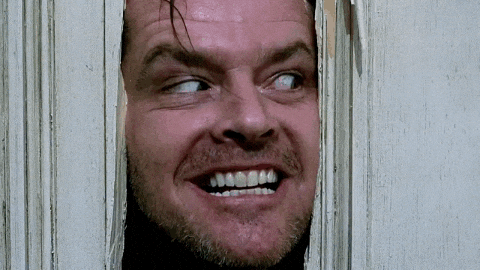 30. He's been known to lose his temper ever-so-slightly
Heeeeere's Johnny! OK, so Nicholson hasn't quite gone on an insane rampage before, but he has been known to have a fiery temper.
[adunit mobile="RTK_dVa8″]
And back in 1994, Jack really blew up whilst he was driving to a golf course for a nice relaxed round of 18 holes. A fellow motorist cut him off in busy traffic and the actor responded by smashing the offending car's windshield with a 2 iron. Yikes – talk about a case of road rage!
[adunit mobile="RTK_wCZW"]
It might sound a bit extreme, but apparently Jack was under a lot of pressure at the time. His friend had just died and the actor had finished off a gruelling schedule of filming the day before. Still, a judge wasn't impressed with the actor's excuses and Nicholson later settled out of court for $500,000.
[adunit mobile="RTK_z9hm"]
The actor (who usually comes across as a loveable, charming kind of guy) later expressed a lot of regret for the incident.
29. He lives on Bad Boy Drive, Hollywood
OK so that's not the real street name, but it's definitely appropriate for the likes of Jack and his famous neighbours.
[adunit mobile="RTK_dVa8″]
Nicholson lives on the infamous Mulholland Drive, which once housed Nicholson, Warren Beatty and Marlon Brando all at the same time! We're sure the neighbours had a lot of interesting stories to tell, especially since the street was christened 'Bad Boy Drive' in their honour.
[adunit mobile="RTK_wCZW"]
The late Brando and Nicholson were good friends who even shared the same driveway with one another. Nicholson bought the house after his breakout role in Easy Rider and quickly started hosting some very glamorous parties – it was once described as "the epicentre of the era's drug-soaked social scene". However, there is a darker story behind his house at Mulholland Drive…
[adunit mobile="RTK_z9hm"]
In 1977 Roman Polanski brought a 13 year old model there before spiking her with a Quaalude and having sex – the next day the director was arrested on rape charges and eventually fled the country.
28. He once spent several months walking around completely nude
It sounds like fake news, but this item on our list is 100% true!
[adunit mobile="RTK_dVa8″]
Various eyewitnesses who got a sneak peek at Nicholson in his naked form have since confirmed that the actor once spent several months walking around his Mulholland Drive house completely nude. He refused to put clothes on for anyone, even strangers!
[adunit mobile="RTK_wCZW"]
Rolling Stone journalist Erik Hedegaard confirmed the bizarre habit after meeting with the actor at his residence: "It's where, in the late Sixties, as a matter of self-help, he spent three months walking around in the nude, at all hours of the day, no matter who stopped by, his daughter included."
[adunit mobile="RTK_z9hm"]
Nicholson claims that he was doing it in order to get used to appearing nude on film – he had a sex scene in the original script for The Postman Always Rings Twice and didn't want to get performance anxiety. OK Jack, we believe you! Several months is a long time to get into character though…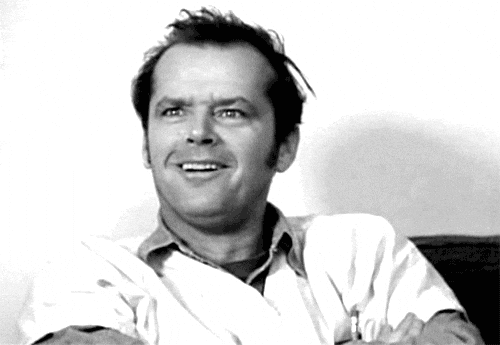 27. He's still as randy as he was when he was a young man
Speaking of nudity, the notorious womaniser still has a lust for the ladies, even at the grand old age of 81!
[adunit mobile="RTK_dVa8″]
The actor first confessed that he was as randy as ever in a 2006 interview with Rolling Stone (which was later dated 2013 online). In it he admitted that "I'm still very – I have the same libido". Which doesn't really surprise us considering the reputation he had in the sack.
[adunit mobile="RTK_wCZW"]
However, he has also admitted that he no longer hits on women because it 'doesn't feel right' at his age (Leonardo DiCaprio take note). Instead, Nicholson's current routine is a far cry from his hell-raising days. Rolling Stone gave a fascinating account of his life as an old man: "He says that he usually wakes up around 11 a.m., when Gloria, his housekeeper, brings him breakfast in bed.
[adunit mobile="RTK_z9hm"]
On the breakfast tray is a glass of orange juice, a cup of coffee (cream, sugar), a container of diet chocolate pudding (but only on weekends) and his daily regimen of pills, which includes a baby aspirin, for all the good one baby aspirin a day can do a person; Lipitor, to deal with certain cholesterol issues; and a Celebrex, to ease the pain of arthritis, with a Prilosec waiting in the wings should heartburn develop."
It doesn't sound quite as glamorous really does it?!
26.'Jack the Jumper' slept with Justin Trudeau's mum!
Whaaat?! Yep that's right – Nicholson and Justin Trudeau's mum, Margaret, had a one night stand.
[adunit mobile="RTK_dVa8″]
As many of you will know, Trudeau is the mother to Canada's current Prime Minister. But back in the day she was a model who liked to party at Studio 54, and Jack was one of her former lovers. Nicholson is a legendary lothario and Margaret is definitely not the only woman he had a brief fling with.
[adunit mobile="RTK_wCZW"]
Apparently Cher once remarked that, of all her lovers, "I think he likes women more than any man I've ever known. I mean he really likes them.'" Meanwhile Kim Basinger described Nicholson as " 'the most highly sexualized individual I have ever met.'"
[adunit mobile="RTK_z9hm"]
And the reviews just keep coming! Karen Mayo-Chandler is a former Playboy model who claimed "He's a nonstop sex machine. He's into fun and games … like spanking, handcuffs, whips and Polaroid pictures." Apparently he also ate peanut butter in between 'rounds' to keep his stamina up.
That's dedication! No wonder he's known as 'Jack the Jumper'…
25. He only found out in later life that his 'sister' was actually his mother
This Nicholson fact is particularly bizarre (and tragic).
[adunit mobile="RTK_dVa8″]
It turns out that the actor's 'older sister' June gave birth to Jack in 1937 at the age of 17 years old. In order to avoid a scandal, Jack grew up his entire life believing that his grandmother was his mother, and that his mother June was his sister.
[adunit mobile="RTK_wCZW"]
Nicholson only found out about the family secret when a reporter from Time unearthed the details whilst researching the actor in 1974. He had previously had no idea about the bombshell and only found out the truth when he was 37 years old.
[adunit mobile="RTK_z9hm"]
By this time both his mother and grandmother had been dead for over ten years. Nicholson said it was "a pretty dramatic event, but it wasn't what I'd call traumatizing… I was pretty well psychologically formed"
24. He supposedly had secret access to the Playboy Mansion
This bizarre report first surfaced in 2015…
[adunit mobile="RTK_dVa8″]
Playboy revealed that they had found some old Polaroid shots from the late 70s which appeared to show a building project at the infamous Playboy Mansion. The Mansion's general manager stated that they were probably taken around the time 'some tunnels' were built under the property.
[adunit mobile="RTK_wCZW"]
Reporters quickly tried to establish where the tunnels led to. And what did they find? Some blueprints which featured underground passages leading to the properties of "Mr. J. Nicholson," "Mr. W. Beatty," "Mr. K Douglas" and "Mr. J. Caan."
[adunit mobile="RTK_z9hm"]
All four actors lived extremely close by at the time and when asked, all of the aforementioned actors declined to comment! Hmmmm! So there might still be an underground passage between Jack's house and the Playboy Mansion.
Stranger things have happened…
23. He once partied with Fidel Castro
Nicholson has rubbed shoulders with some interesting figures over the years.
[adunit mobile="RTK_dVa8″]
And more than a few eyebrows were raised 1998 when the legendary actor decided to take a trip to Cuba. Nicholson was supposedly checking out the Cuban film industry but he quickly found himself having a good time with none other than Fidel Castro himself. Castro was another cigar-smoking ladies man…sound familiar?
[adunit mobile="RTK_wCZW"]
The pair visited lots of restaurants, smoked some Cubans together and generally had a good time. Unsurprisingly, Nicholson later dubbed Castro a 'genius' after being thoroughly impressed with his visit. However, the actor didn't seem to realise that he had been receiving special treatment…
[adunit mobile="RTK_z9hm"]
In the Communist country, all of the luxuries he was treated to in Cuba are strictly off-limits to Cuban citizens.
22. He nearly became a cartoonist instead of an actor
Like most people, Jack had to pursue his acting dream by starting right at the bottom of the career ladder.
[adunit mobile="RTK_dVa8″]
But apparently the charismatic actor made a strong impression on his co-workers right from the get go. In his first industry job, Nicholson worked as an office assistant for William Hanna and Joseph Barbera in the cartoon department at MGM. He was so good at drawing that they offered him a role as an animation artist, but he turned it down.
[adunit mobile="RTK_wCZW"]
Imagine if he had said yes! We might never have been treated to his performances in Easy Rider and One Flew Over the Cuckoo's Nest. Nicholson had originally arrived in Hollywood to visit his sister in 1954, and never really ended up leaving. He soon started acting classes and even wrote a film for Peter Fonda entitled The Trip (1967).
[adunit mobile="RTK_z9hm"]
Check out this photo of Jack in a high school production…he's already flashing that iconic smile!
21. He never misses a Lakers game
Nicholson's devotion to the LA Lakers is now legendary amongst basketball fans.
[adunit mobile="RTK_dVa8″]
For years, he could regularly be seen on the front row (always with his sunglasses on of course) sitting to next to his old pal Lou Adler, a Grammy Award-winning record producer. Unfortunately Adler passed away last year, but Nicholson is still going strong and cheering on the team for him.
[adunit mobile="RTK_wCZW"]
It's extremely rare for Nicholson to miss a Lakers home game. However, it's an urban myth that the actor has previously forced production companies to reschedule their filming around Lakers games (although we wouldn't put it past him!).
[adunit mobile="RTK_z9hm"]
Nicholson is also a huge baseball fan and loves the New York Yankees.
20. He never does interviews
Are you wondering why you've never seen Jack Nicholson on a chat show?
[adunit mobile="RTK_dVa8″]
It's because he absolutely despises them. And who can blame him? There's nearly always a fake chemistry between the host and their guest, who more often than not is simply there to promote themselves or a project they've been working on.
[adunit mobile="RTK_wCZW"]
Nicholson has not actually appeared on a talk show since 1971, which is an amazing accomplishment for an actor of his stature. He only agrees to do press conferences and used to walk straight past the cameras and interviewers on red carpets. However, that's changed in recent years.
[adunit mobile="RTK_z9hm"]
He must be softening in his old age because now he occasionally stops to talk to waiting reporters.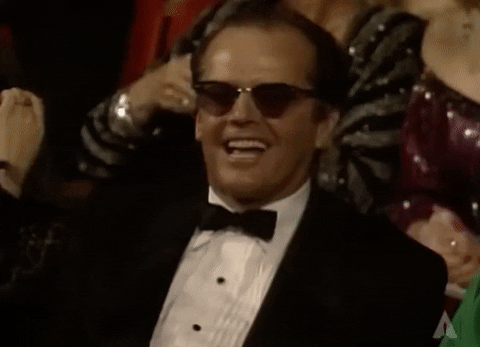 19. He demolished Marlon Brando's house
Nicholson was always close friends with Marlon Brando, and after the late actor passed away, Nicholson paid him the ultimate tribute…
[adunit mobile="RTK_dVa8″]
By demolishing his house! It's actually quite a sweet story though – when Brando died, Nicholson quickly forked out the £3.4 million required in order to buy the house (which was handily located right next to Nicholson's home).
[adunit mobile="RTK_wCZW"]
He then planted a host of frangipani flowers in its place. This is because Brando was especially fond of the plants and even nicknamed his home 'Frangipani'. We don't know about you, but we think that's a really nice tribute to one of Jack's closest friends.
[adunit mobile="RTK_z9hm"]
After Brando's death, Nicholson also wrote an article for rolling Stone on his dear friend. The first line read: "Marlon Brando is one of the great men of the twentieth and twenty-first centuries, and we lesser mortals are obligated to cut through the shit and proclaim it."
18. He's never met one of his sons
Like any good Hollywood bad boy, Nicholson has a lot of different children by a lot of different women.
[adunit mobile="RTK_dVa8″]
He became a dad for the first time all the way back in the early 60s, when he had a daughter (Jennifer) with ex-wife Sandra Knight in 1963. He also had two love children with different women during his long-term relationship to actress Anjelica Huston.
[adunit mobile="RTK_wCZW"]
His daughter Honey was born in 1981 by ex-lover Winnie Hollman, whilst his third daughter Lorraine arrived in 1990 – her mother was Nicholson's ex-girlfriend Rebecca Broussard. Nicholson became a dad again at the age of 52 when Broussard gave birth to his doppelganger son Ray (pictured above).
[adunit mobile="RTK_z9hm"]
However, Nicholson has never met his second child. He became a father for the second time at the age of 33, when an ex-girlfriend of his, Susan Anspach, gave birth to Caleb James Goddard in 1970. Father and son have never had any contact whatsoever.
Luckily Caleb was adopted by another actor, Mark Goddard, after Goddard married his mother.
17. He turned down a major role
Al Pacino made the role of Michael Corleone completely his own, and nowadays we can't imagine anyone else playing the iconic character.
[adunit mobile="RTK_dVa8″]
But back in the early days, Nicholson was being seriously touted as a potential actor to take on the meaty mob role. In fact, he was offered the part of Michael in 1972 but turned it down, instead believing that the role should go to someone with Italian heritage. Just imagine how different The Godfather might look with Nicholson playing the lead!
[adunit mobile="RTK_wCZW"]
Jack later explained: "I knew 'The Godfather' was going to be a great film, but at that time I believed Indians should play roles written for Indians and Italians should do the same." He's clearly a selfless actor who wants the best for the project and is willing to pass on a million dollar opportunity in the process.
[adunit mobile="RTK_z9hm"]
His good friend Warren Beatty was also offered the role, as was Dustin Hoffman, but eventually it went to fourth choice Al Pacino. The rest is history.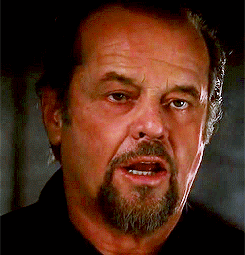 16. He does well at the Oscars when he has an equally good leading lady
Nicholson has starred in many classic films, often alongside a stellar cast of fellow actors and actresses.
[adunit mobile="RTK_dVa8″]
But it seems as though Jack is a lucky charm for any woman who stars in the films he makes. Each time he's won an Oscar, the Oscar for Best Actress has gone to the leading lady in the same movie as him – just goes to show that a good acting partnership really works!
[adunit mobile="RTK_wCZW"]
His most recent Best Actor win came in 1997 for the film As Good As It Gets…and in the photo above you can see him grinning alongside actress Helen Hunt, who bagged herself Best Actress at the same ceremony for her performance. And in the photo below you can see the actor beaming alongside Louise Fletcher at the 1975 Academy Awards.
[adunit mobile="RTK_z9hm"]
Both of them are gripping those little gold statuettes thanks to their performances in the classic movie One Flew Over A Cuckoo's Nest. And finally, Jack has also had success with Shirley MacLean, when both of them won Oscars for 1983's Terms of Endearment.
15. He grew up with another big star
Nicholson has a whole host of famous friends on his speed dial.
[adunit mobile="RTK_dVa8″]
But he's known one of them since he was a little kid. Can you guess who? It's actually none other than fellow acting veteran Danny DeVito! Both Jack and his occasional co-star Danny grew up on the Jersey Shore – but luckily for us, they're not into GTL and excessive amounts of spray tan.
[adunit mobile="RTK_wCZW"]
The two friends have been lucky enough to work together on a number of occasions. DeVito reprised his off-Broadway role as Martini in One Flew Over the Cuckoo's Nest, opposite Nicholson's Randle McMurphy. We bet they couldn't have guessed how popular the movie would be!
[adunit mobile="RTK_z9hm"]
They also starred in Hoffa together in 1992. Their long relationship really helped to create some extra chemistry between the pair on-screen. Nice!
14. He was personally recommended for one big role
Jack's only been recommended for one major role in his life, but it's arguably become one of his most famous performances.
[adunit mobile="RTK_dVa8″]
The Joker was Nicholson's defining role of the 1980s – he appeared in Batman (1989) to play the villain opposite Michael Keaton's winged superhero and his unique portrayal became an instant hit. But how did he end up getting the part? After all, it was completely unlike any character Nicholson had played before…
[adunit mobile="RTK_wCZW"]
Turns out that Nicholson was specifically recommended for the role by none other than Bob Kane, the original creator of the Batman comics! That must have meant a lot to the Oscar winner, especially seeing as the actor was always a massive fan of the comic books growing up.
[adunit mobile="RTK_z9hm"]
Turns out it was a great recommendation from Kane, because Nicholson completely nailed the part and arguably stole the show from Michael Keaton (which isn't surprising since Jack requested top billing on all the promotional posters!).
13. He's been a successful actor for over 5 decades
Sometimes it's easy to forget that Nicholson has been racking up Oscar nominations since the 1960s.
[adunit mobile="RTK_dVa8″]
In fact, he's received nominations for acting's highest honour in the 1960s, 70s, 80s, 90s and 2000s! He's one of only two actors ever to achieve this amazing record – the other person being Michael Caine. On top of that, with a grand total of 12 Oscar nominations, he's the male actor with the most Oscar nominations of all time.
[adunit mobile="RTK_wCZW"]
The only individual to receive more is none other than acting legend Meryl Streep, who currently has 20 nominations to her name. Apparently the legendary actor is about to come out of retirement and will be starring in a film remake of 'Toni Erdmann' (a German language movie).
[adunit mobile="RTK_z9hm"]
Will he be able to score himself another Oscar nomination (and win) with his latest project? We'd definitely bet on it…
12. The writers at Premiere Magazine are big fans of Nicholson
It's not unusual for Nicholson to feature on Best Actor lists.
[adunit mobile="RTK_dVa8″]
But it looks as though Premiere Magazine has a special soft spot for old Jack because they've put him in their list of Greatest Movie Characters a whopping three times. And here he is gracing the cover of the publication alongside Michelle Pfeiffer in 1994. Check it out:
[adunit mobile="RTK_wCZW"]
So which of his performances made the cut? Nicholson's characters Jack Torrance (The Shining), Jake Gittes (Chinatown) and Randall Patrick McMurphy (One Flew Over the Cuckoo's Nest) were voted as the 82nd, 37th and 14th greatest movie characters of all time by Premiere.
[adunit mobile="RTK_z9hm"]
We're sure Jack has probably lost count of all the times he's received plaudits from movie publications!
11. He loves a good wrestling match
Nicholson is known for his love of sports, and it seems as though he really enjoys watching two guys (pretend) wrestling each other in the ring.
[adunit mobile="RTK_dVa8″]
That's right, the actor is a massive wrestling fan and has often been seen attending contests in the past. He's also got a firm list of favourites including Harley Race, Ric Flair and John Cena. Who knew the Oscar winner was so into his wrestling?
[adunit mobile="RTK_wCZW"]
In fact, Nicholson actually holds a lot of sway with the WWE. He once put pressure on them to induct Ric Fair and John Cena into the Wrestling Hall of Fame – and they caved! That's right, Fair and Cena are both hall of famers now thanks to the actor. And that's not all…
[adunit mobile="RTK_z9hm"]
He actually once joked that he'd love to put on a celebrity wrestling match starring Johnny Depp, Jim Carrey, Tom Cruise and Robert Downey Jr.
We'd pay good money to see that!
10. He loves jokes being played at his expense
Nicholson has a notorious sense of humour.
[adunit mobile="RTK_dVa8″]
And despite his occasional temper, he particularly loves jokes at his own expense. The actor took this to another level when he decided to show up at every Academy Awards hosted by Billy Crystal, just so the comedian and actor would make fun of him.
[adunit mobile="RTK_wCZW"]
And Crystal stayed true to his word – he managed to incorporate Nicholson into every telecast at some point during proceedings. One of the most memorable scenes came in 2004 when Crystal returned to host the ceremony after four years away.
[adunit mobile="RTK_z9hm"]
He created a video montage which involved a storyline about Nicholson and his magic sunglasses helping Crystal to get back to the Oscars!
9. He attended the murder trial of actress Claudine Longet
First off you might be wondering who exactly Claudine Longet is…
[adunit mobile="RTK_dVa8″]
Longet is a French actress who was arrested in 1976 for fatally shooting her Olympic skiier boyfriend, Vladimir Sabich. Longet said that the gun misfired when she was holding it and in the end she was charged with negligent homicide.
[adunit mobile="RTK_wCZW"]
The scandal rocked Hollywood and Jack Nicholson decided to attend the murder trial taking place in Aspen, Colorado. But there's a chilling connection between the courthouse and Nicholson's presence. Remember the infamous serial killer Ted Bundy?
[adunit mobile="RTK_z9hm"]
Bundy (pictured below) was brought to the very same courthouse to face trial only months later. Eek!
8. As a kid he was once in detention every day for a whole year
Nicholson has always been known for his rebellious ways.
[adunit mobile="RTK_dVa8″]
So it's good to find out that he's always been a bit of a bad boy, even from a really young age! Apparently as a kid he once spent a whole year of school in detention. That's right, he was punished for his behaviour every. Single. Day. What was he doing?!
[adunit mobile="RTK_wCZW"]
Nicholson has previously discussed his naughty streak: "I was always against authority, hated being told anything by my teachers, by parents, by anyone," he told The Independent in 1993."At school I created a record by being in detention every day for a whole year."
[adunit mobile="RTK_z9hm"]
This was later confirmed by his classmates at a school reunion. He was also voted 'class clown' at his New Jersey high school!
7. He hates the blockbuster film industry
Ever wondered why Nicholson has spent so long in retirement?
[adunit mobile="RTK_dVa8″]
Apparently it's because he's completely disillusioned with the film industry. And soulless blockbusters are at the very heart of that feeling – so much so that Nicholson has ruled out ever appearing in one. So he's not going to pop up in an Avengers series any time soon!
[adunit mobile="RTK_wCZW"]
The actor once did an interview with The Sun in 2013 and explained his decision not to make films anymore: "I had the most chilling thought that maybe people in their twenties and thirties don't actually want to be moved anymore. They may want just to see more bombs, more explosions, because that is what they have grown up with."
[adunit mobile="RTK_z9hm"]
The actor then firmly stated: "And I'll never do that type of movie." Well done for sticking by your principles, Jack! The last film he appeared in was the James L. Brooks feature How Do You Know back in 2010.
6. He's actually a savvy businessman
That distinctive smile and those glinting eyes actually hide the face of a very savvy businessman!
[adunit mobile="RTK_dVa8″]
Nicholson's business acumen really came out during the production of Batman back in 1989. Even though Michael Keaton was playing the title role, it was Nicholson who bagged himself top billing for playing the iconic villain with the evil perma-smile.
[adunit mobile="RTK_wCZW"]
The actor also played hardball when it came to negotiations about his earnings and any future income from the movie. He managed to acquire a percentage of the film's box office ticket sales and any merchandising profits, which quickly gave his bank account a healthy boost (not that he needed it!).
[adunit mobile="RTK_z9hm"]
It's now estimated that on top of his acting fee, Nicholson earned $60 million (£48 million) from his negotiating. Nice!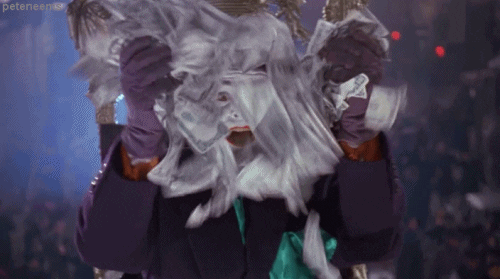 5. He never leaves home without his sunglasses on (anymore)
OK, so maybe back in the day we used to see him without his shades on.
[adunit mobile="RTK_dVa8″]
But for a very long time, it's been very rare to spot Nicholson out and about with his trusty sunglasses firmly in place. They're even fitted with prescription lenses so that the short-sighted actor can see clearly without having to strain.
[adunit mobile="RTK_wCZW"]
Why does he wear them? The answer Nicholson once gave was actually quite funny. He has claimed that the shades are part of his 'armour' and even joked that: "With my sunglasses on, I'm Jack Nicholson. Without them, I'm fat and seventy."
[adunit mobile="RTK_z9hm"]
He's Jack Nicholson, so he can do what he wants!
4. He's an avid art collector
Jumpin Jack is probably best known in Hollywood for his love of sports and women!
[adunit mobile="RTK_dVa8″]
But did you know that he's also a massive fan of fine art? Yep – his house in Mulholland Drive is reported to contain a huge art collection with plenty of originals from world-renowned artists including Picasso, Matisse, Modigliani, Magritte, Bouguereau, Botero and Rodin. Wow!
[adunit mobile="RTK_wCZW"]
Nicholson is so into his art that he reportedly came in fifth on a 2015 list by Wealth-X on Hollywood's top 10 art collectors – his entire collection has been valued at a whopping $100 million. However, that pales into comparison with George Lucas, who owns $600 million worth of art.
[adunit mobile="RTK_z9hm"]
David Geffen, the studio mogul, tops the list with a collection valued at $2.3 billion.
3. He bought his 'Joker' costume for a whopping $80,000
Whatever happened to that iconic Joker costume Nicholson wore in the Batman movie?
[adunit mobile="RTK_dVa8″]
Well, turns out the actor liked it so much that he decided to buy it himself for over $80,000. Apparently he was 'particularly proud' of his performance in the film and wanted to commemorate it buy purchasing a little piece of film history.
[adunit mobile="RTK_wCZW"]
Considering the actor made $60 million from the Batman film alone, the $80,000 he stumped up to get his hands on the outfit was really only small change. Nicholson was an avid fan of the Batman comics growing up so he probably wanted to add to his comic collection.
[adunit mobile="RTK_z9hm"]
Looks like he's secretly just a comic book geek at heart!
2. He only earned $329 a week for his role in Easy Rider
$329? That doesn't sound like a lot considering Easy Rider launched him to fame.
[adunit mobile="RTK_dVa8″]
But it's true – Nicholson only earned that amount every week because he was an unknown actor and was paid according to scale, unlike the stars Dennis Hopper and Peter Fonda. We're sure he wasn't complaining, as the role really did give him his big break in the end.
[adunit mobile="RTK_wCZW"]
Nicholson only got the job thanks to an epic fight that broke out between Hopper and legendary actor Rip Torn. The feud between the pair came to a head when the two actors started a brawl at a dinner party and Torn was promptly fired from the movie.
[adunit mobile="RTK_z9hm"]
Nicholson earned Rip Torn's place in the film, but he definitely didn't get the same pay check.
1. The drugs depicted on Easy Rider were real
We're not sure how legal this was at the time, but remember all those drug scenes in Easy Rider?
[adunit mobile="RTK_dVa8″]
The actors were smoking real pot throughout the entirety of filming, and Nicholson freely admitted to this during an interview with a reporter. He stated: We were all stoned the night we shot the campfire scene. […] The story about me smoking 155 joints – that's a little exaggerated.
[adunit mobile="RTK_wCZW"]
"But each time I did a take or an angle, it involved smoking almost an entire joint. After the first take or two, the acting job became reversed. Instead of being straight and having to act stoned at the end, I was now stoned at the beginning and having to act straight, and then gradually letting myself return to where I was – which was very stoned."
[adunit mobile="RTK_z9hm"]
Nicholson was no stranger to drugs at that point – he had already experimented with LSD and cocaine, plus he was reportedly on one long acid trip whilst writing the screenplay for The Trip in 1967. It was the sixties, man!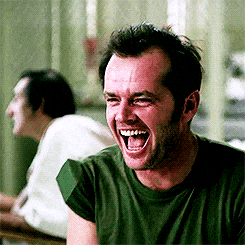 Are you a fan of Jack Nicholson? What was his greatest role? Do you love his dramatic roles like As Good as it Gets and The Last Detail, or the roles where he is able to let himself go a bit more like One Flew Over the Cuckoo's Nest and Batman? Let us know all of your thoughts in the comments section!