One of the best things about Christmas is settling down to watch a good festive movie. Whether it's a hilarious film like Elf or a classic tearjerker (It's A Wonderful Life we're looking at you), everyone loves watching a really good Christmas movie to get in the spirit of things.
But more often than not there are some crazy things going on behind-the-scenes that you probably had no idea about.
[adunit mobile="RTK_dVa8″]
In the article below, we've brought you 23 fascinating facts which reveal the secrets behind some of your favourite festive films. Enjoy!
23. In Elf, one famous scene had to be completed in only one take
Remember the hilarious scene in Elf when Santa ends up wrestling Buddy in the department store? Well that scene had to be done in one take thanks to the Christmas decorations dotted around the grotto. The elaborate set took the film's art department weeks to create, so the fight which destroys all of their hard work could only be filmed once.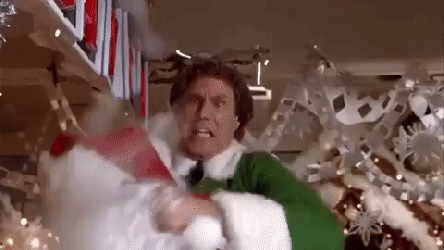 Artie Lange is the actor who played the Santa at the mall.
[adunit mobile="RTK_wCZW"]
He once revealed in an interview that director Jon Favreau had some great advice for them before shooting the hilarious scene. Lange stated that he and Will Ferrell "had one take to destroy it, so Favreau said 'just go nuts.'"
Sounds like a lot of fun! Elf fans who want to see more of Buddy in action will be disappointed though because plans for a sequel were scrapped after Will Ferrell turned down another film.
[adunit mobile="RTK_z9hm"]
Still, we think just the one movie is more than enough – it's already a Christmas classic!
22. How the Grinch Stole Christmas could have looked very different indeed
Jim Carrey brought Dr Seuss' story of the Grinch who stole Christmas to life with his appearance in the 2003 movie of the same name. But the Ace Ventura star wasn't always first choice to play the grumpy green monster. In fact, comedian Eddie Murphy and legendary actor Jack Nicholson were both considered for the role of the Grinch before Carrey bagged the part.
Imagine that!
[adunit mobile="RTK_dVa8″]
The film would have looked very different indeed with either of these two onboard. Before Ron Howard assumed directing duties, Tim Burton was also considered for the movie's direction but he had to turn down the offer due to scheduling conflicts.
The film nearly never got made at all though. Before his death in 1991, Dr Seuss refused to sell the rights to the movie. However, his widow Audrey Geisel had always seen the potential of a live-action version of the story and auctioned off the rights in 1998. Wow! She really went against his last wishes with that one.
21. There was an entire storyline from Love Actually that had to be cut out
Everyone has a soft spot for Love Actually, which contains a perfect mix of hilarious and heartwarming storylines taking place during the festive period.
[adunit mobile="RTK_wCZW"]
But did you know that there was a whole other story which had to be cut from the original film?! Richard Curtis revealed in a DVD extra that another set of characters had to be removed.
Love Actually contained a heartbreaking LGBT storyline between the school's headmistress and her partner, who was battling terminal cancer.
[adunit mobile="RTK_z9hm"]
You can watch some of the scenes on Youtube. The film was so popular in the UK (it was the most rented movie of 2004) that Tony Blair had to address the speech that Hugh Grant makes about the relationship between the United States and Great Britain.
Blair stated: "I know there's a bit of us that would like me to do a Hugh Grant in Love Actually and tell America where to get off. But the difference between a good film and real life is that in real life there's the next day, the next year, the next lifetime to contemplate the ruinous consequences of easy applause."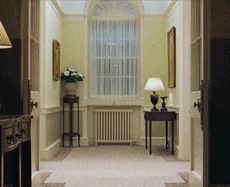 20. The Home Alone tarantula was supposed to be fake, but the director made them use a real one called Barry
Ew! We used to hate this scene growing up.
[adunit mobile="RTK_dVa8″]
For the terrifying moment when a tarantula crawls across Daniel Stern's face, the prop department originally wanted to create a fake spider. But Chris Columbus (who must be some kind of masochist) said that they needed to bring in a real tarantula for the scene. In the end an animal expert came in with a furry friend named Barry.
There's long been a rumour that Stern had to scream silently during the horrific take. But apparently that's just an urban legend – he was actually allowed to scream as loud as he wanted.
[adunit mobile="RTK_wCZW"]
Apparently the animal trainer had explained to Stern: "Just don't make any sudden, threatening moves, and you'll be fine."
The actor then responded: "But I'm going to be screaming in Barry's face. Do you think he'll feel threatened by that?!" The animal trainer simply said, "Barry doesn't have ears. He can't hear. Relax." So Stern could really scream as loud as he wanted to – and we're sure he didn't need much encouragement!
19. The Nightmare Before Christmas took a very long time to make
The Nightmare Before Christmas (emphasis on the word 'Nightmare') was probably a very appropriate name for some of the production department working on the animated movie.
[adunit mobile="RTK_z9hm"]
It's especially appropriate when you consider just how long it took to make the film in the first place.
worki
Mental Floss
Apparently one minute of footage took the animation team a week(!) to shoot. This meant that the whole of Tim Burton's stop-motion movie took a whopping three years to create. We can't imagine how pain-staking that process really was!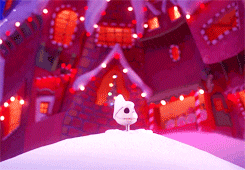 Apparently 100 people were working on the animation, but each one second of footage requires an average of 12 different stop motion movements.
[adunit mobile="RTK_dVa8″]
Which is a crazy amount of detail to have to deal with for three years in a row.
18. One of the Hunger Games actors did all of the motion-capture work in The Polar Express
You might not realise that the main actor in one of the biggest film franchises ever was actually responsible for bringing Hero Boy to life in The Polar Express. Josh Hutcherson actually provided all of the motion-capture work for the young boy in the movie.
Meanwhile, Daryl Sabara provided the voice of the character.
[adunit mobile="RTK_wCZW"]
Who knew?! In fact, Hutcherson revealed that he had a very embarrassing moment whilst shooting the movie alongside screen legend Tom Hanks: "We're shooting this scene where he's playing the hobo and he's on top of the train, skiing down, and I'm nestled under him, and we're like, 'Whoa, this is crazy.' And I farted."
"I farted in the scene, it happened, I did it, and instead of playing it cool, Tom Hanks is like, 'Whoa, whoa, oh my God, this kid, what the heck. "
[adunit mobile="RTK_z9hm"]
Mortifying! Hutcherson then continued: "It was a rite of passage and looking back on it, it was very funny, but at that moment, I thought my face was gonna just start sweating blood."
17. None of the Elf scenes with Buddy at the North Pole involved any kind of special effects
Some of the most hilarious moments in Elf occur when we see the human-sized Buddy trying to live a normal existence alongside his elf friends at the North Pole.
[adunit mobile="RTK_dVa8″]
Most people would assume that the producers used CGI to make Will Ferrell tower over the other elves, but in fact it was just a simple case of camera trickery.
The effects were completed with forced perspective.
[adunit mobile="RTK_wCZW"]
In the classroom scene, you can clearly see Ferrell sat atop a platform and he's slightly in front of the other actors. Plus the production crew simply used child-size props and sets for Ferrell to move around in, like with the scene below: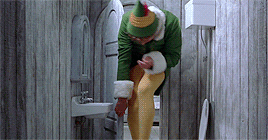 Just goes to show you don't always have to rely on special effects to create some screen magic! Elf could have looked very different for another reason though – apparently when the screenplay for the movie first appeared in the early 90s, Jim Carrey was first choice to play Buddy. Instead Will Ferrell was cast and a classic Christmas film was born!
16. It's A Wonderful Life marked the introduction of a new type of artificial snow into film production
It's A Wonderful Life is a must-see Christmas film with a heart-warming story.
[adunit mobile="RTK_z9hm"]
People all over the world enjoy watching the story of George Bailey over the festive period and it has been regularly voted as one of the greatest American films of all time. But did you know that the movie also paved the way for a new type of artificial snow to be used in the film industry?
Writer and director Frank Capra helped to create a new type of artificial snow for It's A Wonderful Life because the current method, which used Cornflakes painted white, was simply too noisy when actors were walking around during scenes.
[adunit mobile="RTK_dVa8″]
Anyone who's watched the film will know that there's plenty of dancing about in the snow at certain points in the movie!
Capra developed a new technique which allowed him to film the picture and audio together, rather than dub in the speech later (which is what other filmmakers were doing). This development earned Russell Shearman and his effects team a special Technical Achievement Award at the Oscars.
15. Jim Carrey had to complete torture-endurance training for How the Grinch Stole Christmas
Jim Carrey is basically unrecognisable as the Grinch who stole Christmas.
[adunit mobile="RTK_wCZW"]
He had to spend a lot of time in hair and make-up to achieve the look over 8.5 hours a day, to be exact. Carrey struggled to sit still in the chair for so long and he approached a member of the CIA who trained him in torture-endurance techniques so that he would be able to cope.
Director Ron Howard could see the pain Carrey was going through and decided to transform into the Grinch himself one day as a tribute to the actor. But apparently when Carrey turned up on set he was furious that someone else was playing his part! Oops..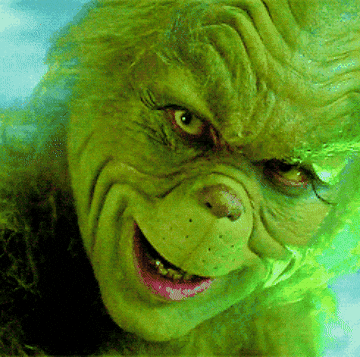 14. Actor Peter Billingsley has cropped up in a lot of classic Christmas movies
If you're a fan of Christmas films then you might have noticed that one particular actor keeps cropping up in a lot of them!
[adunit mobile="RTK_z9hm"]
Peter Billingsley, who plays the ticket agent in Four Christmases, has actually appeared in two other classic festive films – he portrayed Ming Ming in Elf and Ralphie in A Christmas Story.
13. The parade scenes from Miracle on 34th Street had to be shot all in one day
The Macy's Thanksgiving Day Parade makes a prominent appearance in Miracle on 34th Street.
[adunit mobile="RTK_dVa8″]
Rather than using some rudimentary special effects. the movie's producers decided to shoot the scenes during the actual 1946 Thanksgiving Day Parade in New York – which put some time constraints on the filming schedule.
The actors and crew only had one morning to film all of the necessary scenes. Lead actress Maureen O'Hara revealed in her autobiography that Edmund Gwenn – who later won an Oscar for his portrayal of Kris Kringle – actually arranged to play Santa in the parade, because otherwise the film wouldn't have been able to capture the necessary shots.
Luckily all of the actors and crew managed to nail their scenes and the Thanksgiving Day parade became an excellent backdrop for the heart-warming story of a man who sets out to prove that he's really Santa.
[adunit mobile="RTK_wCZW"]
Do you remember these scenes from the original movie?
12. Donald Trump only agreed to allow filming in the Plaza in exchange for a scene in Home Alone 2
Ever since Donald Trump has become President of the United States, some of his old cameos have been coming back to haunt him. And there's a really famous one in Home Alone 2, when young Kevin asks Trump for directions to the lobby. Apparently Trump would only allow filming permission in the Plaza Hotel (which he owned at the time) in exchange for a part in the movie.
Apparently this was something that Trump used to insist on all the time.
[adunit mobile="RTK_z9hm"]
Matt Damon once revealed in an interview: "Martin Brest had to write something in Scent of a Woman — and the whole crew was in on it," he continued. "You have to waste an hour of your day with a b*llshit shot: Donald Trump walks in and Al Pacino's like, "Hello, Mr. Trump!" — you had to call him by name — and then he exits."
"You waste a little time so that you can get the permit, and then you can cut the scene out. But I guess in Home Alone 2 they left it in." Macaulay Culkin has reportedly stated that the first Home Alone movie is by far his favourite because it has '100% less Donald Trump' in it.
[adunit mobile="RTK_dVa8″]
Ouch! That's quite the burn from Culkin.
11. Jingle All the Way was actually inspired by the Cabbage Patch Kids craze
Jingle All The Way is regularly voted one of the worst Christmas movies ever made, so some people might not be entirely familiar with it anyway! But it turns out that the film was completely inspired by the Cabbage Patch Kids from the Christmas season of 1983.
By New Year's Day in 1983, over 1 million Cabbage Patch Kids had been sold, leading movie executives to start rubbing their hands together.
[adunit mobile="RTK_wCZW"]
They were inspired by the complete sell-out of toys to create a film about two dads who are desperately trying to get their hands on a Turbo-Man action figure at Christmas.
10. Charles M. Schulz nearly walked out of production for A Charlie Brown Christmas
Charles M. Schulz very nearly abandoned A Charlie Brown Christmas after a rogue suggestion from producers caused him to walk off the set.
[adunit mobile="RTK_z9hm"]
One of the executives watched a first cut of the film and suggested that they added a laugh track – to which Schulz stormed out of the room in disgust.
In the end, Schulz got his way and no canned laughter was added to the animation. However, that producer must really have got under the creator's skin, because an extra version with a laugh track was still made as a back up, just in case the original film didn't hit the ratings.
9. The Elf scene where Buddy 'discovers New York' was filmed with random people on the street
At one point in Elf there's a hilarious scene which sees Buddy getting a feel for the Big Apple.
[adunit mobile="RTK_dVa8″]
He dances around with strangers and generally makes a nuisance of himself on the streets of New York. Fans of the film might assume that the people involved were extras, but they weren't.
Instead, Jon Favreau (the director) only had one day left to film the montage, so he got Will Ferrell and a single cameraman to run through New York and interact with random people.
Which really adds a nice touch of authenticity to the movie, we're sure you'll agree!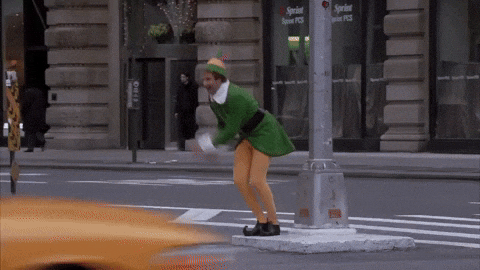 8. Bruce Willis had to wear fake rubber feet in Die Hard
Die Hard was a Christmas movie with a difference.
[adunit mobile="RTK_wCZW"]
It was full of guns, explosives and evil German terrorists. Fans of the film will know that John McClane (played by Bruce Willis) spends most of the film carrying out ridiculous stunts and even walking on broken glass. As a result, throughout the movie, Willis was forced to wear fake rubber feet. Check out the photo below:
7. The house-swap website used in The Holiday is actually real
The Holiday is a great little Christmas rom-com featuring Kate Winslet, Jack Black, Cameron Diaz and Jude Law.
[adunit mobile="RTK_z9hm"]
Of course, one of the best moments in the film is when Iris and Amanda swapped houses – but did you know that the website they used to find each other's property is actually real?!
You can actually click here to visit the website and organise your very own home exchange! In the movie, Amanda's fancy LA home is supposed to contrast with Iris' tiny cottage.
[adunit mobile="RTK_dVa8″]
Iris is blown away by the house whilst Amanda seems less than impressed with Iris' kitchen and bathroom.
However, in the UK that cottage would cost millions of pounds. Iris works in London but the house is clearly within commuting distance, plus an unspoiled cottage in the English countryside is already worth a lot of money anyway.
[adunit mobile="RTK_wCZW"]
Amanda isn't really slumming it no matter how hard the film tries to make it appear so!
6. Actor John Payne wrote a sequel to Miracle on 34th Street that was never filmed
John Payne starred opposite Maureen O'Hara in the classic Christmas movie, and played the character of Fred Gailey.
[adunit mobile="RTK_z9hm"]
It seems as though he really enjoyed being part of the film, so much so that he actually wrote a screenplay for a potential sequel!
His co-star O'Hara revealed in her autobiography that Payne died before he could make the film: "We talked about it for years, and he eventually even wrote a screenplay sequel. He was going to send it to me but tragically died before he could get around to it. I never saw it and have often wondered what happened to it."
5. There's a crazy National Lampoon/It's A Wonderful Life crossover
You might have noticed a scene in National Lampoon's Christmas Vacation, where Rusty is watching the classic Christmas movie It's A Wonderful Life.
[adunit mobile="RTK_dVa8″]
Check out the photo below:
This was a deliberate inclusion on the part of filmmakers. Frank Capra directed and wrote It's A Wonderful Life, and Capra's grandson ended up working on Christmas Vacation. Frank Capra III was the second assistant director on the movie. Wow!
This movie came out the same year as Prancer (1989) and Johnny Galecki (pictured above) starred in both.
[adunit mobile="RTK_wCZW"]
He would later go on to find fame in Roseanne and How I Met Your Mother.
4. Tim Allen was hired to appear in The Santa Clause despite having been arrested for possession of cocaine
Disney used to have a very strict policy against hiring ex-convicts.
[adunit mobile="RTK_z9hm"]
But that all changed in 1994 when producers wanted Tim Allen to play the title role in The Santa Clause. Allen had previously been arrested and charged in 1978 with possession of 1.5 pounds of cocaine.

Allen pleaded guilty and in return he gave the names of several other drug dealers to avoid life imprisonment and receive a sentence of between three and seven years in prison.
[adunit mobile="RTK_dVa8″]
Allen was eventually released on parole after two years and four months.
In 1994, Allen was already the star of Home Improvement, the most popular US sitcom, and had also released a best-selling memoir. Disney decided to break with protocol and hire Allen, and The Santa Clause became the highest-grossing film of the year.
3. The Grandhotel Pupp in Last Holiday is a real-life hotel in the Czech Republic
In Last Holiday Queen Latifah plays a woman who has been diagnosed with a terminal illness just before Christmas.
[adunit mobile="RTK_wCZW"]
She decides to take all of her savings and go on a lavish European holiday, booking a room at the Grandhotel Pupp.
In actual fact, the Grandhotel is a real hotel in the Czech Republic. It's a really popular movie location and has previously been featured in Casino Royale.
2. In Meet Me in St. Louis, Margaret O'Brien's mother had a very strange way of getting her daughter to cry on command
Margaret O'Brien was a child star who appeared opposite Judy Garland in the classic musical Meet Me in St. Louis.
[adunit mobile="RTK_z9hm"]
However, she struggled with some of the sad scenes and had to rely on her mother to get her to start crying real tears.
How did O'Brien's mother manage it? She told her daughter that the other rival child star on the MGM lot was a far better crier than she was. Sounds healthy! The technique was revealed by O'Brien herself: "The way they got me to cry is that June Allyson and I were in competition as the best criers on the MGM lot."
"So when I was having trouble crying, my mother would come over to me and say, 'I'll have the makeup man put the false tears down your face, but June is such a great, great actress – she always cries real tears.
[adunit mobile="RTK_dVa8″]
"And then I started crying, because I couldn't let June win the competition."
1. It's A Wonderful Life was shot in the summer of 1946 during a heatwave
There's plenty of snow and seasonal imagery in It's A Wonderful Life, which makes it all the more harder to believe that the movie was actually shot during the summer of 1946.
[adunit mobile="RTK_wCZW"]
Check out the photographs below to see Jimmy Stewart perspiring in the heat:
Apparently some days the temperatures would soar so high that production had to be shut down for days at a time. The massive set was located in Encino, California and included 75 buildings, a Main Street measuring 300 yards long, a residential area, a factory district and even 20 transplanted trees. Wow!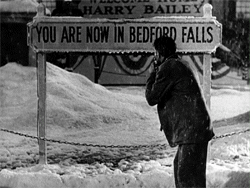 Unfortunately, things got so hot in the heatwave of 1946 that director Frank Capra would often have to shut down filming to avoid seeing his characters sweating on screen during the winter.
[adunit mobile="RTK_z9hm"]
This is kind of amazing considering just how real all of the snow and frost effects look in the movie.
Did you know all of these Christmas movie facts? Which is your favourite film to watch over the holidays? Let us know in the comments section below!