Pawn Stars is a History Channel series that follows the family-run Gold & Silver Pawn Shop. When the show first aired in 2009, viewers instantly fell in love with the colourful world of the 'Pawn Stars' (aka the Harrison family) and their interactions with employees, experts and customers alike.
A typical episode involves people visiting the pawn shop with interesting artefacts to pawn or sell, with the shop owners and part-time experts providing the history and background to the items.
But there are some decidedly un-typical facts behind the show's production, which serious fans of the series will no doubt want to know about!
We've gathered together a list of 10 fascinating facts about Pawn Stars…enjoy!
1. Richard Harrison was always an 'Old Man'
You probably think that Richard Harrison (RIP) earned his 'Old Man' nickname due to the fact that he was 68 years old when Pawn Stars started filming…but you'd be wrong!
For reasons unknown, Harrison has actually been called 'The Old Man' since he was 38 years old(!).
Maybe he was always just an 'old soul' at heart – he was known on the series for his occasionally grumpy (but always loving) demeanour.
Sadly Harrison died in June 2018 after a long battle with Parkinson's Disease and fans will miss his presence on-screen as the ultimate voice of reason.
His son Rick Harrison, who also stars in the show, paid a very emotional public tribute to his late father:
He was my hero and I was fortunate to get a very cool 'Old Man' as my dad that I also got to share with so many others.
He lived a very full life and through the History television show Pawn Stars touched the lives of people all over, teaching them the value of loving your family, hard work and humour.
The 'Old Man' – as he was known for most of his life – was laid to rest in Las Vegas, with his family opening the funeral home to the public for a few hours one day to allow fans of the show to pay their respects.
One thing is for sure – he will be dearly missed by Pawn Stars viewers for years to come.
2. Chumlee wasn't supposed to be in the series at all
Chumlee has starred in over 272 episodes of Pawn Stars and has been one of the main cast members of the reality series for years.
However, according to Corey, Chumlee was not supposed to be a featured character on the series at all. Early on in the filming of the show, they decided to put him in a few scenes anyway and the show producers ended up loving him!
Also, for those not in the know, Chumlee's real name is actually Austin Russell – quite a different moniker to his real name.
His nickname came from his father, who chose it after the animated walrus sidekick to Tennessee Tuxedo.
As the name 'Chumlee' suggests, in the show he is often used as a comic foil, but does possess expertise in pinball machines, sneakers and video games.
However, there was nothing funny about Chumlee's arrest in 2016 for possession of illegal narcotics.
Chumlee has been laying low since his arrest for federal weapon and drug charges, and Pawn Stars made no reference to the incident at the time.
He managed to avoid jail time in his plea deal in favour of three years of probation and drugs counselling.
If he stays out of trouble until 2019, his felony charge will be dismissed.
3. There's a good reason you see more sales than pawns
Pawn shops turn up all kinds of odds and ends.
As places that hand out loans using personal property as collateral, they are sometimes associated with desperate people trying to get some fast cash.
In his autobiography, Rick said that the reason viewers always see more sales than pawns on the show is because the vast majority of people who pawn things at their shop don't want to be seen on TV.
4. The show's popularity meant that the Harrisons had to expand quickly
After Pawn Stars began to air, the popularity of the series increased business so much that the Harrisons had to hire 30 new employees and expand their show room to 15,000 square feet to meet demand!
This also meant that customer traffic to the shop tripled, resulting in the Harrisons having to buy an extra car park and ordering customers to stand in line outside in order to prevent overcrowding.
5. The Jim Morrison artwork was actually painted by Denny Dent
Fans of the show will remember the striking Jim Morrison painting which can be seen on one wall of the shop.
It was actually painted by famous speed artist Denny Dent, who has performed at Woodstock festivals and Las Vegas casinos. The painting was on sale for $20,000 at one point in the show, but later episodes added a 'not for sale' tag to it.
6. The pawn shop receives a lot of prank calls
Many people have prank called the Gold and Silver store over the years, asking for various far-fetched items. However, by far the most popular joke request is for a copy of the 1991 video game 'Battletoads'!
Bizarre…We're sure Chumlee would be up for appraising that one though.
7. The production studio stumbled on the Gold & Silver Pawn Shop after a couple of drinks!
Funnily enough, employees for Leftfield Pictures (who produce the show) discovered the Gold & Silver Pawn Shop when they were in Vegas for a bachelor party.
And it's a good job they did…Leftfield made a highlight reel and showed it to the History Channel on a Friday. It was picked up the following Tuesday – one of the fastest times ever that a series has been given the go ahead.
8. Jeremy McKinnon of 'A Day To Remember' featured in one of the earlier seasons
Jeremy McKinnon is the lead singer of 'A Day to Remember', an American rock band from Ocala, Florida.
McKinnon actually made an appearance in an early episode of Pawn Stars, where he sold a rare acoustic guitar he owned for $2500.
9. Nicknames are popular on the show
Fans of the series will know that nicknames are essential if you work at Gold & Silver. Three of the main characters are all better known by their nicknames: Corey Harrison = Big Hoss, Austin Russell = Chumlee, Richard Harrison = Old Man. In some of the earlier episodes Rick Harrison was nicknamed 'The Spotter' and Richard Harrison was nicknamed 'The Appraiser', but these never caught on.
There are also several other employees who feature regularly in the show, some of whom also have nicknames.
Antoine is the hard-to-miss security guard; Peaches is the younger blonde employee who is always punished for being late; Scott is a part-timer who often finds things to sell to the shop at flea markets; 'Fat Back' is the in-shop mechanic and Audie is a middle-aged, bearded Hispanic man.
10. The shop closes during filming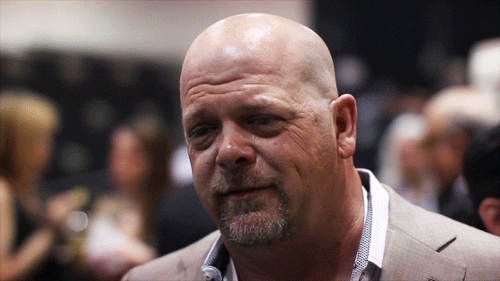 Unfortunately, if fans of the show want to visit the Gold & Silver in person, then it's not simply a case of turning up one day and rubbing shoulders with the likes of Rick and his family.
During filming, the shop closes temporarily and only a few customers are allowed in at any time.
This makes it easier for the cameras to film since during normal hours there is always a queue outside the door.
Furthermore, if you do have a genuine item to pawn, then if it's interesting enough you'll normally be invited back to discuss it when the cameras are rolling.
Unsurprisingly for reality television, there have been cases where people have been hired to come on the show and recreate the entire process for the benefit of the cameras, rather than taking a chance on people coming in off the street.
The Gold & Silver do occasionally get some genuinely interesting pop-ins, but this occurs far less often than you might think.
Unfortunately producers are limited by certain budgetary restrictions and it would be impossible to have the cameras rolling in the store 24/7, so the staff and crew have to be very careful about who they invite back in to the store.
11. Rick and wife Deanna are having to cope with a very troublesome ex-partner
Long-time fans of the show will know that store boss Rick got married to Deanna Burditt back in 2013. The couple are still together today and appear to be in a happy, loving relationship.
However, the pair have endured a tough time thanks to Deanna's ex, Richard Burditt and a recent conviction he received for sexual abuse and dealing in materials harmful to a minor. Burditt was originally a school custodian but police were called in after unsavoury allegations were made against him which turned out to be true.
In fact, Burditt was arrested and pled guilty in 2013 – the same year that Rick and Dianna tied the knot – but for the moment he remains free.
Rick has previously commented publicly on the situation and appears to have blamed Burditt's freedom on technicalities in the legal system, saying that Burditt was released after his guilty plea "because of all the bureaucracy".
Rick is very protective of Deanna and the whole situation has understandably become very distressing for the couple.
The issues with Burditt have now become a sore subject for Rick and it's advisable not to bring it up in interviews anymore – the couple have now stated that they would like to see Deanna's ex firmly behind bars so that they can put the situation behind them and move on.
12. They do know what's going to come through the door
In typical cheesy American fashion, one of the recurring lines that appears on Pawn Stars is "You never know WHAT is gonna come through that door".
This is meant to add excitement and anticipation to each week's episode and is supposed to leave viewers guessing excitedly about what on Earth the guys at Gold & Silver will be appraising that particular week. Unfortunately, the line is completely untrue.
In fact, the producers of the show have to go to great lengths to ensure that the cameras are picking up on the most exciting and valuable items out there.
So unlike most pawn shops in America, the Pawn Stars show runners go out of their way to locate individuals who would be interested in selling objects of historic and intrinsic value to the show.
As soon as they land one someone willing to appear on camera, they set everything up, which kind of undermines one of the show's most famous sayings!
Oopsy! That's right, the Harrisons once got sued because of a certain batch of gold coins. Trade in jewellery and coins probably makes up the vast majority of business for pawn shops around the world.
13. The business was sued for melting down gold coins
Of course, like many other countries, in America there are stringent regulations in place about what can be sold, melted down or tampered with in some way with regards to pawned or sold property.
However, these laws are different when it comes to gold coins, as Rick and the gang found out.
In 2014, the shop accepted a small pile of gold coins that they valued at $12,375. Interestingly, Nevada laws don't require the pawn shop to wait the usual 30-90 days before they can do anything with the coins, so they melted them down straight away.
The proper owner of the stash found out and sued the shop for doing this. However, the law wasn't on the side of the owner and the case was thrown out.
14. The original 'Pawn Stars' don't work in the shop anymore
Again, 'reality' television can often end up being a bit of a disappointment in, well, reality! Unfortunately, the principle 'Pawn Stars' – Chumlee, Rick and Corey – no longer work in the shop on a daily basis.
This is understandable considering that the success generated by the show means that they're all now wealthy celebrities, able to pursue other ventures outside of the store.
Nowadays their presence is only necessary for the purpose of filming Pawn Stars which is not done on a daily basis.
The lives of the principle cast members have changed beyond recognition since the show first aired, and not always for the best.
Rick and his colleagues now get pestered for autographs and selfies, and celebrity watchers trying to gain access to the store have been getting in the way of genuine business.
If you do still fancy catching a glimpse of the guys in action, you should probably check well in advance what days the cast and crew will be filming!
15. Corey and Chumlee have personal assistants
It does seem bizarre to fans of the show, but in reality it makes sense that Corey and Chumlee now have their own personal assistants to help them out. Neither of them really work in the shop anymore and now make celebrity appearances for the most part.
Their schedules require a lot of organising, and who better to assist them than a PA? They've certainly come a long way since the first episode of Pawn Stars aired.
16. They were once sued by a Vietnam veteran for assault
Yes, that's right – a Vietnam veteran named Daniel Callahan previously filed a lawsuit against Rick and his father, in which he claimed that the pair physically assaulted him inside the shop in October 2011.
Callahan walks with a cane and apparently got into an argument with the father-son duo, who put him "in a choke hold, dragged him through the store and threw him onto the sidewalk". It doesn't sound great.
As a result, Callahan sought $20,000 and claimed that he was injured, his cane was damaged and the rifle he had brought in to be appraised was also damaged during the altercation.
Rick's brother Corey swiftly defended his family and said that Callahan became "absolutely irate with a weapon in his hand". There are always two sides to every story, after all!
Whatever really went down in the shop, it's understandable that the Harrisons wanted to keep this particular situation quiet.
17. The Pawn Plaza is struggling to make ends meet
After Pawn Stars first began to air, its popularity increased at an astounding rate, meaning more money for the owner Rick and his family.
So naturally Rick decided to expand his business empire and created the Pawn Plaza, an attached mall which features a donut shop, 'Rick's Rollin' Smoke', the awful-sounding 'Inna Gadda di Pizza' and several other shops and ventures.
Unfortunately, the smoking shop, pizza parlour and donut shop had all shut their doors by August 2016.
Tenants complained that there was a lack of management involved in the property and as a result, Rick has received some heavy criticism from the tenants who have since departed.
Apparently, the loss of rental income means that Rick has initiated some "extreme vetting" in the hopes that future tenants will stay for longer, but it sounds as though he might need to re-think his management techniques too!
18. Chumlee once cost the shop $20,000 in damage
Fans loved Chumlee for his personality, which included a healthy dose of immaturity and a complete inability to do his work in a professional manner.
Furthermore, he is notoriously clumsy and often tends to break valuable items.
Shortly before the first ever episode aired, Chumlee cost the Gold & Silver $20,000 after he accidentally broke a bass someone had pawned for $700 – i.e. the owner intended to return and pick up their item.
Nice one, Chumlee!
Inexplicably, Chumlee decided that the best thing to do was to store the pieces back in the box and leave them there without telling anyone. So when the owner came back to collect the item and pay his cash, Rick's hands were tied and he had to return the full value of the item at a loss.
We're not sure how on Earth Chumlee still has a job, but we would have loved to have seen Rick's face when he realised what his clumsy friend had done.
19. Olivia Black was fired from the show after some X-rated photos surfaced
Remember Olivia Black from the earlier episodes in the show? She was brought into work the night shift at the shop and Chumlee fell for her in an instant. We can see why – she was an attractive lady with charm and charisma.
However, the decision to hire Olivia turned out to be a bit of a nightmare for execs at the History Channel when they discovered that she had posed nude for a series of X-rated photos for the Suicide Girls, an 'adult lifestyle brand' featuring lots of photos of pin-up models.
When the incident came to light, the channel instantly dumped Olivia from the show, a move which wasn't well-received by fans of the series (we wonder why!). However, Black wasn't fired from her job at Gold & Silver, only from appearing on the series.
Despite its name, Pawn Stars is designed to be a family programme and unfortunately Olivia's off-screen lifestyle affected the History Channel's brand.
20. They've accidentally traded in stolen goods before
Whilst pawn shops make incredible efforts to ensure that the stuff they do take on complies with state and local laws and regulations.
In one episode, the guys ended up buying a 2000 year old Tyrian Shekel, a coin which historians believe Judas would have been traded when he betrayed Jesus for 30 pieces of silver.
Unfortunately, a detective arrived at the shop to inform them that the coin was stolen, but they were able to keep it because the original owner had been compensated by his insurance policy.
21. Their 'friends' are brought onto the show by producers
The Pawn Stars seem to have a lot of handy friends around who know a lot about certain items that come in. Unfortunately, they're not lifelong buddies of the Harrisons but were brought in to the show by producers.
We're sure that the staff have bonded with the experts over the years, but it does remind us that we need to think twice about what's truly 'real' on reality TV!
Did you already know any of these things about Pawn Stars? Let us know in the comments section below!