20 Things You Didn't Know About Rihanna
Barbadian superstar Rihanna became a pop sensation pretty much overnight and was a firm-favourite on everyone's playlists in the early to mid 00's. She has achieved so much within her career, that it's hard to believe the singer is only 31.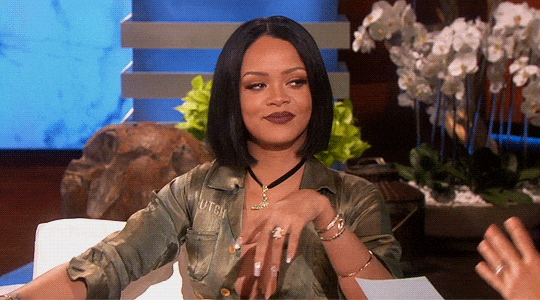 Her image has certainly changed over the years and ultimately became one of the best-known faces in the world. She's had smash hits with hits like 'Umbrella' and been involved in a turbulent relationship with R&B artist, Chris Brown.
Here are 8 things you probably didn't know about Rihanna – some of which are bound to shock you.
20.  She had a bit of a fight with Topshop
Although many young girls are eager to shop in Topshop at the weekend to grab the latest fashion staples, Rihanna wasn't too impressed with the high-street store and faced a legal battle with them in 2013.
She was furious at the fact that the store has used her face as a print on their t-shirt.
Rihanna and Topshop ended up having to go through courts to sort the issue out.
Luckily for the singer, the High Court went in Rihanna's favour and claimed Topshop were in the wrong for selling the tee.
They said it could lead customers to believe that Rihanna had authorised the sale of the top in their stores.
The courts even went as far as to say Topshop's move had caused a damage in loyalty to the singer and her own merchandising had taken a real drop in sales as a result.
19. She has witnessed an exorcism and won't stay in this hotel
As Rihanna was growing up, she was part of a very religious community.
The singer often attended church and has witnessed some very odd going-ons.
During on interview with Jo-Jo Wright on Kiss FM, Rihanna recalled a story from her childhood.
She said that church people would often start screaming, and other Churchgoers began to pray around them.
She recalled one time when she was at a friend's house, saying: "They were praying around this table, we were young though, and one of the girls, she got up and she just started screaming. I remember they locked us in the bedroom because they didn't want kids to see that. Every time they prayed she would start screaming in the weirdest voice. It's funny now but at the time I was like s***ing myself."
The singer also believes in ghosts. She won't stay at the Chateau Marmont hotel because she thinks it is haunted. This is where John Belushi died in 1982.
18. Rihanna isn't her real name
Some of you may or may not realise that Rihanna is just the stage name the singer chooses to go by in her professional life.
In fact, Rihanna is actually her middle name – her real name is Robyn Rihana Fenty.
When she was a youngster, she would frequently sing Disney classics such as 'A Whole New World' and she was nicknamed 'Robyn Redbreast'.
Although she chose the name Rihanna as her stage name, she has confessed that she's pretty bored of it now.
In an interview with Rolling Stone she said, "I get kind of numb to hearing Rihanna, Rihanna, Rihanna. When I hear Robyn, I pay attention."
Recently, Rihanna revealed people have been pronouncing her name wrong anyway because it is supposed to be "Ri-Anna" not "Ree-ah-nah."
17. She was supposed to be maid of honour for this famous singer
Many of Rihanna's fans will know that her and fellow singer, Katy Perry, are good friends.
As with any friend, the pair have had their ups and downs.
The two became friends after Katy told Rihanna how much she liked her Valentino bag.
As such, Rihanna sent Katy the same Valentino bag for Valentine's day, and thus the friendship was born.
Rihanna even threw Rihanna a bachelorette party in Las Vegas, which sounds like it will be a wild night.
However, it's not all rosy. Rihanna was supposed to be Katy's maid of honour for her marriage to Russel Brand, but Rihanna couldn't make it to India because of recording commitments. They briefly fell out when Rihanna reunited with Chris Brown. They have since made up and remain good friends.
16.  Singing wasn't her only hobby as a child
As already mentioned, Rihanna doesn't consider herself to be girly when it comes to her clothing and it has also shown in her interests too.
As a child, Rihanna's hobby wasn't just singing, but she was also a military cadet in a sub-military programme.
If you were a fan of R&B back in the 00's, you may remember the singer Shontelle – well, she was, in fact, Rihanna's drill sergeant – small world, huh?
Shontelle once said: "We boss cadets around, we make them do push-ups."
"Especially when they show up on the parade square late."
We would make sure we showed up to the parade square early every day.
15. There's a national holiday in honour of her
Barbados is Rihanna's home county and they sure know how to show their pride for her success.
In 2007, they allowed her to become the face of tourism.
If that wasn't enough, they even went on to have their very own national holiday named 'Rihanna Day' – I mean, imagine being appreciated that much.
This one-day occasion falls on Rihanna's birthday and as a thank you, the singer put on a special celebration concert, free of charge for Barbados residents.
Nowadays, she holds an honorary title of Ambassador for Culture and Youth of Barbados.
I wonder what else they'll throw her way?
14. The word 'Rihanna' has an odd meaning in Arabic
People's names often have a double meaning, hope, strength, faith etc…
Other's mean 'sweet basil,' which is exactly what 'Rihanna' means in Arabic.
It is because Rihanna refers to the scented flowering plant, Rihanna sweet basil.
The world is mostly used in English and Welsh speaking countries, as the name is of Welsh and Arabic origin.
We wonder if this was what the first boy she kissed called her. In an interview she says: "My first kiss was in high school, and it was the worst thing ever."
"He pretty much dumped his entire saliva glands into my mouth. It traumatised me. I didn't kiss for, like, ever."
13.  She won a beauty pageant
Despite her tomboyish nature, there's no denying her natural beauty.
At the age of 15, the youngster decided to enter a beauty pageant.
At the tender age of 15, she performed Mariah Careys hit 'Hero' as part of the talent section and was named Miss Combermere of Combermere High School.
She claimed that it was never her intention to take part in the pageants, but her friends always encouraged her to give it a go.
She couldn't believe it when she took home the trophy.
In 2007, she said: "I kind of laughed at these stupid pageants. But my friends at school dared me to do it, and my military training came in handy for me learning to balance books on my head for the catwalk".
12. She originally auditioned as a girl group
Rihanna had her first big break into the music industry at the young age of 15.
She met with producer Evan Rodgers when she was on a vacation to Barbados.
Rihanna and her two friends had formed a girl group and auditioned for Evan in his hotel room.
When Evan saw Rihanna perform, he was absolutely blown away by her talent.
He said: "The minute Rihanna walked in, it was like the other two girls didn't exist."
Imagine being the other two girls! Ouch! Evan saw a lot of potential in Rihanna and signed her to his record label.
11.  She has a quick drink before she goes on stage
There's no denying it – everyone gets nervous and even more so if they have to perform on stage.
You'd think Rihanna would be over it now, but even she gets wobbly legs before standing in front of an audience.
Firstly, she ensures her throat is ready to go by sucking on lozenges and steaming her vocal chords.
Next, she takes a sip or two of one of her favourite beverages in the hope that she keeps her calm during her performance.
Apparently, it's a choice between tequila or vodka mixed with water or juice.
This doesn't seem like a tasty combination, but whatever works, eh?
10. Rihanna has these body parts ensured $1 million
There's a little clue in the title there. She has two of them, and it's not her arms!
It's her legs, of course! But why? What sort of money does she make from her legs? Surely her vocal chords would be better to get insured?
Well in 2007, Gillette named her "Celebrity Legs of Goddess," which is quite an accolade.
As such, Gillette had her legs insured for a whopping $1 million.
You'd think if you had the sexiest legs in Hollywood, you'd be proud and showing them off all the time.
Look at those pins!
Not Rihanna, in an interview she said: "But I think I'm just normal. I think, 'Do people really insure their legs for a million dollars?' If it was my million dollars, I'd probably walk about in pants all day long."
9. She has loads of tattoos you probably didn't even know about
Apparently, the singer has no less than 25 tattoos.
These have truly given her that rebellious edge to her image from the girl-next-door style she used to have at the beginning of her career.
One of her tattoos is the birthdate of her best friend Melissa, inscribed on her shoulder.
Another of her tattoos is of the Goddess of Isis which has been inked onto her chest.
And another that just has to be mentioned is a tattoo which reads "Never a Failure, Always a Lesson" backwards on her collarbone.
It is backwards so she can read it when she looks in the mirror – smart woman.
8. Rihanna never finished high school
When she signed up to Evan's label, Rihanna flew out to America and started to record demos.
Of course, most 15 year olds are still at school.
In order to fully chase her dreams and take advantage of the amazing opportunity she was given, Rihanna had to drop out of high school.
The singer said that she "hated" school, but she did eventually want to graduate.
She said that if she had stayed in school, she would have gone to University studying psychology.
Luckily for fans of her music, things turned out very differently.
7. She took on the role of an iconic character
The Alfred Hitchcock film Psycho revolved around the character of Marion Crane.
The character robs her boss of money and goes on the run. Things go south when she winds up at the Bates Motel and meets deranged Norman Bates.
The film is often considered as one of the greatest movies ever made, and includes one of the most memorable film scenes in history, the famous 'shower scene,' where Marion meets Mother Bates for the first time.
The A&E TV series Bates Motel, is a prequel that follows Norman from his teenage years.
Rhianna was cast as the role of Marion Crane in the final season.
She also starred in the all-female reboot of Ocean's 11, 'Ocean's 8,' alongside Anne Hathaway and Cate Blanchett.
6. She suffers from bad headaches
When Rihanna was only 8 years old, she started suffering from severe headaches.
This was roughly around the same time that her parents, Monica and Ronald, were having problems with their marriage.
The problems caused a lot of stress to the young Robyn, and may have contributed to the headaches.
The singer had several CT scans in an attempt to discover what the problem was.
The doctors at one point thought she might have a tumour, but this was thankfully not the case.
As a child, she believed the headaches meant there must be something 'abnormal with her.' The pain finally stopped when she was about 14, after her parents had divorced. Coincidence?
5. She does a lot of charity work
When you have as much money as Rihanna does, it's good to give something back, and the singer does just that!
She is involved in several charities and gives back to her community.
Rihanna has started several foundations and has sponsored many charity events.
Back in 2012, she founded the Clara Lionel Foundation, named after her grandparents.
Rihanna founded CLF to help impoverished communities across the globe.
The foundation hosts  the Diamond Ball Charity Event that has raised millions of dollars. It has several institutions under its belt, including the Clara Braithwaite Center for Oncology and Nuclear Medicine at the Queen Elisabeth Hospital in Barbados.
4. She has many musical idols
Many singers today may idolise Rihanna and aspire to be as successful as her.
However, even our idols need idols, and there are many people who have influenced Rihanna's career.
One of her biggest idols is the pop legend Madonna. She admires her ability to reinvent herself.
Rihanna has gone as far as saying that she wants to be the "black Madonna."
Janet Jackson is another of her idols. Rihanna has said that Janet is the first female artist she felt she could identify with.
And of course, Beyonce is another hero of Rihanna's.
3. She has turned down Playboy several times
Natural, and quite understandably, Rihanna is seen as somewhat of a sex symbol.
She ranked in the top ten on both FHM's 100 Sexiest Women in the World list and Maxim's Hot 100.
In 2011, Esquire even named her as the Sexiest Woman Alive! What an accolade.
Even though Rihanna is comfortable with showing her body off, she'd rather leave some things to the imagination.
Playboy magazine have made several offers to her in the past, but she has turned all of them down.
Good on you Rihanna, stay classy (ish!)
2. She banned umbrellas from her concert
The old stuff is always the best, and I believe this is true for Rihanna.
Her first big banger, Umbrella, is arguably one of her best and most recognisable songs.
The massive hit featured Jay-Z and was included on her 2007 album Good Girl Gone Bad.
Entertainment Weekly ranked the song number one on its 10 Best Singles of 2007.
People loved it that much, that thousands of fans would show up to her concerts with umbrellas. For the safety of others, Rihanna banned them from all future performances.
1. She's not the girly girl people expect
Although Rihanna has been one of the leaders of fashion since the very start of her career, it appears she's not the girly-girl everyone may expect.
It seems she loves to balance out wearing masculine and feminine fashion in order to create her own unique style – and why not?!
Talking to Interview Magazine, the star said: "I don't usually like typical ladylike, girly-girly stuff…I always like something that's a little off, so it's just not typical or expected."
She went on to say: "I love to combine femininity with a kind of extreme masculine edge."
She certainly does a good job of that, if we do say so ourselves.
And as you will see later on down the list, she likes to express this masculine edge in more than just her fashion choices.