20 Things You Didn't Know About Donald Trump
Every president of the United States there's ever been has had skeletons in his closet. Thomas Jefferson allegedly fathered children with one of his slaves. Andrew Jackson killed a man in a duel.
It's always expected that the latest president will have their share of regrets, of memories of which they'd rather not be reminded.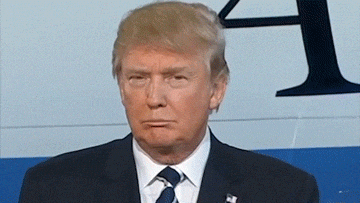 Perhaps no POTUS has stirred up more controversy, however, than Donald Trump, and none have, arguably, lived such a relentless rollercoaster of an existence prior to becoming leader of the free world as the former property tycoon.
Still, that doesn't mean White House PR isn't bound to be currently doing all it can to keep the now-President Trump's private history under wraps.
Helpfully, we've here gathered up a whole mess of photos that make an absolute mockery of Trump being the 45th president, with the stories that go with 'em included for your reading pleasure
1. Donald loves Hooters
As far as we know, no photos exist of Barack Obama with his arms around three young women wearing figure-hugging tops that bear the name of a food chain with a mammary-based innuendo for a title.
Still, nothing says 'presidential' quite like a trip to Hooters, America's premier chest-obsessed food chain.
Here, Trump pays a cheerful visit to the Atlantic City branch of Hooters in Trump Marina in 2007, just nine years prior to him literally becoming president.
Trump made the trek to appear at some competition called Donald Trump's Ultimate Deal Cash Giveaway, although you have to assume Trump's decision to be there also factored in that he'd have the opportunity to ogle a boob or two.
In fairness to Trump, the above photos were taken over a decade ago.
The fact that Melania cried when the election result was announced suggests the Trumps never in a million years expected Donald would ever become president and have photos like these resurface.
2. Crooked Hillary
If we learned anything from Donald Trump's presidential campaign, it's that he thinks Hillary Clinton is an irredeemable monster.
He even coined the now-ubiquitous nickname 'Crooked Hillary' and famously called her a "nasty woman".
Anyway, here Trump is happily posing with Clinton back in 1997.
Also along for the ride are sons Donald Jr and Eric, looking suspiciously like members of a Duran Duran tribute act, in a picture featured inside the cover of Trump's 1997 book, The Art of the Comeback.
The picture is captioned "The First Lady is a wonderful woman who has handled pressure incredibly well."
This is the exact opposite of what he apparently thinks of her now.
3. Crooked Bill
Trump doesn't just hate Hillary.
Bill Clinton also came in for some choice barbs during The Donald's 2015-16 presidential run, with Trump at one point alleging that Bill was the "WORST abuser of women in U.S. political history".
Here the pair can be seen enjoying a friendly round of golf together.
You see Trump and Bill, in actuality, knew and socialised with one another for years.
Here they are hanging out at the US Open in 2000, with future Trump-wife Melania and swimsuit model Kylie Bax joining them for the party.
Here the boys can be seen staring lovingly into each other's eyes the same year, with Bill having made the trip all the way down to Trump Tower to shake one of Trump's tiny mitts.
15 years later they'd be at each other's throats. Where did it all go wrong, lads?
4. A very Trump wedding
Trump used his presidential campaign, one of the most divisive in American political history, to paint Bill and Hillary Clinton as together one of the most corrupt political duos of all time.
Trump may have 'grabbed women by the pussy', but, according to him, nothing compared to what the Clintons had gotten up to over the years.
Here, Hillary and Bill both attend Donald's Mar-a-Lago wedding to Melania in 2005, a decade before Trump would begin his campaign to convince the American public that the Clintons are Satan manifest.
None of them appear as though they could look any happier.
Except here.
Here they look positively ecstatic to all be together, celebrating one of the happiest days of The Donald's life.
5. Kissing Olivia Culpo
We all know that Donald Trump finds it difficult to keep himself away from beautiful women – how could we forget when so many have accused him of sexual assault!
But did you know he actually gets paid to appear at competitions and rate them in order of attractiveness?
Here, we see Trump indulging in one of his favourite pastimes: creeping on beauty pageant contestants who really didn't get into the game to be groped by 70-year-olds.
The woman appearing to pull away from him in barely veiled fear is Miss USA 2012 and, ultimately, Miss Universe 2012, Olivia Culpo.
For the record, Culpo is one of the many women who have accused Trump of groping and/or inappropriate behaviour.
19 women in total have come forward.
6. Divas!
If there's one thing Donald Trump enjoys more in this world other than talking about Donald Trump, it's being in the company of beautiful women.
These women get paid to hang around with Donald Trump as he talks about Donald Trump.
Here Trump is with six such women, in a series of photos that obliterate the inexplicable evangelical image of Trump as a wholesome family man.
Look at how glamorous and innocent they all look!
This is Trump with six so-called WWE Divas, at a 2009 press conference in Austin, in which Trump announced he had just bought Monday Night Raw, WWE's live wrestling event show.
He sold it only weeks later, so we guess he didn't see it as much of a good investment.
7. National anthem malfunction
Oh, the humanity.
A patriot like Trump would never disrespect America, so either he was too deaf to have heard when the national anthem started playing at the beginning of this CNN debate, or he's just straight up fallen asleep on his feet with his eyes closed, like a horse.
It must have been a fleeting moment that Trump was caught out disrespecting America, granted, because other photos from the same event show Donald saluting.
However, as evidenced by his baffled appearance at a college football game earlier this year, Trump probably didn't remember the words to the national anthem correctly anyway.
Still, not as bad as Ted Cruz, whose decision to place his hand inside his jacket in the above photo makes it rather unfortunately look like he's going for a gun.
This is an unwise move for a man long suspected by the internet of being the Zodiac Killer.
8. This is what love looks like
Ah, young love.
Here we see Trump enjoying a New York Mets game with the then-Melania Knauss, and as we can see, a photographer managed to snap Trump just as he made a move to drain the young Melania's life force like a Death Eater, presumably so he might himself live forever.
It's not the first time Donald and Melania have been spotted taking PDA to another, more grotesque level.
Here the couple are again at a different ball game, with Donald once again having taken Melania's head in a vice-like grip, which is all the better to force her to kiss him with.
Things appear much frostier between the two today, regrettably.
The Trumps have by now reduced their displays of affection to air-pecking – but that could just be because Donald's only true love right now is the job of being the world's boss.
9. Wrestler first, president second
Donald Trump's presidency seems in part an attempt to legitimise himself so that you might forget that Trump was once a reality star.
And not just any old reality star…a reality star who, as a 60-something, would participate in WWE events.
But that's impossible when photos like this exist, showing Trump laying the fake smackdown on Vince McMahon.
As in the film Idiocracy, which stars Terry Crews as the wrestler-cum-president of the US in the year 2505, Trump is himself an actual president who was formerly a regular in the field of wrestling.
Who doesn't love a President who can wrestle? Surely this means he'll be able to wrestle issues like climate change right? Right?
Ermm…
He was inducted into the WWE Hall of Fame in 2013.
Moments like the above show us why…
…Trump was heroically taking carefully choreographed fake beatdowns from Stone Cold Steve Austin long before he was taking verbal abuse from the libs.
So, to summarise, the current president of the United States also used to be a wrestler.
What more is there not to love about him? I mean, come on. Let's have a look at the next shenanigans…
10. Putting pen to chest
Signing books, which Trump is very much electing not to do here in favour of the alternative, is so old-fashioned.
Here, the 70-year-old Trump instead tries out something new for a presidential candidate, and puts marker to a woman's chest instead.
You can't imagine Franklin Delano Roosevelt doing something like this, but then he was a dirty commie anyway.
Trump, on the other hand, is a true American, and he'll sign a woman's bare skin if he wants to, because this is America, and you can do whatever the hell you feel.
As you can see, the newly signed Trump supporter is happy at least, and the president's probably just happy he got to touch a woman with her consent for once.
We wonder how long it was before she washed?
11. Donald and the Bush
Another former president whom Trump has publicly lambasted since himself taking the highest office in the land, following Bill Clinton and Barack Obama, then-Vice President George HW Bush can here be seen posing in less contentious times with a pre-Apprentice Trump.
This was years before Trump would take to Twitter to bravely mock the 94-year-old.
The pair first made pals, along with boxing promoter Don King, at a political fundraiser in New York in 1988.
The fundraiser was held at the Plaza Hotel, which Trump owned at the time.
Interestingly, Trump actually hosted the bash thrown in the elder Bush's honour.
30 years later Trump would use a campaign rally to ridicule George HW's own presidential campaign, asking "What the hell was that?", apparently forgetting that Trump himself was part of it.
12. A father's love
Donald Trump and Ivanka Trump, circa 1990, alone together in a limo.
That's Trump's daughter, aged 15, and that is her then-51-year-old father.
Here they are together again, in colour, with Donald kissing Ivanka on the head at a Planet Hollywood restaurant as she stares, haunted, into the distance.
We can't blame anyone looking like that if they were being kissed by Trump.
And here they are on a bed together, he with his arms wrapped tightly around her, her kissing his ruddy middle-aged cheeks.
To reiterate, she is his child.
13. This is inappropriate
Again, this is Donald with his daughter Ivanka, this time at the Republican National Convention in 2016.
She is his progeny, and he her parent.
As we can see, this sort of thing has been going on for a very long time.
Many of these photos show Ivanka staring adoringly at her father as he pulls a power pose.
I mean, come on, it looks like she's giving him a lap dance!
We're sure it's all innocent but the photographs don't show it in a good light.
14. Donald the Hutt
Accusations of ruling a nation like a gluttonous, self-indulgent tyrant aren't helped if a picture exists of you looking like Jabba the Hutt.
Trump reportedly hates this photo, so be careful not to show it to too many people.
This is another photo of Trump that the president reportedly hates so, again, be careful who you show it to, because we don't want it getting around.
Trump was vocally against how much time Obama spent playing golf…so much so that he has decided to spend more time during his Presidency so far playing golf than Obama did. Makes sense right?
Some Trump supporters have accused the people laughing at pictures like these of 'fat-shaming' the current US president.
But then he did only recently separate infant children from their parents and lock them in cages, so it seems like fair game.
15. Green Acres!
In 2006, The Apprentice was big.
Will & Grace, the NBC sitcom about a straight woman and her gay best friend, was no slouch with audiences either, so the producers over at the Emmys decided it was a good idea to get the stars of those two wildly different shows together to sing the theme song from 1960s TV comedy Green Acres.
For whatever reason, the producers got Megan Mullally to dress up like her Will & Grace character, the socialite Karen Walker, for the performance.
But they declined to ask Trump to dress as his Apprentice character, the successful businessman Donald Trump.
Instead, they decked Trump out country bumpkin-style.
This forced him to momentarily get into character as someone who's actually worked a day in their life.
16. Day out at the Vatican
It looks like everybody in this photo misunderstood what sort of event they were supposed to be attending.
Ivanka and Melania seem to think they're at a Victorian-era funeral, Trump looks like a toddler who got speed-dressed by his mum into his Sunday best, while Pope Francis looks like a man who was told he was meeting highly-regarded foreign officials that day, and has just discovered that wasn't true.
These photos were taken at the end of a religious tour of Trump's in 2017, and though the Pope would be understandably under-joyed to be taking the meeting.
Francis is the leader of the Catholic church, whereas Trump has been accused of multiple sex crimes – probably nobody expected his face to so clearly show it.
Of then-Republican candidate Trump, Pope Francis said in 2016 that "A person who thinks only about building walls, wherever they may be, and not building bridges, is not Christian", to which Trump responded by calling the Pope "disgraceful".
At the taking of these photos, Pope Francis was reported to have muttered, simply, "protocol".
17. Babies
But for the spoilt despot who takes centre stage, this could almost be mistaken for a promotional image from a zany new family comedy, in which an uptight businessman is forced to do some soul-searching when he's unexpectedly saddled with two kids.
(Unfortunately, Donald Trump has yet to carry out soul-searching of any kind.)
And that's not the only photo of children looking alarmingly discomforted to be in Trump's presence.
Below, some kind and caring mother has styled their child's hair to match the President's famous quiff.
Understandably, the child looks traumatised, even if he doesn't know what is going on.
It's almost as though they can sense something that the maniacal mobs of adults around them can't.
18. Family
This might look like a picture of Trump family bliss, with a much younger Donald posing with his siblings Robert, Elizabeth, Fred Jr and Maryanne.
It hides a brewing family tragedy, however.
Standing tall in the above photograph is the grinning Fred Jr.
At this time he was considered the gregarious older brother and natural family heir, Fred would go on to die of alcoholism at the age of 43.
Fred would also – with the help of brother Donald – be cut out of his father's will for being considered such a disappointment, with his children also cut out.
Donald would even go on to block payment of medical treatment for Fred Jr's severely disabled grandson, in revenge for Fred's children suing the Trump estate for denying them their inheritance.
19. A hair-raising display
Donald Trump's hair has been the subject of numerous conspiracy theories and yet more jokes on the late night shows.
Here, we take a rare look at what's underneath Trump's infamous comb-forward, and find a man who appears just as confused as we are as to what's going on beneath.
Whatever that is, it surely isn't all natural.
Trump's hair appears so elaborately constructed, you have to wonder whether he spends more time in a day building it than he does doing his actual job, and that maybe that's why his presidency is going so badly.
It's almost a thing of majestic beauty, such is its inconceivable awfulness.
Many people have suspected Donald's hair to be one of Lord Voldemort's Horcrux's.
20. What the hell is that?
Not a photo, but a single image really couldn't do this one justice.
Here we see Trump's famous hair at last exposed for the hoax that it really is, though the footage only serves to deepen the mystery.
What on Earth is going on here? Is Donald Trump the only man in history to develop male pattern baldness on the back of his head, or is this horrorshow just the result of a hair transplant procedure gone terribly wrong?
This peek behind the curtain recalls the moment in The Empire Strikes Back when you accidentally see Vader without his helmet.
And just for an added bonus, here's what Trump does when he can't put the umbrella down…
If at first you don't succeed, just abandon it and make it someone else's problem. This is Trump summed up in one.