20 Of The Most Horrific Wedding Dresses In Existence
Your wedding is supposed to be the most important and special day of your life…one you should remember forever. One aspect of that is looking your best…and there's nothing that can do that more than a spectacular wedding dress.
Brides will take months deciding on the perfect dress. Do you go for lace, frills, how long with the train be? All eyes will be on you, and you need to be looking your best.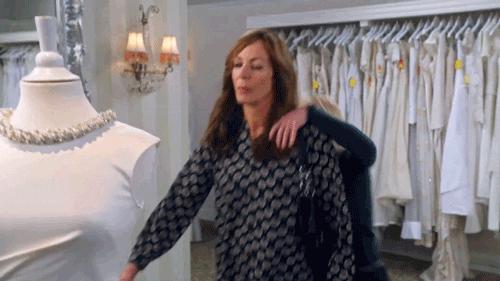 Or if you're any of these brides in our list, you choose a dress so outrageous, that people definitely won't forget it in a hurry.
Take a look at some of the most horrific wedding dresses in existence…
1. Perfect for the pregnant lady
It's your wedding day and you want to let everyone know you're pregnant.
[adunit mobile="RTK_dVa8″]
What do you do? Cut a hole in the dress and proudly show off that bump to everyone.
2. This vagina dress
We'd like to think this was some design or pleats gone horribly wrong.
[adunit mobile="RTK_wCZW"]
But no, it's definitely a vagina on the front there. Too much detail to think otherwise.
3. Have your dress and eat it
Two of the biggest things to think about at a wedding…the cake and the dress.
Why not kill two birds with one stone and turn the dress into the cake? Genius!
4. If you've got them, show them off
This lady has some rather large assets.
[adunit mobile="RTK_z9hm"]
We're not surprised that she wants to show them off, and this dress gave her the perfect opportunity.
5. Hello Kitty
Pink isn't the most common colour for a wedding dress.
What is even more uncommon, is having the dress covered in 'Hello Kitty.'
6. King Tut?
It's not strange to want to feel as good as an Egyptian Queen on your wedding day.
[adunit mobile="RTK_dVa8″]
But to look like one after death in a sarcophagus? Not so much.
7. Is it me, or is it cold?
This wedding dress doesn't leave a lot to the imagination.
There are only a couple of bits of fluff hiding this lady's modesty.
8. There are no words
We're not quite sure what is going on with this dress.
[adunit mobile="RTK_wCZW"]
It begins caged at the bottom, heads up into scrunched up toilet roll/fake flowers (we're not sure) and culminates in a knitted top piece and strange mask. Bizarre.
9. Be prepared for all occasions
If you're a new mother at this wedding, you're in luck.
[adunit mobile="RTK_z9hm"]
Just get the bride to sort you out. Her wedding dress is entirely made of nappies.
10. Is that a sweet wrapper?
This dress looks like it could contain a delicious chocolate treat.
[adunit mobile="RTK_dVa8″]
Either that or be suited to be worn by a pantomime dame.
11. When you want to blend in with the crowd
Most brides like to stand out on their wedding day.
[adunit mobile="RTK_wCZW"]
Not this one! She likes to blend in to her surroundings with this cammo inspired dress.
12. Wedding or carnival?
Is this bride going to a wedding, or is she going to the carnival?
[adunit mobile="RTK_z9hm"]
With this get-up, with the tiara and frilled back, she could be doing either.
13. When you really love your country
Some people are so patriotic, they would like to think they were married to their country.
[adunit mobile="RTK_dVa8″]
This bride has gone one step further, and is marrying in her country's flag.
14. Festival wedding
Have you ever wondered what a wedding would look like if it took place at Burning Man festival?
Look no further! This bride's dress is both festival and wedding and looks great in the desert!
15. Remember those 2000s flaming shirts?
In the early 2000s, it was very fashionable to have a shirt covered in flames.
[adunit mobile="RTK_wCZW"]
We weren't quite sure that it was also fashionable on wedding dresses.
16. Lady in red (and white)
We're not sure what the designers of this dress were trying to achieve.
Certainly the red flume with matching umbrella was an interesting choice…in an interesting place.
17. Take a closer look…
Hang on a second, there's something not quite right about this.
[adunit mobile="RTK_z9hm"]
It all looks so…skin tight. It's as if it's been painted on.
18. What an eye-popping choice
Whatever you do, don't come near this bride with a pin.
Some clown took one balloon and meticulously designed this dress. Fabulous.
19. Where's the cake stand?
Ahh, it's walking around the dance floor.
[adunit mobile="RTK_dVa8″]
Be quick if you want to get a slice!
20. If you're in love, say it with hearts
And finally, we've got this amazing dress.
What says love more than a heart…and this dress is covered in them.