Knight Rider, one of the great shows of the 1980s, with Michael Knight and the magnificent car, K.I.T.T and the adventures that they got up to, helping people, fighting crime, and generally being ridiculously cool while they did?



[adinserter block="10″]
[adinserter block="11″]
People were crazy for this show, and would tune in religiously to see what the next episode had in store, I don't know about you but I was certainly one of them! It was a tradition that me, my 3 brothers and my sister would watch this together every week! Join us as we take a look back at the show with some amazing facts you probably didn't know…
[adinserter block="12″]
Enjoy!
1. Michael and K.I.T.T didn't meet for a long time!
It was 6 months after filming series 1 of Knight Rider that David Hasselhoff (Michael Knight) met William Daniels (the voice of K.I.T.T), until then Hasselhoff had no idea what the voice of K.I.T.T actually looked like!
[adinserter block="10″]
2. K.I.T.T used to get badly damaged
Whenever there was a scene that involved a stunt that would see K.I.T.T performing an elaborate jump, the camera would often cut to the side or behind mid-jump. Why? Because the stunt-double car used would often get its front badly damaged on landing.
[adinserter block="11″]
3. Everyone wanted their own K.I.T.T
Following the success of Knight Rider, the company who provided the Trans Am for the series, Pontiac, were inundated with requests for a black Firebird Trans Am with tan interior and red lights on the front, so they had an identical car to that driven my Michael Knight!
[adinserter block="12″]
Did you have one?
4. Knight Rider took inspiration from another hit show
The red light on the front of K.I.T.T was inspired by the red eye lights of the Cylons in Battlestar Galactica. Not only that, but when shown up close, the eye looked identical and even made the same sound effect of the Cylon eye – that's some homage!
[adinserter block="10″]
5. K.I.T.T was stood still when "transforming"
In Season 4 of Knight Rider, K.I.T.T was able to "transform" in to Super Pursuit Mode. However, due to the hydraulics needed to perform the effect there was no room for an engine or anything else unnecessary in the car, and so there were no long shots of this as the car was always stood still in reality when undergoing the change.
[adinserter block="11″]
6. An actor unrelated to the show received a lot of fan mail anyway!
Actor Michael Knight used to get a lot of fan mail that was meant for David Hasselhoff, but that younger viewers had addressed to Michael Knight instead, as that was who they saw Hasselhoff as.
[adinserter block="12″]
Actor Michael Knight ended up adding an "E" becoming Michael E. Knight to save future confusion.
7. The link to Michael E. Knight didn't end there!
Michael E. Knight went on to marry Catherine Hickland, someone who played character Michael Knight's love interest on Knight Rider, and Hickland was also married to Hasselhoff at the time of filming Knight Rider, so she went from one Michael Knight to another!
[adinserter block="10″]

[adinserter block="11″]
8. Hasselhoff found an extra role too demanding
An evil lookalike of Michael Knight was introduced in the form of Garthe Knight, and he was so popular the producers wanted to make him a more regular character, but David Hasselhoff complained that doing two roles was too demanding.
[adinserter block="12″]
It would have been hard work!
9. Gamers love playing as K.I.T.T
The series of games, Grand Theft Auto, has legions of fans, and a popular mod since Grand Theft Auto III in 2001 has seen fans introduce K.I.T.T as a drive-able vehicle in the game, as he remains one of the most popular cars in history.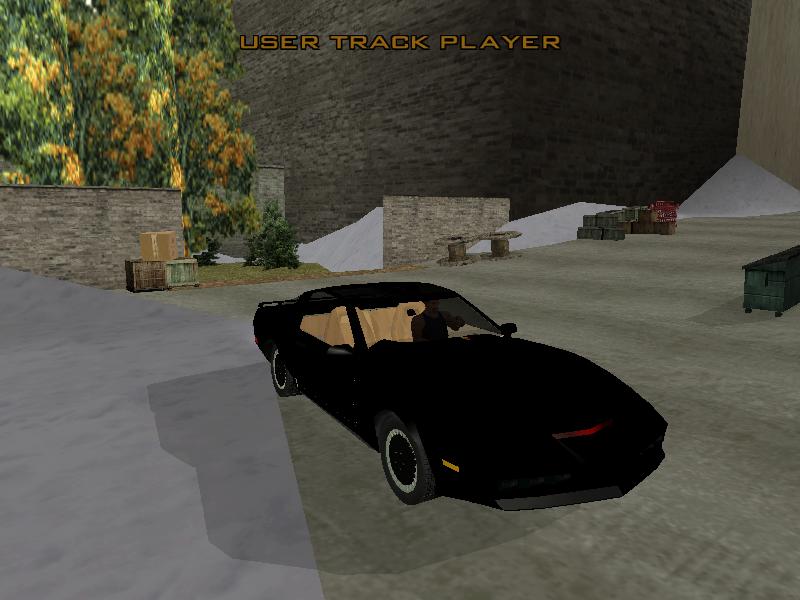 [adinserter block="10″]
10. The GTA developers obviously listen to their fans
After creating and insering K.I.T.T in to their games became such a popular mod in every iteration of Grand Theft Auto from 2001 onwards, its creators included K.I.T.T as a legitimate modification that could be purchased properly by fans for Grand Theft Auto V. It's nice to see a studio listening to, and respecting, its fans.
[adinserter block="11″]
11. The show almost didn't get made
[adinserter block="12"]
Perhaps with the exception of The A-Team and Miami Vice, for many people TV in the 80s was Knight Rider. One of the most popular and loved shows of the era, it was a smash hit that has prevailed in the decades since as an enduring pop culture sensation.
[adinserter block="10″]
It almost wasn't to be. At first, network NBC, which ultimately ran the show for four seasons from 1982 to 1986, was unsure about financing a show about a talking car.
[adinserter block="11″]
The reason was that execs for the network had bad memories of another NBC show, entitled My Mother the Car. This 60s sitcom also featured a talking car, and after just one season went down as one of the worst shows of all time.
12. The show's creator got the idea from a German version of Herbie
[adinserter block="12″]
The creator of Knight Rider, Glen A Larson, was responsible for some of the biggest TV of the day: Battlestar Galactica, Magnum PI, The Six Million Dollar Man and Quincy, ME were all his, making Larson a powerful (and rich) man during his 70s and 80s peak.
[adinserter block="10″]
But where did such a man get such inspiration? Well, Knight Rider for one sprung from a very unlikely source. It wasn't a great science fiction novel or a particularly inspiring cheese dream that gave Larson the idea for a TV show about a talking car, but a film starring a German Herbie knock-off.
[adinserter block="11″]
Superbug Goes Wild (or The Love Bug Rally in the US), a 1971 movie that was but the first in a five-film-strong West German franchise about a talking VW Beetle, is what gave Larson the germ of what would be KITT. Any similarities to Disney's own talking VW Beetle movie franchise were, presumably, purely coincidental.
13. The Lone Ranger was another source of inspiration
[adinserter block="12″]
Superbug Goes Wild wasn't the only pop culture item that Larson had in mind when he first pitched Knight Rider to networks. Larson took the talking car from the Superbug films, but to him Knight Rider was just a vaguely futuristic version of The Lone Ranger with the hero driving a car instead of riding a horse.
[adinserter block="10″]
All the key parallels are there. Michael Knight is, like the Lone Ranger, a moralistic crime fighter who was left for dead and 'reincarnated'. Knight, like Reid, has a trusty pal always by his side.
Larson envisioned KITT as the Knight Rider version of both Reid's horse Silver and Reid's companion Tonto.
[adinserter block="11″]
14. The show may have been made as a joke
[adinserter block="12″]
The show is so familiar and so embedded in our popular culture that it's almost – almost – easy to miss how ridiculous a concept Knight Rider actually is. A show about a permed crime fighter who rides around in a talking car? No way were studio execs serious when they first approved that.
[adinserter block="10″]
Well, they may not have been. There was a perceived issue at NBC in the 1980s of good-looking men being cast in leading roles despite their lack of actual acting ability, so executives started to joke about a series called The Man of Six Words, in which the lead would utter only six words per episode and leave a talking car to deliver the rest of the dialogue.
[adinserter block="11"]
Brandon Tartikoff, at the time the head of programming of NBC, had meant this concept as a joke. His fellow NBC execs, however, genuinely liked the idea of a show starring a talking car (plus yet another handsome lead with dubious acting ability) and took it to series.
15. KITT was designed and built in just two weeks
[adinserter block="12″]
Knight Rider's KITT has become an iconic machine, a must-have toy and a much sought-after collector's item; none of which is any great surprise considering Michael Scheffe, a toymaker for Mattel who would after Knight Rider also work on designs for the likes of Back to the Future and Spider-Man (2002), designed the car for the show.
[adinserter block="10″]
What makes the success of Scheffe's KITT design all the more amazing is the fact that Scheffe and his team were given no time at all to design and build it. They had, in fact, just two weeks before shooting on the show began to deliver a KITT.
[adinserter block="11″]
This only meant the team had to source parts locally and even create parts for the car themselves from scratch. What they knocked up in a fortnight has become a pop culture item for the ages.
16. The iconic theme music isn't necessarily original
[adinserter block="12″]
For a time the Knight Rider theme was inescapable, and, so popular is its synthwave vibe, the tune has also been sampled in various songs and movies over the years. It's a true original – or so you probably thought.
[adinserter block="10″]
Truth is, even the composer of the Knight Rider theme music, Stu Phillips (a veteran scorer of numerous Glen Larson productions, and writer of the Battlestar Galactica theme), admits the theme was lifted from, or 'inspired by', another source.
[adinserter block="11″]
Sylvia is a 19th century ballet by French composer Leo Delibes, and it was in that that Phillips first heard his theme for Knight Rider. Have a listen to the piece above, and try to spot the similarities.
17. Before Knight Rider, the Hoff almost did Star Wars
[adinserter block="12″]
Knight Rider and, subsequently, Baywatch made David Hasselhoff a major TV star, possibly the biggest of the 80s and 90s, but a film career has forever eluded the actor. (His singing career never really took off either, at least outside of Germany and Austria, but that's enough said about that.)
[adinserter block="10″]
However, things could have gone very differently. Before Knight Rider broke him out, the Hoff was considered for a role that ultimately went to Jeremy Bulloch, in 1980's The Empire Strikes Back: the iconic, laconic intergalactic bounty hunter Boba Fett.
[adinserter block="11″]
The Hoff was also considered to play Superman, but according to him he turned the role down through fear of typecasting. He was also passed over to play Indiana Jones, but in his words came "down to the wire" with Harrison Ford, before "the guy from Star Wars" won out.
18. Hasselhoff was 'The Most Watched TV Star in the World'
[adinserter block="12″]
Awards haven't been exactly showered on David Hasselhoff throughout his career. His most notable industry recognition to date, in fact, is probably the Razzie nomination he received for Worst Supporting Actor in Piranha 3DD in 2013.
[adinserter block="10″]
Critical adoration, however, isn't everything, and it certainly wasn't what propelled Hasselhoff to the big time. For the Hoff, it's always been the fans who have kept him in the spotlight.
[adinserter block="11″]
It may be hard to believe now, but at one time the Hoff was the biggest TV star around. Such was Hasselhoff's popularity at his Knight Rider and Baywatch peak, the Guinness Book of World Records awarded him their Most Watched TV Star in the World prize – a trophy given out to the television actor who reached the most viewers.
Were you a massive fan of Knight Rider? Did you used to relive the show like many did? My sister and I used to push each other at full pelt in a shopping trolley around Food Giant (that's taken me back!) whilst humming the Knight Rider theme! Let us know all your thoughts and memories in the comments as always!
[adinserter block="12″]