15 Of The Worst Seaside Towns In Britain
Seaside towns have long been a British institution, but sadly some coastal resorts aren't quite looking the same in 2019 as they did back in their glory days.
Thanks to cheap budget holidays to the Mediterranean and beyond, holiday destinations closer to home have been struggling for decades.



Luckily, artist Jack Hurley believes it's still possible to find some humour in amongst all the doom and gloom.
Even so, Hurley's recent series of travel posters have rubbed some people up the wrong way.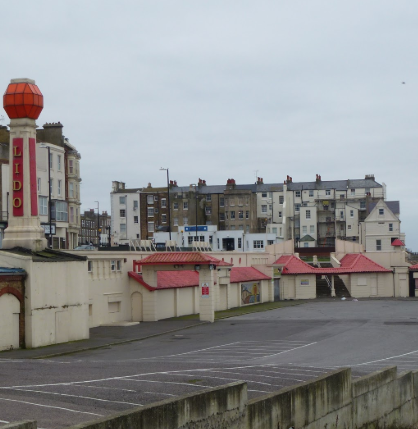 Scroll down the list below to see the top 15 'rubbish' coastal towns in Britain, complete with a poster designed by Hurley.
Beneath that, we've listed the top ten worst places to live in the UK. Have a look and see if your town is on the list!
[playbuzz-branded]
15. Great Yarmouth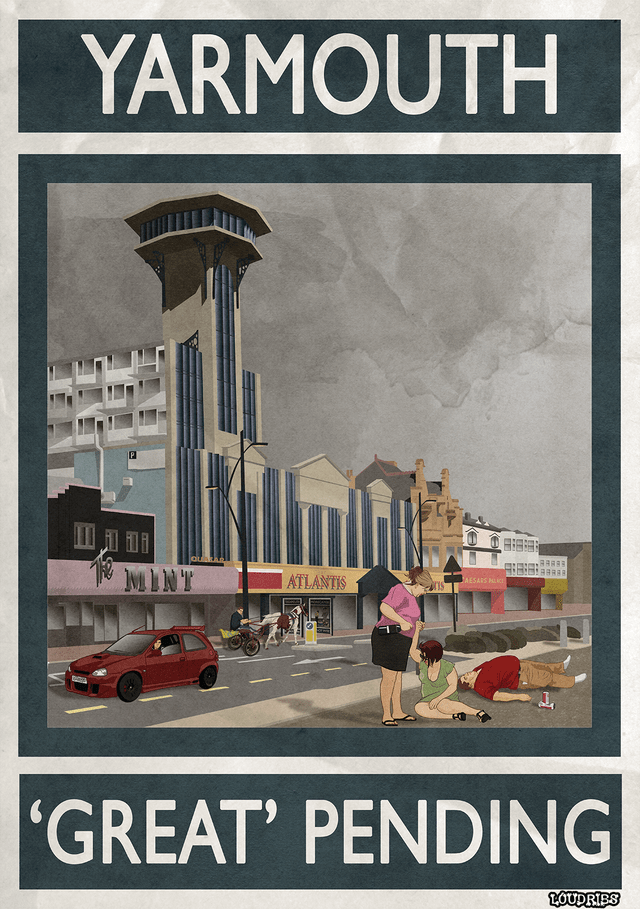 It looks as though Yarmouth residents will have to wait for the 'Great' to return to its name, according to this poster by Hurley.
Tacky nightclubs, people riding horses on the main road and an array of comatose men and women await anyone who decides to visit this Norfolk seaside town.
Yarmouth is also home to some of the world's worst waxworks.
14. Bournemouth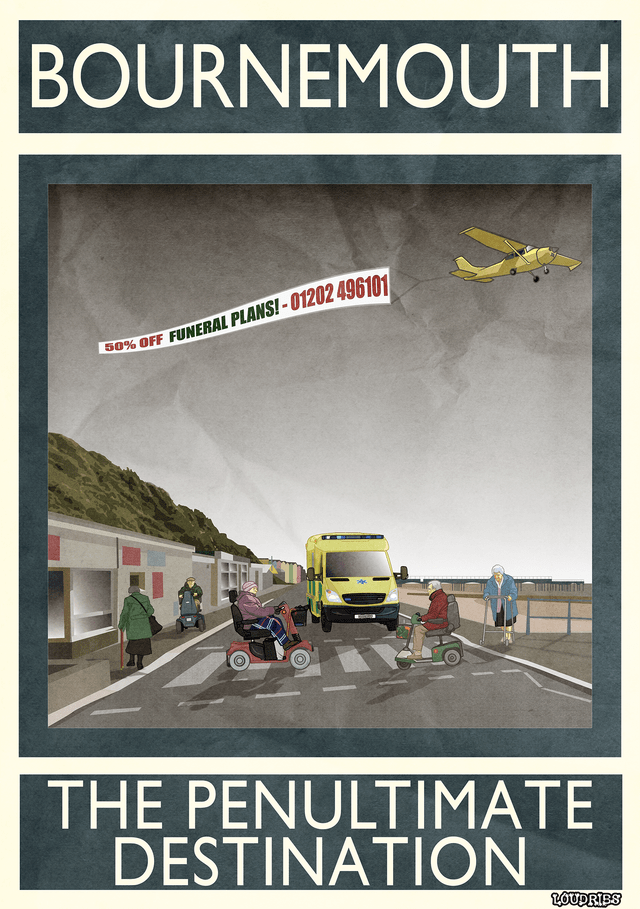 Bournemouth is known for its ageing population, and for having very little excitement.
The south coast resort has been attracting pensioners to its shores for years, and as a result, it looks as though any young folk out there might want to give Bournemouth a miss.
After all, it is the 'penultimate destination'!
13. Blackpool
It was once a prime holiday spot known for its beach-side donkey rides and Christmas lights.
Blackpool's recent decline has not gone unnoticed, however, and nowadays it's better known for its high levels of poverty and widespread drug abuse.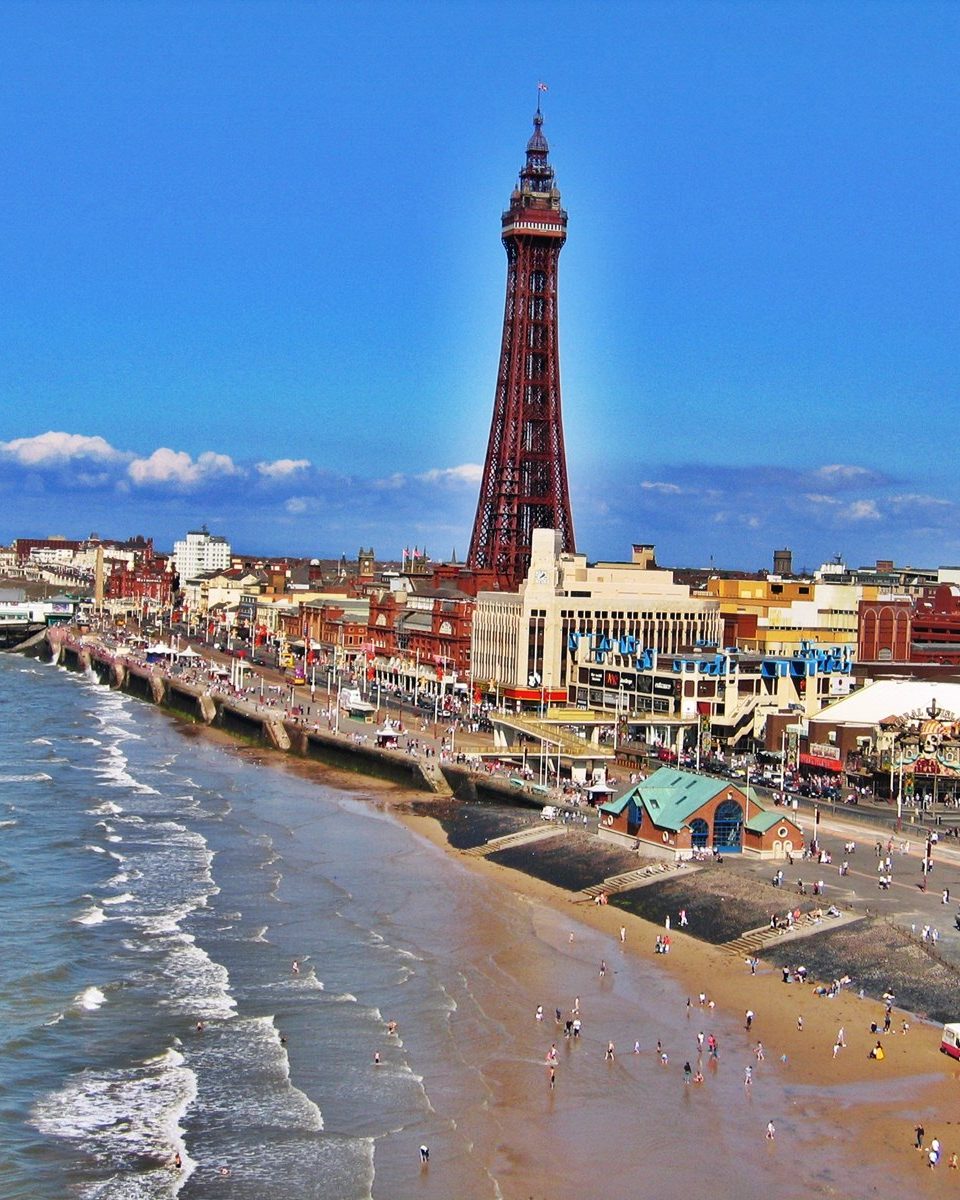 Although there's a Parisian influence to some of the architecture (in the form of Blackpool tower), the town is far from a chic and stylish seaside resort.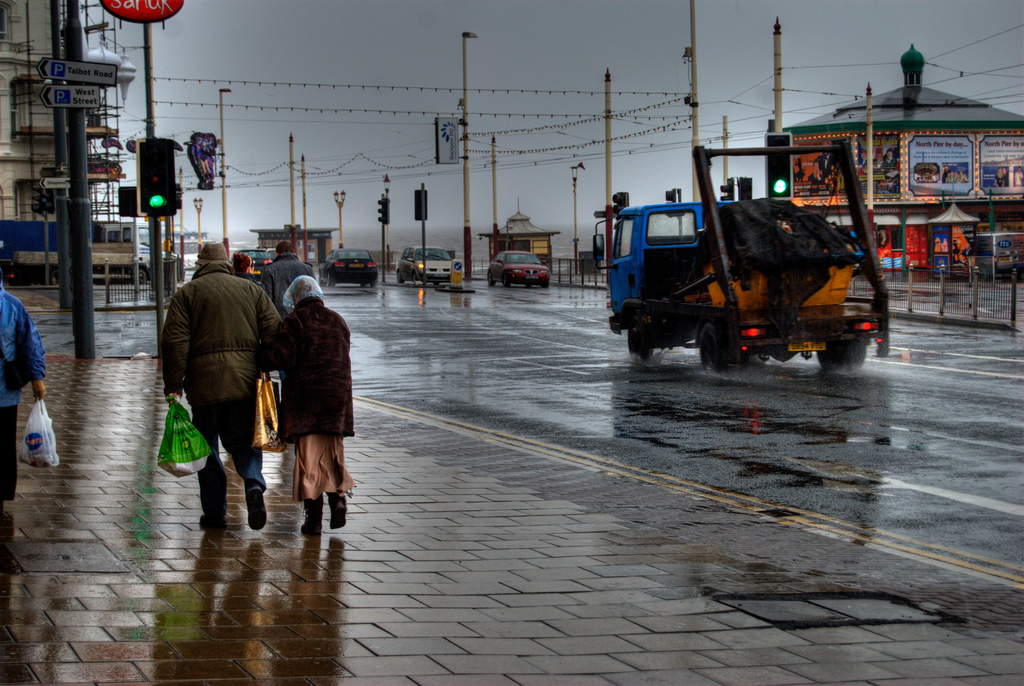 12. Cleethorpes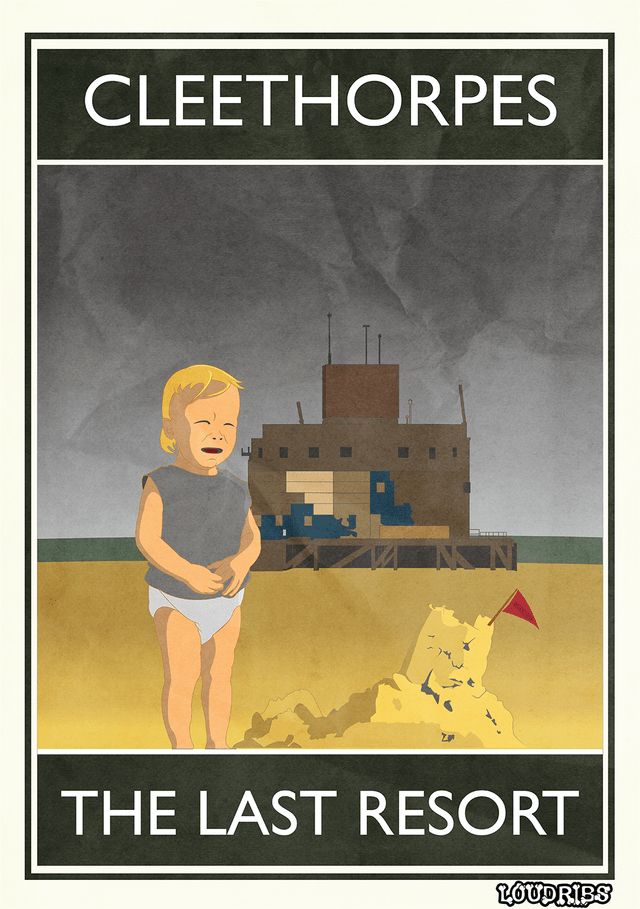 This Cleethorpes poster is where it all started for Hurley.
A client at the design company he worked for requested a travel poster for the town in North East Lincolnshire with the tag line 'The Last Resort'.
The horrendous fort situated on the coastline adds to the 'general crapness' of the scene, which is only made worse by the crying toddler in the foreground.
11. Brighton
Some people might be surprised at Brighton's inclusion on the list, considering it's supposed to be one of the hipster capitals of the world.
Really though, you'll be rolling your eyes wherever you go.
Potential visitors should be wary of grown men wearing their caps on backwards and rolling through on Segways.
10. Grimsby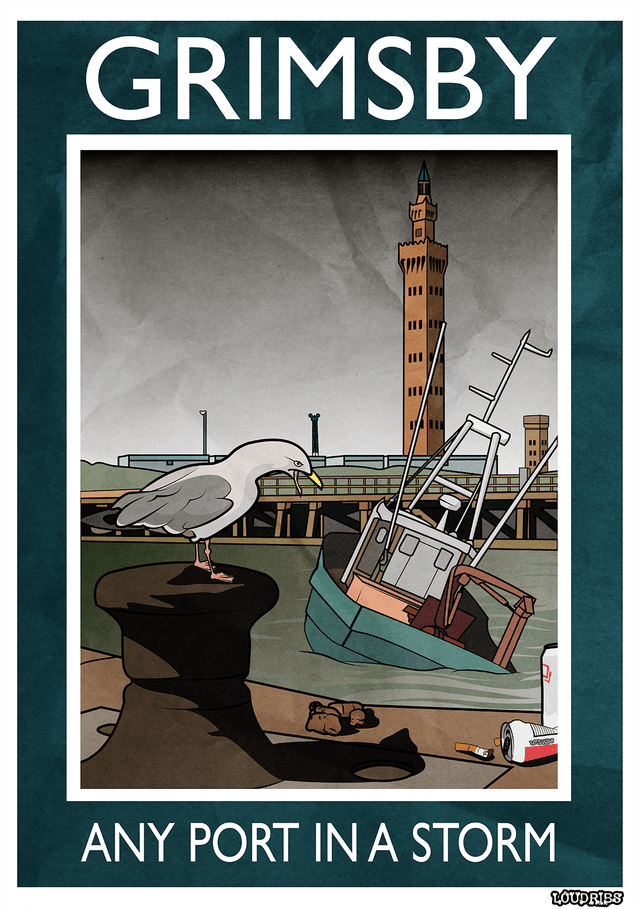 With its main problem in the name itself, Grimsby has often been the butt of jokes in the UK.
The town was caricatured to mixed reviews in Sacha Baron Cohen's recent film The Brothers Grimsby.
Outside of Hollywood, Grimsby is known for its docks and fishing industry, and for generally being a bit rubbish.
9. Morecambe
This Morecambe poster contains an inventive twist on the famous comedy duo Morecambe and Wise.
The town's well-known statue of Eric Morecambe sports a traffic cone on its head (no doubt put there by some drunken yoofs).
Situated on the North-West coastline, Morecambe is perhaps most infamous for its large bay, on which 21 Chinese workers were trapped and drowned when collecting cockles.
8. Redcar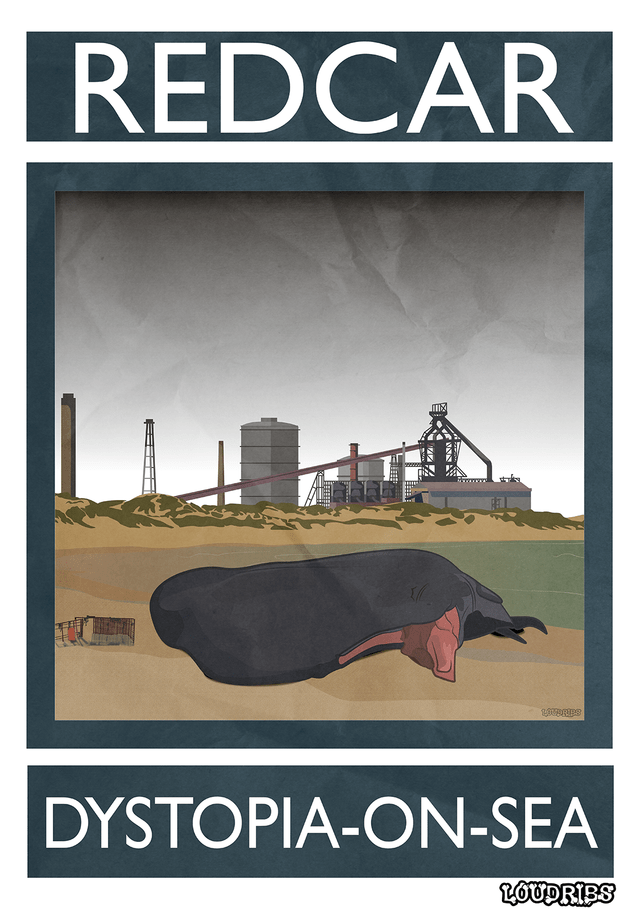 In 2011, a sperm whale washed up and later died on the beaches of Redcar.
This incident is what inspired the above, totally not depressing, poster from Hurley.
The beaches of Redcar are overlooked by the beautiful Corus steel works. What a lovely scene!
7. Scarborough
Scarborough looks like a great place for stag parties and…well…not much else really, if this poster is anything to go by!
If you enjoy dressing up in mankinis and wearing traffic cones on your head after drinking 15 pints, then by all means make the journey to North Yorkshire.
Otherwise, Scarborough is one seaside town you should probably best avoid.
6. Southport
Be warned, nature lovers: you will probably want to avoid Southport's grim-looking beach and horrendous pier altogether.
The only thing to look at will be the mud-splattered lifeguard vans and circling rescue helicopters anyway.
Don't be fooled by the name: Southport is actually situated Up North, in Merseyside above Liverpool.
5. Southsea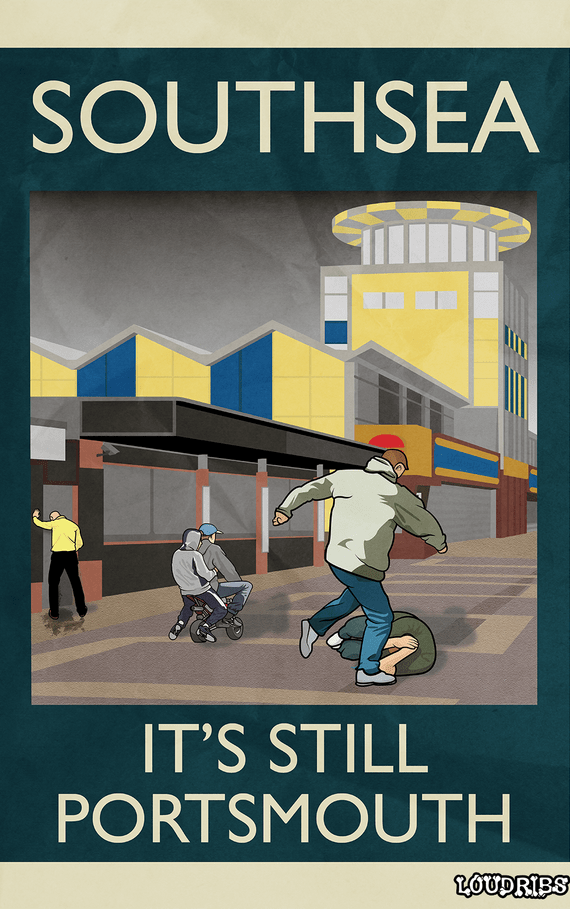 Southsea looks beautiful, with naff-looking architecture, chavs cycling through the city centre and people openly urinating in public.
Unlike Southport, Southsea is in the south, and can be found just next to Portsmouth.
As Hurley's poster points out, the town is basically Portsmouth.
4. Teignmouth
Teignmouth is a South Devon resort just south of Exeter, where many coastal towns are famed for their natural beauty.
Unfortunately, Teignmouth doesn't appear to fall in the same bracket.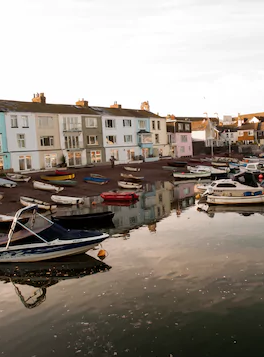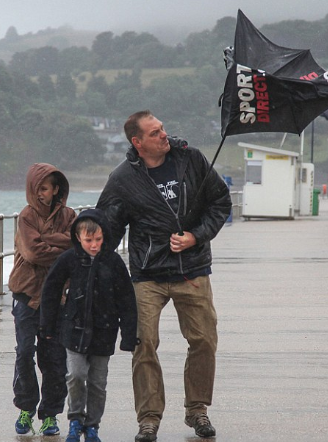 Indeed, in Hurley's poster for the place, you can clearly see a council worker having to scrub away at some rather rude graffiti, as a pensioner looks on in dismay.
3. Whitby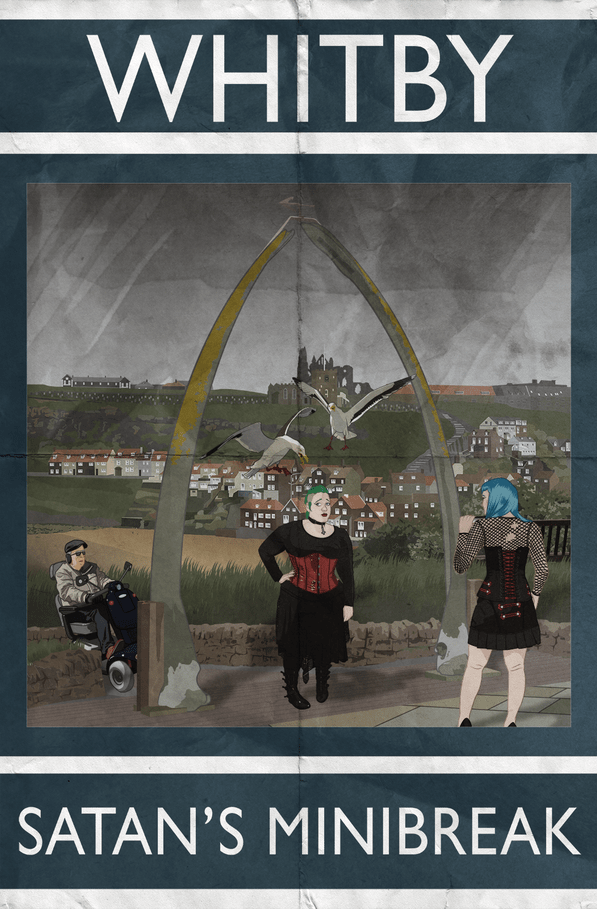 Whitby has long attracted vampire-lovers and witch hunters, thanks in part to its literary history.
However, the 'Satan's Minibreak' tag line is probably one that the tourist board would like to avoid.
Vicious seagulls, sad-looking pensioners and out-of-place goths are three good reasons to avoid journeying into the depths of hell.
2. Margate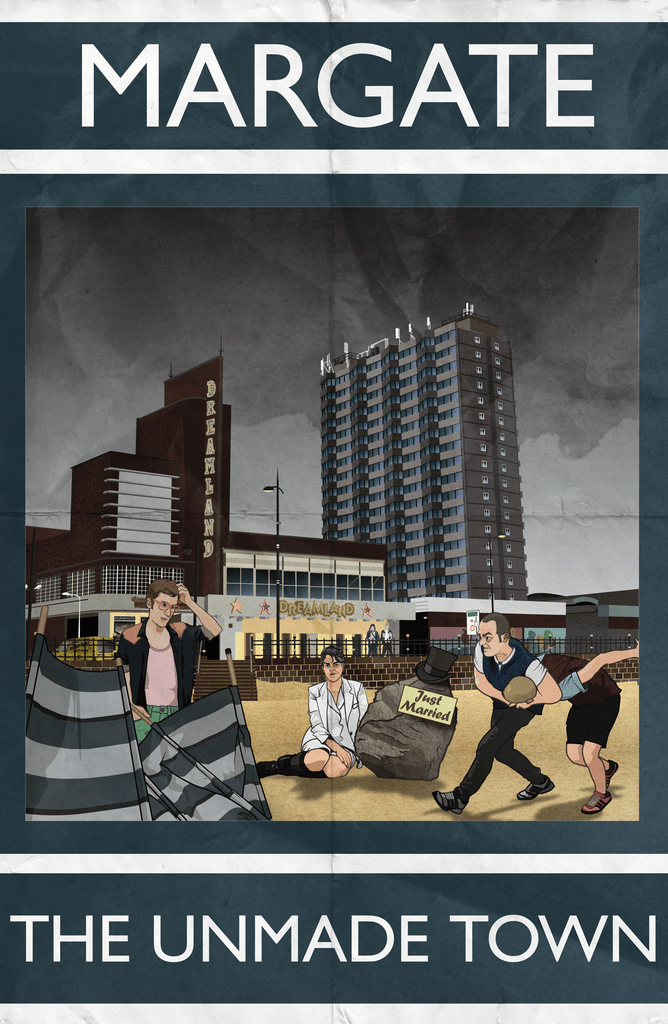 Margate is a seaside resort on England's South coast, which is probably best known for its shell grotto, Dreamland theme park and its high numbers of UKIP supporters.
If you visit, you're likely to see horrendous-looking tower blocks, confused-looking residents and people brawling on the beach.
All of which is overshadowed by a dismal grey-black skyline.
1. Exmouth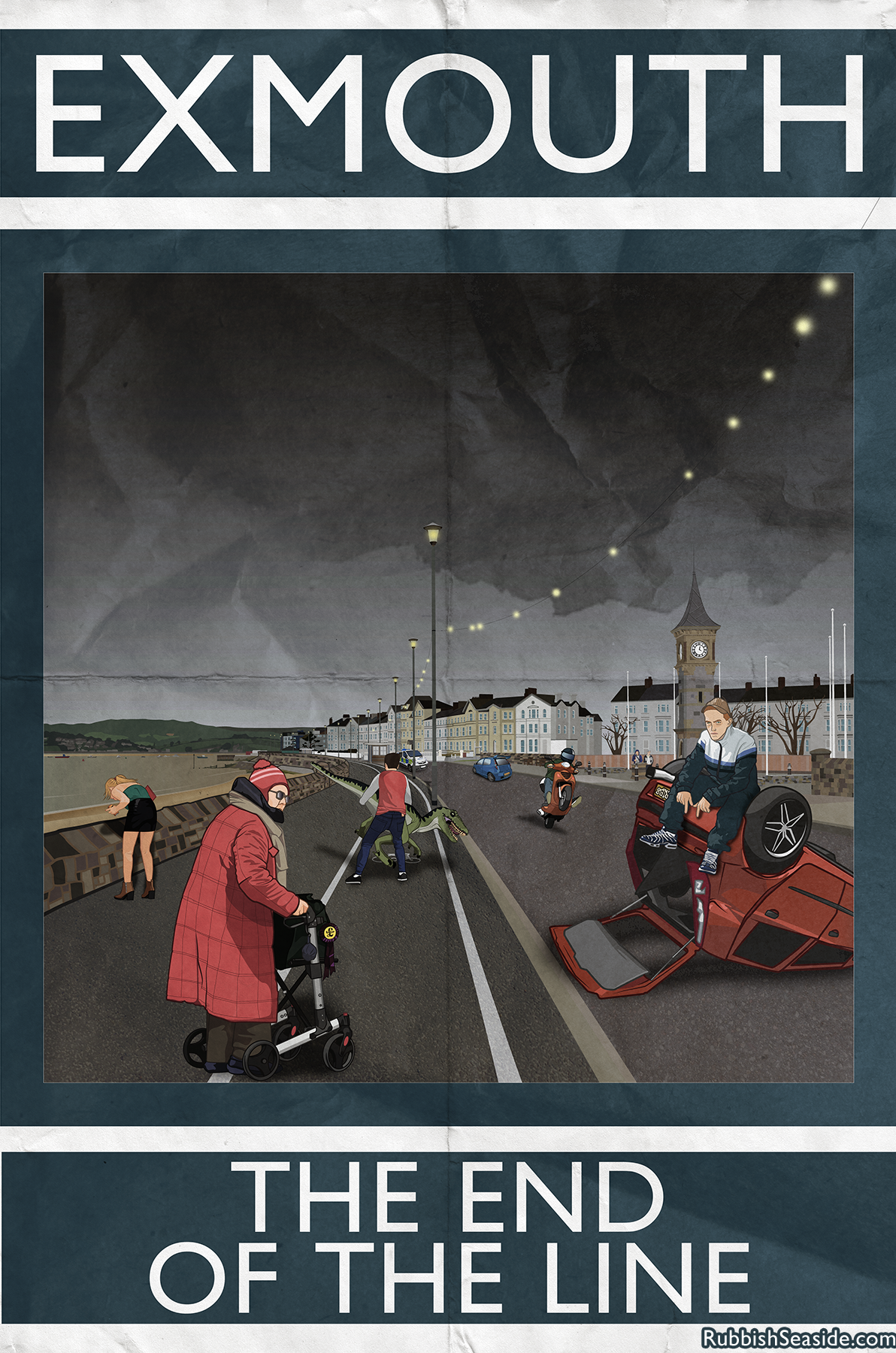 Coming in at number one on our list is Exmouth, sited on the east bank of the mouth of the River Exe on the coast of Devon.
Some reviews online include "Tried most of the fish 'n chip shops – the chips are awful," and "A lot of the time it stinks – really! the smell outside is awful!"
So they're the seaside towns, but what about the ones inland? Some of them you might have seen before, as the list kicks off with…
10. Blackpool
Known for its lights, pleasure beach and Blackpool Tower, Blackpool also has a lot of poverty and very run down areas as you get away from the front.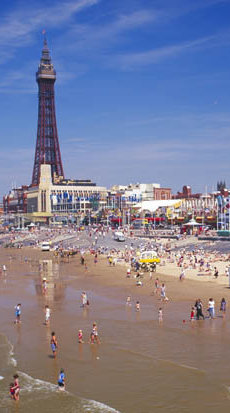 Every town has its good and bad areas, but Blackpool seems to have suffered particularly badly.
One resident has been quoted as saying: "Go back a few streets from the prom and you will see the deprivation, the ghettos and the scummy pubs that make up the REAL Blackpool."
9. Oldham
Another town in the North West, but unfortunately one without a Pleasure Beach or tower to boost its image.
Oldham has been announced as Britain's most deprived town according to the Office of National Statistics.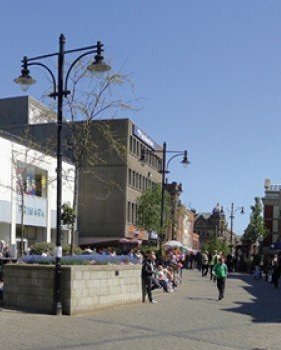 One resident has logged on iLiveHere saying that Oldham looks "as though the government has been performing nuclear testing in the area."
8. Sunderland
With one of the highest teen pregnancy rates in Europe, and also having plenty of its own run-down areas, one comment regarding Sunderland states: "It's a pretty sad place, to be honest. Find somewhere with easy access to Newcastle City Centre and you'll be happy."
Over the years, Sunderland grew as a port trading coal and salt. The area grew into a commercial centre for the automotive industry, science and technology and the service sector.
This is referred to as the silicon valley. A person who is born or lives around the Sunderland area is usually known as a Mackem.
7. Gravesend
The name Gravesend doesn't exactly conjure up images of some idyllic town, does it?
Most of the bad reviews of Gravesend seem to mention a certain minority group – the Chavs – who seem to be one of the causes for Gravesend finding its way back in to this list after dropping out for a brief spell.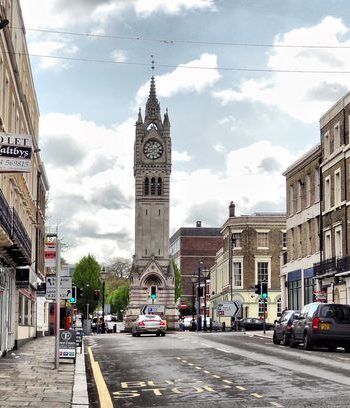 One review sums it up with: "If you must come to Gravesend, please stop by the estate agents and buy my house."
6. Bradford
To be fair Bradford has improved… in the previous year's poll Bradford was in the top 3 worst towns!
Another town from the North West, there's definitely a bit of a trend with some of these entries, Bradford has been described by one resident as "Literally hell on Earth!"
Bradford has a large amount of listed Victorian architecture including the grand Italianate city hall.
5. Rochdale
Yep, we're still in the North West.
Rochdale is going the wrong way on this list, having been in 9th place the previous year – will it be hitting top 3 in years to come?
The nicest comment we could find from a resident was "Leave fast or stay forever".
4. Scunthorpe
Situated in North Lincolnshire, Scunthorpe is another declining former industrial powerhouse to fall by the wayside in recent years.
Nicknamed 'Scumthorpe' by some, Scunthorpe is now perhaps most famous for being a routinely banned online word, owing to the obscenity in the middle of its name.
"One good thing about Scunthorpe? It takes about 5 minutes from the town centre to get out and go to a better place."
3. Luton
The Bedfordshire town does not have a huge amount going for it other than proximity to the M1 providing a fast exit.
One review seems to confirm this by going in to more detail.
"Thank god there are 3 motorway junctions, 2 railway stations and an airport that can be used for a swift exit."
2. Hull
Famous for William Wilberforce, who was one of the focal figures in abolishing slavery during times when Hull was run down and poverty stricken, not a lot has changed in Hull except that William Wilberforce is unfortunately no longer with us.
Hull is one of the most unique cities in the UK for having a municipally owned telephone system from 1902, sporting cream, not red telephone boxes.
Before the late 2000s recession, the city saw large amounts of new retail, commercial, housing and public service construction spending.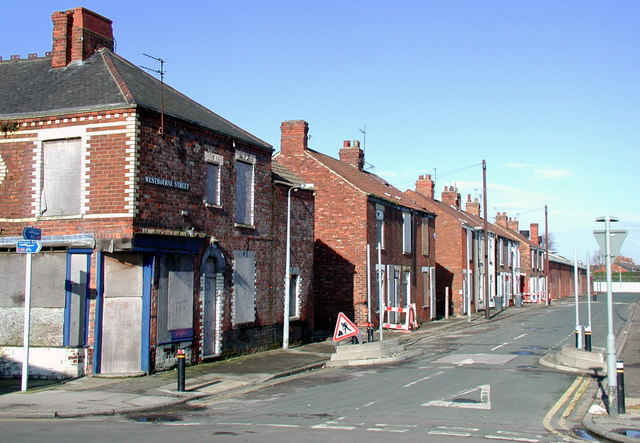 1. Dover
Once most famous for the White Cliffs, Dover is now known as the number one worst place in Britain to live, summed up by the opinion of one resident:
"Dover, as we all know, is the gateway to Europe, and most people that stop here for any reason are normally glad they can leave it behind very quickly."
As we said this isn't our list, it's official, so let us know your thoughts in the comments.