Sex And The City recently turned 20 years old, and to celebrate we've compiled a list of 15 famous actors who made some amazing guest appearances on the show! Of course, the series made household names of Sarah Jessica Parker, Kim Cattrall, Cynthia Nixon and Kristin Davis. However, it also featured memorable performances from big-name stars (Matthew McConaughey, anyone?) to complete unknowns (including a very young Bradley Cooper!) in various supporting roles.
Scroll down the list below to find out which actors and actresses made some very surprising guest appearances in the iconic series…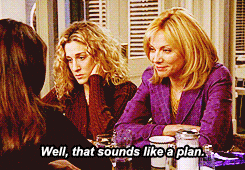 Bradley Cooper
One particularly memorable episode involves a hungover Carrie posing for a New York Magazine cover. Of course she ends up looking horrendous, and just to make matters worse, the editors slap the headline 'Single & Fabulous?' underneath a haggard photo of her smoking a cigarette. She decides to hit the club and ends up making out with a very young, good-looking guy called Jake. The actor playing him is none other than Bradley Cooper, who was starring in his first ever onscreen role! He must have made an impression with his small role on Sex and the City because since then, he's been nominated for an Oscar four times.
2. Justin Theroux
Fans of the series will remember that Justin actually guest-starred as two completely different characters. During season one, Theroux appeared in 'The Monogamists' as Stanford's friend Jared, who was voted one of New York Magazine's "30 coolest people under 30". Inexplicably, he is recast only one season later in the episode 'Shortcomings', in which he plays a man who gets excited a little too early when he and Carrie try to have sex. He later starred in Mulholland Drive and The Leftovers, as well as marrying (and later divorcing) fellow actor Jennifer Aniston.
3. Will Arnett
Will Arnett is best known for his outstanding comedic performances as Gob on Arrested Development and BoJack Horseman in the series of the same name. However, he guest-starred in Sex and the City as one of Miranda's more bizarre ex boyfriends. In Season 2 episode 'La Douleur Exquise!', Miranda meets a handsome young man in a bookstore. She soon discovers that he only enjoys having sex in public places where they'll more than likely get caught. Things end badly after the pair have sex in his parent's bed…
4. Bobby Cannavale
Bobby Cannavale is responsible for probably one of the most memorable scenes in the entire series. In Season 3, he plays a cocky film director named Adam Ball, who really wants Samantha to perform oral sex on him. She keeps refusing until eventually she confesses that he has 'the funkiest-tasting spunk' she's ever come across. Hard to think that Cannavale is now a respected actor, having starred in Blue Jasmine and Boardwalk Empire.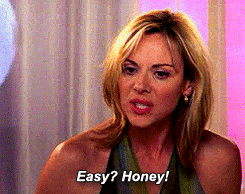 5. Kat Dennings
Fans of 2 Broke Girls and Forty Year Old Virgin will love this cameo from a very young Kat Dennings. In series 3 she plays a spoilt Jewish teen who drives Samantha up the wall. Sam is forced to organise her Bat Mitzvah and in the process, ends up learning a lot about herself and her own upbringing. Kat made the role her own and fans of the show loved her performance as the irritating spoilt brat.
6. Matthew McConaughey
In the 90s McConaughey was popular among female fans for his roles in various rom-coms, making him a perfect guest star for the hit HBO series. When Carrie travels to LA to try and get her column optioned for a film, she has a meeting with McConaughey who plays a (hopefully) fictionalised version of himself. He offers to play Mr Big, but in the end things run out of steam and we never got to see McConaughey as Carrie's paramour.
7. Vince Vaughn
When the girls take a trip to Los Angeles, Carrie meets a handsome agent outside of a club (Vaughn) who impresses her with his fancy bachelor pad. The M. Night Shyamalan plot twist? He's just an assistant and the apartment belongs to his boss…who also happens to be played by none other than Hollywood legend, Carrie Fisher.
8. Tony Hale
In one episode, Samantha decides to pose completely nude for a private collection of photos, so that when she's an old woman she can look back at how amazing her body used to be (narcissistic doesn't even cover it!). However, the gormless camera man responsible for taking the pictures is none other than Tony Hale, who now has starring roles in Arrested Development and Veep.
9. Sarah Michelle Gellar
In another episode from the group's brief visit to LA, the former star of Buffy The Vampire Slayer appears as a blunt and fast-talking film executive, who wants to bring Carrie's sex column to the big screen.
10. Alan Cumming
Cumming has starred in so many award-winning TV shows, films and theatre productions that we can't be bothered to list them here! He makes a hilarious appearance in Sex and the City as eccentric fashion designer 'O', a character who seems to be spoofing flamboyant Italian designers Domenico Dolce and Stefano Gabbana. Yet another famous face with a SATC credit to their name!
11. Lucy Liu
Lucy Liu guest-stars opposite Kim Cattrall in the season 4 episode 'Coulda, Woulda, Shoudla'. She plays a bold and exaggerated Queens, N.Y. version of herself, with Samantha acting as her PR manager. However, things end badly for Sam after she uses Liu's name to get herself on the list for a coveted Birkin bag. Lucy is unimpressed and fires Samantha immediately. Not one of the blonde bombshell's best career decisions, we think.
12. Candice Bergen
Acting veteran Candice Bergen actually appears in several episodes of SATC as Carrie's cold and intimidating editor at Vogue. That's right, in the days before Meryl Streep and The Devil Wears Prada, Bergen was the original horrible boss. She played Enid Mead in three episodes of the series, and also starred in the first SATC film.
13. David Duchovny
The X-Files actor appeared in a season 6 episode which rather appropriately borrowed its name from the hit film starring Angelina Jolie and Winona Ryder. In 'Boy, Interrupted', Carrie reunites with her high school flame, played by Duchovny. However, she soon learns that he's checked himself into a mental health facility and struggles to come to terms with what that might mean for any future relationship.
14. John Slattery
John Slattery will be well-known to Mad Men fans as ad executive Roger Sterling. However, before he was a four-time Emmy nominee for his work on that particular show, he starred in Sex and the City as political candidate Bill Kelley. In a slightly embarrassing character arc for Slattery, Bill and Carrie go out for a while until he asks Carrie to pee on him in the shower. Awkward!
15. Elizabeth Banks
Before her success in film series The Hunger Games, 40 Year Old Virgin and many other TV and film appearances, Kathryn actually had a very minor role in SATC. She plays an unnamed politician's fiancée at a fundraiser.