There were plenty of great fantasy films in the 80s, with some imaginative and vibrant characters and places that you could be swept off to and join in their adventures. But few were as inventive with their plot, characters and wonder-filled world as Jim Henson's The Dark Crystal.
This film took kids and adults alike to a whole new world with characters to join on their epic journey to heal the all-powerful Dark Crystal. Fun at times, terrifying at others, join us as we look back at some amazing facts you probably didn't know about the family fantasy classic.
12. It was billed as a live-action film with zero human characters
The Dark Crystal was hailed as being the only live-action film in which no actual human characters appear. If it wasn't for the fact that there are some distance shots where you see the Gelflings walking about, then no humans would have appeared on screen at all!



11. There were originally going to be seven Skeksis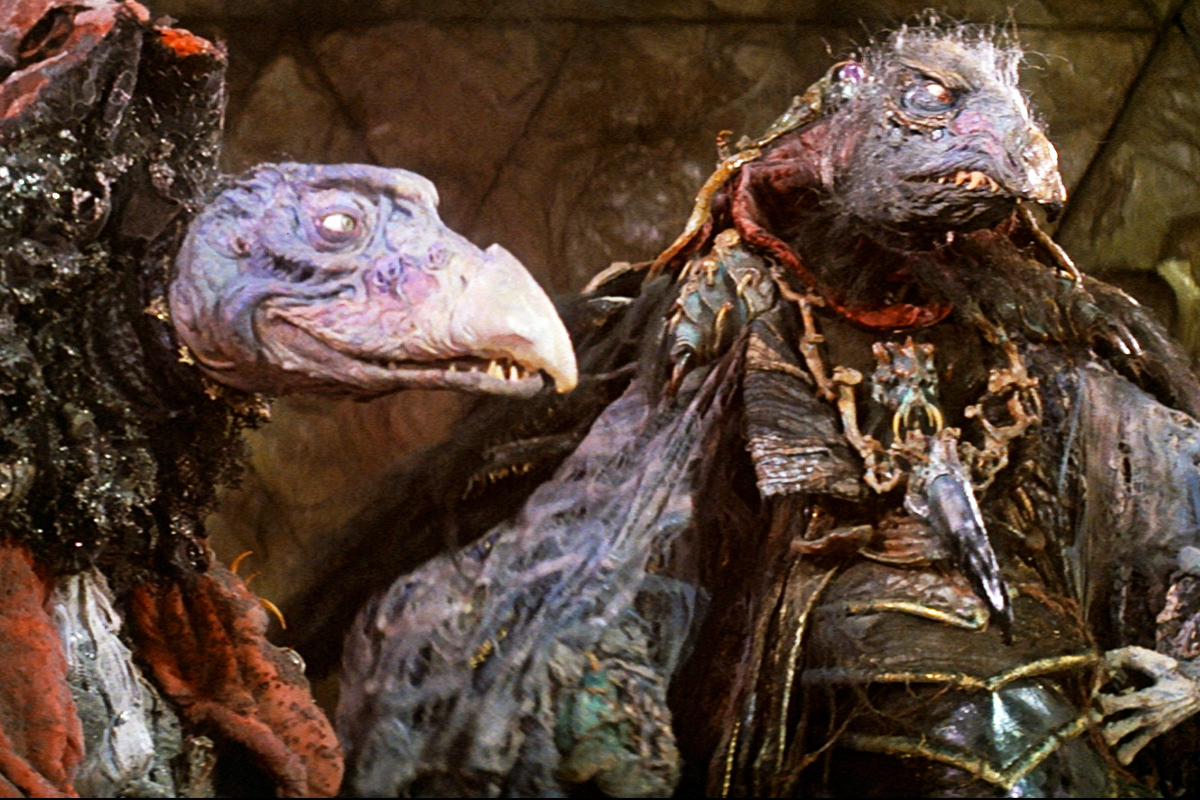 In the original draft, there were 7 of the evil Skeksis, each of which were meant to be based on one of the seven deadly sins.
As the script was revised they became nine, and the theme of the deadly sins was dropped.
[rtk_adunit_top]
10. It was meant to be called 'The Dark Chrysalis'
In the original script, the film was titled "The Dark Chrysalis", and pre-production was based around Brian Froud's designs, but he mis-heard Jim Henson and designed the film around a "Dark Crystal".
Initially Henson was perplexed by the designs as there was no chrysalis, but he was so taken with the designs that the film was changed to go with Froud's designs.
[rtk_adunit_middle]
9. It was the primary inspiration behind the Fraggles
In one scene that was dropped from the movie, the Gelflings were supposed to travel underground and encounter a race of mining creatures.
This sequence was never filmed, but the characters were developed into what would become TV series Fraggle Rock.
[rtk_adunit_bottom]
8. Henson deliberately made the film scary for children
Jim Henson felt that fear was a healthy emotion for children to feel in the right context and so made the film dark and took inspiration from the Brothers Grimm.
That explains why some scenes are so dark and scary for young kids (and some adults alike!)
[rtk_adunit_top]
7. Henson created the film after an unexpected layover
In 1978, Jim Henson was caught out by a snowstorm that struck and saw himself and his daughter stranded as Kennedy airport was closed.
They were stuck at the airport hotel and used the hotel notepaper to thrash out ideas today coming up with the majority of the basic story for The Dark Crystal there and then.
[rtk_adunit_middle]
6. The Garthim actors were hung up every five minutes
The actors who were in the costumes of the Garthim found they had an issue in that the costumes were incredibly heavy and difficult to wear for long periods.
In the end, they had to be hung up on a rack every five minutes to be given a chance to rest as the suits were too heavy to support for long periods themselves.
[rtk_adunit_bottom]
5. Jen was originally inspired by a Hindu god
Henson drew heavily on his interests in religion and spirituality in creating the world of The Dark Crystal. For instance, the character of Jen the Gelfling was originally inspired by the Hindu God, Rama.
Jen was originally even going to be blue in colour as an homage to the god.
[rtk_adunit_top]
4. Billie Whitelaw was not the first choice to play Aughra
Billie Whitelaw did a great job of giving a voice and injecting personality to the character of Aughra. However, the first choice for the part had to pull out, the second was deemed too difficult to understand by test audiences and so Whitelaw was brought in to re-record the lines.
[rtk_adunit_middle]
3. Complaints about its darkness made Henson change the tone of Labyrinth
Obviously The Dark Crystal is quite a dark movie – it's right there in the title, after all – but many critics and viewers were shocked that Jim Henson would make something quite so grim.
For this reason, Henson deliberately took a lighter touch on his follow-up film Labyrinth, which explores similar fantasy themes but has a lot more humour and music.
[rtk_adunit_bottom]
2. It stars famous dwarf actors
In the scenes when we see wide-shots of the Gelflings and they are seen walking around, they are portrayed by some great and well-know dwarf actors.
These include Time Bandits actor Jack Purvis, and Deep Roy of Charlie and the Chocolate Factory.
[rtk_adunit_top]
1. Netflix has produced an acclaimed prequel series
A Dark Crystal sequel was rumoured for many years, but instead we eventually got Netflix prequel series Dark Crystal: Age of Resistance, which premiered on the streaming service in August 2019.
A single ten-episode season was produced, which went down very well with audiences and critics.
[rtk_adunit_end]