Rainbow was a kid's classic and one of our favourite shows from when we were growing up. It was on TV for a long time, so several generations of kids were mesmerised by its wonderful characters and fun items.
Join us as we take a look back at Rainbow by exploring some facts you may well not have known about the show!
1. The show was based on an American Favourite
The show's format may seem familiar to many viewers, with its mix of human presenters, puppet characters, animated sections and musical interludes it was based on the same format that Sesame Street took. Sesame Street is one of the most successful kids' shows of all time, so it's certainly something worth taking inspiration from!
2. It had a link to Dr. Who!
Roy Skelton and Peter Hawkins who provided the voice of everyone's favourite troublesome puppet, Zippy, both played voices for Dr Who villains the Cybermen and the Daleks!
3. It had another link to Dr. Who!
John Leeson, who played the larger than life teddy bear, Bungle, went on to provide the voice of K9 in Dr. Who, the loveable robo-dog companion to the Dr.
4. It had yet another link to Dr. Who!
In one episode in 1990, entitled "Wrong Day", it had a guest star, Sophie Aldred, who had been playing the Dr's companion, Ace, alongside Sylvester McCoy's incarnation of The Doctor during the 1980s!
5. Bobby Davro starred in an episode
Comedian Bobby Davro appeared in one episode in 1987 entitled "Guess Who I Am" and he appeared as himself, doing impersonations of Geoffrey, Zippy, George and Bungle!
6. Rod, Jane and Freddy proved popular
The trio of musicians, who graced many episodes with their charismatic presence, proved so popular that they were given their own show. It must have taken a while to think up the show's name, however, as it was cleverly entitled, "The Rod, Jane and Freddy Show".
7. It's 1000th episode saw a cross-over with another favourite
In it's 1000th episode, Rainbow saw itself cross over with another favourite show from the generation as Matthew Corbett and Sooty from The Sooty Show appeared alongside the normal Rainbow presenters.
8. This wasn't Matthew Corbett's first appearance
Rod, Jane and Freddy were actually the third incarnation of the group. The first was Rod, Matt and Jane, with the Matt being Matthew Corbett who went on to present the Sooty Show for years. The second incarnation was Rod, Jane and Roger, before finally settling on the trio we love, Rod, Jane and Freddy!
9. Geoffrey wasn't the original host
Does anyone remember an episode of Rainbow that wasn't presented by Geoffrey? I certainly don't! But as it is, the original series was actually hosted by David Cook before Geoffrey took over as the permanent replacement host.
(yes that's the original Bungle!)
10. It went on for years!
Rainbow was one of the longest-running British Kids' TV shows, lasting for a massive 20 years between 1972 and 1992!
11. There is a "lost" episode that isn't as innocent as the rest
There is a now infamous and well-known episode of Rainbow that can be found online, it is full of innuendo and includes Zippy peeling a banana, "one skin, two skin, three skin…", and the group talking about getting their twangers out while Jane has had to put up with Rod and Freddy banging with her all night! The episode was made for the ITV staff on a special "Christmas Tape" and was never intended to be broadcast – have you seen it?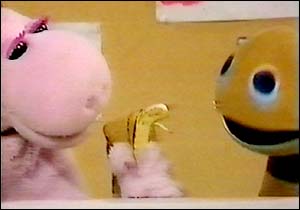 12. Geoffrey was seen more recently alongside Tony Christie!
Remember the hit song for Comic Relief, Road To Amarillo, with Tony Christie and Peter Kay? Do you remember Geoffrey appearing in the video? If not then go back and watch it, you'll be surprised!
Did you know these facts already? Was Rainbow a staple of your afternoons when growing up and did you love it as much as we did? Let us know your thoughts in the comments as always!