Michael J Fox was one of the hottest properties of the 1980s, he could do very little wrong, and anything he starred in became a hit and box office gold. It was very sad when he was diagnosed with Parkinson's Disease, but he has handled himself with real dignity and has continued to act on and off, after disappearing from the spotlight for a time after the diagnosis to regain his composure.



Join us as we look back at some of the roles and movies or franchises that made Michael J Fox a household name – which was your favourite?
1. Teen Wolf – Scott Howard
A true classic of the 80s and a classic film, Michael J Fox played Scott Howard, the high school teen that discover he is a werewolf. He then uses his new found "talent" to get better at basketball and catch the eye of the pretty girls at school! And who can forget the moment his dad "wolfs out" and appears at the bathroom door?!
2. Back to The Future – Marty McFly
The film that introduced us to Marty McFly and Doc Brown, as they skip between the 1980s and 1950s in a life or death quest that ultimately culminates in Marty having to spurn the advances from his own mum then get his future mum and dad to fall for each other.
[rtk_adunit_top]
3. The Secret of My Succe$s – Brantley Foster
The Secret of My Succe$s saw Michael J Fox playing a character trying to make it big and what he has to go through to succeed. He ends up through a series of unfortunate events working for his inept uncle and working his way up the chain of command by posing as an executive!
[rtk_adunit_middle]
4. Back to The Future Part II – Marty McFly
Marty and Doc Brown are back, this time travelling forward in time to the early 21st century, where they have proper 3D, hover boards and self-drying clothes. A classic film again, but is it better than the first? The jury is still out on that one!
[rtk_adunit_bottom]
5. Back to The Future Part III – Marty McFly
The final installment of the Back to The Future franchise, Marty and Doc Brown travel back to the late 19th Century and take part in a Western with Marty posing as Clint Eastwood to the bemusement of those around him! The ending is a little OTT ever for this franchise, but yet another classic film is made!
6. The Hard Way – Nick Lang
Playing a Hollywood action star who is working alongside a New York cop so he can learn more about what it takes to be one of New York's finest for his latest film role, but he can't stop distracting the cop and ultimately gets in the way of the pursuit of a serial killer!
[rtk_adunit_top]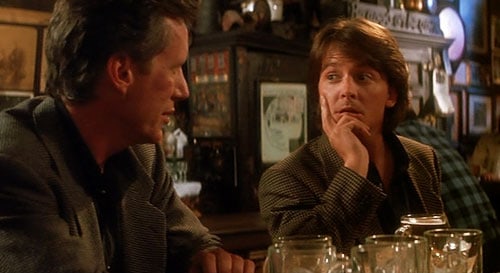 7. Doc Hollywood – Ben Stone
Playing Ben Stone, a cocky plastic surgeon who has a car accident and is forced to do community service with the local aged Dr. Stone is tempted to stay by a pretty ambulance driver and sees there is more to life and caring for others than just being a cocky plastic surgeon.
8. Homeward Bound: The Incredible Journey – Chance (Voice)
The story of cats and dogs being separated from their owners, and their journey to get back to them, this is a real tear-jerker and there won't be a dry eye in the house if you go back and revisit this classic movie.
[rtk_adunit_middle]
9. Life With Mikey – Michael Chapman
Playing a grown up child star who used to be well loved for the show, "Life with Mikey", he meets a young girl who changes his life and his talent agency that he has set up.
10. The Frighteners – Frank Bannister
This is a real classic and if you haven't seen it then you should, it's a funny, yet genuinely creepy film with a very clever story and some clever twists, directed by Peter Jackson of Lord of The Rings fame! One to re-watch if you've not seen it recently!
[rtk_adunit_bottom]
11. Mars Attacks! – Jason Stone
Playing a cocky and very self-obsessed journalist, Mars Attacks! sees Michael J Fox on fine form as an egocentric character who gets increasingly jealous of his untalented girlfriend who is becoming more successful than him without even trying before he meets a sticky end!
[rtk_adunit_top]
12. Stuart Little – Stuart Little (Voice)
Playing the voice of the titular mouse who is adopted by the Little family, this is one of those family films that can be genuinely enjoyed by the whole of the family together. With laughter and tears, this again is Michael J Fox on fine form without ever being seen on screen but carrying all the emotion he needs to in his voice acting.
[rtk_adunit_middle]
Which of these Michael J Fox films were your favourite? Which can you go back and watch over and over again without getting bored? Teen Wolf? Back to The Future, Stuart Little, or something completely different? Let us know in the comments as always!
[rtk_adunit_bottom]