Between September 2010 and July 2015, there was no getting away from Downton Abbey. The series became a worldwide hit after first airing in the UK and US, with millions of viewers hooked thanks to the series' portrayal of the aristocratic Crawley family and the 'upstairs/downstairs' worlds inhabiting Downton Abbey.
Creator Julian Fellowes recently announced that he'll now be heading up a film version of the period drama which is set to begin production in September this year! Excited fans will still have a while to wait until it hits cinemas, so we decided to fill the void by coming up with a list of 11 things you never knew about Downton Abbey.
Scroll down the article below to find out which cast member was working as a receptionist in a GP's office when they got their role, and why the set ended up smelling rather unsavoury during filming…
11. A real family actually lives inside the Downton Abbey castle
Regular Downton viewers were used to seeing the gorgeous surroundings of the titular abbey whenever its fictional inhabitants ventured out into the grounds. However, did you know that the 'Abbey' is actually the real-life home of the Carnarvon family?
[adunit mobile="RTK_dVa8″]

[adunit mobile="RTK_wCZW"]
The Carnarvons have inhabited Highclere Castle in Berkshire since 1679, and it's currently home to George Herbert, the 8th Earl of Carnarvon and his family. They've made the most of their
Downton
connection by offering special guided tours of rooms used in the series, and they'll be opening it up to cast and crew once again in September when the
Downton
movie starts filming.
[adunit mobile="RTK_z9hm"]
Downton
isn't the only programme to be filmed there though – other favourites include
Eyes Wide Shut, King Ralph,
and
Robin Hood: Prince Of Thieves.
10. Gillian Anderson turned down a role on the series
Producers had to look to America to find their perfect Lady Grantham, and it's been reported that X-Files favourite Gillian Anderson was their first choice to play Cora Crawley.
[adinserter block="top"]
[adinserter block="middle"]
However, Anderson turned down the offer and instead it went to Elizabeth McGovern, who quickly became a fan favourite with her portrayal of the kindly matriarch Cora.
[adinserter block="bottom"]
Furthermore, actor Steven Waddington, who appeared in plenty of hit 90s films, including Last of the Mohicans and Sleepy Hollow, auditioned for the part of Bates but was turned down.
9. Laura Carmichael, who plays Edith, was working in a doctor's office when she auditioned
Actress Laura Carmichael got her big break on Downton Abbey when she won the role of Edith, the second daughter of Robert and Cora Crawley. 'Poor Edith' always seemed to be getting her heart broken, before she eventually found love with her husband Bertie, the Marquess of Hexham.
[adinserter block="top"]
[adinserter block="middle"]
However, in reality Laura's life was very far removed from the glitz and glamour of Downton Abbey when she first auditioned – she had been working as a receptionist at a doctor's office when she found out she had won the part. Furthermore, she also thought that the part was going to be a small one-liner and only realised when she turned up that it was for a lead part!
[adinserter block="bottom"]
"I thought it was going to be a 'Yes, milord,' a half-day's filming, one line maybe. But it would be good to have on your CV that you'd done telly. And I thought, 'I'm going to have to turn down this dream Shakespeare for this TV job. What a disaster!' And it was Downton. So I went and read and realized it was for a lead part. And I don't know how it happened," Carmichael said.
8. Elizabeth McGovern and Hugh Bonneville had already been married on-screen before
In Downton Abbey, McGovern and Hugh Bonneville play the part of Earl and Countess of Grantham to perfection, something which might have to do with the fact that the two actors had already played husband and wife on-screen before!
[adinserter block="top"]
[adinserter block="middle"]
They appeared as spouses on the short-lived BBC sitcom Freezing together, which only lasted for three episodes in 2007. It was about a successful artistic couple who suddenly find themselves out of work in London.
[adinserter block="bottom"]
Interestingly, in that programme McGovern was playing an Oscar-nominated actress who moved to London to be with her husband. In real life, McGovern has been nominated for an Academy Award and moved to London to live with her director husband Simon Curtis!
7. There was only one bedroom set
Many scenes from the period drama are set in the bedrooms of various characters, but fans of the show might be surprised to learn that in reality, there's only one single bedroom set.
[adinserter block="top"]
[adinserter block="middle"]
Cora, Mary and Edith all have the same bedroom in reality – the set was simply redecorated depending on which room needed to be used. Unsurprisingly, this process occurred a lot over the years and had an adverse effect on the decoration.
[adinserter block="bottom"]
"By the end of the season it's quite thick with paint and wallpaper," Donal Woods, production designer, told the American network PBS. "If you're very smart, you'll look out the window and it's always the same view."
6. Jessica Brown Findlay almost didn't become an actress at all
Jessica Brown Findlay got her breakthrough role on Downton Abbey – it was only her third acting job but she nailed her performance as Lady Sybil Branson, the third daughter of Lord and Lady Grantham. However, Brown Findlay nearly didn't venture into the world of acting at all!
[adinserter block="top"]
[adinserter block="middle"]
"Until I was 18, ballet was my life, I loved it; I even danced at the Royal Opera House with the Kirov," she explained. "Then I injured my ankle, had three operations on it, and the last one went wrong. I was told I would never dance again."
[adinserter block="bottom"]
It all worked out in the end though – she discovered acting whilst at university in London, and stated: "Acting was the element from ballet that I actually loved and missed the most".
5. The costumes smelled awful!
The cast members on the series have revealed that their dazzling array of costumes are, in most cases, actual articles of clothing dating back from the 1910s and 1920s. Sadly though, this had a very undesirable effect on the aroma wafting out from the set!
[adinserter block="top"]
[adinserter block="middle"]
"We do stink, as they don't wash our costumes," Sophie McShera, who played cook's assistant Daisy, explained to the Daily Mail. "They have these weird patches, which are sewn into the armpits and which they wash separately."
[adinserter block="bottom"]
Many viewers will note that the costumers – particularly jewelled and beaded items – are extremely fragile, meaning that they can't be laundered. As a result, they really don't smell very good at all.
4. Julian Fellowes used to get very annoyed with press reviews
Downton Abbey creator Julian Fellowes was understandably anxious to read what the newspapers had to say when the series was first aired. But he got very angry with what he perceived as nit-picking over historical anachronisms.
[adinserter block="top"]
[adinserter block="middle"]
And very often, the media didn't get their criticisms right! For example, the word "boyfriend" was wrongly thought to be an anachronism even though it first appeared in print in 1889, long before the time when Downton Abbey was set.
[adinserter block="bottom"]
Fellowes publicly stated at the time: "They think to show how smart they are by picking holes in the programme to promote their own poshness and to show that their knowledge is greater than your knowledge". However, he later retracted his comments and apologised for behaving badly and 'getting the hump'.
3. All of the food you see on screen was real
Usually TV prop departments don't have the time or budget to bother serving up real food to their actors and actresses. However, that's not the case for Downton Abbey, which is well-known for its attention to detail.
[adinserter block="top"]
[adinserter block="middle"]
London-based food stylist Lisa Heathcote, who has worked extensively on the programme, stated that "Often the food will be on the table and we're not actually going to eat it. If you have fake food, it's going to look like fake food."
[adinserter block="bottom"]
We're sure it must have been torture for the poor actors to film for hours and not be able to eat the tasty-looking food put before them!
2. Queen Elizabeth is a big fan of the series
That's right – Her Majesty Queen Elizabeth II has previously admitted that she's a huge Downton fan. We can just imagine her tucked up in bed watching TV with a cup of tea, waiting for the opening credits to start…
[adinserter block="top"]
[adinserter block="middle"]
Like several other members of the royal family, she was a regular viewer and liked to watch out for any historical inaccuracies (we hope she didn't tell Julia Fellowes!). The Daily Telegraph has reported that she managed to spot a number of errors, including the fact that a WWI soldier was wearing medals awarded in WWII.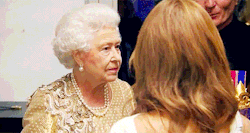 [adinserter block="bottom"]
The Queen has also been a guest at Highclere Castle, where Downton is filmed – the Earl of Carnarvon is her godson and she recently stayed there in 2016. Carnarvon's father was the Queen's racing manager and close personal friend. We wonder if she did the Downton Abbey tour while she was there!
1. Elizabeth McGovern is in a folk-rock band called 'Sadie and the Hot Heads'
As if being an Oscar-nominated actress wasn't enough, McGovern is also a rock and roll star! She attended the prestigious Juilliard School in NYC and as well as acting, she's also a musician too.
[adinserter block="top"]
[adinserter block="middle"]
She currently performs in a folk-rock band called Sadie & The Hotheads. They formed in 2008 and gig regularly on the London music scene. In fact, co-star Michelle Dockery sometimes joins her onstage for performances!
[adinserter block="bottom"]
Dockery is an accomplished jazz singer and once performed at the 50th anniversary of Ronnie Scott's Jazz Club in London. Nice!
Are you a fan of Downton Abbey? Let us know in the comments section below!