Cagney and Lacey was a very popular show in the 80s, it was a bit different in that it was a police detective show about 2 female detectives, which for the time was unusual to have two main female leads.



The show centred around the pair, both at work, and in their very different private lives, and it had a legion of fans. Let's celebrate the show by looking back at some amazing facts…
[rtk_adunit_top]
1. The show was not always popular
In the 1982/83 series of Cagney and Lacey, viewing figures dropped to the point where the show was cancelled, and they even cancelled the contracts of the stars. Due to fan protests, and increasing figures on re-runs, the show was reinstated and ran until 1988!
[rtk_adunit_middle]
2. The show was a success at the awards
From 1982 onwards, the show won the Best Actress in a Drama Series, with Tyne Daly winning four times, and Sharon Gless winning twice! That's a good amount of acting talent in one show!
[rtk_adunit_bottom]
3. Sidney Clute was credited for far more episodes than he appeared in
When Sidney Clute sadly passed away when they were still part way through the production of Cagney and Lacey, the producers included his name of the credits of every episode after that as a mark of respect for the talented actor.
4. Cagney and Lacey appeared in each other's shows
After Cagney and Lacey finished, the two main actresses went on to appear in each other's shows, with Tyne Dale appearing in Burn Notice: A Dark Road, and Sharon Gless appearing in Judging Amy: Maxine Interrupted.
[rtk_adunit_top]
5. One of the creators gave their mum a part in the show
One of the show's creators, Barabara Corday, allowed her mum to appear in the show several times as a bag lady, which is lovely, we love hearing about people doing nice things for their mums!
[rtk_adunit_middle]
6. There was a coincidence with where the show was filmed.
A lot of Cagney and Lacey was filmed in a small warehouse where they set up a studio to film the production. The warehouse was located on Lacy Street, but this was nothing more than a coincidence.
[rtk_adunit_bottom]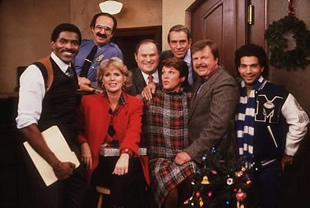 7. We're unsure of their badge numbers
If you watch the credits of Cagney and Lacey, then you'll see that their badge numbers are 730 and 763. Nothing unusual there. However, as the show went on, in several episodes Mary Beth's badge number was 340 and Christine's 790, so which are the correct ones?
[rtk_adunit_top]
8. One recurring character was named after one of the crew
One of the recurring characters on Cagney and Lacey was Inspector Knelman, played by Michael Fairman. It is thought that Inspector Knelman was named after the production assistant, P. K. Knelman.
[rtk_adunit_middle]
9. The show resulted in a big name star being born!
Miguel Ferrer and his cousin, Rafael, were cast in guest roles on the show, and their episodes were filmed close together. Because of this they took a vacation and invited their cousin, who was trying to make it as a professional athlete, but following seeing his cousins doing this was convinced to take up acting. Their cousin? None other than George Clooney!
[rtk_adunit_bottom]
10. An executive producer married two people involved with the show
Executive Producer, Barney Rosenzweig was married to the co-creator of Cagney and Lacey, Barabara Corday when the show started, and they eventually divorced. Following this, Barney went on to marry none other than Sharon Gless!
[rtk_adunit_top]
Has this brought back lots of Cagney and Lacey memories? Are you going to dig out the show and watch it all over again? Who was your favourite, Cagney or Lacey (everyone had a favourite)? Let us know all your memories and thoughts in the comments as always!
[rtk_adunit_middle]