10 Things You Didn't Know About Orange Is The New Black
In 2013, Netflix was relatively still in its infancy. One of its flagship shows was a comedy drama about the inmates in a women's prison, Orange Is The New Black.
It was a hit success, with people all over the world falling in love with these criminal tearaways and the goings on inside Litchfield Penitentiary.
Based on the memoirs of Piper Kerman, we follow her fictional counterpart, Piper Chapman, as she navigates through prison life.
Now in its sixth season, and the inmates all moving to new prisons after the riot, the programme continues to go from strength to strength.
We're celebrating the release of the new season by looking at ten things you didn't know about Orange is the New Black. Enjoy!
21. The title of the episode is spoken by a character in that episode

What came first, the title or the script? Either they get the title from within the script, or they work the title into it, because it is spoken by someone in every episode. Check out the examples!

20. If you thought the faces in the credits looked familiar, think again
Whether it's done deliberately or not, some of the facial features that appear in the opening credits look like those from cast.
They're not. They're the faces of real prisoners. You can even spot the eyes of Piper Kerman, the woman who's memoirs the series is based on (aka Piper Chapman's character.)
19. The ensemble cast means it's impossible to squeeze everyone in all the time
Only one person has appeared in every episode of Orange Is The New Black.
Ten points for guessing who it is…that's right, it's our main protagonist, Piper Chapman with an impressive 78 episodes under her belt. Second to her is Kate Mulgrew as Red, with 77, with Uzo Aduba in third place with 76.
18. One of the show's writers divorced her husband to be with a cast member
Lauren Morelli, one of the main writers on the series, divorced her husband of two years and started a relationship with Samira Wiley.
Samira plays Poussey in the series.
17. Mother and daughter are impossibly close in age
Despite portraying mother and daughter couple, Dayanara Diaz and Aleida Diaz, in real life, there is only a two year age difference between the actresses who portray them.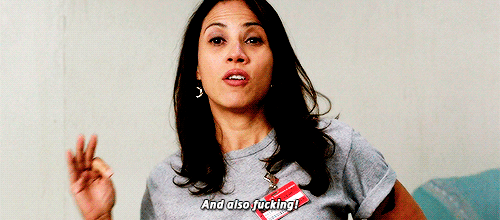 16. Crazy Eyes was only meant to be a small part
Uzo Aduba has won several awards and hearts all over the world with her portrayal of Suzanne 'Crazy Eyes' Warren, but it was nearly not meant to be.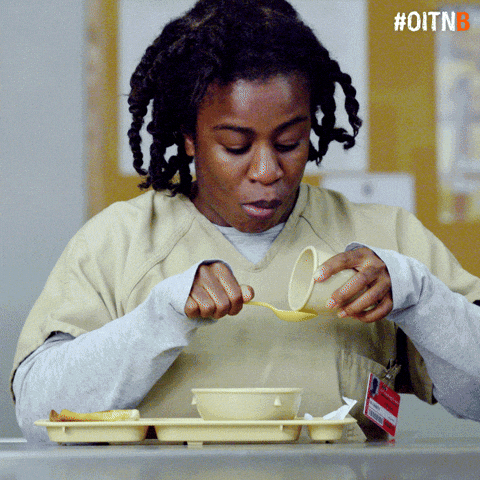 Her character was only supposed to be in a few episodes at the beginning, but producers and writers loved her character that much that they gave her a recurring part.
15. Character names are different in the book
The series is based on the memoirs of Piper Kerman and her time spent in a women's prison. In the book, Red's character is called "Pop" and Taystee is known as "Delicious."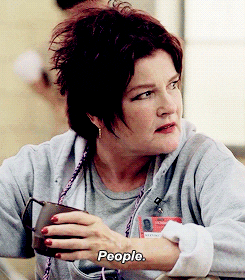 14. Laverne Cox's twin brother played Sophia pre-transition
Transgender actress, Laverne Cox, played Sophie Burset in the series. In her flashback scenes, pre-transition, she is played by her twin brother, M.Lamar. Being twins, the likeness is uncanny.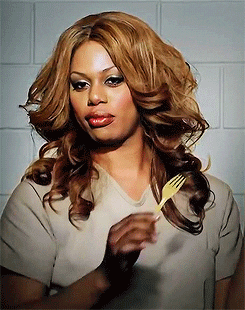 13. Many of the cast have appeared in Law and Order
Not just two or three, we're talking thirty-three. That's nearly the entire cast.
12. The cast and crew like to reference their own work
Kate Mulgrew, who plays Red, also played Kathryn Janeway on Star Trek Voyager. In one episode, Micky says to red "I thought I was like your Spock." Red replies (ironically) that she's never heard of him.
Another example, in Season 1, Episode 10, Larry can be seen watching Weeds. This is also another creation of Jenji Kohan.
Also former Brat Pack star, Andrew McCarthy, directed four episodes of series two, and gave himself a cameo in the form of a cut-out. Very meta.
11. The first scene the actors ever shot was the shower scene from the pilot
Actress Laura Prepon plays Alex on the show, whilst Taylor Schilling portrays the main character Piper Chapman.
One of the first scenes that the pair shot together was the shower scene from the pilot, and despite the fact that both actors were on edge, once the cameras started rolling things fell right into place.
In fact, the two were so relieved about their natural chemistry that after only one take, Schilling turned around to Prepon and said 'Thank God it's you!'
10. Sesame Street made their own version of the show…
In 2017, the popular kid's show Sesame Street decided to make its own child-friendly parody of the hit prison series entitled 'Orange is the New Snack'! The main character was a blonde muppet named 'Piper Snackman' who starts at a new school (not penitentiary) and introduces her friends to a delicious new snack: the orange fruit.
They even composed a variation on the show's theme song, which was renamed 'You've Got Time [for Snacks]', and many spoof versions of the real show's most popular characters were introduced, including 'Googly Eyes', 'Forlorn-a' and 'Mr Mustache'.
There's a very different kind of punishment in store for the muppets who misbehave
The Muppet characters often mention the school's dreaded punishment, being sent to the SHU–which turns out to be an actual shoe.
9. Lorraine Toussaint chose to do her sex scene topless, in spite of her contract
Lorraine Toussaint (Vee) opted to do her sex scene topless, even though she had a no nudity clause in her contract, because she felt it made sense to the character.
8. Taylor Schilling badly injured herself whilst filming a sex scene in season three
Taylor Schilling injured herself while filming a sex scene at the beginning of season three. While taking off her shirt, her prison name-tag caught the side of her mouth, leaving a small gash. Filming had to be halted for an hour to ensure that the injury wasn't too severe. The gash can be seen in the final cut.
7. Red's nickname has three potential sources
Galina 'Red' Reznikov's nickname could refer to her red hair, her Russian background, or the inmate of the same name in The Shawshank Redemption (1994) who smuggles contraband.
6. Alysia Reiner's favourite part of the show is working with the Women's Prison Association
During the course of the series run, actress Alysia Reiner (Natalie) has said that one of the most rewarding aspects of the production experience was the opportunity to work with the actual "Women's Prison Association" in New York. Many of her fellow actors volunteered their time to pack backpacks, meet the children of female inmates and, in conjunction with "Habitat for Humanity," spent a day painting a new building used to house women awaiting discharge from prison
5. Jason Biggs makes a reference to American Pie over the course of the series
In the pilot episode, Jason Biggs mentions two events from his past involving a webcam and a penis shaving incident, both of which happened to his character in the "American Pie" movies.
4. The American flag pin on Boo's suit is always upside down
Throughout Season 5, the flag pin on Boo's suit is consistently upside down. The American flag is only meant to be upside down in times of crisis, like the riot and aftermath afterwards occurring (the violence, kidnappings, etc.)
3. One of the Real Housewives is serving time in the Danbury Federal Correctional Institution
The Real Housewives of New Jersey's Teresa Giudice, who has previously appeared in an episode of Mercy (2009) in which Taylor Schilling was also the lead star is set to serve time in January 2015 at Danbury Federal Correctional Institution. It is the same facility that this show is based on and where Piper Kerman has previously served time.
2. Jason Biggs, Natasha Lyonne and Deborah Rush have already worked together before
Jason Biggs, Natasha Lyonne, and Deborah Rush have worked together before in the "American Pie" series. Lyonne was in American Pie (1999), American Pie 2 (2001), and American Reunion (2012). Rush was in American Wedding (2003) playing a similar role as Biggs' character's future mother-in-law.
1. Nobody knows why 'Crazy Eyes' acts in the way that she does
The reasons behind Suzanne "Crazy Eyes" Warren's crazy antics and wild personality are unknown. Fans have theorized that she has a combination of severe mental illness, autism, an intellectual disability, and a range of social and emotional issues. The writers of the show have not confirmed anything.