23 Things You Didn't Know About Mary Poppins
Mary Poppins is a 1964 American musical fantasy film directed by Robert Stevenson and produced by Walt Disney, with songs written and composed by the Sherman Brothers.
The screenplay is by Bill Walsh and Don DaGradi, based on P. L. Travers's book series Mary Poppins. The film, which combines live-action and animation, stars Julie Andrews in her feature film debut as Mary Poppins, who visits a dysfunctional family in London and employs her unique brand of lifestyle to improve the family's dynamic.
Dick Van Dyke, David Tomlinson, and Glynis Johns are featured in supporting roles. The film was shot entirely at the Walt Disney Studios in Burbank, California using painted London background scenes.
Mary Poppins was released on August 27, 1964, to critical acclaim. It received a total of 13 Academy Awards nominations, including Best Picture – a record for any other film released by Walt Disney Studios – and won five: Best Actress for Andrews, Best Film Editing, Best Original Music Score, Best Visual Effects, and Best Original Song for "Chim Chim Cher-ee". In 2013, the film was selected for preservation in the United States National Film Registry by the Library of Congress as being "culturally, historically, or aesthetically significant".
Mary Poppins is considered Walt Disney's crowning live-action achievement, and is the only one of his films which earned a Best Picture nomination during his lifetime.
23. One iconic prop was nearly thrown away.
The founder and former chief archivist at the Walt Disney Archies, Dave Smith, once went on a hunt for the snow globe from the movie.
It is the one which featured birds flying around Saint Paul's Cathedral.
He eventually found it on a shelf in a janitor's office.
The janitor told him that he saw the snowglobe in a trash can, but found it too pretty to throw away so kept it for himself.
22. There were a lot of drag queens in the film
Well, not exactly drag queens, but there were certainly a fair few men in drag.
There is a scene where we see a large queue of applicants for the position of the Banks' nanny.
You would have thought, being nanny's, that these would all have been women.
You would be wrong, because a large percentage of them were actually men in drag.
21. A scratch on the film caused a massive reshoot
Reshoots are not cheap and easy to do, and require all the hard work that went into shooting the shot in the first place.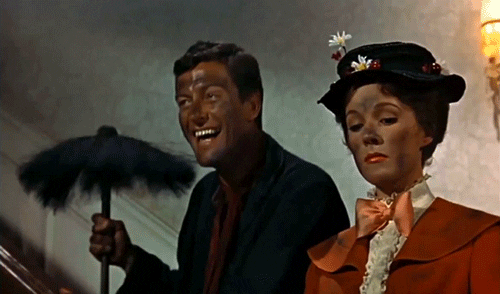 In Mary Poppins, one complicated scene had to be shot twice.
This was the "Step in Time," sequence, which took an entire week to film.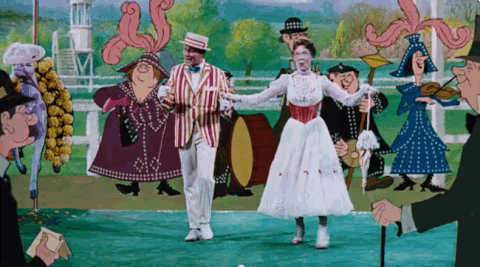 It had to be reshot because of a scratch on the first piece of film used to record it.
20. Walt Disney went to great lengths to secure Julie Andrews for the film
Walk Disney himself cast Julie Andrews in the film after seeing her in "Camelot" on Broadway.
When she mentioned to him that she was pregnant, he offered to put the film on hold until after she had her baby.
He also offered her then-husband, Tony Walton, the job of designing costumes and some of the sets for the film.
Disney also gave them a personally escorted tour of Disneyland and the studio to help them make up their minds.
19. It did well at the Oscars
At the Academy Awards, the film was nominated for 13 categories in total.
Of those 13 nominations, it won five of them.
This marked Walt Disney's single most successful night at the Academy Awards.
Never before, or since, has a single Disney film won as many Oscars in one evening.
18. One scene was not originally in the script
The scene where Mr. Dawes Sr. (Dick Van Dyke) has trouble negotiating the step in the bank's meeting room was not originally in the script.
While viewing a make-up test for Van Dyke in the projection room, Walt Disney saw him entertaining crew members on the test film between takes with some comic routines, among them the "stepping down" routine of an old man trying to step off a curb without hurting himself.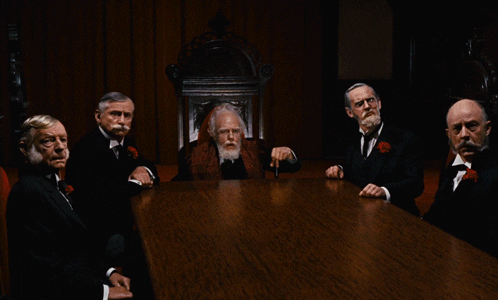 he test film not only convinced Disney to cast Van Dyke as Mr. Dawes Sr. but he specifically requested that crew members "build a six-inch riser on the board room set so Dick can do that stepping-down routine".
17. Actors' voices were used elsewhere in the film
David Tomlinson (Mr. Banks) also voices several of the animated characters that Bert and Mary Poppins encounter in the chalk drawing, including a penguin waiter and the jockey who allows Mary Poppins to pass on her carousel horse.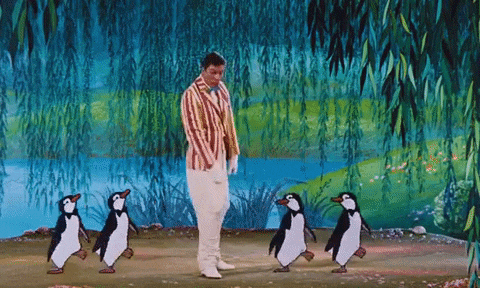 He also voices the Parrot Umbrella Handle at the end of the movie.
Julie Andrews also lends her voice to another character in the film.
She provided the whistling for the animatronic robin during the song "A Spoonful of Sugar."
16. The children were left in the dark
To gain genuine reactions from them, the filmmakers didn't tell Karen Dotrice or Matthew Garber about some "surprises" that were going to be in the film.
For example, Karen's shocked look when Mary Poppins starts taking items from her carpet bag is genuine.
So is the little scream when she gives them medicines of different colour.
The children also weren't told who was acting as Mr. Dawes Sr., and were worried that the horrible old man was going to fall down and die at any moment.
15. It has made hell of a lot of money
At the time it was made, Mary Poppins was the most expensive movie ever made by the Disney Studios.
It had an estimated budget of $4.4 – 6M.
However, the studio can breathe a sigh of relief that they spent all that money.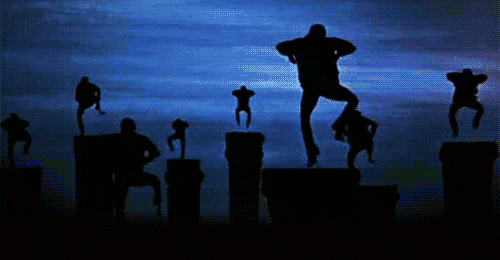 It has since grossed over $102 million and is one of the most profitable films of the 1960s.
14. The word 'supercalifragilisticexpialidocious' pre-dates the movie
The word "supercalifragilisticexpialidocious" seems to pre-date the movie, but language experts have yet to pin down by how much, or what exactly, it originally meant.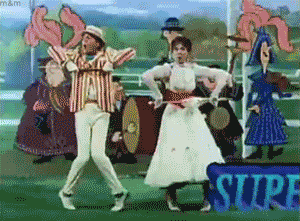 An urban myth is growing that it had something to do with Irish (or Scottish) prostitutes.
Its use in the movie may have been inspired by a nonsense word the Sherman brothers (Robert B. Sherman and Richard M. Sherman) learned at summer camp.
They remembered having a word that the adults didn't know, and thought the Banks children should have one, too.
13. P.L Travers hated all of the song in Mary Poppins
In the film 'Saving Mr. Banks,' a story about the making of Mary Poppins, it depicts author P.L Travers disliking all the songs in the film expect for 'Let's Go Fly A Kite.'
For this song, it apparently inspired her to dance and sing.
This is not accurate to what actually happened. In reality, Travers hated all of the songs. She felt they should be traditional tunes of the time period like "Ta-ra-ra Boom-de-yay."
The only song she quietly sang along to was 'Feed the Birds.'
12. P.L Travers didn't watch the film for 20 years after the premiere
Travers disliked the film and would say so in interviews and private letters, but insisted she not be quoted.
She told her publisher that the film was  'all wrapped around mediocrity of thought, poor glimmerings of understanding.'"
However, in 1987, Travers began writing a sequel to the film. This was the first time she had watched Mary Poppins in 20 years.
She apparently found that she enjoyed much of the film and wanted to use elements in the sequel that had originally been created by the Disney writers.
11. P.L Travers was not invited to the American premiere
Walt Disney did not initially invite the author of the book the the American premiere of the film.
He figured that it would be more convenient for her to just attend the premiere in England.
Both her lawyer and publisher requested that she be invited to the American premiere, but their request was ignored.
Her publisher eventually paid for her flight and the hotel. Travers sent a telegram to Disney that she was coming and a formal invitation was sent almost immediately.
10. The author cried when watching the film because she hated it so much
P.L Travers cried when she first watched the film, not from joy but from horror.
She wrote 'tears ran on my cheeks because it was all so distorted…I was so shocked that I felt I would never write, let alone smile, again!'
When the film finished, she immediately went to Walt to demand the 'Jolly Holiday' animation be cut out completely.
Walt responded, 'Pamela, that ship has sailed.'
9. Other actresses were originally considered for the part
Julie Andrews made the role of Mary Poppins iconic.
However, other actresses were first considered for the part.
They include Angela Lansbury, Mary Martin and Bette Davis.
Angela Lansbury would eventually appear in the sequel, Mary Poppins Returns, playing the Balloon lady.
8. Step in Time was problematic for Walt Disney
The "Step in Time" dance sequence was originally meant to be nine minutes long.
The director eventually tried to cut it down to two after fearing it was far too long.
When Walt found out, he actually decided to add more elements to it.
Rather than cutting it down, he actually extended it to 14 minutes.
7. Dick Van Dyke had to pay Walt Disney to let him play Mr. Dawes
Dick Van Dyke had already been cast as Bert in the film.
However, feeling a little greedy, he also wanted to play the role of the villainous old bank president, Mr. Dawes.
He persuaded Walt Disney by screen-testing for the role and agreeing to make a donation to Cal Arts.
At the end of the film, he is credited as 'Navckid Keyd' which is an anagram for Dick Van Dyke.
6. Julie Andrews originally wanted to do 'My Fair Lady'
Julie Andrews originally wanted to be cast in My Fair Lady, but was beat out by Audrey Hepburn.
At the 22nd Golden Globe Awards, Julie Andrews got her revenge on Jack Warner for not casting her.
She was nominated alongside Warner's choice, Audrey Hepburn, in the same category for My Fair Lady.
Julie Andrews won the award, giving Warner and Hepburn the big old middle finger.
5. Julie Andrews almost died on the set of Mary Poppins
Speaking on Stephen Colbert's 'Late Show,' Julie Andrews was talking about stunts she was doing.
She said there was one very dangerous day when she was in an 'excruciatingly painful harness.'
She said she felt the wires slipping when she was suspended above a stage, and asked to be lowered gently because she didn't feel too safe.
She said when she was eventually let down, she plummeted onto the stage and let rip with a few choice curse words.
4. The song 'A Spoonful of Sugar' was inspired by a polio vaccine
To woo her over, Walt Disney asked his people to create a song to help Julie Andrews accept the part.
Of the the songwriter's children came home one day to tell him about the polio shot they had just received.
They said it was easy to take because the doctor put the medicine on a spoon with a sugar cube.
This is where the song 'A Spoonful of Sugar,' came from.
3. One actor had to be paid extra for this scene
One actor was so scared of heights that he had to be paid extra to do it.
The actor in question was Matthew Garber, who played Michael Banks.
The scene in question was the rooftop scenes.
The producers offered him an extra ten cents for every take they did.
2. One actor died when he was very young
Matthew Garber, the child actor who played Michael Banks, stopped acting when he got into his teens.
He then vanished from the main stream and out of the public eye.
Tragically he died when he was only 21 years old.
He had a bad case of hepatitis that spread through his body without him knowing.
1. It took over two years to plan and compose all of the songs
The music in Mary Poppins was written by songwriting brothers Richard M. Sherman and Robert B. Sherman.
They began writing the score for the film even before the rights were secured.
It took an awful long time to compose all of the songs.
Two years to be precise, with some rumours insisting that it took closer to three!