When he's not getting stroppy on Twitter, controversially endorsing Donald Trump or thinking up new and wonderful monikers for himself, then Kanye West can usually be found in the studio making epic music and breaking down genre barriers. It's just what he does.
Universally acknowledged as a rap pioneer, Kanye is never far from the headlines – not least because he's married to social media star Kim Kardashian. Plus he does like to jump on stage from time to time and interrupt various celebrities accepting awards.
[adunit mobile="RTK_dVa8″]
In fact, keep your eye out for the rapper in 2020 – he's said in the past that he's going to run for President, so that might well be his year!
With all that in mind, we've brought you a list of 25 things you probably didn't know about the iconic rapper.
25. He once tried to become a travel agent
Kanye has a lot of strings to his bow. But did you know he once tried to become a travel agent?
Back in 2008, the rapper/producer/entrepreneur decided to set up a travel website called Kanye West Ventures (or KWV). He wanted to make it into an Expedia-type site full of hotel and flight comparisons, but with a 'hip-hop feel' (whatever that means!).
Ye had just started earning some serious cash in the music industry and was clearly eager to try out new things, but in this case the business simply failed.
[adunit mobile="RTK_wCZW"]
You can still try accessing www.kanyetravel.com today but now it comes up with an access error.
Still, it goes to show he was trying to 'Touch The Sky' from early on in his career…
24. He was nearly killed in a car crash in 2002
We can't believe we never knew this before…
[adunit mobile="RTK_z9hm"]
Kanye had a near-death experience back in 2002 when he was involved in a serious car crash. He had been heading home after a long day at the studio when his vehicle collided with another motorist on the freeway. The singer was left with horrific injuries.
His jaw was smashed up after the accident and required reconstructive surgery which involved inserting a metal plate into his chin and wiring his jaw together so it could heal. Imagine being a budding rapper and realising that you can't move your mouth properly? As it turns out, Kanye put the experience to amazing use…
He asked for a drum machine to use in his hospital bed during the healing process, and subsequently wrote the iconic song 'Through The Wire' in tribute to his injury.
23. He recorded his first ever beat for an X-rated Mario-style video game
Kanye recorded his first ever beat when he was in the seventh grade!
[adunit mobile="RTK_dVa8″]
But it wasn't exactly family friendly, even back then. The rapper was only 12 years old when he decided to programme an erotic Mario-style video game involving a giant penis as the main character and some on-screen vaginas as well.
He explained the video game with a classic Kanye brag at the end: "My game was very sexual. The main character was, like, a giant penis. It was like Mario Brothers, but the ghosts were, like, vaginas. Mind you, I'm 12 years old, and this is stuff 30-year-olds are programming." But what about the music?
He needed a soundtrack to his epic penis game and started laying down beats as a result.
[adunit mobile="RTK_wCZW"]
What an interesting start to his musical career!
22. Kanye is Swahili for 'the only one'
Kanye has gone through a lot of name changes over the years.
In the past we've been told to call him 'Yeezy', 'Konman' and even 'The Louis Vuitton Don'. But on the day he was born in 1977, his parents actually christened him Kanye Omari West.
[adunit mobile="RTK_z9hm"]
And there's a fascinating story behind his distinctive first name…
'Kanye' is actually Swahili for 'the only one' and the rapper ended up being true to his name after growing up as the only child of Ray and Donda West. Ray was a Black Panther who also worked as a photojournalist, whilst Donda was an English Professor who eventually moved to Chicago State University.
Just for the record, he recently confirmed that his nickname has now changed to 'Ye'.
[adunit mobile="RTK_dVa8″]
Ye ok Kanye!
21. He was once sued by Evel Knievel
Remember Evel Knievel?
He was an American stunt performer who was known for his elaborate performances and eye-catching outfits (it was the 70s after all). And it seems that Knievel was none-too-pleased about Kanye's 2006 music video for 'Touch The Sky'.
To be fair, the rapper had christened himself 'Evel Kanyevel' during filming and had added an overtly sexual element to the story with the inclusion of Pamela Anderson as a guest in the video.
[adunit mobile="RTK_wCZW"]
West was prepared to argue that the video was satire and protected under the First Amendment, but in the end it didn't go to court.
Kanye and Knievel managed to talk things out and resolved the matter without the need for a judge. Sadly, Knievel passed away only a few days after speaking with the rapper.
20. He worked as a telemarketer after dropping out of school
Kanye is probably one of the most famous 'college dropouts' in the world.
[adunit mobile="RTK_z9hm"]
But despite naming a hit album after the experience, it wasn't all fun and games after the rapper made his decision. In fact, Kanye once had to get a job as a telemarketer to pay the $200 in rent that his mother Donda demanded from him.
We all know Kanye isn't the most modest guy in the world but he once told an interviewer that he was 'way better than most of the people there". He then added "I could sit around and draw pictures, basically do other things while I was reading the teleprompter."
It's nice to know he's always been a confident young man, to say the least.
19. He fell out with a fellow producers after repeatedly jumping on tables during business meetings
Kanye has gotten into all kinds of arguments with his fellow artists over the years.
[adunit mobile="RTK_dVa8″]
But Yeezy really ended up annoying No I.D. after taking him to a series of business meetings, only to jump on the tables and act, well, like classic Kanye. Things got so bad that the rapper temporarily refused to work with him because of his bizarre behaviour.
In the end things worked out for the pair because No I.D. is now one of Kanye's biggest mentors, working with him on a whole host of successful albums. But how did they even meet? Kanye has his mother Donda to thank for that one…
Back in the 2000s when No I.D. was producing Common's first three albums, Ye's mother got a hold of his phone number and promptly sent a young Kanye West (who was wearing hammer pants) to the studio.
[adunit mobile="RTK_wCZW"]
The rest is history.
18. He had to apologise to Common after one of his Grammy acceptance speeches
Speaking of Common, West also managed to get on the wrong side of him during yep, you guessed it, an awards ceremony.
Kanye had a classic case of acceptance speech brain fog when he got in a huff about Common's single "They Say" being nominated for Best Rap/Sung Collab over "Heard 'Em Say" and "Gold Digger".
[adunit mobile="RTK_z9hm"]
West decided to tackle the issue in a mature way…
…By taking a swipe at Common during his Grammy acceptance speech after Late Registration beat Be. As with every other singer or musical artist he's ever insulted during an awards speech, Kanye later regretted the action and apologised to Common.
The two have since maintained a professional relationship, working together on charity projects and other ventures.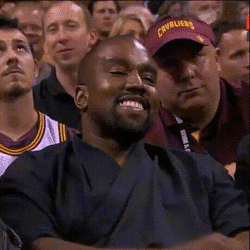 Phew!
17. He wrote a personal letter to Donald Fagen of Steely Dan in order to legally acquire the 'Kid Charlemagne' sample
What do you do when you're desperate to acquire the rights to somebody else's music?
[adunit mobile="RTK_dVa8″]
Right them a heartfelt letter, of course. And that's just what Kanye did when he needed to obtain permission from Donald Fagen (of Steely Dan fame) to use their track 'Kid Charlemagne' in one of his songs. Fagen revealed that he had initially refused the rapper's request.
Fagen spoke to Complex magazine, revealing that "Kanye actually sent us a sample of his tunes, and frankly, Walter and I listened to it, and although we'd love some of the income, neither of us particularly liked what he had done with it."
"We said 'No,' at first, and then he wrote us a handwritten letter that was kind of touching, about how the song was about his father, and he said, 'I love your stuff, and I really want to use it because it's a very personal thing for me.'"
16. His early Tweets spawned a new feature on Jimmy Kimmel Live!
Kanye West and Twitter is not the greatest pairing in the world.
[adunit mobile="RTK_wCZW"]
But back when he first joined the social media network, his earliest Tweets were straight up random. Despite now having a whopping 24 million followers, back in the day it seemed as though West was accidentally typing stuff on his computer and tweeting it.
Some of the funniest Kanye West tweets include "Do you know where to find marble conference tables? I'm looking to have a conference… not until I get the table though" and "I hate when I'm on a flight and I wake up with a water bottle next to me like oh great now I gotta be responsible for this water bottle." We feel you, Ye.
The tweets soon spawned some hilarious skits on a number of late night shows, with the best coming from Jimmy Kimmel in 2011.
[adunit mobile="RTK_z9hm"]
He got singer Josh Groban to put some of Kanye's funniest tweets to music and perform the song on his show. Kanye's Twitter feed was soon filled with expletive-laden Tweets directed at Kimmel. Nice!
15. Kanye actually thought about becoming a porn star
Kanye West didn't always have as much money as he does now (although recently he'd have us believe that he's bankrupt).
[adunit mobile="RTK_dVa8″]
In a very frank interview a reporter, the rapper and entrepreneur once claimed that he had seriously thought about becoming a male porn star when he didn't have a lot of money. Which is interesting since he's now married to Kim Kardashian, who became famous thanks to her X-rated video tape.
Thankfully West's ex-fiancée, Alexis Phifer, persuaded him that it wasn't the best idea. His blushes were spared when his debut LP, 'The College Dropout' was voted 'Album of the Year' by virtually every respected music publication, including the New York Times, GQ, Spin, XXL, Time Magazine and Rolling Stone).
He still appears to be fascinated by porn though and often references adult films in his work – check out 'Hell of a Life' in which he raps about marrying Kim, the 'adult star'.
[adunit mobile="RTK_wCZW"]
He also once dated ex-stripper Amber Rose. There's a running theme here!
14. He once said that Drake was the only rapper who 'scared' him
Kanye likes to put on a very confident front.
But he once admitted that the only rapper who has ever really 'scared' him was Drake. Hearing Drake's music pressured him into becoming a better artist and not taking his success for granted. Which, when you think about it, is really a great compliment to the Canadian rapper.
Sadly in recent years the pair have become embroiled in a massive feud after Kanye supposedly dropped his album Ye a couple of weeks before Drake's Scorpion.
[adunit mobile="RTK_z9hm"]
Drake has also hinted that the rapper was 'trolling' him and may have leaked news about the Canadian star's then-secret love child.
Who knows if they'll ever work things out? Maybe Kanye was feeling just a little bit too threatened by the young up-and-comer?
13. Kanye nearly left America after the Taylor Swift incident
Who can forget Kanye's 'Imma let you finish' moment?
[adunit mobile="RTK_dVa8″]
After all, it was one of the cringiest moments in awards ceremony history. In 2009, Kanye burst onto the stage after Taylor received her VMA award for Best Female Video and the rapper decided to do what he does best and completely hijack the moment.
The scene created uproar and Beyonce, who apparently had 'the best album of all time' (according to West) looked distinctly uncomfortable at the unwanted shout-out from Kanye. Apparently things got so bad that one former member of The Fugees went to visit Ye…
Mos Def went round to Kanye's house and encouraged him to move out of America. Yikes!
[adunit mobile="RTK_wCZW"]
The incident did spawn some hilarious memes though:
12. Kanye Mixed 'Stronger' 50 Times Before He Was Happy With The Final Edit
Kanye is well-known for his perfectionist tendencies.
But did you know the rapper mixed 'Stronger' over 50 times before he landed on a final edit that he was actually happy with? That's a hell of a lot of studio time to deal with. Apparently he also worked with over eight different engineers on the track.
The single featured on his hit album 'Graduation' and sold millions of copies thanks to its distinctive Daft Punk feel.
[adunit mobile="RTK_z9hm"]
In fact, the original artists were so pleased with the remix that they famously featured in the video for the song.
Nice one Kanye! Just goes to show that a little perfectionism never hurt anyone from time to time.
11. He really doesn't get along with the paparazzi
Kanye has an extremely bad track record when it comes to photographers.
[adunit mobile="RTK_dVa8″]
He's been rapped a number of times for assaulting paparazzi who he feels have gotten too close to him or become too invasive. In fact, his criminal record is solely made up of offences made against photographers (either ruining their cameras or physically assaulting them).
In 2014 the artist submitted a no contest plea to misdemeanour battery after a dramatic incident at LAX airport in which he attacked a photographer. He was placed on 24 months probation and had to undertake 250 hours of community service.
West is now eligible to have this incident expunged from his record and has recently filed to do just that.
10. He's interested in the opinions of food delivery guys
West might be a perfectionist, but he's also very open-minded.
[adunit mobile="RTK_wCZW"]
While beavering away on his 5th studio album – entitled 'My Beautiful Dark Twisted Fantasy' – it's since emerged that Kanye enlisted fast food delivery guys as critics of the LP, albeit somewhat impromptu. This, says fellow record producer, Q-Tip, was the way West preferred to work on the release.
In the aftermath of the album being finished, Q-Tip described how Kanye employed what he referred to as an 'open recording process'; whereby even pizza delivery staff were asked to give their opinion on the music which was being made there and then at Kanye's Hawaii studio.
Fair enough! Sometimes you need to think outside the (pizza) box to make a really good track.
9. Collaborate and Listen
Nobody enjoys mixing his tracks up more with largely unexpected 'friends of Kanye' than, er, Kanye himself.
[adunit mobile="RTK_z9hm"]
He has a long history of collaborations, with some particular eyebrow-raisers including the likes of Coldplay's Chris Martin, Bon Iver, Daft Punk and even, undisputed pop princess, Katy Perry. However, one particular collaboration really shocked his fans.
Kanye's followers were extremely surprised when he sought the services of Jared Leto and co of Thirty Seconds to Mars fame. Despite his recognised penchant for the more left field collaborations, it has to be said that very few saw Kanye's dueting with Leto's angsty rock outfit on the horizon.
Having said that, we're big fans of when artists decide to think outside of the recording box and mix it up a little.
8. He's been engaged before
Did you know that Kanye had actually been engaged before his marriage to a Kardashian?
[adunit mobile="RTK_dVa8″]
Don't fret, there's nothing for Kim to worry about now as we're talking about a time before the Kardashian invasion (a great period of time to go back to, surely?). In fact, Kanye got engaged to his long-term girlfriend, fashion designer Alexis Phifer, in 2006.
As a self-confessed ladies' man, West also dated model Amber Rose before eventually hooking up with Kim back in 2012. The Kardashian was still reeling from the breakdown of her 72-day marriage to Kris Humphries at the time she started getting it on with Kanye.
Although they'd both been friends for a number of years they decided to take things further and became a couple.
7. The Kanye West Bear has an actual name
True fans of Kanye will know that a specific character often appears on his album artwork.
[adunit mobile="RTK_wCZW"]
In the early years there was always one graphical thread which connected the covers of Kanye's first three albums, and only a true fanboy or girl would be able to recognise it. For those not in the loop, we're referring to the presence of a distinctive 'Kanye bear'.
And that bear, lo and behold, had an actual name. Yes folks, if you hadn't previously received the memo, said bear's name was 'Dropout'. Which, we assume was a reference to the title of Kanye's first studio LP, namely 'The College Dropout'.
See, whoever said learning isn't fun?!
6. He once spent a year living in China
Here's yet another little known fact surrounding the life and times of Kanye West…
[adunit mobile="RTK_z9hm"]
Believe it or not (but trust us, we've Googled it!) Kanye lived in China for 12 months when he was 10-years old. He even managed to pick up some Mandarin but sadly has forgotten most of the language now. But what was he doing in China?
Well, it was all to do with his mum's work, as she was invited to teach at Nanjing University for a year as part of an exchange program. So yeah, Kanye ended up spending his 5th grade studying in China. You might have noticed that Kanye has some distinctive Asian influences in his music videos.
No doubt he was probably inspired by his time in the Far East!
5. He dominated the Grammy Awards for a long time
There aren't many people who can claim to be the 8th most successful artist in Grammy Awards history.
[adunit mobile="RTK_dVa8″]
Despite award ceremonies not exactly being right up there with Kanye's best moments over the years (for various awkward reasons), there's no arguing that when it's all about bagging industry gongs, then West is in a league of his own.
Think 2005 for a quiet start, and Kanye's glut of nominations at the 47th Annual Grammy Awards (10 nods); and where he walked away with 3 trophies for his efforts that evening. In total he's won 21 of the coveted music awards, making him the most Grammy-awarded artist of his generation!
Where does he find the closet space for all of his awards?
[adunit mobile="RTK_wCZW"]
Maybe he could flog some on Ebay if he's that hard up for cash?
4. He's earned an absolute fortune
Kanye would have us believe that he's got his own money problems at the moment.
But over the years he's earned himself an absolute fortune in record sales and other ventures. Earlier this year it was reported that he had banked $160 million. So what was he spending all of his pocket money on to lose so much cash?
Irrespective of his music career, Kanye's numerous business sidelines include fashion, architecture, technology and film.
[adunit mobile="RTK_z9hm"]
And you can also add philanthropist to that burgeoning list, given the profits he made from his 'Diamonds from Sierra Leone" music video he ploughed back into raising awareness about human rights abuse centering on the so-called 'blood diamonds' mining process.
He and his wife Kim have been spending a lot of money on buying properties and renovating them for years at a time, so that might be why he's hit a cash flow problem.
3. From College Drop-out to Millionaire Record Producer
West is now an established music producer.
[adunit mobile="RTK_dVa8″]
He's written countless songs for other people and is a machine in the studio. And that's on top of his rapping talents. But it nearly didn't happen for him at all after Roc-a-Fella records had doubts about the quality of his rapping.
Yep, the music label was concerned that West wouldn't be a success as a rapper. How wrong they were! West had been working for Roc-a-Fella for a while and has widely been credited with restarting Jay-Z's career. The producer created ten hits for the rap mogul's influential 2001 album The Blueprint.
He quickly proved the doubters wrong with his own rapping on The College Dropout.
2. He's had liposuction before
Kanye's mother Donda died in 2007 after receiving some botched plastic surgery procedures.
[adunit mobile="RTK_wCZW"]
Kanye was heavily affected by the loss and even managed to get a Californian law created which requires patients to have their medical records checked before undergoing plastic surgery. So you'd think he wouldn't be too keen on any cosmetic procedures himself.
However, the rapper admitted in 2016 that he had had some liposuction after gaining weight. "I had plastic surgery because I was trying to look good for y'all. I got liposuction because I didn't want y'all to call me fat like y'all called Rob [Kardashian] at the wedding [which] made him fly home before me and Kim got married."
Rob Kardashian was hounded in the press due to his weight gain, so Kanye's point was fair enough.
1. He once ran a restaurant company
Kanye has had his fingers in a lot of pies over the years.
[adunit mobile="RTK_z9hm"]
So it's probably no surprise to learn that he once set up a restaurant company under the name KW Foods LLC, which actually established a chain of fast food burger joints called 'Fatburger'. He opened a couple of the stores up back in 2008.
However, the business eventually went south and the rapper was forced to shut up shop. Since then he's gone back to focusing on his key interest in music, art and fashion and has worked with a number of brands including Nike and Louis Vuitton.
Did you know all of these facts about Kanye?
Let us know in the comments section below!