You are about to enter the courtroom of Judge Judith Sheindlin. The people are real, the cases are real, the rulings are final. This is Judge Judy.
These are the words that ring out at the beginning of each episode of Judge Judy.



It is an American arbitration-based reality course show, presided over by Judith Sheindlin, a retired Manhattan family court judge.
It features Judith adjudicating real-life small claims disputes within a simulated courtroom setting, filmed in California.
[rtk_adunit_top]
Before all of the proceedings, all parties involve must sign contracts which agree to Sheindlin's ruling, handling and production staff management.
It has won three Emmy awards since it began in 1996, and has the highest ratings in courtroom styled programmes in the United States.
The show's 23rd season began in September of 2018.
Despite it being one of the most popular shows of its kind, with Judith being one of the highest paid stars on TV, there is still a lot people don't know about this show.
[rtk_adunit_middle]
Please would you all rise as we count down 24 things you didn't know about Judge Judy, including a rivalry with her husband and a few celebrity guests in her now very famous courtroom.
24. She is a real judge
The formidable Judith Sheindlin has to sit through some pretty crazy and petty cases on her show. You might think that she is not a real judge, but just dolls out punishments for the sake of entertainment.
[rtk_adunit_bottom]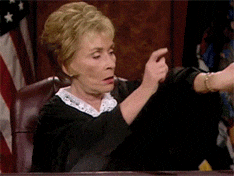 Judy is in fact a retired 'real' judge, and formerly worked in the Manhattan family court after having passed the New York bar exam in 1965.
She at first worked as a prosecutor and then was appointed as a judge in 1982 by the mayor, Ed Koch.
[rtk_adunit_top]
So even though it's only a TV show made for our entertainment, Judy definitely has the credentials to be sorting out all these small lawsuits.
[rtk_adunit_middle]
23. She is one of the highest paid stars on TV
Despite it not being a major talk show, a massive sporting show or another show you'd expect to draw in big bucks, Judith is actually one of the highest paid TV stars in America.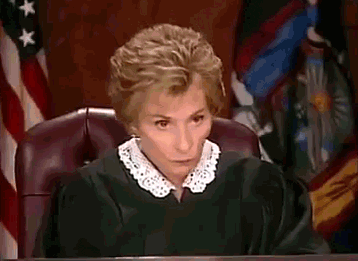 In 2012, she received a massive $45 million yearly contract with CBS Television.
It was then reported in 2013 that she was the highest paid star on TV, earning a staggering $47 million a year.
[rtk_adunit_bottom]
This equates to just over £900,000 per workday, working 52 days of the year.
22. The show could have been called something totally different
[adunit mobile="RTK_dVa8″]
Judge Judy premiered back in 1996 and revitalised the court show genre of television.
It came after the cancellation of The People's Court and Jone and Jury.
[adunit mobile="RTK_wCZW"]
However, the show could have been called something entirely different had Judith had her way.
She wanted to call it either "Hot Bench" or "Judy Justice," but producers finally settled on "Judge Judy," to which she approved.
[adunit mobile="RTK_z9hm"]
21. The show has a place in the Guinness World Records
[adunit mobile="RTK_dVa8″]
Sheindlin's show has outlived many of its imitation programmes.
These include "The People's Court" and "Divorce Court.
[adunit mobile="RTK_wCZW"]
Judge Judy has a place in the Guinness World Records as the longest-running show in the court genre ever.
It's longevity has paid off, after having won an Emmy in 2011 and it has been nominated for a record 14 consecutive years.
[adunit mobile="RTK_z9hm"]
20. The courtroom audience are mostly hired extras
[adunit mobile="RTK_dVa8″]
All those people you see in the courtroom, family, friends, general public?
Nope, they're actually mostly hired extras from an audience service company.
[adunit mobile="RTK_wCZW"]
Many of them are aspiring actors, although we're not sure this counts as acting.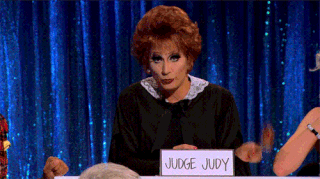 Fans are able to attend taping if they get in touch with Sheindlin's production staff.
[adunit mobile="RTK_z9hm"]
19. The show is recorded over two weeks a month
[adunit mobile="RTK_dVa8″]
To fit all the filming in, the show is recorded over two weeks a month.
Sheindlin tapes the show at the Bronson Studios, Sunset Boulevard, Lost Angeles.
[adunit mobile="RTK_wCZW"]
Filming usually takes place on Tuesday, Wednesday and Thursday.
Ten to twelve cases are usually filmed each day, meaning about a week's worth of episodes is shot over one day.
[adunit mobile="RTK_z9hm"]
18. This is how the get people to appear
One question you might have is how do they get people from all across the country to appear on the show?
[adunit mobile="RTK_dVa8″]
The show has up to 65 researchers across the country, researching different cases.
[adunit mobile="RTK_wCZW"]
They then photocopy certain cases to the production team. They also receive suggested cases over the phone and through its website.
[adunit mobile="RTK_z9hm"]
Only about three percent of suggested cases make it to the final selection, and any case that makes it onto the next stage involves contacting all parties involved asking if they would like to forego the civil court hearing in exchange for appearing on Judge Judy.
17. The awards and appearance fees
[adunit mobile="RTK_dVa8″]
Once a case makes it to Judge Judy, those appearing on the show must sign a waiver fee and agree that Judith's decision is final and that the case cannot be pursued elsewhere unless it is dismissed without prejudice.
The award limit on the show is only $5000, paid from a special fund.
[adunit mobile="RTK_wCZW"]
One of the incentives for appearing on the show is that the amounts awarded are paid by the show's production company rather than the parties appearing before the judge.
This means that they don't have to fork out of their own pockets to pay whatever damages etc.
[adunit mobile="RTK_z9hm"]
16. There are a few other incentives to appear on the show
Other than not having to pay out if you loose, there are also other incentives for appearing on the show.
[adunit mobile="RTK_dVa8″]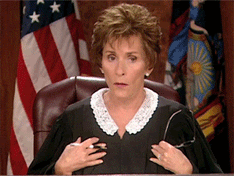 All those involved in the show are paid a fee of up to $500.
[adunit mobile="RTK_wCZW"]
They also get a daily rate of $35.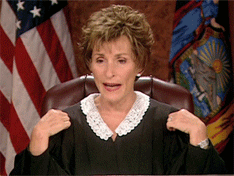 All airfares and other expenses are paid for, so if you believe you're going to loose a case, it's a damn well good offer as you might very well come out better than if you went to civil court.
[adunit mobile="RTK_z9hm"]
15. She was pitted against her husband in the ratings
[adunit mobile="RTK_dVa8″]
Because Judge Judy was so popular, the producers of "The People's Court," tried to take a bite out of its ratings.
They did this by hiring Judith's husband, Jerry Sheindlin, as their presiding judge during the 1999-2000 season.
[adunit mobile="RTK_wCZW"]
This placed husband and wife against each other in the same afternoon lineup, competing for ratings.
[adunit mobile="RTK_z9hm"]
Jerry was dropped in the fourth season of the programme.
14. She has a sharp tongue to match her wit
Judge Judy is known for her spectacular putdowns.
Some of her best ones include – "Beauty fades, dumb is forever."
Another favourite of ours is – ""first-time offenders to think of their appearance in my courtroom as the second-worst experience of their lives … circumcision being the first."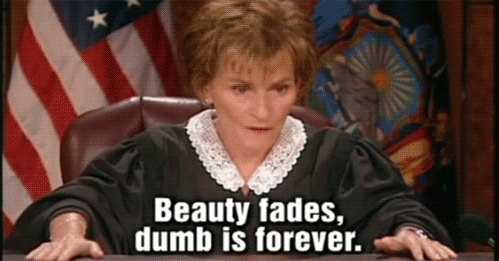 Lets just hope you don't find yourself in her courtroom, else you may get a taste of this sass.
13. An Earthquake once interrupted filming
The law is not immune to the power of nature, and neither is Judy.
An earthquake once hit the studio whilst filming was underway.
Apparently Judy was quick to take shelter behind her bench.
Terrified audience members fled the courtroom altogether.
12. There's a reason she wears a lace collar
Judy began wearing her trademark lace collar not long after she was appointed as a judge.
She and her husband celebrated the occasion by flying to Greece.
Whilst there, she bought a white lace collar from a street vendor.
She explained to her husband that male judged wore stiff collars and colourful ties as a buffer between their gowns and faces. Women didn't have such a thing, so she decided that the lace would be a good buffer between the robes and her face.
11. Judith never arrives unprepared
Judith is briefed on every case before the show!
This is how she sorts through the mountain of lies and 'balony' (in her own words,) so quickly.
She will familiarise herself with a case prior to filming.
However, she does not prepare herself as much as she would do in a normal courtroom. She still wants cases to appear fresh onscreen.
10. Relationships make the best cases
When it comes to knowing what the audience wants, producers know what is best.
Cases that engage the audience the most are those that tug at the heartstrings.
As such, producers like cases that involve litigants with a prior relationship.
This could either be a family relationship or an emotional relationship.
9. The extras must follow strict rules
If you are chosen to be an extra in the show and are part of the audience, there are a few rules you must follow.
You must dress appropriately (business casual or better.)
You must arrive before the 8.30 AM call time.
You also need to pass through a metal detector because you are not allowed cell phones or any other electronic device.
8. The audience are switched around after cases
After each case, the audience swap seats to it is less obvious that it is the same group of extras.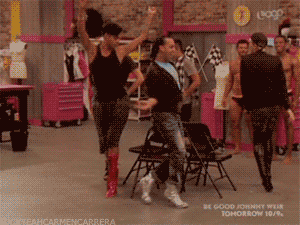 The most 'attractive' people are always seated in the front row.
Between each case, the audience are asked to talk amongst themselves.
This is so that Officer Byrd's "Order in the Court," has more impact.
7. Look smart if you are going to be a litigant
Judith is not impressed when it comes to certain people's attire.
She has been known to chastise people who come to her courtroom not very well dressed.
She doesn't like skimpy clothes or "beach attire."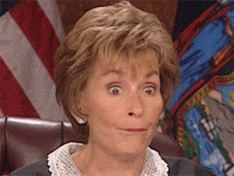 Ironically, very often under her robes, Judith herself is sporting a pair of jeans and a t-shirt.
6. Officer Byrd has stuck with Judith for a while
Officer Byrd, the man always accompanying Judith and bringing her the evidence, is a real bailiff.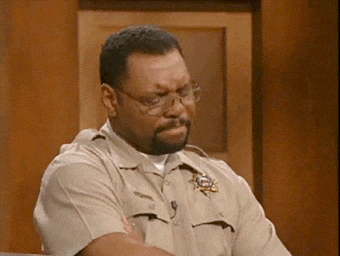 He first worked with her in the Manhattan Family Court.
"We used to call her the Joan Rivers of the judicial system. She was just hilarious."
When he heard that she bagged herself a TV show, he sent her a congratulatory message and added, "If you need a bailiff, I still look good in uniform."
5. He almost nearly lost the job
Officer Byrd could have lost his job after being caught in the act.
That is, being caught in the act of imitating his boss, Judith herself.
He put on her robe and glasses and began entertaining her co-workers with a slew of classic Judge Judy catchphrases.
Midway through this impersonation, he was caught in the act.
4. There have been a couple of high-profile cases
In 1996, the actress Roz Kelly appeared as a plaintiff on the show.
You might remember her as playing Pinky Tuscadero on Happy Days.
She was appearing on the programme to sue her plastic surgeon for a leaky breast implant.
She claimed that the problem impeded her acting career.
3. Johnny Rotten once appeared on the show
Roz Kelly was not the only famous person to appear on the show.
Sex Pistol Johnny Rotten appeared when drummer Robert Williams sued him for lost wages and an assault.
In typical Rotten fashion, he was a bit, well, rotten in the courtroom.
Despite this bad behaviour, Judy eventually ruled in his favour.
2. Judith learned her wit and charm from her father
Judith has credited her gift of the gab to her father.
He was a dentist before the era of modern sedation, and had plenty of nervous patients.
To calm their nerves, he had to become a top-notch storyteller.
Judith learned from these stories and also his dinner-table jokes.
1. She supports and gives away to charity
With all the wealth she amasses from being the highest-paid star on television, it's no surprise that she helps and supports charities.
She funds the Her Honor Mentoring Program for Young Girls.
It was founded by her daughter, Nicole Sheindlin, in 2006.
The program is designed to provide a platform for young women wanting to reach their full potential. It reinforces the importance of a college education and a meaningful profession.