Aha! If you're a fan of Alan Partridge then you'll definitely be familiar with Steve Coogan's classic British sitcom I'm Alan Partridge. After the success of Knowing Me Knowing You with Alan Partridge in the mid 90s, Coogan introduced us to another side of the hapless English TV presenter with the hilarious I'm Alan Partridge (1997-2002).



We got to see what life was like for Alan as he came to terms with a rough divorce from Carol and the rejection of his second series by Tony Hayers. Alan finds himself living in Linton Travel Tavern, being visited by his long-suffering personal assistant Lynn Benfield, and sneaking his big plate into the buffet past Susan and Michael the Geordie. Plus he keeps having those bizarre recurring lapdancing dreams…
Things start to look up (briefly) for Alan in series 2 – he has a Ukrainian girlfriend named Sonja and has managed to use his BBC money to build a brand new mansion. Jurassic Park! To celebrate this much-loved comedy favourite, we've put together 10 fascinating facts you didn't know about I'm Alan Partridge. Let battle commence!
10. The actress who played Lynn was only 37 at the time
Alan's long-suffering PA Lynn has been dutifully played by actress Felicity Montagu ever since I'm Alan Partridge first aired in 1997. Despite the fact that Alan's radio dedication to Lynn reveals that she turns 50 in season 1, episode 3, in actual fact Montagu was only 37 years old at the time.
[adunit mobile="RTK_dVa8″]
Fun fact: the name 'Lynn' is a nod to Steve Coogan's real-life assistant Lindsay. Butter my arse!
9. Simon Greenall is the voice of the meerkat in those 'Compare the Market' ads
Can you believe that Simon Greenall – aka Michael the Geordie – is the man responsible for bringing those irritating 'Compare the Market' adverts to life?! Greenall is a prolific voice actor – not only is he Aleksandr the meerkat, he also voices Captain Barnacles in The Octonauts and the Twins in the Shaun the Sheep movie.
Despite the fact that Alan struggles to understand "the Geordie people", Greenall actually has a very posh English accent in real life. The actor went to drama school with Steve Coogan and that's how the two ended up working on I'm Alan Partridge together.
8. Linton in Cambridgeshire has become a place of pilgrimage for Partridge fans
Linton in Cambridgeshire has become a place of historic importance for Partridge fans. Alan loves it because it's 'equidistant' between London and Norwich – in reality, Linton is situated near the halfway point of the London-Norwich A11 trunk road. However, the location used in the BBC series is actually the Hilton Hotel, on the A41 near Bushey. Probably a lot nicer than the fictional Linton Travel Tavern then!
7. 'Tex' was supposed to be a much bigger character on the show
Terry or 'Tex' was played by actor Peter Serafinowicz on the show. Although he only appeared in one episode, fans will remember that his dramatic storyline nearly split up the Alan-Michael bromance for good! Serafinowicz was actually supposed to feature as a series regular on I'm Alan Partridge…but in a completely different role.
[adunit mobile="RTK_wCZW"]
Coogan had hoped that Serafinowicz would play Tomek, Sonja's boss in the café, in season two. However, Coogan decided that in the end, the logistics of speaking (or pretending to speak) Ukrainian would actually be a bit too complex.
Fun fact: Amelia Bullmore (who plays Sonja) actually travelled to Kiev to research Ukrainian accents!
6. Alan and Steve Coogan both share an obsessive interest in cars
Coogan has admitted time and again that Alan Partridge is 'part of his DNA'. Although he might not agree with everything Alan says, the two personalities do share an obsessive interest in automobiles. Alan famously reads Top Gear magazine, while Steve Coogan has featured in previous episodes of the car show to discuss his favourite motors.
5. The series was originally going to be set in an old converted manor house
In season 2, we see Alan using his ill-gotten BBC money to build a five bedroom bastard house. The Radio Norwich presenter lives in a small mobile home next to the construction site while the builders are finishing up the work. However, one of the original ideas for season two was to feature the series in a former mansion which had been converted into small flats.
Much like the Linton Travel Tavern, Alan would be the only resident in the building, except for an airline pilot who would live in one of the other flats and occasionally walk past Alan.
4. Radio Norwich doesn't actually exist
Sadly for Partridge fans everywhere, Radio Norwich doesn't exist in real life. Instead you can tune in to Radio Norfolk or Norwich 99.9!
[adunit mobile="RTK_z9hm"]
3. Areas of Norwich city centre have since been pedestrianised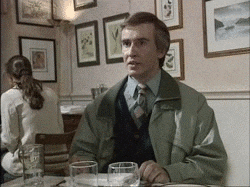 Alan was always very concerned about the pedestrianisation of Norwich city centre, which seemed to be a 'hot potato' when I'm Alan Partridge was on the air. Unfortunately for Alan, parts of the city centre have now been cleared of traffic, although not to the extent that Alan originally feared.
2. Michael was going to be a Yorkshireman rather than a Geordie
Me old…fishy on a dishy! The idea to turn Michael into a Geordie was actually a last-minute decision by Simon Greenall. He explained: "It was a straightforward audition, just the casting director and a video camera. I was told that the character worked in the hotel, got on with Alan and was called Michael. I had to come up with the rest."
Greenall was "originally going to make him from Yorkshire", but at the very last minute "decided to make him a Geordie". And television gold was created…Jurassic Park!
1. Father Ted creator Graham Linehan gets his very own shout-out in the series
Remember when Alan is talking Peter Linehan, head of News and Current Affairs at the BBC? That's actually a shout out to Graham Linehan, the co-creator of Father Ted – who famously appears alongside Arthur Mathews in series 1, episode 4 of I'm Alan Partridge as an RTÉ executive.
Did you enjoy all of these facts about I'm Alan Partridge? Let us know in the comments section!