Ghost is probably best-known for the infamous pottery scene featuring Demi Moore and Patrick Swayze, but die hard fans of the movie will know that it's so much more than that! The film centres around the tragic love story of Sam and Molly, whose relationship is cut short by Sam's villainous business partner Carl. Oda Mae Brown comes to the rescue by allowing Sam to communicate with Molly from beyond the grave.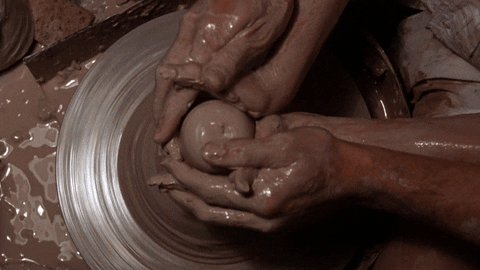 The film was a surprise hit at the box office, earning over $505 million on a $22 million budget. It was nominated for over five Academy Awards and won in the Best Original Screenplay and Best Supporting Actress categories – Whoopi Goldberg walked away with a golden statuette for her performance as Oda.
Ghost was a strange kind of movie – it was a romance, drama and comedy all rolled into one. And yet somehow, director Jerry Zucker managed to pull it off and Ghost became a worldwide hit. He also ensured that the pottery-making scene would be spoofed countless times for the next few decades or so. Of course, fans of the movie know all of this already – so to celebrate the film's success, we've put together an article listing 10 things you definitely didn't know about Ghost. Enjoy!
10. Director Jerry Zucker once said he'd cast Patrick Swayze "over my dead body"
Ghost is one of Patrick Swayze's best-known films.
[adunit mobile="RTK_dVa8″]
But he nearly missed out on the part of Sam Wheat entirely after director Jerry Zucker decided that he really didn't like Swayze as an actor. Apparently the problems started when Zucker watched Swayze's performance in Roadhouse.
Screenwriter Bruce Joel Rubin, who won an Oscar for his Ghost script, explained: "Jerry wanted to see him on film, so we went out and saw the movie Roadhouse, and we walked out of that movie and Jerry said to me, 'Over my dead body.'"
[adunit mobile="RTK_wCZW"]
Apparently the Dirty Dancing star was desperate for the role and did everything he could to get an audition. Zucker was so impressed by Swayze's persistence that he allowed the actor to come in and read for the part.
This would turn out to be Swayze's golden opportunity.
[adunit mobile="RTK_z9hm"]
After the actor finished his audition, the entire room had tears in their eyes. Zucker changed his mind: "We all had tears in our eyes, right there in the office—and we knew how it ends. I saw a side of Patrick that I never knew existed."
9. Whoopi Goldberg has credited Swayze with her Oscar win for Best Supporting Actress
Whoopi Goldberg won an Oscar for Best Supporting Actress thanks to her performance as Oda Mae Brown.
[adunit mobile="RTK_dVa8″]
And she's very modest about her role in winning the award. The actress and comedian prefers to credit Swayze for her Oscar win, rather than her talents on-screen. This is because of how much Swayze fought to get Goldberg on the movie in the first place.
After battling to get himself cast in the movie, he then turned his attentions on Goldberg. Apparently the production resisted the choice at first, but Swayze said he wouldn't do the movie without her.
[adunit mobile="RTK_wCZW"]
This was an extremely risky move considering how the director felt about Swayze's casting. Plus the actor had never even met Goldberg before!
Goldberg made sure to mention Swayze in her 1991 Oscar speech, referring to her co-star as "a stand-up guy".
[adunit mobile="RTK_z9hm"]
She later stated: "I won an Oscar because of Patrick Swayze."
8. Demi Moore thought the movie was "a recipe for disaster"
Demi Moore became the highest-paid actress in Hollywood thanks to Ghost's success.
[adunit mobile="RTK_dVa8″]
But it seems as though the 90s favourite was seriously worried about how successful the romantic drama would actually be. She revealed at a 2013 screening of Ghost that she had initially been worried about participating.
Moore explained: "It's a love story, and it's a guy—a dead guy—trying to save his wife, and there is a comedy part, but really, really it's a love story."
[adunit mobile="RTK_wCZW"]
She then continued: "And I thought, 'Wow, this is really a recipe for disaster.' It's either going to be something really special, really amazing, or really an absolute bust."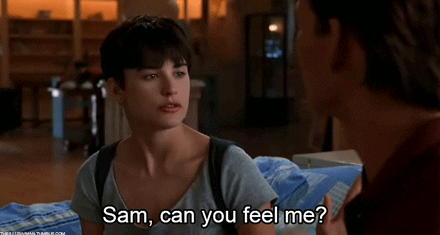 However, Moore's opinions on the movie obviously changed very quickly, and she has since explained why she believes the film did so well.
[adunit mobile="RTK_z9hm"]
Moore once stated: "I think the beauty in this film is that none of us knew, and the alchemy that came together with Whoopi and Patrick, and our film editor, Walter Murch, and Adam Greenberg, our DP, it just had a magic."
7. There's a Japanese remake from 2010 that features a different twist
Ghost was a massive sleeper hit around the world.
[adunit mobile="RTK_dVa8″]
And it proved to be particularly popular in Japan, where the movie grossed a whopping $48,449,689 at the Japanese box office. It wasn't too long before filmmakers decided that a remake could be on the cards.
In 2010, a Japanese version of the story appeared, entitled Ghost: Mouichido Dakishimetai, which in English translates as Ghost: In Your Arms Again. Cool!
[adunit mobile="RTK_wCZW"]
This movie version featured a different twist on the original Swayze/Moore hit though. In the Japanese remake, the 'ghost' figure was the woman in the relationship, not the man.
Paramount – who released the original Ghost – must have had a good feeling about the venture because they got involved in the film's production.
[adunit mobile="RTK_z9hm"]
It didn't quite take off in the same way but still produced a healthy profit at the box office.
6. Tony Goldwyn only got the role of Carl because of his wife
Tony Goldwyn brought the evil villain Carl Bruner to life in spectacular fashion.
[adunit mobile="RTK_dVa8″]
But things haven't always been so rosy for the actor. Goldwyn was a struggling actor before his performance in Ghost, while his wife Jane Musky had already established a career as a successful production designer. She had a lot of insider knowledge which came in very handy for Goldwyn.
He once told The AV Club: "My wife was the production designer on that movie. At that time, she was much more successful than me and was doing all these big movies, and she kept saying, 'They haven't cast that part! You should bug your agents!'"
[adunit mobile="RTK_wCZW"]
"And I kept harassing my agent, who would never return my phone calls, and I managed to get an audition. And, by a fluke, they stumbled on my audition tape and said, 'That guy was really good.'"
Like Swayze, Jerry Zucker wasn't initially that keen on casting Goldwyn in the part.
[adunit mobile="RTK_z9hm"]
Zucker once told Entertainment Weekly: "We saw his tape and were immediately struck by how good he was, but I wasn't sure he was right for the part. He seemed too nice."
5. Executives were initially unhappy that Zucker was directing the film
Everyone agrees now that Zucker did an excellent job on Ghost.
[adunit mobile="RTK_dVa8″]
But not everybody was convinced that he was up to the task – especially considering that his previously films had mostly been comedy spoofs. In particular, did you know that he was the writer and director of Airplane!?!
Bruce Joel Rubin revealed that he was skeptical at Zucker's appointment: "I wanted Milos Forman or Stanley Kubrick [to direct the movie]," Rubin said. "When I was told that the guy who made Airplane! was going to direct Ghost, I cried."
[adunit mobile="RTK_wCZW"]
Once Zucker was officially brought on as director, Rubin worked on several drafts of the script together – apparently they got through 19 drafts of the screenplay in total!
Zucker explained: "I felt it needed more twists and turns. It needed to keep moving. All those zany comedies have instilled a sense of pace in me."
[adunit mobile="RTK_z9hm"]
"And, yes, I added more humor. Actually, a lot of the work I did was take things in Bruce's head, which weren't clear in the script, and help translate that into something a mainstream audience could grasp and digest."
4. You can buy the Soho apartment where Molly and Sam lived
When the film kicks off, Molly and Sam have just moved in together.
[adunit mobile="RTK_dVa8″]
They buy a nice studio apartment located in Soho, before Sam's untimely death puts an end to their future life together. And did you know that you can actually buy the apartment in real life?!
The studio has plenty going for it – it's located at 102 Prince Street and measures a whopping 4,341 square feet. Nice!
[adunit mobile="RTK_wCZW"]
It was originally listed at $10.5 million, but the price was then lowered to a (slightly) more affordable $10 million.
It has 3 bedrooms and 3 bathrooms, so plenty of space for a family. You just have to be able to afford the 10% down payment…
[adunit mobile="RTK_z9hm"]
But in the process you'd be buying a piece of movie history!
3. Ghost had a prominent influence on hip-hop music
No, this isn't a wind-up…Ghost has had a strange influence on the world of hip-hop.
[adunit mobile="RTK_dVa8″]
The unlikely movie has spawned plenty of rap lyrics over the years, mainly due to the fact that Patrick Swayze rhymes with the oft-used adjective 'crazy'. Plenty of famous rappers have referred to the movie in their songs…
Marley Marl's 'The Symphony Part II' features the hilarious line: "Reach for the pistol and you're crazy / Try to blast and I'll be spinnin' that ass like Patrick Swayze."
[adunit mobile="RTK_wCZW"]
Tupac released 'Runnin' (Dying to Live)' and at one point during the track, Notorious B.I.G. raps: "That's why I bust back, it don't faze me / When he drop, take his glock, and I'm Swayze."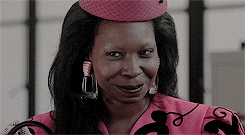 The actor also gets name-dropped in one of Andy Samberg's hilarious digital shorts.
[adunit mobile="RTK_z9hm"]
Samberg and Chris Parnell sing "Throw the snacks into the bag and I'm a ghost like Swayze" in tribute to the actor's unlikely influence on hip-hop.
2. The infamous pottery scene has sparked countless parodies
Everyone remembers the pottery scene from Ghost…even if you haven't seen the rest of the movie!
[adunit mobile="RTK_dVa8″]
Sam and Molly's sexy pottery-making inspired a generation of film directors, because the scene cropped up in plenty of spoof films…
In 1991, Jerry Zucker's brother David directed The Naked Gun 21/2: The Smell of Fear, and he made sure to wind up his sibling by getting Leslie Nielsen and Priscilla Presley to reenact the scene.
[adunit mobile="RTK_wCZW"]
There's also a 2010 episode of Community which features a pottery class instructor who is clearly tired of the Ghost reference: "I will tolerate no re-creating, whether it's ironic or sincere, of the Patrick Swayze/Demi Moore pottery scene in Ghost. I've had to adopt a zero Ghost tolerance policy."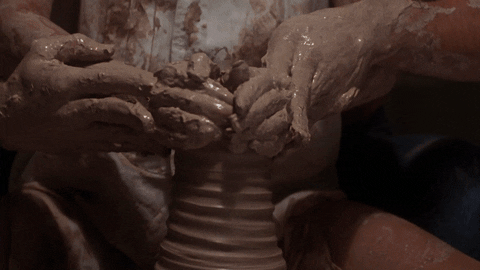 "If you so much as hum three notes from that Righteous Brothers song, with god as my witness I will come at you with everything I've got."
[adunit mobile="RTK_z9hm"]
Yikes! Even Two and a Half Men got in on the act – Moore's ex-husband Ashton Kutcher re-created the scene with Jon Cryer.
1. The film made romantic dramas popular again
Ghost helped to herald the arrival of romantic dramas as potential box office fodder.
[adunit mobile="RTK_dVa8″]
In the same year that Ghost was released, a popular romantic comedy named Pretty Woman also came out…and dominated the box office.
This later convinced some critics that Ghost had helped to popularise the mass appeal of the romantic comedy.
[adunit mobile="RTK_wCZW"]
A 1990 article in The New York Times stated: "The success of Ghost and Pretty Woman has revitalized the romantic comedy, a genre that in recent years had become less appealing to Hollywood studios intent on making blockbuster action-adventure films."
The Bodyguard and Jerry Maguire followed in their footsteps and became box office hits.
Did you know all of these Ghost facts? Let us know in the comments section!
[adunit mobile="RTK_z9hm"]