10 Things You Didn't Know About Father Ted!
Father Ted is often considered to be one of the best, if not the best comedies of all time. It regularly top polls, beating out the likes of Fawlty Towers and Blackadder to be voted as the nation's favourite.
Written by Graham Linehan and Arthur Matthews, Father Ted tells the story of three priests who have been exiled to Craggy Island, a small crop of land off of the Irish coast.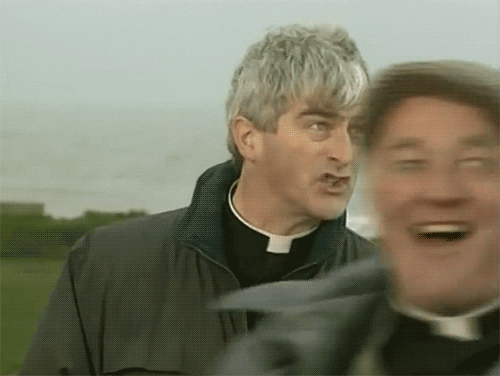 Along with their housekeeper, Mrs Doyle, they all live in Craggy Island parochial house. The series pokes fun at the Catholic church and is a blend of cleverly-planned out 'plant and payoff' gags and genius dialogue, written by Matthews and Linehan.
It truly is a situational comedy, with the priests finding themselves in all sorts of predicaments. From offending the island's Chinese population, to harassing Victor Meldrew on the mainland, Father Ted keeps us laughing again and again and again.
With that in mind, we've dug out ten little-known facts about the series that we think you might find interesting. So go on, go on, go on, go on, go on and have a read!
10. Dermot Morgan died a day after filming the final episode
Dermot Morgan had only just finished filming Father Ted a day before his death. He collapsed during a dinner party at his home in Richmond, South-West London. It was also a day before his 46th birthday.
The actor had already announced prior to his death that he was retiring from Father Ted to concentrate on solo projects to bolster his poor finances.
9. The show received only two complaints when it first aired
There's no doubt that Father Ted is controversial in its portrayal of Catholicism, but surprisingly Channel 4 only received two complaints when it first aired.
The first, of course, was that it was too anti-Catholic. The second, surprisingly, was that it was too pro-Catholic.
8. Mrs. Doyle's first name is revealed in the scripts
In the episode where everyone goes across to the Mainland, Father Ted says Mrs Doyle's first name, but it was bleeped out.
Her name was written in the script as Joan, so there you have it, she's Mrs Joan Doyle.
7. Dermot Morgan and Frank Kelly died on the same day
Both Father Ted actors passed away on February 28th, 18 years apart.
Frank Kelly, who portrayed Father Jack, died after suffering a heart attack. He also had Parkinson's disease, which he revealed in October 2015, and was recovering from bowel cancer.
6. You can visit the lingerie department in 'A Christmassy Ted.'
The lingerie department which features heavily in 'A Christmassy Ted,' is located in Dunnes Stores in Ennis.
It was shot before the store opened to the public.
5. The theme tune for Father Ted has lyrics
The iconic theme tune for Father Ted was first written for the show by The Divine Comedy's Neil Hannon.
Afterwards, the tune was given lyrics and the song became 'Songs of Love,' on their album 'Casanova.'
4. Series three was always planned to be the last
Although some believe Dermot Morgan's death cut short Father Ted, it was always planned to end after three series.
Creators Graham Linehan and Arthur Matthews wanted it to end because they had completed all they could with the set of characters, and Dermot Morgan was going to leave the show to explore solo projects.
3. Radiohead were happy for Father Ted to use their music
Radiohead are apparently very selective about which movies and TV shows they allow to use their music.
However, they were reportedly very happy to allow one of their songs to be used in Father Ted, to plunge a character who had just recovered from depression back into the depths of despair.
2. Graham Linehan and Arthur Matthews often cameoed in the show
Creators and writers Graham Linehan and Arthur Mathews appeared in the sitcom as different characters. Linehan made 2 appearances in the sitcom: Man passing parochial house in Father Ted: Cigarettes and Alcohol and Rollerblading (1996) and Father Gallagher in Father Ted: Flight into Terror (1996).
Mathews made 4 appearances in the sitcom: Father Billy Kerrigan in Father Ted: Entertaining Father Stone (1995), Picnic Couple in Father Ted: Old Grey Whistle Theft (1996), Father Ben in The Plague (1996) and Father Clarke in Father Ted: Speed 3 (1998).
1. Mrs. Doyle was going to be a love interest for Father Ted
Originally, Mrs. Doyle was supposed to be a love interest for Father Ted.
This idea was scrapped, but it didn't alter much of her already-written dialogue.