Donald Glover has had one of the most fascinating careers in Hollywood. He started off life as a writer, before going on to develop his own rap career while simultaneously gaining fame as an actor in shows such as Community and Atlanta, and films including The Muppets, The Martian and Magic Mike XXL. Then Glover's music video for This Is America went viral in May 2018, and the rest is history. Recently, the actor starred as Lando Calrissian in Solo: A Star Wars Story and voiced Simba in the live-action remake of The Lion King. Here are 10 key facts about this hugely talented writer, actor, comedian, producer, DJ…the list goes on.
10. Donald Glover is NOT related to Danny Glover
Despite persistent rumours, Donald Glover is not fellow actor Danny Glover's son – in fact, they're not related at all. Donald's parents were Georgia postal worker Donald Glover Sr. and Beverly Glover, a retired childcare provider.
Donald has addressed the Danny Glover rumours before, joking in his 2018 SNL monologue that he was actually Danny Glover's father and saying this to Esquire in 2012: "Yes, people think I'm Danny Glover's son. I get called Danny all the time, because it's a name that makes more sense than Donald."
Danny Glover, born in 1946, is the son of postal workers from San Francisco. He's best known for playing Roger Murtaugh in the Lethal Weapon movies. Donald's parents, meanwhile, raised him in Stone Mountain, Georgia, in the Jehovah's Witness faith. Beverly and Donald Sr were also foster parents for 14 years, caring for children with serious traumas and giving them a home alongside Donald, his brother Stephen and two adopted children. The household was strict, with no birthday parties, no Santa Claus and no television except for the PBS channel.
[rtk_adunit_top]
9. He was voted 'Most Likely To Write For The Simpsons' in high school
Unsurprisingly, Glover's high school classmates sensed that he had a creative edge about him. And so, at the end of school, Glover was voted Most Likely to Write for The Simpsons.
Oddly enough, when Glover was hired as a writer on NBC's 30 Rock at the tender age of 23-years-old, his winning spec script was a screenplay for The Simpsons. 30 Rock writer Tina Fey knew straight away that Glover would be an excellent addition to the team, and in the end Glover won a Writers Guild of America Award for his work on the third season of 30 Rock.
[rtk_adunit_middle]
8. He had to change his Twitter handle after it attracted perverts
Donald Glover's current Twitter handle is the fairly mundane @donaldglover. The actor and rapper has 2.4 million followers, even though he's only tweeted 18 times.
This is because Glover's handle used to be @donglover, or what could be misread as the rather rude 'd*ng lover'. Glover was forced to change his handle after a series of unpleasant 'misunderstandings' saw his account attract unsavoury characters.
[rtk_adunit_bottom]
7. One of his albums came with a 74-page essay
Glover's rise to fame in the music industry got a massive boost with the release of his 2013 album, Because the Internet. This album contained two gold singles – 3005 and Heartbeat – helping Glover to achieve widespread acclaim for his rap career. But he wasn't content just to release an album like most musicians.
Glover also published a 74-page essay entitled Because the Internet on the website beacusetheinter.net as a companion piece to the album.
One year later, after a five-year stint on the hit TV show Community, Glover quit unexpectedly. Contrary to popular belief, he didn't leave to focus on his music career as Childish Gambino. In fact, Glover was suffering from stress and anxiety while filming the show, as he noted on Instagram in 2013: "I didn't leave Community to rap, I'm afraid [Community creator] Dan Harmon hates me."
Social media itself has also brought stress to Glover's life. Following his 2013 Instagram posts about Community, Glover took a step back from social media, later telling Esquire Magazine: "I realized that connection was too powerful for a person like me. I just would get hurt." Glover's Twitter is now dormant, but he remains active on Instagram.
[rtk_adunit_top]
6. The first toy he received as a child was a Lando Calrissian figurine
Glover won the praise of critics thanks to his portrayal of charismatic bounty hunter Lando Calrissian in 2018's Solo: A Star Wars Story. It's kind of crazy, then, to think that one of the first ever toys Glover received as a young boy was a Lando Calrissian figurine.
The one Glover owned as a child was a Lando figure in the likeness of The Empire Strikes Back and Return of the Jedi's Billy Dee Williams. Following his Solo movie, however, Childish Gambino has seen his own likeness moulded into Lando toys around the world.
[rtk_adunit_middle]
5. He lost out on the role of Spider-Man to Andrew Garfield
A few years before the release of Spider Man: Homecoming in 2017, fans of Glover tried desperately to get the actor cast in the lead role of Peter Parker. Thanks to some epic hashtagging the campaign actually received a lot of attention, and at one point Glover was a real consideration to feature as Spider-Man.
Unfortunately, Andrew Garfield was cast in the part instead. Still, this wasn't the end of Glover's association with the Spider-Man franchise: he was given a cameo in 2017's reboot Spider-Man: Homecoming, as low-level gun-runner Aaron Davis.
[rtk_adunit_bottom]
4. Chance the Rapper is an old friend of Glover's
Chance the Rapper is one of the few music artists to both host and perform on Saturday Night Live.
Chance is good friends with Childish Gambino, and he revealed on The Tonight Show With Jimmy Fallon that his old friend helped him to write one of the sketches from the show.
[rtk_adunit_top]
3. He was raised as a Jehovah's Witness
Glover has often spoken about his childhood, particularly the difficulties he has had to overcome in light of his upbringing as a Jehovah's Witness. Religion badly skewered his view of sex and the actor once revealed on The Juan Epstein podcast that he lost his virginity in college.
"I lost my virginity junior year of college, I was 21… I was awkward, and I was raised Jehovah's Witness so I thought sex was bad, I thought I was going to go to hell and get AIDS immediately."
[rtk_adunit_middle]
2. He has completely disowned his first mixtape
You won't ever hear Childish Gambino talking about his first mixtape The Younger I Get, because the artist has completely disowned it. Glover released the tape in 2002 when he was still in university, and he once told SPIN that he hated the tape thanks to its "too-raw ramblings" and felt as though he sounded like a "decrepit Drake."
Instead, Glover acknowledges his first proper mixtape as 2008's Sick Boi. At this point, Glover referred to himself as Bambino – the Childish Gambino moniker hadn't been created at that point.
The hits Redbone and This Is America would come along in 2016 and 2018 respectively. Redbone was nominated for three Grammys, taking home the award for Best Traditional R&B Performance. Although Redbone may sound like a different, much higher voice than Childish Gambino's, it is indeed Glover singing, in an entirely unaltered falsetto. "I think people hear Redbone and are like, 'Oh, he pitched up his vocals,' but there was no vocal pitching on the album – I just sang differently," Glover has since explained.
[rtk_adunit_bottom]
1. He used an online name generator to come up with 'Childish Gambino'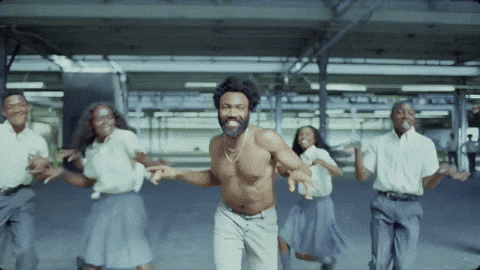 Speaking of Childish Gambino, it's an open secret that Glover created his name after using an online Wu-Tang Clan hip-hop name generator. He simply entered his full name into an online form and Childish Gambino came out.
Little did he know that Gambino would be racking up hundreds of millions of Youtube views and Grammy Awards in just a few years.
Little did he know that Gambino would be collecting Grammy Awards and racking up hundreds of millions of YouTube views in just a few years.
However, Donald Glover has since retired his stage name, declaring that his 2018 This is America Tour would be his last Gambino tour and stating that 3.15.20, his fourth studio album, would be "the last Gambino album".
[rtk_adunit_end]