30 Things You Didn't Know About A Star Is Born
A Star Is Born is the movie on everybody's lips at the moment! It's been tipped to win big during awards season, mainly thanks to the amazing performances put in by lead actors Lady Gaga and Bradley Cooper. The film follows the story of Jackson Maine (Cooper) an established musician who helps launch the career of a young singer named Ally (Gaga), despite the fact that he has more than a few personal demons to deal with.
In the article below, we've brought you thirty fascinating facts you didn't know about A Star Is Born. We reveal which famous singer was actually supposed to play the role of Ally, plus find out about the traumatic event which occurred just before Gaga filmed her last song of the movie.
30. Lady Gaga cried upon seeing the final cut of the film. A lot.
It's probably fair to say that Lady Gaga wears her heart on her sleeve. But the talented singer and actress once admitted that she cried the whole way through her first viewing of A Star Is Born! That's right – poor old Ally just couldn't watch any of her scenes without getting seriously emotional.
Apparently her co-star (and director) Bradley Cooper flew over to Gaga in order to show her the final cut of the movie before submitting it to film festivals.
Gaga confessed that she was blubbing right from the very first frame of the film, and her crying episode basically continued until the final credits rolled.
In fact, Gaga had to watch A Star Is Born several times before it premiered so that people wouldn't think she was a crazy lady at the Venice Film Festival.
She does love a good public cry though, especially when A Star Is Born is winning at the Golden Globes…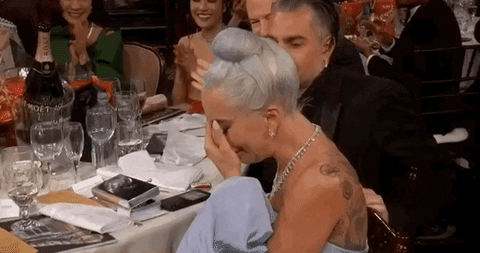 29. Lady Gaga tried to trick Bradley Cooper during her initial screen test
Most people probably assume that Lady Gaga was a shoe-in for the role of Ally.
However, although she had already proved her acting credentials to the world in programmes such as American Horror Story, the singer still had to do a screen test before being cast in A Star Is Born. And Gaga had a few tricks up her sleeve when the (test) camera was rolling…
Gaga was required to attend the audition without any makeup on, because Ally is not a foundation and mascara kind of girl in the movie.
Gaga insisted she wasn't wearing any but had secretly applied "no makeup" make-up anyway. Unluckily for her, Cooper was wise to the trick. He picked up a makeup wipe and rubbed it on her face before asking her to remove all of it!
Despite the screen test incident, the two actors have clearly become firm friends.
Cooper presented Gaga with a gift once the film had wrapped – a 15-foot photo of the last frame of A Star Is Born. Aww!
28. The opening scene was filmed in one take
A Star Is Born is well-known for its dazzling musical score.
And the movie kicks off with some epic songs straight away – we see Jackson Maine (Cooper) performing live onstage and generally being a rock star. However, did you know that this scene was filmed in only one take?
This is because it was shot live at a 2017 country music festival in Indio, California.
The film's production team had managed to bag Cooper a spot in between Jamey Johnson and Willie Nelson (who incidentally is the father of Cooper's backing band frontman Lukas Nelson).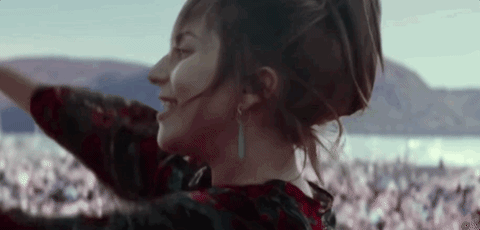 The sequence was filmed in a record 10 minutes – Cooper sang exactly what you hear in the final cut of the film in front of a live audience and producers managed to get what they needed without having to do another take (which might have been kind of boring for the audience anyway).
Nice one Bradley!
27. Lady Gaga had to dye her hair several times during filming for the movie
Gaga is well-known for her love of crazy outfits and elaborate wigs, but even she was probably sick of having to dye her hair after filming wrapped on A Star Is Born.
Basically, the movie wasn't shot in chronological order, meaning that Gaga had to act out the different phases of Ally's career non-sequentially.
The actress had to dye her hair back and forth between brunette, orange and blonde.
If you look carefully then you can also see Gaga's weight fluctuating over the course of the movie – in some scenes she appears to be thinner than others. The same went for Bradley, whose hair and beard length fluctuate (as well as his muscularity!).
Unfortunately for Gaga, all of that hair dying eventually had some unwelcome consequences for the actress.
Her real hair began to fall out and so the Poker Face singer insisted on using wigs halfway through filming. We really can't blame her for that decision!
26. The two drag queens had both appeared in RuPaul's Drag Race before
Remember the scene with the drag queens?
The two principle actors were Willam Belli and Shangela Laquifa Wadley – both of whom have competed in RuPaul's Drag Race! Ironically, Lady Gaga was on the judging panel in the first episode of season 9, although sadly she didn't get the chance to see Willam or Shangela perform.
In addition, nearly all of the drag queen scenes ended up being completely improvised.
The script did contain some dialogue for them to work with but Cooper saw how well they improv'd and let the jokes play out on camera. This meant that most of the original script was discarded in favour of what the drag queens ad-libbed.
In fact, Willam claimed that none of her original lines actually made it into the final cut – they were all improvised!
The drag queens became an unlikely hit in A Star is Born, so it's even more impressive that most of their material was made up on the spot. Nice!
25. The theater used for the movie's world premiere was struck by lightning
The two lead actors Bradley Cooper and Lady Gaga turned up to the Venice Film Festival in style.
There was already a lot of Oscar buzz surrounding the movie and these two made sure that they were noticed. But despite all of the fanfare, North East Italy's stormy weather nearly stole the show from under them!
Apparently during the world premiere in Venice, the theater used to screen the movie was struck by a huge bolt of lightning.
This caused technical malfunctions to occur, which left the audience waiting around for over twenty minutes while crew members quickly tried to fix the problem. Oops!
In the end, the bolt of lightning had no effect on the film's reception.
After A Star Is Born finished screening for the first time, Gaga and Cooper received an eight-minute standing ovation from their fellow audience members. That's a lot of clapping…
24. Producers desperately wanted Beyoncé to play the role of Ally
Believe it or not, Lady Gaga wasn't even in the initial running to play Ally.
So who was supposed to portray the character instead? Apparently movie executives were desperate to get Beyoncé on board – in fact, the Lemonade singer was originally attached to the project when it first emerged all the way back in 2015.
However, Beyoncé decided to pass on the film to focus on recording music instead.
It might also have had something to do with the amount of lines that Ally was given in the initial script. At the time, writer Camilla Blackett was in talks to re-write Cooper's script and claimed that Beyoncé hadn't been given enough lines.
In the end, Cooper decided that he wanted the Born This Way singer to portray Ally – but he had to fight to get executives to agree.
The actor ended up going round to Gaga's house and recording a duet of Creedence Clearwater Revival's 'Midnight Special' on his iPhone. That footage convinced producers to allow Gaga in for a screen test!
23. Cooper learnt how to play guitar from Willie Nelson's son, Lukas
Bradley Cooper's devotion to putting in an authentic performance was actually pretty ridiculous when you think about it!
He learnt to play guitar for the role of Jackson Maine, and who was his teacher? None other than Lukas Nelson, son of country legend Willie.
Apparently the pair would hang out in Cooper's basement every night for a year(!) so that the actor could get up to speed and learn how to perform like a real musician.
That's pretty amazing when you think about it! Lukas' involvement doesn't end there either – remember Jackson's backing band in the movie?
That's Lukas and his band Promise of the Real performing in the film on stage.
Cooper also decided to get his singing voice into better shape after previously admitting he had been far too confident about how easy it is to become a great singer. The actor worked with Tim Monich, a legendary dialect coach, for several months to work on his vocal range.
22. Gaga's best friend died of cancer on the same day she had to perform her last song
Poor Lady Gaga had a traumatic time of things towards the end of shooting.
Her best friend Sonja Durham was dying of cancer during filming of A Star Is Born – and apparently she had to perform the very last song "I'll Never Love Again" after finding out that Sonja had sadly passed away.
She opened up about the incident with Entertainment Weekly and explained exactly what happened: "My very, very, very dear friend Sonja died of cancer that day.
We were supposed to shoot in, like, 30 minutes, and I left the set because her husband called me and I could hear her in the background and I just got in the car and drove."
"I missed her by 15 minutes and she died. I literally laid with her, with her husband, and their dog, and his son…. When I came back, Bradley was so gentle with me and we got through it."
"I performed the song. He was like, 'You don't have to do it again. It's okay.' All I wanted to do was sing. I'll never forget that day. It was really a special scene, and I'll always remember that moment."
21. Lady Gaga was the one who convinced Bradley Cooper to sing live
Believe it or not, Bradley Cooper wasn't a fan of singing live in the film.
Although it looks like a great move now, the actor took a lot of convincing to actually sing on camera. So who managed to persuade him that it was a good idea? None other than Lady Gaga, of course!
Gaga told her co-star that she hated watching movies where the actors were clearly not lip-syncing correctly to the songs.
She said that if the film was going to be a hit then they needed to get this right and sing live for every track in the movie. As a result, Cooper decided to get vocal training to help perfect his singing voice.
We're really glad she managed to convince him because the movie just wouldn't be the same without all of those incredible live performances!
Speaking of singing live, the movie made good use of Gaga's tour schedule…
20. Some of the scenes were filmed live at Coachella in 2017
Bradley Cooper took full advantage of the fact that he had a world famous singer as his lead actress.
Many of Gaga's live performances were used in the film, most notably her Coachella show in 2017. Gaga was the first female headliner to grace the main stage in over ten years, but audience members had to follow a couple of rules before lining up to see her.
At one point, some festival goers could pay ten dollars to see her scenes being filmed for the movie. However, recording devices were locked away so that the footage wouldn't leak online.
Also, none of the music that Gaga performed as Ally was played through the speakers. This was done so that audience members wouldn't be able to hear the song and try to leak it before the movie's release.
Of course, some of the people gathered at the front could hear Gaga singing.
However, they were unable to hear the backing track and the film's soundtrack remained a secret until its premiere.
19. Cooper has a few things in common with his character Jackson
Bradley Cooper actually has a very interesting relationship with his on-screen character.
You might not realise it now, but Cooper had to deal with some pretty serious addictions to alcohol and drugs back in his youth. The actor has been open about his experience with substance abuse in the past – his issues even left him suicidal at one point.
He told the Hollywood Reporter: "I always felt like an outsider. I just lived in my head. I realized I wasn't going to live up to my potential, and that scared the hell out of me. I thought, 'Wow, I'm actually gonna ruin my life; I'm really gonna ruin it."
Thankfully Cooper was able to find the help he needed and became sober at the age of 29. The actor used his past to portray Jackson Maine, a musician who struggles with his own demons while alienating his close ones and ruining his career.
The actor told Variety: "Anytime you're trying to tell the truth you need to go to places and use things that have happened to you, or you've read about or experienced."
"And that's all part of the beauty of turning whatever things you've gone through into a story."
18. Bradley Cooper had to spend more time in hair and make-up than Lady Gaga!
This doesn't usually happen on a film set…
Apparently Cooper had to spend way more time getting camera-ready compared to his co-star Gaga. To get an authentic Jackson Maine look, Cooper sported a deep tan – this was only achieved by undergoing a full body spray tan every single day before filming.
To give the impression that Maine was high on drugs, the make-up department had to place menthol around Cooper's eyes, which made them look suitable bloodshot.
On the other hand, Lady Gaga didn't go down her usual route of foundation and costume make-up. Instead, her character Ally prefers a simpler look.
Gaga was pretty bare-faced throughout filming and only had to wear lip balm and moisturiser.
She must have been waiting around for a couple of hours while Bradley got his spray tan!
17. Filming also took place on the infamous Pyramid Stage at Glastonbury Festival
Coachella wasn't the only place that Bradley and co decided to invade.
The iconic Pyramid Stage at Glastonbury festival briefly played host to Cooper in 2017! The actor filmed some scenes for the movie just before Kris Kristofferson's live set, and he was helped along with the performance by none other than Lars Ulrich of Metallica fame.
Weirdly enough, Cooper has previously revealed that the entire look for A Star Is Born was inspired by a Metallica concert he saw when he was a teenager. Cool!
There's another twist to Cooper's Glasto performance too. After finishing his brief performance, the actor introduced Kristofferson to the stage.
Kristofferson was the actor/singer who played the lead role of John Norman Howard in 1976's version of A Star Is Born.
Kristofferson's performance was praised but the film received mixed reviews.
16. Cooper was bowled over by Gaga's singing at a private cancer benefit
There's a really cute reason why Gaga sings 'La Vie en Rose' in the movie.
Apparently the moment that the entire movie came together was the night that Cooper witnessed Gaga singing a version of the French classic at a fundraising event in the home of entrepreneur Sean Parker. From then on, the actor was determined to get the singer to play Ally.
The actor told Billboard: "She demolished the room. I knew that was plutonium." The actor was so excited about the performance that he went over to Gaga's Malibu home the very next day!
Apparently the pair enjoyed some leftover spaghetti and formed an instant connection. They began singing next to Gaga's piano and the performer immediately realised that Bradley had a great voice too. Gaga explained: "[And] when I heard him sing! My God! I stopped playing the piano and I was like, 'Bradley you can sing!'"
"And he was like, 'Really?' And then he said, 'Let's film it.' He started filming it on his phone."
And that's the story of how A Star Is Born was, well, born!
15. Cooper has always said that being a director was his first dream
Most fans of the actor might not realise that Cooper has always wanted to be a director.
That's right – Cooper's first dream was to work behind the camera rather than in front of it, an ambition which remained on hold for several years while he established his acting career in Hollywood.
Now though, he's been able to pursue his directing dream and A Star Is Born represents Cooper's directorial debut. We think he's had a pretty good start so far!
Apparently Hollywood veterans Steven Spielberg and Clint Eastwood were in talks to make the film, but Cooper's enthusiasm for the project helped to land him the role of director.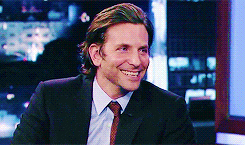 Apparently he got hooked to the story and began planning how the film would look while he was still working as a producer on American Sniper (2014).
And who was the director of that particular movie? None other than Clint Eastwood, one of his rivals for the project!
14. Lady Gaga became way too attached to her character during the film's production
As we've already seen, Gaga really enjoyed her experience working on the movie…
…so much so that she purposely dyed her hair to get away from the character of Ally. Apparently Gaga became so attached to the young singer during filming that she dyed her hair blonde as soon as filming wrapped in order to 'release' Ally. Hmmm….
Funnily enough, Gaga has also stated that in reality, she is nothing like the character she portrays in 
A Star Is Born
. The singer told 
Billboard
: "I had to work really hard to build this character, because quite honestly, she's nothing like me."
"I mean, when I started out in this business, I was like, 'Move aside! Here's my music, here's my style, this is the way I dance! This is who I am! I know who I am!' Ally, she's just jaded."
"She's over it. She's angry, sad and depressed; she thinks there's nothing left for her. It's [Jackson Maine's] love for her that gives her wings to fly."
Wow! Still, Gaga clearly enjoyed playing the character if she had to dye her hair just to get away from playing her on-screen character
13. One of Gaga's concerts at Fenway Park was used in the soundtrack
Lady Gaga has made music history more than a few times in her career.
But did you know that she was the first ever female singer to headline at Fenway Park, Boston's iconic baseball stadium? During this ground-breaking performance, Gaga actually helped to bring the soundtrack from A Star Is Born to life. How?
Apparently during one of her concerts at Fenway Park, sound engineers strategically placed some microphones around the stadium to capture the applause and screaming for use in the film.
The singer also asked her fans to start chanting 'Ally' so that the movie would sound even more authentic.
As if she didn't already have enough to think about!
Gaga's live performances definitely came in handy during the making of A Star Is Born.
12. The movie contains a lot of Judy Garland references
Judy Garland starred in the original version of A Star Is Born in 1954.
So it's no wonder that the movie contains its fair share of references to the iconic Wizard of Oz actress. But did you manage to spot all of them first time round?
First of all, when Ally leaves work to go to a gig, she enters a tunnel made out of brick walls and covered in yellow lighting. She's also singing a song from the Wizard of Oz.
This is clearly a tribute to the yellow brick road featured in Judy Garland's most famous work. There's also another weird connection that wasn't planned by film makers.
Apparently Gaga and Judy Garland were the same age – 32 years old – when they starred in A Star Is Born.
That's a creepy coincidence!
11. Gaga had a really interesting idea for the film's award-winning soundtrack
Lady Gaga is a musical pioneer.
And she was instrumental (sorry) in bringing the film's Golden Globe-winning soundtrack to life. Apparently it was her idea to insert film dialogue directly into some of the tracks from the movie.
The singer hoped that this effect would make listeners feel as though they were re-living the magic of the movie while playing the soundtrack.
This kind of originality helped to propel A Star Is Born's soundtrack to the top of the Billboard Albums chart.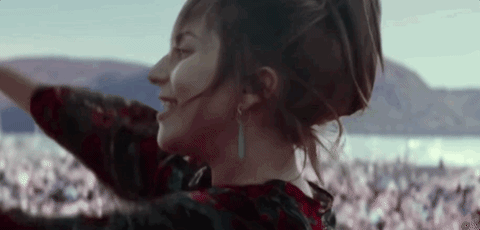 This is the first time that Cooper has attained a #1 album.
On the other hand, for Lady Gaga, this is her 5th album to reach number one. Impressive!
10. Cooper deliberately left out a montage of Ally's rise to fame
Cooper had to make a lot of important decisions during creation of the movie.
And apparently one very deliberate choice was to leave out a montage of Ally's rise to fame. Similar movies often contain a few scenes which quickly accelerate the character's success, but Cooper decided against this.
Instead he decided to use Ally's infamous performance as the musical guest on Saturday Night Live.
The actor hoped that the audience would be able to understand just how successful Ally had become if she was the featured musical guest on SNL.
What did you think of the choice?
We think Cooper probably made the right decision – the SNL performance is one of our favourite scenes in the movie!
9. Barbra Streisand randomly showed up on the set of A Star Is Born
Barbra Streisand starred opposite Kris Kristofferson in the 1976 A Star Is Born.
So it's no surprise that she took a strong interest in how the most recent remake was going. In fact, Lady Gaga revealed that the iconic singer/actress showed up to the set and chatted with cast and crew about how things were progressing!
Streisand was asked about her thoughts before the movie was released and only had good things to say about the remake.
Speaking to the media, Streisand stated: "I haven't seen it completed. Bradley did show me the opening. I was surprised by how similar it was to my version."
"What I've seen of the film, I really liked," Streisand added.
Aww! We're glad that the infamous diva approved of Gaga stepping into her shoes.
8. Lady Gaga drew on her relationship with her dad to film several scenes in the movie
We do get a good insight into Ally's family background over the course of the movie.
And apparently Gaga decided to draw upon her own relationship with her father to give an authentic portrayal of the bond between Ally and her dad. Remember the scene where Ally is talking about how many times her dad carried the piano up the stairs for her?
That was directly based on Gaga's father and how he supported her music career no matter what. Ally also talks about her father sitting with her while she wrote songs, which is what Gaga's dad used to do.
There's also another personal touch featured in A Star Is Born.
During the scene when Ally's father and his friends first appear on screen, you can see a photograph in the background of a young Ally.
This is a genuine family photograph of Stefani Germanotta (aka Gaga) as a young girl.
7. The film's top billing changes depending on where you see it advertised
Have you noticed this before?
A Star Is Born features two epic performances from both Bradley Cooper and Lady Gaga. Furthermore, it's arguably unclear who is really the lead actor in the movie.
This left producers with a headache when it came to deciding who should get top billing. In the end, Cooper is top billed in trailers and on movie posters.
This is because he's the director as well as one of the film's leads. However, in the film's end credits, Gaga receives top billing instead.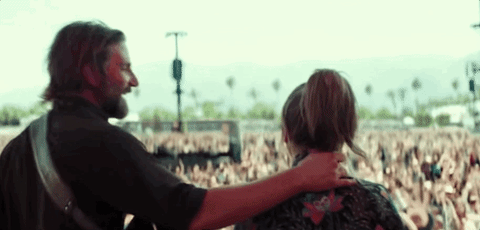 Considering how friendly the two leads were together, we're sure this wasn't a problem for either of them.
Neither one of them comes across like a diva about the order of billing. Phew!
6. The movie is dedicated to Elizabeth Kemp
You might not have noticed this before…
Apparently the movie is dedicated to Elizabeth Kemp, an influential actress and acting coach. Cooper first met Kemp early on in his career, when they were both at the Actors Studio. The actor has recently revealed that meeting Kemp finally made him 'relax' about acting.
Cooper attended her acting courses and Kemp ended up becoming an important mentor to the actor.
Gaga also received instruction from the acting coach. However, Kemp sadly passed away just before the movie's world premiere in October 2018.
As a result, Cooper made sure to dedicate the film to her memory.
That's a classy touch from the actor and director that we're sure the Kemp family appreciated.
5. Ally's maiden name is a veiled reference to one of the lead actors
Remember the wedding scene in the movie?
We find out that Ally's maiden name is Campano. While most fans would probably just shrug off this surname as a random choice, it actually has a deeper meaning.
Apparently Campano is actually an homage to Cooper's mother Gloria. Gloria is an Italian-American and Campano was her maiden name.
It's little surprise that Cooper included a shout-out to his mother in the movie – the actor is a notorious mother's boy and even lived with his mum for a while. Apparently this is the reason he broke up with Renee Zellweger!
Lady Gaga is also an Italian-American and has stated that Campano is also a surname that runs in her family.
Another weird coincidence in the making of the movie!
4. Dave Chappelle's daughter appears in A Star Is Born
Dave Chapelle has had a few film outings recently.
And he had a part in A Star Is Born as Noodles, a drummer and close friend of Jackson Maine. The role is slightly darker than some of his previous appearances in romantic comedies such as You've Got Mail.
Noodles is a drummer in the film, but sadly we never get to see him in action because all of Chappelle's drumming scenes were cut out of the movie!
Viewers also get a glimpse of Noodles' family life, including his daughter.
Apparently the young girl is played by Chappelle's  real-life daughter, Sonal.
She must be keen to follow her dad into the world of show business!
3. There are several references to Pretty Woman
Pretty Woman fans will have loved watching A Star Is Born.
Why? There are several references to the movie, including one particularly famous 'morning after' scene which is replicated by Bradley and Gaga in A Star Is Born. 
Both Gaga and Julia Roberts appear in a scene showing the woman sat at the dining table in a bathrobe. Both characters sit with their foot on the chair and eat breakfast with their hands instead of a knife and fork.
There are also some broader references to the 'Pretty Woman' – fans of the movie will remember that we hear Roy Orbison's song of the same name at one point in A Star Is Born.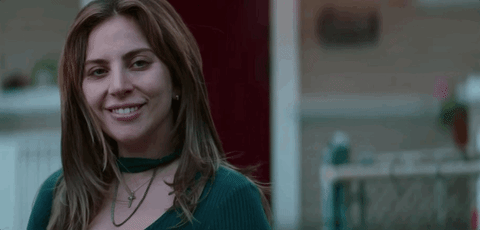 Both of these films are good examples of 'Pygmalion' type movies, in which a younger woman is supported in her career by an older, more experienced male.
Did you pick up on all of these similarities the first time around?
2. Gaga has a house full of A Star Is Born memorabilia
It's safe to say that Gaga will always remember her time on A Star Is Born.
And it turns out that the actress decided to keep hold of quite a few mementos from the set of the movie once filming had finally wrapped. So what did she take home with her?
Apparently Gaga kept hold of a few items, including Jackson's taupe shirt (we don't blame her) and Ally's songwriting book.
She also kept a bottle of Mr. Bubble from Ally and Jackson's bathtub lovemaking scene.
We can't really blame her for wanting to take home a few keepsakes, we just hope she has a good security system at home!
After dying her hair to 'release' Ally and taking home some mementos, we've nearly reached the end of Gaga's emotional journey during A Star Is Born…
1. Gaga was unable to watch Jackson Maine's suicide scene
Unfortunately, Gaga was unable to watch one particularly traumatic scene.
As we all know, Jackson Maine's story comes to a tragic end, which results in the troubled singer hanging himself after he promises to go and see Ally perform.
Gaga was supposed to watch Cooper perform this scene but had to leave the set after becoming far too emotionally attached to Jackson's character.
After leaving, the singer bought 3 dozen roses and left them in Jackson's pick up truck so that Cooper wouldn't be offended that she had to leave.
The flowers were supposed to symbolise the fact that Gaga wanted to be there for Cooper but simply couldn't do it.
What do you think of these facts? Are you a fan of A Star Is Born?