In an era where it's so often declared that the traditional movie star is dead, Ryan Gosling is rare proof to the contrary.
Born November 12 1980, the Big Short and Crazy Stupid Love star is already – having been in the business for 25 years now – an industry veteran, and among its best.
Whether that's starring as playboy Jacob Palmer in Crazy Stupid Love, preppy campaign staffer Stephen Meyers, or real-life banker Jared Vennett in The Big Short, Gosling has become a fixture of cinema in a variety of movies. That's not even counting his impact on classics like Blade Runner, being cast in the lead for sequel Blade Runner 2049. Oh, and his manifold other talents are on display in films like 2016 musical La La Land.
The young actor has spent most of his life in the spotlight, but Ryan Gosling is an A-lister who prefers to keep his private life private.
That means there's still so much about Gosling that hasn't filtered out into the public sphere.

We're count down 26 things you never knew about Ryan Gosling.
[rtk_adunit_top]
Scroll down the article below to find out why a young Ryan Gosling got suspended from school, plus we reveal which famous Hollywood star was Ryan Gosling's original roommate.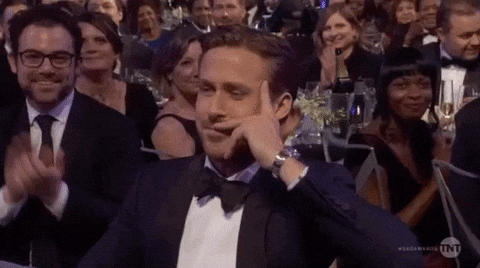 26. He's actually Canadian
He may be one of the biggest stars of American films today, but Ryan Gosling doesn't actually hail from America at all.
[rtk_adunit_middle]
Born in London, Ontario in 1980, Ryan Gosling was raised by two parents of French-Canadian descent.
For much of his youth, Ryan Gosling was shuttled around various towns because of his father's work, but never left Ontario.
For all bar two years – we'll get to those in a moment – Gosling lived continuously in Canada until he was 16.
That was the age that Ryan Gosling bit the bullet and decided to pursue stardom full-time, by moving to Los Angeles permanently.
[rtk_adunit_bottom]
Gosling is humble about his roots. He once jokingly referred to Canada as "America's hat."
25. He was raised Mormon
Though he isn't religious, Gosling's parents, Thomas Ray and Donna, very much were.
[adunit mobile="RTK_dVa8″]
The Gosling household was especially devout, with both Thomas and Donna being model Mormons.
In particular, Ryan Gosling's father has been described as a "zealot" by his now-ex-wife.
[adunit mobile="RTK_wCZW"]
When Gosling was a child and living with Mom and Dad, Mormonism dominated family life.
Though he admits he "never really could identify with it", Gosling still had to "pray in public, shake a lot of hands, talk in public, sing in church".
[adunit mobile="RTK_z9hm"]
For his parents, while they were together, it was even more serious: "it was a part of everything – what they ate, how they thought".
24. He started out on the Mickey Mouse Club
Everybody's got to start somewhere, and Ryan Gosling didn't reach the heights of Oscar-nominated glory overnight.
[adunit mobile="RTK_dVa8″]
He did, however, become an employee of Hollywood titan Disney before he'd even hit his teens.
When he was just 12, Gosling bagged a two-year contract with the Mouse House.
[adunit mobile="RTK_wCZW"]
Beating out 17,000 other kids in auditions, Gosling became a Mouseketeer alongside an impressive roster of future stars.
From 1993 to 1995, Ryan Gosling appeared on the Mickey Mouse Club TV series with a young Justin Timberlake and Britney Spears.
[adunit mobile="RTK_z9hm"]
Check out this photo of Gosling and Timberlake in action:
Christina Aguilera, NSYNC's JC Chasez and future The Americans star Keri Russell also joined Gosling in the cast. He would, of course, follow an adjacent path to his musical co-stars with films like La La Land.
23. His childhood best bud was Justin Timberlake
Ryan Gosling and Timberlake weren't just Mickey Mouse Club co-stars. During the show's run, they were also housemates.
[adunit mobile="RTK_dVa8″]
As the show shot down in Orlando, Florida, Gosling's mother had to stay behind in Canada.
This meant Gosling had to room with Timberlake, whose mother became Gosling's legal guardian for the period.
The pair don't see each other much these days, but as kids they were little hellraisers.
[adunit mobile="RTK_wCZW"]
Kids want what they want – and the troublesome two wanted, in this case, was a golf cart. Gosling and Timberlake once found themselves joyriding around the MGM lot in a stolen buggy.
As for Ryan Gosling's relationship with Timberlake today? The actor says "it's like anything where you're friends with somebody in elementary school or something.
[adunit mobile="RTK_z9hm"]
"How many friends do you still have from elementary school?"
22. His childhood passion was ballet
As it turns out, Ryan Gosling didn't need too much training to prepare him for screen musical La La Land.
[adunit mobile="RTK_dVa8″]
La La Land – an all-singing, all-dancing production – had in fact only tested skills that Gosling had begun learning as a boy.
Performing in his uncle's Elvis Perry tribute act in his spare time, the pre-teen Ryan Gosling also had regular dance lessons.
Gosling practiced ballet as a kid, getting involved with an Ontario ballet company – but he gave it up before he became any good at it.
[adunit mobile="RTK_wCZW"]
"It was a struggle for me. I had an option to do ballet when I was a kid, but thought it was too girly", he has said.
Since then, Ryan Gosling has been back in the ballet game, having regretted giving up on ballet so young. "I take a class, like a public class. I'm terrible.
[adunit mobile="RTK_z9hm"]
"Everyone is good except for me … I'm so bad at it and unflexible that they have to bring out a special barre when we do the barre work part of the class."
21. He dated Sandra Bullock
Today, Ryan Gosling is happily shacked up with fellow actor Eva Mendes, with whom he shares two children.
[adunit mobile="RTK_dVa8″]
Gosling's history of celeb relationshipping goes back to his first days in Hollywood, however.
After they met on the set of the 2002 thriller Murder by Numbers (with Gosling starring as murder suspect Richard Haywood), Gosling and Sandra Bullock dated.
[adunit mobile="RTK_wCZW"]
The pair – him 22, her 38 – were in a relationship for a year before they decided to call it quits.
Following this, Gosling was in a more high-profile relationship with Rachel McAdams from 2005 to 2007. He'd starred as Noah Calhoun in 2004's The Notebook opposite McAdams.
[adunit mobile="RTK_z9hm"]
Gosling then met Mendes while playing Luke on the set of crime drama The Place Beyond the Pines in 2011. They've been together ever since.
20. He stole his accent from Marlon Brando
The way he talks, you wouldn't be blamed for not being aware that Ryan Gosling comes from Canada.
[adunit mobile="RTK_dVa8″]
After all, while he might have been born in Ontario, Gosling's accent hails from somewhere in the US, and it's not even his adopted home of Los Angeles.
This is because he spent many years trying to model each performance on Method acting legend Marlon Brando – including his accent.
[adunit mobile="RTK_wCZW"]
It's an affectation that has since become stuck. According to Gosling, the pseudo-New Yorker accent he's deployed across most of his films is now his own.
"I thought guys should sound like Marlon Brando. So now I have a phony accent that I can't shake, so it's not phony anymore."
[adunit mobile="RTK_z9hm"]
Gosling's accent has even been the subject of a Funny Or Die sketch called Ryan Gosling's Acting Range, where prospective actors are taught how to speak like "guys from Brooklyn, New York, Williamsburg, Uptown, Downtown…and hipster boys." He plays a typical Brooklynite, Henry Letham, in 2005's tepidly reviewed Stay.
19. He was suspended from school for throwing knives at other children
While he plays detective Holland March in 2016 caper The Nice Guys, Ryan Gosling hasn't always been on the right side of the law.
[adunit mobile="RTK_dVa8″]
In fact, the Best Actor aspirant could well have become a criminal had his instincts been indulged (more like his 2010 All Good Things character David Marks).
In his first year of school, aged just six, Gosling was already in trouble for a pretty serious indiscretion.
[adunit mobile="RTK_wCZW"]
In a prime example of why film ratings are a thing, little Gos was inspired after having been allowed to watch the R-rated action movie First Blood.
Taking his cues from John Rambo, 6-year-old Gosling had the bright idea to take some steak knives from home to his school.
[adunit mobile="RTK_z9hm"]
Once recess was in, Gosling proceeded to take the cutlery/weapons out of his Fisher Price kit and throw them at classmates. Less La La Land and more cloud cuckoo land!
Naturally, the school suspended him, while Gosling's parents agreed to not let him watch any more violent movies.
18. He was bullied and had 'no friends' until he was 15
Gosling wasn't the most popular kid in school, and not just because he thought it was a good idea to play Rambo with the other children.
[adunit mobile="RTK_dVa8″]
Who can believe it?!
He might be among the most popular stars in the world now, but at school, Gosling was routinely bullied.
[adunit mobile="RTK_wCZW"]
He got into fights, starting some of them himself, and "I just lost them all. I couldn't follow through".
So troubled was Gosling at school, he didn't start making buddies until he was "14 or 15." Since he was born November 12 1980, that means he didn't have friends until the mid-90s – thankfully, just in time for friendship bracelets!
"I didn't really have friends back then. It was a tight little family unit. We rolled with each other."
[adunit mobile="RTK_z9hm"]
This probably explains why his mother eventually decided to homeschool him – and also why he saw no problem with relocating to Los Angeles permanently aged just 16.
17. He had learning difficulties as a child
Gosling's hard time as a schoolboy didn't end at bullying and knife-related misunderstandings.
[adunit mobile="RTK_dVa8″]
Gosling also struggled at school academically, and largely for reasons out of his control.
As a kid, Gosling was tested for ADHD and his mother was urged to put him on Ritalin, though she refused.
Gosling has said there was a good reason he acted out: until he was 10, he had an undiagnosed learning condition.
[adunit mobile="RTK_wCZW"]
According to Gosling, he "couldn't read. When you're in class and you can't read and everyone else can, it's pretty frustrating. I couldn't absorb any of the information, so I caused trouble".
To get over his learning difficulties, Gosling turned to the arts, which – obviously – ultimately took precedence over education.
[adunit mobile="RTK_z9hm"]
16. He's a high school dropout
Considering the difficulties he faced as a child, it's no wonder that Gosling wanted out of school as soon as possible.
[adunit mobile="RTK_dVa8″]
In fact, Gosling got out early – he left education aged 17 without ever completing high school.
Such was his hunger for a Hollywood career, Gosling figured pursuing acting roles was more important.
[adunit mobile="RTK_wCZW"]
You have to wonder what his Half Nelson character, schoolteacher Dan Dunne, would think.
Gosling is in good company in never having graduated, however: Leonardo DiCaprio, Johnny Depp and Robert Downey Jr all dropped out early.
[adunit mobile="RTK_z9hm"]
His fellow Canadians Seth Rogen and Drake never finished high school, either.
15. He once gained 60 pounds for a part he didn't get
When Ryan Gosling was first starting out as an actor, he would often take the method route.
[adunit mobile="RTK_dVa8″]
He shadowed a schoolteacher before he starred in Half Nelson; he insisted his character's doll girlfriend was treated like a real person in between takes in order to stay in character whilst filming Lars and the Real Girl.
Gosling's biggest method commitment, however, was wasted on a part that ultimately wouldn't be his.
[adunit mobile="RTK_wCZW"]
After he was cast as the father in Peter Jackson's The Lovely Bones, Gosling decided he needed to get himself a dad bod.
Gosling got his look by drinking melted ice cream, ultimately gaining 60 pounds. The only problem was he hadn't consulted the director about his plan first.
[adunit mobile="RTK_z9hm"]
When Jackson saw the transformation, Gosling lost the part to Mark Wahlberg and – in Gosling's own words – was left "fat and unemployed".
14. He learned how to fly for First Man (sort of)
He might not take the method approach quite so seriously anymore, but Gosling's dedication to a role hasn't dimmed completely.
[adunit mobile="RTK_dVa8″]
For 2018 biopic First Man, in which Gosling plays first man on the Moon Neil Armstrong (a man who could, says Gosling, "fly before he could drive"), he learned how to pilot a plane.
Well. Sort of. At least, Gosling took flying lessons before deciding it really wasn't for him.
[adunit mobile="RTK_wCZW"]
From just a few lessons, Gosling noted "there was a reason why Neil Armstrong was destined to be one of the greatest pilots and I'm not".
After being asked by a flight instructor to perform a "self-imposed stall", Gosling brought his lessons to a halt.
[adunit mobile="RTK_z9hm"]
Recalling the incident, Gosling has said: "This was a terrible idea. I'm going to land right away and I'll spend my time learning other things."
13. The film also gave him concussion
Gosling's trials and tribulations on First Man didn't end with an abortive flying lesson.
[adunit mobile="RTK_dVa8″]
Shooting for a scene involved Gosling undergoing the same training that Armstrong did when he was preparing to fly to the Moon.
In the film, Armstrong is seen strapped into a multi-axis trainer, a device used to prepare prospective astronauts for space travel.
[adunit mobile="RTK_wCZW"]
Being the dedicated actor that he is, Gosling strapped himself into this simulator for real – and got a concussion out of it.
According to First Man filmmaker Damien Chazelle, this was the culmination of shooting Gosling in real aircraft – along with the multi-axis trainer – in a single week.
[adunit mobile="RTK_z9hm"]
"I don't remember much from that entire time", says Gosling looking back. "Except, Damien yelling, you know, 'MOOOOORRREE!' to the operator working the knobs." We have to assume – or at least hope – that wasn't the case with Neil Armstrong.
12. He almost killed himself for Blue Valentine
For Blue Valentine, Derek Cianfrance's 2010 romantic drama, Gosling got deeper into character than usual.
[adunit mobile="RTK_dVa8″]
Paired up with Michelle Williams, Gosling lived with Williams for a month prior to shooting in order to give their on-screen couple an added realism.
Evidently, Gosling developed such affection for Williams' character that he was willing to die for her.
[adunit mobile="RTK_wCZW"]
In one scene, Williams' Cindy confesses to Gosling's Dean that she's pregnant with another man's child.
For effect, director Derek Cianfrance asked Williams not to give away her secret to Gosling under any circumstances, while Gosling was instructed to do whatever he could to get a confession.
[adunit mobile="RTK_z9hm"]
This resulted in Gosling climbing a fence along the Brooklyn Bridge before Williams finally relented to get him down. There was no safety net; had Gosling fell, he would have died. Now you know: that Blue Valentine scene was entirely improvised!
11. He built a car for Drive
At this point, Ryan Gosling is well-known for learning a new skill on the sets of his movies.
[adunit mobile="RTK_dVa8″]
On Lars and the Real Girl, for example, he was taught how to knit by "a room full of old ladies".
In fact, there's a pattern of Gosling putting his hands to use in some way on film sets.
[adunit mobile="RTK_wCZW"]
For The Notebook, Gosling did it Daniel Day-Lewis style and built some of the furniture seen in the film, no doubt impressing co-star Rachel McAdams.
He went further for the 2011 neo-noir Drive, however, by building his petrolhead character's car. That's not something you get taught at the Mickey Mouse Club!
Reportedly, Gosling found a car that he liked – a 1973 Chevy Malibu – in a junkyard, then took it apart and rebuilt it himself. Like his character the Kid, that's more than just being a driver.
[adunit mobile="RTK_z9hm"]
10. He learned the piano for Los Angeles musical La La Land
It might not be quite on the level of building a car from scratch, but Gosling's preparation for 2016 screen musical La La Land was still impressive.
[adunit mobile="RTK_dVa8″]
Once cast in the part of jazz pianist Sebastian in Damien Chazelle's film, Gosling decided he wanted to play his character's parts himself on-screen.
This meant Gosling essentially learning the piano from scratch solely for La La Land, having been only a novice prior to filming.
[adunit mobile="RTK_wCZW"]
Four months before cameras rolled, Gosling began lessons: two hours a day, six days a week.
The end result was that, while on the soundtrack it's pre-recorded pieces by jazz musician Randy Kerber, Gosling's own hands do all the work hitting the right notes on-screen.
[adunit mobile="RTK_z9hm"]
Gosling's co-star, the Oscar and Grammy-winning musician John Legend, admitted to being "jealous" of how quickly Gosling learned the piano to a professional standard. La La Land was nominated for several Oscars in 2017, notoriously being falsely announced as the winner of Best Picture.
9. He has his own Halloween-themed rock band
He may have learned piano for the musical La La Land, but Damien Chazelle's film wasn't Ryan Gosling's first brush with the music world.
[adunit mobile="RTK_dVa8″]
Not content with just being an award-winning actor and filmmaker, Gosling also has his own band.
Dead Man's Bones, which Gosling put together with friend Zach Shields in 2007, is a Halloween-themed indie rock outfit.
[adunit mobile="RTK_wCZW"]
2009 saw the release of the band's self-titled first LP, which includes tracks with names like My Body's a Zombie for You and Werewolf Heart.
A dark doo-whop concept album with songs recorded live in no more than three takes, Dead Man's Bones features a children's choir and Gosling trying his hand at multiple instruments, more than just the piano-playing seen in La La Land.
[adunit mobile="RTK_z9hm"]
Though Dead Man's Bones have yet to release any new material post-2010, you may have since heard some of the band's music without realising: their track In The Room Where You Sleep featured in 2013's The Conjuring.
8. He sometimes breaks up street fights
Don't be fooled: Gosling's white knight routine in movies like Drive and Gangster Squad and is no act – he really does have a crazy stupid love for his fellow man.
[adunit mobile="RTK_dVa8″]
Did you hear about the time where Gosling appeared from nowhere to break up a New York street fight?
It was 2011, and Gosling was in town playing Luke in The Place Beyond the Pines, when he witnessed a fight breaking out between two men while walking through Manhattan.
[adunit mobile="RTK_wCZW"]
Gosling leapt to the defence of the man who was seemingly under attack, while onlookers captured the incident on their smartphones.
The incident made Gosling even more of an internet heartthrob, though he later admitted to regretting ever getting involved.
[adunit mobile="RTK_z9hm"]
It turned out the 'victim' had actually stolen a painting from his attacker, "and then the guy from The Notebook shows up and makes it weirder."
7. He lived in a tent for a while
He's one of Hollywood's most vaunted artists now, after critically adored films like The Ides of March (as Stephen Meyers), but Ryan Gosling's life hasn't always been all glamour all the time.
[adunit mobile="RTK_dVa8″]
In fact, in the years before he was a household name, after he finished his stint with the Mickey Mouse Club, Gosling for a brief period was living in a tent – and no one seems to really know why.
It was 2005, after The Notebook and before his Oscar nomination, and producers were trying to track Gosling down.
[adunit mobile="RTK_wCZW"]
They wanted him for a film called Fracture, a legal thriller that would star Anthony Hopkins alongside Gosling.
When they eventually found Gosling, they gave him the script, which he promptly read in his tent.
[adunit mobile="RTK_z9hm"]
In a 2007 interview for the film, all Gosling could say about his former outdoor digs was "It's a really long story."
6. He once bought 'hundreds' of Girl Scout cookies and handed them out to the general public
If we've done our job right, it'll be well established by now that Ryan Gosling, though an icon of cool, is also a bit of an oddball.
[adunit mobile="RTK_dVa8″]
One of his strangest moments came a few years back, when he was confronted about a confectionary-related rumour live on Jimmy Kimmel.
According to Gosling, he had been out shopping one day when he saw some Girl Scouts hawking cookies.
[adunit mobile="RTK_wCZW"]
Rather than just take a box or two, Gosling took them all, what amounted to "hundreds and hundreds" of boxes.
Not knowing what to do with the product of his impulse purchase, Gosling decided the best thing to do was hand them out to members of the public as he drove around in his car.
[adunit mobile="RTK_z9hm"]
"I started just throwing them out the window to people on the street", he told Kimmel. "At the time I thought this must be what Santa Claus feels like…through their eyes I was not Santa Claus, I was just a creepy cookie guy".
5. He helped build a monastery in Mississippi after Hurricane Katrina
Admirable as his cookie scheme was, Gosling's good deeds have admirably extended beyond the Girl Scout community.
[adunit mobile="RTK_dVa8″]
Since 2007, Gosling has worked for the Enough Project, a non-profit organisation supporting peace and an end to atrocities in Africa.
In 2008 and 2010, he travelled to Uganda and the Congo on behalf of Enough, and co-hosted a benefit for the organisation alongside Harrison Ford in 2016.
[adunit mobile="RTK_wCZW"]
Gosling's most surprising humanitarian effort, however, saw the actor leave Hollywood for Mississipi.
In 2005, after Hurricane Katrina had devastated the Gulf Coast, Gosling decided to help out by driving with a car full of supplies to Biloxi.
[adunit mobile="RTK_z9hm"]
There, Gosling lent a hand by helping to rebuild a monastery alongside other volunteers.
4. Harrison Ford once punched him directly in the face
Harrison Ford should think himself lucky that Gosling would appear with him at that 2016 Enough event, after how their previous collaboration went down.
[adunit mobile="RTK_dVa8″]
On the set of Blade Runner 2049 (released in 2017), Gosling was on the receiving end of a Ford right hook.
The pair were shooting a confrontation scene between their two characters that descended into real fighting.
[adunit mobile="RTK_wCZW"]
It was all accidental of course – Ford just happened to catch Gosling by mistake when he attempted to throw an air punch.
Thankfully, the crew caught it on camera for all to see, and Gosling and Ford helpfully brought the image to The Graham Norton Show to explain.
[adunit mobile="RTK_z9hm"]
"You have to make the punch look like it's intended, but… I hit him. One out of 100 times I hit him", reasoned Ford. Let's hope God forgives Ford for harming that beautiful face!
3. He learned martial arts for a film for no reason
Building furniture and cars, learning the piano, learning how to fly – if a film demands it, Ryan Gosling will do it.
[adunit mobile="RTK_dVa8″]
And so, when Gosling's Drive director Nicolas Winding Refn came to him with a movie about Thai boxing, he got to training straight away.
In order to convince as Muay Thai club owner Julian, the near-mute star of Only God Forgives, Gosling adopted a rigorous diet and trained for two hours a day, four days a week.
[adunit mobile="RTK_wCZW"]
This got Gosling into more or less the best shape of his life, and more importantly for the film made him a Muay Thai fighter to professional standard.
The only thing was that Refn would alter his idea for the film during production, leaving Gosling's new fighting skills untapped.
[adunit mobile="RTK_z9hm"]
In the final film, Julian never lands a punch and instead gets beaten to a pulp by Vithaya Pansringarm's corrupt cop – meaning Gosling trained for months for nothing.
2. He could have played Batman
No one's suggesting Ryan Gosling has had a disappointing career. Still, there's one role that fans might wish hadn't got away from him.
[adunit mobile="RTK_dVa8″]
After Christian Bale exited the role in 2012, Warner Bros began shopping around for a new Batman.
Before Ben Affleck took the part, one of the actors considered was Gosling – but he's since said he doesn't think the public demand is there.
[adunit mobile="RTK_wCZW"]
"I don't think anybody wants that", Gosling told Variety this year, adding that maybe he'd do it if his La La Land and First Man director Damien Chazelle got involved.
Batman wasn't Gosling's first superhero offer. Doctor Strange was also on the table before Benedict Cumberbatch accepted the part.
[adunit mobile="RTK_z9hm"]
Had Gosling taken the part, he would have acted alongside ex-girlfriend Rachel McAdams playing his love interest. Maybe he made the right move.
1. He has his own Moroccan restaurant
We've all made impulse purchases in our time, though most of us not quite on the level of Ryan Gosling.
[adunit mobile="RTK_dVa8″]
For Gosling, being a movie star means his purchases can go way beyond Girl Scout cookies.
Tagine, a Moroccan restaurant in Beverly Hills, offers customers indulgent food "made with love".
[adunit mobile="RTK_wCZW"]
There's added appeal in that the co-owner and curator of the restaurant's menus is Ryan Gosling.
Gosling bought Tagine on a whim back in 2004, before realising he'd spent all his money on it.
For a time, Gosling could be seen working at the restaurant himself, working on the plumbing and doing the dishes.
So now you know that Ryan Gosling worked as a pot-wash even as a movie star!
[rtk_adunit_end]