SCTV was a Canadian comedy sketch show that had some big-name stars appearing in it on a regular basis. The show ran for 8 years until it was cancelled in 1984 and had a big following in its day, largely thanks to names like John Candy and Rick Moranis appearing on the show.
Were you a big fan of the show, and have you re-watched any in recent years? If so, have they stood up to the test of time, and are they as inventive and funny now as they always were? Let's take a look back at the show with some amazing facts that you probably didn't know…
1. What did SCTV stand for?
The official name of the show was actually Second City Television, but very few people referred to the show with its full title, instead preferring the shortened, and more catchy version, SCTV.
2. How did the show get its name?
The show was formed by a Toronto group known as Toronto's Second City Troupe. Toronto is Canada's second city, hence the troupe were given that name.
3. Not all the cast were members of the original troupe
One of the big-names in the cast wasn't actually a member of the original Toronto Second City Troupe. Rick Moranis was actually recommended by Dave Thomas as someone that he thought would fit in perfectly with the other cast, and we're sure you'll agree he was right!
4. Alice Cooper gave a nod to the show
Alice Cooper was a big name in the heavy rock industry in the early 80s and was one of the most influential figures in that genre at the time. It was no small thing, then, when he gave special thanks to the SCTV character played by Joe Flaherty, Count Floyd, on Cooper's Special Forces album!
5. Two of the cast ended up in Home Alone, one directly because of the show
In Home Alone, Catherine O'Hara was cast as Kevin McCallister's mum, Kate, when Chris Columbus saw her work on SCTV. John Candy also appeared in Home Alone, though it is unclear if SCTV influenced that, too, as Candy was a big name anyway.
6. Two characters were reunited in a cartoon… kind of
When Rick Moranis and Dave Thomas appeared in Disney's Brother Bear animated movie in 2003, they played the characters of mooses Tuke and Rutt. They were effectively reprising two of their SCTV roles from the "Great White North" sketch which was a hit on the show.
Brother Bear and Brother Bear 2 represent the last time Moranis has 'appeared' in a movie to date; Moranis all but retired from acting in the late 90s to focus on raising his two children after the passing of his wife Ann Belsky.
7. Other Rock legends are fans of the show
As we have already heard, Alice Cooper is a big fan of the show and nodded Count Floyd on one of his big albums. It's not just Cooper, though, as the rock band Hush show footage of Count Floyd at their concerts, so are also clearly big fans!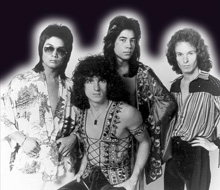 8. Not all the cast were Canadian!
In spite of the fact that this was one of the biggest and most successful shows from Canada at the time, not all of the cast were actually Canadian! Harold Ramis, Andrea Martin and Joe Flaherty were actually all American, but they were still a great fit on the show and had a great rapport with the Canadian cast!
9. Two characters' names were inspired by real newscasters
SCTV had two well-known anchormen played by Eugene Levy and Joe Flaherty, they were Earl Camembert and Floyd Robertson respectively. The news anchors they were named after were Earl Cameron and Lloyd Robertson, so I'm sure the pair knew the characters were "inspired" by them.
10. Some of the stars went on to appear in some big films!
SCTV had some big-name stars who appeared in some very successful films themselves. John Candy was one of the biggest comedy stars of the 80s and early 90s, Martin Short appeared in a number of hit films, including the Three Amigos, whilst Harold Ramis and Rick Moranis appeared together in the hit movies Ghost Busters and Ghost Busters II!
Were you a big fan of SCTV? Are you going to go back and watch the show? Have you actually never heard of the show, but you're now going to check it out? Let us know all your thoughts in the comments as always!