There are few characters more inconic in modern cinema than the loveable giant Sloth.
Advertisement
The man behind the mask though, is the subject of a somewhat more tragic story.
It's always fun to look back and reminisce on the stars of Richard Donner's 80's adventure blockbuster, The Goonies. The cast, although extremely young at the time, will not be forgotten for the rest of a certain generations life.
Advertisement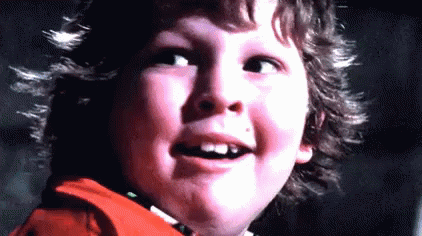 From teenage Josh Brolin, to an already established Corey Feldman, to Sean Astin, who would go on to portray our very own Samwise Gamgee in the Lord Of The Rings trilogy.
The cult film is now an astonishing 30 years old, cue the whimpering sobs of a whole generation. As we look back, it seems like one of those films that they just do not make anymore. Or even they type of film they just can't make anymore.
Advertisement
Unfortunately however, the film actually plays host to a very saddening story indeed.
John Matuszak, the actor who so memorably played the disfigured giant Sloth, sadly passed away just four years after the release of the film, as behind the surface hid a past of drug and alcohol abuse attached to the Holywood spotlight.
Advertisement
Matuszak was often dubbed "larger than life", and that is quite an understatement for a man of his stature. He was an incredible 6'7 and 280lbs he towered above those he came across, and his infectious laugh made an impact on everyone.
Advertisement
He gathered fame in 1973 when he was drafted to join the Houston Oilers.
It wasn't until he was traded to the Oakland Raiders in 1976 that he really started to gather momentum. (For those Goonie fanatics, you'll notice Sloth wearing a Raiders t-shirt in the film itself). Matuszak played as a defensive end who could stand up and stop even the most monumental of opponents in his path.  He won two Superbowls with the Raiders, before retiring in 1982, where he switched his focus to Holywood.
Advertisement
He was incredibly popular with fans, but not so popular with his team-mates. Dubed "The Tooz", he had an addiction to painkillers and narcotics that was brought on by agonising back pain.
Advertisement
His intake was stuff of legend. He would either make it a night you wouldn't be forgetting in a hurry, or one that would be discarded from memory as soon as possible.
One instance involved a playful argument with Raiders assistant coach Terry Robiskie. He slapped his coach in the face with force, and began shaking him. It took the entire team to force the pair apart.
Advertisement
Agression became a staple part of his personality, and the crutch that Robiskie smashed over his head was later mounted on a wall, dubbed "Biskies Tooz Pick".
He began a lanky, awkward youth, but developed into a fiery young man. A young man you really didn't want to cross.
Advertisement
He nearly passed away a lot earlier than he actually did however. Following his girlfriend attempting to run him down with her car, the pair split. Matuszak didn't take the split well, and overdosed on sleeping pills, nearly killing him. He was only revived by his coach pounding his chest in the ambulance.
Though on the surface gentle and polite, his addictions ran rife throughout him.
Advertisement
"He just couldn't control himself," said former Raiders employee Mike Ornstein.
He just couldn't have one drink. He thought his body was so large, it would absorb it. His drink was triple Crown Royal with a beer backer. The man lived a hard life."
Matuszak was also extremely insecure.
Advertisement
"I don't know how many times I've seen The Tooz walk into a bar, grab his shirt with both hands, rip it open to the waist and growl like a lion at the top of his lungs. That tended to get everyone's attention," wrote former teammate Ken Stables.
Advertisement
Matuszak knew in himself he had demons on his back. In his autobiography, "Cruisin' With The Tooz", he lists six incidents that led to convictions. These included drug possession, drink driving, collisions with parked cars, and even concealing weapons.
This ultimately resulted in him being behind bars.
Advertisement
He did however attempt many a time to get on the straight and narrow, but twice he left rehab centres prematurely and fell off the wagon.
Hollywood was just not the right place for Sloth, for a man seeking to return to a normal existence. The movies more than paid the rent. As well as playing Sloth, he also made appearances in "Miami Vice", "The A Team" and "The Dukes Of Hazzard".
Advertisement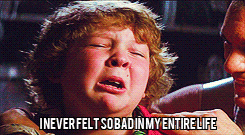 But his new found fame did nothing to help quell his darkest urges and dependencies. It actually magnified them.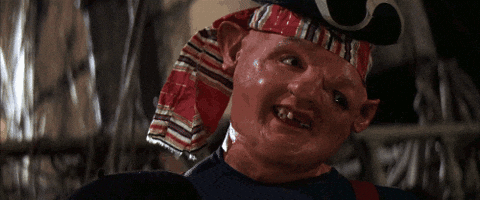 Advertisement
He ultimately died from a drug overdose in June 1989, after a fatal amount of prescription rugs were found in his system. There were also traces of cocaine.
By the time of his death, he had made his mark on both the worlds sports and entertainment industries.  The actor will be long remembered, as his young co-stars used to say…Goonies never die.
But what about the rest of the cast? Let's have a look at what they're up to nowadays…
Advertisement
Sean Austin as Mikey
Astin, 44, wasn't just a child star. He went on to have large roles in films such as "Like Father Like Son," "Toy Soldiers" and "Rudy." He was the voice-over for Raphael in "Teenage Mutant Ninja Turtles" and played Sam Gamgee in Peter Jackson's " The Lord of the Rings" trilogy. His most recent role is in "The Strain."
Advertisement
Martha Plimpton as Stef
Advertisement
Plimpton, also 44, has stayed successful since "Goonies." She acted in "Grey's Anatomy" and recently got an Emmy nod for her role in "Raising Hope." She won an Emmy award for her work on "The Good Wife" in 2012. She is also an advocate for women's rights, which includes abortion rights. She even wrote and essay titled "Abortion, Shame, and the Right to Deny me my Rights" in 2014.
Advertisement
Kerri Green as Andy
Green had a successful acting career in the 1990's, starring in "Goonies" and "Lucas" but started to slow down afterwards.  She appeared on a few shows like "Murder, She Wrote" and "ER," but hasn't acted much since the 90's.
Advertisement
She did, however, launch a production company called Independent Women Artists, and even directed the company's movie, "Bellyfruit."  IMBD states that  "she received critical acclaim for it." Since, she starred in a 2012 film, "Complacent" and still writes screenplays.
Jeff Cohen as Chunk
From 1984 to 2987 Cohen was featured in a few episodes of "Family Ties" and acted until 1991, in which he played a role in "Perfect Harmony."  He also played in some documentaries including "The Living Century" and the "Rise and Fall of Tuck Johnson" in 2009.
Advertisement
He later attended law school and then founded Cohen Gardner LLP in 2002. He also wrote a book-"His first book, The Dealmaker's Ten Commandments: Ten Essential Tools for Business Forged in the Trenches of Hollywood was published by the American Bar Association's imprint Ankerwycke in 2015," his bio reads.
Advertisement
Robert Davi and Joe Pantoliano as Jake and Francis Fratelli
The two both had very successful careers after the "Goonies."  Davi, 61, played in "Die Hard," "Licence to Kill"  "Expendables 3" and several others. He is also an accomplished singer; his first album was released in 2011.
Pantoliano,63, Played in "The Sopranos," "The Matrix," "Risky Business," "Memento" and many others. He's currently in "Sense 8" which is a series on Netflix.
Advertisement
Jonathan Ke Quan as Data
Quan was born in Saigon, South Vietnam (present-day Ho Chi Minh City, Vietnam). He was forced to leave his country when the Army of the Republic of Vietnamwas defeated during the Fall of Saigon. Quan starred in "Indiana Jones" and "Goonies."  He was featured in a few series, including "Head of the Class," and "Encino Man." He stopped acting in 2000 and graduated from USC. He went on to work as a  stunt choreographer.
Advertisement
Corey Feldman as Mouth
He starred in "Stand by Me," "The Lost Boys," and "License to Drive." He then played a role in "Surreal Life"  and released a solo record, "Former Child Actor."
Advertisement
Feldman, who is 43, starred in a reality show with his friend and collaborator, Corey Haim, called "The Two Coreys." Haim died in 2010. He then released a memoir "Coreyography" in 2013 which was about his struggles, addictions and how he dealt with the loss of his friend.
Advertisement
Anne Ramsey as Mama Fratelli
Anne Ramsey had a successful career in the 1970s, appearing in such television programmes as Little House on the Prairie, Wonder Woman, Three's Company and Ironside. In 1988, she was nominated for the Academy Award for Best Supporting Actress and the Golden Globe in the same category for her role in Throw Momma From The Train. 
Advertisement
She sadly died in 1988 of esophageal cancer.
And here are some interesting facts that you may not have known about the film…
Advertisement
1. The reaction of all the kids upon seeing Willie's ship is authentic, as this was really the first time they'd ever seen it. 
Director Richard Donner wanted the most realistic response possible, so held off on showing the ship to the kids until shooting time. Unfortunately, the plan backfired when so many of the kids cursed that they had to reshoot anyway.
Advertisement
2. John Matuszak, A.K.A. Sloth, was originally an NFL defensive linesman for the Oakland Raiders
Advertisement
Which is why the late actor can be spotted in a Raiders t-shirt in the film. Superman of 1978 was another film directed by Richard Donner, hence the shirt above. Imagine being successful in both the acting and sporting world. Do you think we're going to see David Beckham in a film anytime soon?
Advertisement
3. There's a mini R2-D2 on the deck of the model ship sailing at the end of the film.
If you look closely, there's a mini R2-D2 on the deck of the model ship that is sailing at the end of the film. This is not the only film that has a Star Wars reference. In E.T, one of the people dress as Yoda for Halloween. George Lucas returned the favour by including the E.T. species in one of the Star Wars films.
Advertisement
4. Originally, a Goonies oath appeared in the film
Advertisement
It was since cut from the script, but went like this: "I will never betray my Goon deck friends/ We'll stick together until the whole world ends/ Through heaven and hell and nuclear war/ Good pals like us will stick like tar/ In the city, or the country or the forest or the boonies/ I am proudly declared a fellow Goony."
Advertisement
5. The director had a clever trick for dramatic scenes
Donner would yell "big eyes!" to get the kids to widen their eyes for the camera. I mean, that's a pretty straight forward direction.
6. A real human skull was used for the head of One-eyed Willy
Creepy! Richard Donner now keeps the skull and a model of the pirate ship at his home.
Advertisement
7. Willy's name appears as 'William B. Portobell' in the script
His last name references Portobelo – a port that was often visited by pirates of the 17th Century. Located on the northern part of the Isthmus of Panama, it has a deep natural harbour and served as a center for silver exporting before the mid-eighteenth century and its destruction in 1739 during the War of Jenkins' Ear.
Advertisement
8. The film contains nods to Gremlins, another 80's cult film
Advertisement
During a conversation between Chunk and a police officer over the phone, the officer tells him, "Just like that last prank, about all those little creatures that multiply when you throw water on them." And we have previously said that a mini R2-D2 can be seen on the deck of the ship, a nod to Star Wars.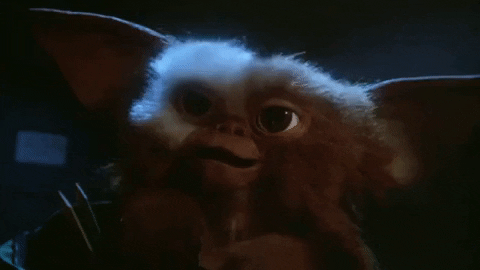 Advertisement
9. The whole film was almost shot entirely in sequence
And it took 5 months to complete.
10. Some of the actors' actual parents can be seen in the beach scene, where the kids are reunited with their parents after escaping the Fratellis. 
Advertisement
The others were crew members, and Chuck's mother was the actor's real live mum. See, parents do come in handy!
11. Sloth's face was created after approximately five hours of makeup work
Advertisement
Advertisement
The eye was remote control operated and would malfunction when it got wet. Of course, his happened a lot when filming the pirate ship scenes. You would have thought that they would have come up with a way of protecting the eye against water – especially considering they were around water so much.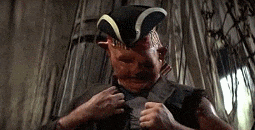 Advertisement
12. When Data describes the adventure to the press and police at the end of the movie, he says, "the scariest part was the octopus!" – a scene which was actually cut from the final version of the film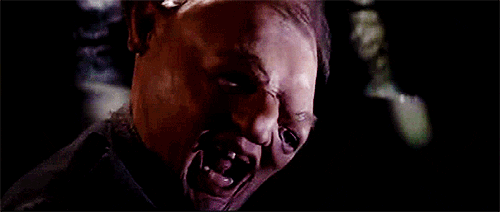 "8 Arms to Hold You", a sung by The Goon Squad, was a song written about the scene. It was replaced by "The Goonies 'R' Good Enough" by Cyndi Lauper.
Advertisement