Growing up in the the late 80s and early 90s we were blessed with a massive amount of quality TV shows, many of which have become classics that we love to watch again and again. Everything about 80s and 90s TV was brilliant, from the very questionable perms to the Don Johnson suits.
Advertisement
Advertisement
We decided it was about time that we celebrated some of our favourite shows by compiling 50 fascinating facts about 11 of the best TV programmes from the 80s and early 90s. Read on to find out more!

Advertisement
Airwolf
American television series Airwolf ran from 1984 until 1987 and had a highly original premise. The show centred around a high-tech military helicopter (the 'Airwolf' of the series title) and the adventures of the pilots who flew it. Cheesy action shots and grey jumpsuits were a regular Airwolf staple, whilst the opening theme tune contained some distinctly 80s synth vibes.
Advertisement
1. Jan-Michael Vincent's Stunt Double Was Killed
Tragically, Jan-Michael Vincent's stunt double Reid Rondell was killed in a crash whilst the show was still in production. He was the lone passenger in the Airwolf helicopter, which collided into terrain a few miles north of Los Angeles.
Advertisement
Bizarrely, the crash occurred extremely near to another fatal helicopter accident involving three actors from The Twilight Zone. Rondell passed away in January 1985 – he was only 22 years old.
2. There Was Another Tragedy Connected To The Show
After Airwolf was taken off the air, the helicopter they used in the show tragically crashed, killing the three passengers that were on board. It had been sold to a German company to be used as an air ambulance, and it was whilst being used for this purpose that the tragedy occurred.
Advertisement
3. It Was Not The First Helicopter-Based TV Series
Whilst there aren't many of them about now, back in the day Airwolf was not actually the first helicopter-based TV series to air. The first TV show to focus specifically on helicopters was 'The Whirlybirds' which ran from 1957 to 1960.
Advertisement
It followed the adventures of two pilots who owned a private helicopter charter companty and featured Bell 47 helicopters, precursors to the Bell 222 helicopters used in Airwolf.
Advertisement
4. The Theme Tune Originally Sounded Very Different
The show's amazing theme tune was originally just orchestral, but it was changed to a more synthesizer based arrangement early in the second series.
Advertisement
5. Jan-Michael Vincent Has A Photographic Memory
According to his co-star Ernest Borgnine, Vincent could look at a script once and then be ready to start filming. 
6. It Continued With A Different Cast
Advertisement
After the original series was cancelled, a fourth series, with an entirely new cast and on a much smaller budget, was filmed in Canada. The original cast was completely written out of the fourth season and "The Firm" was replaced by "the Company".  St. John Hawke – played by Barry Van Dyke – was suddenly revealed to be alive, having been working for many years as a deep undercover agent for American intelligence, contradicting his characterisation in the previous three seasons.
Advertisement
St. John replaced Stringfellow as the central character. Production moved to Vancouver, British Columbia, Canada, with a reduced budget, less than one third of the original CBS budget. The production crew no longer had access to the original Airwolf helicopter, and all in-flight shots were recycled from earlier seasons; the original full-size studio mockup was re-dressed and used for all interior shots.
Advertisement
Actress Michele Scarabelli (pictured below), who played Jo Santini, said in a Starlog magazine interview that all 24 scripts were in place before the cast arrived, leaving the actors little room to develop their characters.
Advertisement
Challenge Anneka
Challenge Anneka was a British reality TV show that aired between 1989 to 1995. The programme was an early hit for Channel 4, which was still in its early days. The format involved presenter Anneka Rice being given a task to accomplish within a certain period of time, usually two or three days.
Advertisement
She was supposed to have no knowledge of what the task of each particular episode would be before it began, and would have to organise its accomplishment by persuading companies and people to contribute their time and resources for free. The task would usually help out a local charitable cause, such as building a play area for children within the local community.
Advertisement
Unfortunately, sometimes Anneka wouldn't manage to complete the task on time, but all was not lost – she and the team often agreed to come back the next day to sort things out once and for all!
7. Anneka Had No Budget With Which To Complete Her Tasks
The show saw Anneka given a task to accomplish in a time frame of usually a few days. There was never any preparation time, meaning that the completion of the task required that she ask companies to give her the necessary man power and products free of charge. Of course, since everything was for charity they always managed to agree to Anneka's request.
Advertisement
8. They Messed Up Some Of The Projects
Not everything went smoothly for Anneka and occasionally her and the team didn't quite get the job done properly. Some of the completed projects needed repairing in the months and years following the show. Examples included the White Horse landmark in Dorset, and a Children's Playground that was found to be unsafe and so had to be closed and renovated. Oops!
Advertisement
9. The US Version Was Hosted By Erin Brockovich
The show's format was sold to many European countries, each having a different host. In the late 90s the show was hosted by Erin Brockovich in the US, who starred in Challenge America with Erin Brockovich. Brockovich became well-known to international audiences as the real-life counterpart to Julia Roberts' famous acting role.
Advertisement
10. There Were Some Really Funny Moments
Anneka also wasn't afraid of having a laugh, sometimes at her own expense, with the following clip being one of the best examples…
Advertisement
Grange Hill
11. It Was One Of The Longest Running Programmes On UK TV
The show was first aired in 1978 on BBC1, and was one of the longest-running programmes on British television when it ended its run 30 years later in 2008.
Advertisement
12. It Had A Future Academy Award Winner On Staff
Believe it or not, one of the show's script editors went on to win best director at the Oscars. This was the late Anthony Minghella, who won the Best Director Academy Award for The English Patient in 1996, and was nominated for 3 more Academy Awards (Best Adapted Screenplay for both The English Patient in 1996 and The Talented Mr. Ripley in 1999, and a posthumous nomination for Best Picture for The Reader in 2008 as a co-producer).
Advertisement
Minghella's humble writing origins on Grange Hill certainly proved popular with 80s audiences, as the popularity of the series continued well into the 2000s.
Advertisement
13. The Famous 80s Theme Tune Was Written In One Hour
The original theme used from 1978 to 1989 was 'Chicken Man' by Alan Hawkshaw, a track composed in 1 hour before it was recorded during a session in Munich, Germany.
Advertisement
14. The Theme Tune Was Also Used For Another Show
A popular quiz show also used the same theme tune. It was called 'Give Us a Clue', but they used a very different arrangement of the song (and Grange Hill used it first).
Advertisement
15. Ziggy Was Named After David Bowie
Eric 'Ziggy' Greaves (played by George Christopher between 1986 and 1989) got his nickname from David Bowie's alter ego Ziggy Stardust. This was because he was fond of spiders, and Ziggy Stardust's backing band was called The Spiders From Mars.
Advertisement
16. We Never Found Out How Gonch Got His Nickname
John Holmes starred as Luke 'Gonch' Gardner for five series, but we never found out how Gonch got his nickname.
Advertisement
It was also never explained how Douglas Patterson (played by Peter Moran) came by the nickname 'Pogo'.
Advertisement
Happy Days
Happy Days ran for ten years from 1974 to 1984. During its peak in the 80s, it was one of the highest-rated programmes on TV, thanks to audiences across the world falling in love with the antics of Fonzie and his circle of friends. The series alater spawned a number of spin-offs, including the hit shows Laverne & Shirley and Mork & Mindy.
Advertisement
The first two series of focused on the experiences and dilemmas of teenager Richie Cunningham, played by now film director Ron Howard. Unfortunately ratings fell during the second series so more emphasis was given to broad comedy, and the previously minor character of Fonzie was given far more screen time.
Fonzie quickly became a pop culture icon, and Henry Winkler shot to stardom as the stereotypical greaser that every teenage boy wanted to emulate. In 1999 TV Guide ranked him number 4 on its 50 Greatest TV Characters of All Time list.
Advertisement
18. Henry Winkler Struggled To Read His Scripts
Due to having dyslexia (which wasn't actually diagnosed until he was 31), Winkler struggled to read the 6 lines he was given at his audition, and apparently made them up instead.
Advertisement
"That's not in the script," the producers pointed out, to which Winkler replied: "I know, but I'm giving you the essence of the character and if I get the part I'll do it verbatim."
Advertisement
19. It Coined The Phrase 'Jumping The Shark'
You may have heard the phrase 'Jumping The Shark', which is defined as 'a point in a TV show or film when far-fetched events are included merely for the sake of novelty, indicative of a decline in quality'. The phrase came from a scene from a fifth season episode of Happy Days when Fonzie jumps over a shark while on water-skis, which was deemed as being a blatant ploy to increase ratings.
20. Robin Williams Landed His Role In A Rather Strange Way
Advertisement
Robin Williams joined the series as the extraterrestrial who lands on Earth after leaving his home planet of Ork in an egg-shaped spaceship. He later befriended and then married Mindy, who bore him a child over the course of the series. When Robin Williams auditioned for the role of alien Mork, he was directed to sit down by the show's producer. He turned to face the chair and sat on his head instead, which won him the part straight away.
Advertisement
Producer Gary Marshall later wryly commented that Williams was the only alien to audition for the part. His hilarious portrayal of Mork led to two nominations for Primetime Emmy Awards, and the start of a long and illustrious career in the world of comedy.
Knight Rider
The Hoff and his iconic talking car entranced a whole generation of audiences in the 80s – the show ran from 1982 to 1986 and spurned films, computer games and even novels due to its mainstream popularity. But did you know the following facts about the TV series?
Advertisement
21. Inspiration For The Show Came From The Lone Ranger And 2001: A Space Odyssey
"I wanted to do The Lone Ranger with a car," creator Glen Larson has said of the show. And in David Hasselhoff's autobiography, he states that HAL 9000 from the film '2001: A Space Odyssey' was the direct inspiration for K.I.T.T.
Advertisement
22. Hasselhoff Didn't Meet The Voice Of K.I.T.T. At Any Time During Filming
William Daniels (the voice of K.I.T.T.) and David Hasselhoff were never even in the same room together while the show was being made. They first met at the show's Christmas party when Knight Rider was already an established hit. Luckily this didn't harm the pair's on-screen chemistry and their dynamic became an instant hit.
Advertisement
23. K.I.T.T. Was Almost Called T.A.T.T.
K.I.T.T. was one of the earliest depictions of on-screen artificial intelligence. Whilst the series was early into its production, the car was called T.A.T.T., which stood for 'Trans Am Two Thousand'. We definitely prefer the sound of the name K.I.T.T.!
24. The Theme Tune Was Based On An 18th Century Ballet
Knight Rider's opening theme tune, composed by Stu Phillips, is actually based on a selection from Léo Delibes's ballet 'Sylvia', specifically, 'Cortège de Bacchus' from the third act.
Advertisement
25. A Number Of Cars Were Trashed Every Series
The stunt work was hard on the cars, and the show typically trashed four to nine each series. Each Trans Am cost about $18,000 to modify into K.I.T.T.
Advertisement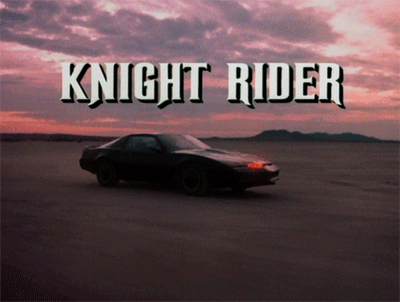 26. The Franchise Continued Well into the 2000s
As well as the classic original series which ran from 1982 until 1986, there was also the short lived 'Team Knight Rider' (1997 – 1998), and another 'Knight Rider' (2008 – 2009) which featured Michael Knight's son.
Advertisement
Neighbours
Everyone remembers the iconic theme tune at the start of much-loved Aussie soap Neighbours. It's been running since 1985, making it Australia's longest-running drama series. Karl Kennedy and Toadie are still series regulars, and previous actors have included Kylie Minogue and Holly Valance! The programme always had a large following in the UK, so let's find out some trivia about everyone's fave aussie drama.
Advertisement
27. The Show Was Cancelled After 8 Months
Neighbours ran for 8 months on Australia's Channel 7 before it was cancelled. Luckily for us it was resurrected by Channel 10 who are the channel that have screened the soap ever since.
28. There's Only One Surviving Character From The Very First Episode
Paul Robinson, played by Stefan Dennis, is the only remaining cast member to have appeared in the very first episode. He did actually leave the show in 1993 but returned again in 2004.
Advertisement
29. There Have Been A Number Of Celebrity Cameos
Advertisement
The series has clearly had some star power – Michael Parkinson, Lily Allen, Neil Morrissey, David Walliams, Matt Lucas, Emma Bunton, Paula Abdul and Dave Bautista have all filmed cameos in the soap.
30. Some Of The Actors Went To School Together
Tom Oliver (Lou Carpenter), Anne Charleston (Madge Bishop) and Ian Smith (Harold Bishop) went to school together.
Advertisement
Quantum Leap
Quantum Leap ran from 1989 to 1993 and starred Scott Bakula as Dr. Sam Beckett, a scientist who managed to travel back and forth in time, correcting historical 'mistakes'. The show was recently voted one of the best cult TV programmes of all time – it started off slow and didn't manage to attract many viewers, before young people started tuning in to follow Dr. Sam's exploits throughout history. The series finale was watched by over 13 million viewers.
Advertisement
31. The Show's Title Came From A Science Book
Advertisement
The show's creator, Donald P. Bellisario, explained how he came up with the title 'Quantum Leap', saying "I was reading a book called Coming of Age in the Milky Way and it took man from when he looked up at stars and all the way to quantum physics, and it gave the history of everything. And the quantum leap is a physical thing that happens that you can't explain."
Advertisement
32. Scott Bakula Was Amazing In His Audition
After Scott Bakula auditioned for the role of Dr. Sam Beckett, Bellisario says that he contained his excitement and calmly thanked Bakula for his great audition. He has said "He walked out and the door closed. And I went, 'That's the guy'."
Advertisement
33. Scott Bakula Had To Work Really Really Hard
Because Sam Beckett was in almost every scene in every episode, he often had to work seven days a week, causing him to once say "I always likened that show to running a marathon: You just tried to get through the season in one piece."
Advertisement
34. An Episode Featuring A Gay Character Lost Half A Million Dollars
In the episode 'Running for Honor—June 11, 1964', Beckett visits a naval college to prevent homophobic classmates from killing a gay cadet. The TV network apparently lost half a million because sponsors pulled out of advertising before the show was aired. This was mainly because originally they had planned for the gay cadet to commit suicide, but that was changed in the final version.
Advertisement
35. Quantum Teleportation May Actually Work
In 2014, the University of Geneva teleported a photon 'to a crystal-encased photon more than 25 kilometers (15.5 miles) away', which means that one day it may be possible to transport more than just particles through optical fibers. How cool would it be to travel through time like Dr. Scott?! If you could go back and change one thing in history, what would it be?
Advertisement
36. A Film Version Is In The Works
The show's creator Donald Bellisario has recently said "I just finished writing a Quantum Leap feature. I don't know what's going to happen with it, but I did write it." Unfortunately he didn't mention if a studio or television network had expressed any interest in making the film, nor did he say how it would deal with the shows ending.
Advertisement
The Sooty Show
Advertisement
The Sooty Show spanned many generations of young children across the UK. Everybody remembers watching the adventures of Sooty, Sweep and Soo, and the series' regular catchphrase 'Izzie wizzie let's get busy!' which helped to get Sooty's magic wand working. Other characters on the series included Butch, a dark brown dog who was able to talk, and Ramsbottom, a snake with a strong Yorkshire accent who had the habit of telling some rather convoluted stories and ditties.
Sadly The Sooty Show was cancelled in 1993, but audiences still remember watching the little yellow bear and his friends get into mischief.
Advertisement
37. It's The Longest Running Children's Programme In The UK
Fans might be surprised to learn that of all the kids programmes on TV, The Sooty Show is still the longest-running series in the UK. The Sooty Show first aired on the BBC from 1955 until 1967, then from 1968 to 1992 on ITV, and continued again from 1993 as 'Sooty & Co.'
Advertisement
According to Guinness World Records, The Sooty Show is the longest-running children's programme in the UK.
Advertisement
38. He's Called Sooty For A Reason
At first glance, 'Sooty' seems like a strange name for a bear that isn't black. However, there's actually an interesting reason for his chosen name.
Advertisement
The original bear was completely yellow all over, but Harry covered up his ears and nose with soot so that he would show up better on black and white television – hence the name Sooty!
Advertisement
39. Sweep Was Able To Talk Thanks To A Saxophone
Sweep was Sooty's best friend and a fan favourite of the series. A grey dog with a love for bones and sausages, like the other puppets he couldn't actually speak English – so how did the programmers create his familiar squeaking sounds?
Advertisement
Sweep was able to communicate using squeaks that were achieved by original puppeteer Leslie Corbett inserting a reed from an saxophone into the puppet's mouth.
Advertisement
40. Soo Was Voiced By Harry Corbett's Wife
The Sooty Show was actually a family affair in a lot of ways. Fans may remember that Soo, the female puppet, was able to communicate in English. She was a calm and collected female panda with a well spoken human voice.
Advertisement
In fact, Soo was originally voiced by Harry's wife Marjorie Corbett from 1964 to 1981. After that, Brenda Longman took on voiceover duties.
Advertisement
The A-Team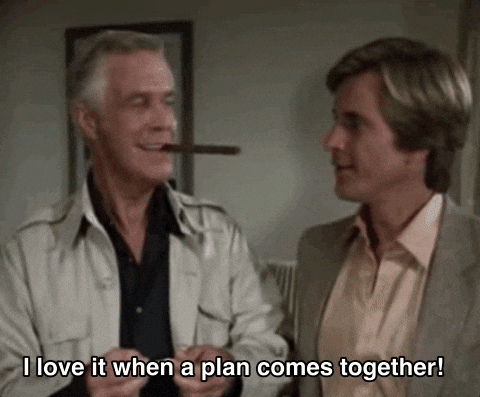 The A Team was an 80s classic centred around a team of ex-special forces soldiers who were constantly trying to evade the military police. It quickly entered the realms of iconic pop culture status thanks to its completely over the top action scenes and zany catchphrases.
Advertisement
These included 'I love it when a plan comes together!' and 'I ain't gettin no plane!'. Not to mention Mr T.'s eye-catching gold jewellery…
Let's find out more about the iconic 80s special forces action team!
Advertisement
41. Murdock's First Name Is Never Revealed
For reasons that we're still not quite sure about, the only character that never had his first name revealed was Capt. H.M 'Howling Mad' Murdock.
Advertisement
The other names of the team were revealed as Lt. Col. John 'Hannibal' Smith, 1st Lt. Templeton Arthur 'Faceman' Peck, and Sgt. 1st Class Bosco Albert 'Bad Attitude' Baracus. That's an impressive list of nicknames!
Advertisement
42. BA Never Actually Says "I Pity The Fool"
Although Mr. T has often said "I pity the fool", the line never came from an episode of The A-Team. He did however often refer to people as "fools" or "suckers".
Advertisement
43. Mr. T and George Peppard Didn't Get On
Unfortunately, everything was not as harmonious off-screen as it was on-screen with The A Team members. Due to some serious Hollywood egos, fans will be disappointed to learn that Mr. T and George Peppard didn't get on in real life.
Advertisement
Once the series became a hit, Peppard becoming angry that Mr T had become the show's big star and was getting paid more than him.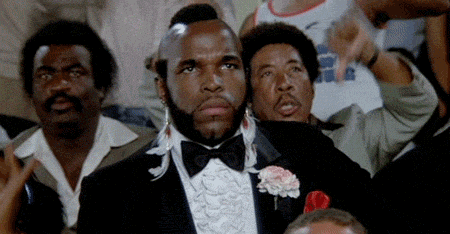 Advertisement
44. Two Episodes Were Originally Shown In The Wrong Order
The series finale episode called 'The Grey Team' and was accidentally shown as the penultimate episode, with the first part of the finale, called 'Without Reservations', shown as the last episode. Whoops! The episodes were shown in the correct order in reruns.
Advertisement
George Peppard Smoked Alot Of Cigarettes
Peppard apparently smoked 3 packets of cigarettes a day, giving up in 1992 after the removal of a tumor from his lung, but sadly he died of pneumonia whilst still being treated for lung cancer in 1994, aged 65.
Advertisement
45. Mr T Didn't Like The 2010 Film Version
When asked about the 2010 film version show starring Liam Neeson and Bradley Cooper, Mr T said: "People die in the film and there's plenty of sex but when we did it no one got hurt and it was all played for fun and family entertainment. These seem to be elements nobody is interested in anymore".
Advertisement
The Bill
46. A Real Life Drama Meant They Had To Move
Advertisement
Not far from the set in the 1980s, confrontation started between newspaper workers and Rupert Murdoch's News International, which led to some violent and angry skirmishes. Unsurprisingly, actors on the show were worried about being mistaken for real officers, so they had to move the whole show to another part of London.
Advertisement
47. The Uniforms They Used Were Real
The actors used real police uniforms when filming, which meant that the production team had to securely lock the clothes away when they weren't being used, to stop them falling into the wrong hands.
X-Files
48. It Was Partly Influenced By Silence Of The Lambs
Silence of the Lambs inspired the series to be based on FBI agents, as it was thought that this would give a plausible reason for the main characters to be involved in so many weird and wonderful cases.
Advertisement
49. The Cigarette Smoking Man Was Originally An Extra
Actor William B. Davis' first appeared on The X-Files as background actor with no dialogue. At that time neither her nor the anyone else knew he would end up becoming the show's main antagonist.
Advertisement
If you have enjoyed reading this post, please do spread some lovely, warm, nostalgic television memories to your friends and family by sharing it with them.