Richard Paul Astley was born on the 6th February 1966, is an English singer songwriter, and he once released a song that you've probably heard of. There's one thing for sure, he's never gonna give you up! And we can't give him up either! In fact, we can't get enough of him!
*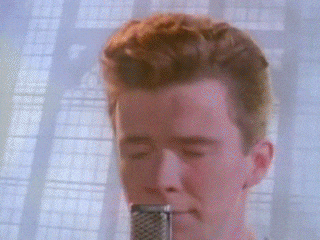 By the time that Astley retired in 1993, he had sold approximately 40 million records worldwide. In 2007, he made a comeback after becoming an internet sensation when the music video for "Never Gonna Give You Up" became integral to the "rickrolling" meme.
In 2008, Astley was voted the "Best Act Ever" by internet users at the MTV Europe Music Awards in 2008. In 2016, his new album, 50, debuted in the UK at No.1.
Here are 42 things you might not have known about this true 80s legend…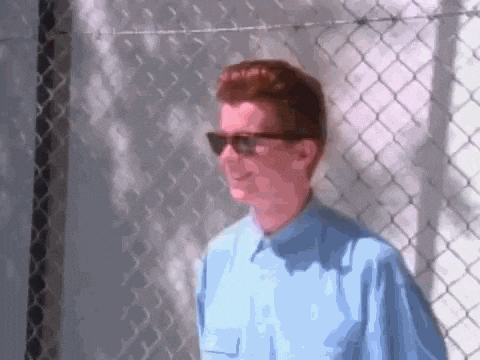 *
1. He Was In His Church Choir
As a child Astley was a choir boy at his local church, so yes, he was actually as clean-cut as his image suggested!
2. He Started Out As A Drummer
In 1985 Rick was performing as a drummer with a soul band called 'FBI', who were a reasonably well known band that wrote and performed their own songs in local pubs and clubs.
*
3. He Was Employed As A 'Tea Boy'
Astley was noticed by record producer Pete Waterman, who brought him under his wing along with Mike Stock and Matt Aitken (who we collectively known as Stock Aitken Waterman). They taught Rick all about the recording process and prepared him for his future career, whilst he was supposedly employed as the recording studio's 'tea boy'.
*
4. His First Single Was A Flop
His first single was a duet called 'When You Gonna', which he performed with Lisa Carter under the name 'Rick and Lisa'. Sadly, it was a big flop.
5. He Hit The Top Spot All Over The World
Rick Astley's 1987 song 'Never Gonna Give You Up' went to No.1 in 25 countries as well as winning the 1988 Brit Award for Best British Single.
*
6. People Often Assumed He Was Black
When he started out, a lot of people assumed Rick was a black because of his deep singing voice.
7. The British Media Called Him A 'Puppet'
After the release of his first album, the British media called Astley a 'puppet' of Stock Aitken Waterman, even though he had written five of the album's tracks himself.
*
8. He Toured Fifteen Countries…
In 1989, Astley toured 15 countries including the UK, US, Australia, and Japan. The tour didn't quite go to plan.
9. He Left His Producers After The Tour
By the end of his tour, Astley was fed up of the negative press, and wanted to 'explore alternative paths as a musician', causing him to leave producers Stock Aitken Waterman.
*
10. He Came Back With A New Image…
After leaving Stock Aitken Waterman, Astley moved toward a more Soul inspired musical style, which also caused him to change his image and present himself as a 'mature and passionate musician'.
11…But Eventually Decided To Retire Completely
By the time his 1993 album 'Body and Soul' was released in 1993, Astley, aged 27, had decided to retire from the music industry completely to concentrate on his family. Rick's parents divorced when he was 4, and he feared that his career would destroy his family life.
*
12. He's Still In The Guinness Book Of World Records
Rick is still listed in the Guiness Book of World Records for being the first male solo artist to have his first 8 singles reach the Top 10 in the UK.
13. He Was The Subject Of An Internet Sensation
In 2007 Astley became the subject of a viral Internet meme called 'rickrolling', where internet users are tricked into seeing Rick Astley's video for 'Never Gonna Give You Up' when they click on a link that they expect to lead them somewhere else.
*
14. He Eventually Returned
Nearly 10 years after his last album, Astley returned to the music industry in 2001 with a new album called 'Keep It Turned On'.
15. He Has Been With His Wife For Thirty Years
Astley is married to Lene Bausager who he met when she was working as a record producer in 1998. They have a 26 year old daughter called Emilie.
*
16. He Co-Wrore A Song With Former Marillion singer, Fish
Rick Astley co-wrote the song "Missing Statement" with the former singer of Marillion, Fish (from Fish's 1999 album "Raingods with Zippos."
17. He Is A Fan Of British Comedies
Rick Astley is a big fam of British comedy series, especially The Young Ones (1982) and Black Adder (also 1982).
*
18. "Never Gonna Give You Up" Won An Award
The single "Never Gonna Give You Up" won the British Phonographic Industry Award for British Single in 1988.
19. Smash Hits Magazine Wasn't Very Kind To Him
When Rick Astley was at the height of his career, Smash Hits referred to Astley as a "singing teaboy" and often misprinted his name as "Dick Spatsley."
*
20. His Daughter Was 9 When He Announced He Was Re-Starting His Music Career
Rick Astley has a daughter named Emilie with his wife, Lene Bausager. In 2001 she was nine when he released the news that he was re-starting his career in music. He and his wife had not yet married at that point. Imagine being his daughter and being Rick Rolled all the time.
*
21. He Thinks Phil Collins Is One Of The Most Underrated Musicians
In an interview, Rick Astley said: "I think Phil Collins is one of the most underrated musicians, singers, performers – he is absolutely amazing, I think, and I think he's probably got a bit of a rough ride occasionally because he became so mainstream and so popular."
*
22. He Believes That He Butchered A Few Songs
He has said before: "There's some songs you can cover, and I've covered and butchered a few, but you can't do them all."
23. He Loves Singing To A Live Audience
"You can't explain the feeling of singing hit songs to an audience – it's like being a genuine sports star at the peak of their powers."
*
24. Vic Reeves' Impersonation Of Him Is A Highlight Of His Life
"It's really weird seeing someone impersonating you. But at the same time, Vic Reeves' impersonation of me is one of the highlights of my life."
25.  He Had Enough Of Music When His Daughter Was Born
"When our daughter was born, a light went on for me – there was more to life than what I was doing. It felt like being famous for being a paint salesman. It wasn't the dream I was sold on. I'd had enough of it."
*
26. He Says That The Pop Industry Is Cruel
"Because the pop industry is cruel, if you don't do everything the label wants you to do, it has an army of other people waiting to do it."
27. He Was Known For Being Shy and Reclusive
"Back in the '80s, I was known for being reclusive, often shying away from media attention."
*
28. He's Been Asked For Autographs In Some Pretty Strange Places
"I must admit, the constant invasion of privacy was becoming a real concern. I've been asked for autographs while I've been doing laps in the pool and even in the toilet!"
29. He Loves Soul Music
I used to go to soul nights because I loved dancing, and so did my friends, and we loved the music. We used to go listen to black American soul.
*
30. He Believes That Fame Comes From Hard Work And Doesn't Happen Overnight
"Don't expect fame to come overnight. That filtered through to me in my own career. Look at Madonna: she's not the best singer in the world, but she's got where she has through hard work."
Although look at people like One Direction and Little Mix of The X Factor generation. Fame for them was almost instantaneous.
*
31. He Enjoys Eating Out
"I do have a thing for eating out; that's one of life's great middle-age pleasures." I mean, who doesn't enjoy eating out?
32. He Is Honoured That His Fans Helped Win "Best Act Ever." 
"I am honoured that my fans worked so hard to help me win Best Act Ever at the 2008 MTV Europe Music Awards."
*
33. He Doesn't Like Flying
"I don't like flying. I'm a bit scared of it and don't enjoy the whole experience." I'm all for flying personally, I think it's great!
34. He Says That He Doesn't Get Recognised Off Stage
"I don't get recognised until I'm on stage, and then I can walk off and forget about it. It's great."
*
35. He Comes From A Large Family
"I was the youngest of four kids, and Dad, who had a garden centre before he retired, came from a large Lancashire family. Every one of my uncles had their own business, including a post office, two fish and chip shops and a painting and decorating business." Even reading about fish and chips is making me hungry.
*
37. He Says His Time Away From The Spotlight Helped Him Rediscover Music
"My success set me up for life, and it meant that I could retire from the music industry at 27 to spend time with my newborn daughter and my wife. My time away from the spotlight allowed me to rediscover my love for music, and I'm doing it for me now and no one else."
*
38. Scientology Makes Him Think of Aliens
"Scientology always makes me think of that movie 'V' where that woman takes off her mask of human flesh to reveal her true, alien self."
39. They Only Had One Record Player In His House
"When I was a tiny tot, we only had one record player in the house, so there was either Genesis on it or the Jungle Book or The Beatles as well, and various other things."
*
40. He Likes To Go On Spontaneous Driving Holidays Abroad
"I've done drives through Budapest and Oslo and used to drive to Sardinia, too, which is quite a journey. Drives are an adventure because I don't plan them too carefully. I take detours depending on how I feel and usually stop and stay at places I like the look of."
*
41. He Used To Go On Holidays to the Scottish Highlands
"My dad loved Scotland, so we would pile into his caravan and head for the Highlands, to Fort William and Loch Ness. It was such an adventure – my siblings and I were allowed to roam and explore the local beaches. We loved the freedom of those trips."
*
42. He Enjoys Having All Of His Music In One Place
"I like everything in this iPhone, iPod world where you can do everything all the time. Back in my time, you bought a vinyl record when you were a kid and took it home, and it took a bit of effort to actually get it out of the thing and not scratch it." We have to agree with you there Rick, it's pretty useful!
*
What are your memories of Rick Astley? How many times have you tried to do that dance? Please do let us know with a comment, and be sure to share this post with your fellow 80s kids, so they too can take a nostalgic look back at this 80s singing legend!