As you may know, Judgement Day was on 29th August 1997, when 3 billion human lives ended. Luckily, despite what you may have seen on the news recently, this was only make-believe, resulting in the fictional survivors of the nuclear fire facing a new nightmare; the war against the machines…
The film stars Arnold Schwarzenegger, Linda Hamilton, Robert Patrick, and Edward Furlong as its principal cast. It is the sequel to the 1984 film The Terminator, and the second installment in the Terminator franchise.
The pre-production was plagues with legal disputed that resulted in Mario Kassar of Carolco Pictures having the franchise's property rights in early 1990. This meant that the screenplay could be completed by a Cameron-led production team, and that filming could begin in October of 1990 with a shortened 186-day filming schedule.
The production of Terminator 2 required a budget of approximately $100 million making it the most expensive film made up to that point.
Much of the film's massive budget was spent on filming and special effects. The film was released on July 3, 1991, in time for the U.S. Independence Day weekend. In 2017, Terminator 2 was re-released in 3D, 4K resolution for AMC and Cineplex theaters.
The re-release debuted at number one in the United Kingdom during the weekend of its release.
So make sure you'll 'be back' in time to find some clothes, some boots and a motorcycle, because here are '12 Things You May Have Missed In Terminator 2: Judgment Day'…
1. Edward Furlong's Voice Broke During Filming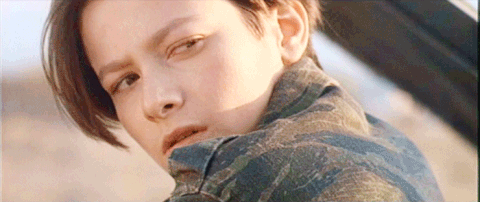 Because Terminator 2: Judgement Day took so long to film, Edward Furlong visibly aged during the shoot.