The Lost Boys was one of the first horror films a lot of us saw.
Advertisement
It was pretty scary in places, but was gentle enough for teens to enjoy without it being too much – it was certainly no Texas Chainsaw Massacre!
The Lost Boys was great in that it used teens in the lead roles so that its audience could relate to it and picture ourselves being involved in the same, or a similar, story.
Advertisement
In case you have forgotten or not seen the move in a while. It follows the story of a mother and her two sons after they move to a new small town in California.
Advertisement
The town is full; of bikers and we soon start to see some mysterious deaths taking place.
One of the sons makes friends with two other boys who claim to be vampire hunters.
Advertisement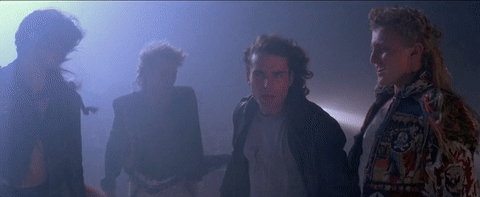 The other brother is drawn into the gang of bikers by a hot girl.
Before long the older boy is sleeping all day and displaying some unusual behaviour  and from there things really start to get good!
The inspiration for the movie's name came from the characters of The Lost Boys in J.M Barrie's stories about Neverland, who like the boys in the film are desitined to never grow up.
Advertisement
Day Magazine described the core of the The Lost Boys as "organised around loose allusions to Peter Pan" and the tension surrounding the family and modern-day teenagedom.
Advertisement
The movie was originally conceived as a vampire reimagining of The Goonies, and was aimed at 13 to 14 year olds. However, when director Joel Schumacher came on board he decided to make the film more sexier and more mature, bringing in scriptwriter Jeffrey Boam to make the characters older and the writing more adult.
On the film's cast, Schumacher said he had: "one of the greatest in the world. They are what make the film." Many of the young cast were quite unknown at the time.
Advertisement
The director envisioned the character of Star as being a waif-ish blonde, similar to Meg Ryan.
He was convinced by Jason Patric to consider Jami Gertz, who had just worked with him in Solarbabies.
Shumacher was impressed but it was only at Patric's insistence that he finally cast Gertz.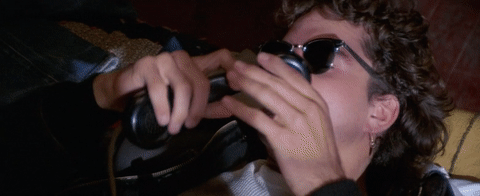 Advertisement
For the role of Lucy, he was surprised that his first choice, Dianne West, accepted because she had just recently won an Oscar for Best Supporting Actress for Hannah and Her Sisters.
Did you know the movie was actually followed by two less memorable straight-to-video sequels, Lost Boys: The Tribe and Lost Boys: The Thirst? These then went on to spawn a franchise with the same name.
Advertisement
The Lost Boys took the general vampire mythos and stucck with it for some parts, but then turned it totally on its head for others.
It was a traditional comedy-horror aimed at teens and young adults, yet it was also very inventive and not afraid to take a risk with its story-telling.
Some interesting trivia about the film include that both the bandstand that the band is playing on the first time Michael sees Star and the Frog Brothers comic book shop were destroyed in the 1989 Loma Prieta earthquake.
Also, In the cave of the Lost Boys, you can see a poster of Jim Morrison, who recorded the original version of "People are Strange" with The Doors.
When Star and Laddie are being carried into Sam's room, you can see a poster of Echo & The Bunnymen, who recorded the version used in the movie.
Advertisement
The vampire contacts were not the nice easy ones you can just slip on today.
They were really hard and could only be worn for half an hour at a time.
There was very nearly an official sequel to The Lost Boys.
Back in the mid-90s, Schumacher developed an idea that would focus on "gorgeous teenage biker chicks who are vampires."
The sequel would be called The Lost Girls.
"There is no Lost Boys sequel," he told Rotten Tomatoes in 2007.
"All the boys are dead. The Coreys are too old. So what would be the movie? You'd have to make up a whole new set of characters."
Alas, Warner Brothers didn't take his advice, but imagine if he did!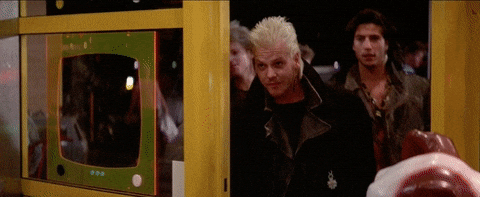 Advertisement
The Lost Boys also had some great acting talent in it, so let's take a look at what happened to its stars following the hit teen-horror movie!
Some have gone from strength to strength in their acting careers and personal lives, while others have struggled and had issues that have followed them through their lives.
1. Jason Patric – Michael
Advertisement
After playing the lead role of Michael in The Lost Boys, Jason Patric has gone on to keep acting and has cropped up in many a film in the years since.
Growing up in Upper Saddle River, New Jersey, he attended schools such as Cavallini Middle School and the all-boys Catholic school Salesian Roman Catholic Don Bosco Preparatory High School (Ramsey, New Jersey)
We've seen Patric starring in the likes of Speed 2: Cruise Control, My Sister's Keeper, Wayward Pines and Gangster Land.
He also appeared on Broadway, playing the character of "Brick" in a revival of Tennessee Williams' Cat on a Hot Tin Roof opposite Ashley Judd and Ned Beatty.
He also acted alongside Brian Cox, Chris Noth and Kiefer Sutherland in the play That Championship Season which went on to win a Pultizer Prize and the Tony Award.
Advertisement
In 2012, Patric began filming the Civil War film Copperhead but was removed several weeks into the shoot for failing to take direction.
He was replaced by Billy Campbell.
Advertisement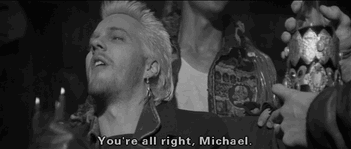 You may not know this, but Patric began dating actress Julia Roberts days after she cancelled her wedding to Kiefer Sutherland in 1991. Can you believe it?
That's right, Patric dated the ex of his Lost Boys co-star. Awkward.
Advertisement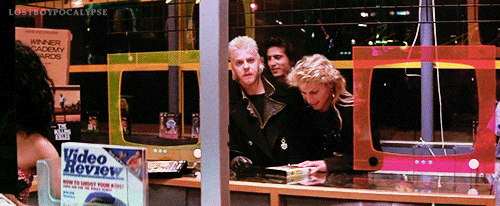 In recent years he's been battling it out with his long-time ex-girlfriend Danielle Schreiber for parental rights to his son, who was conceived through in-vitro fertilisation while they were together. He won in 2014.
Fact – Did you know that this was Corey Haim and Corey Feldman's first film together? They would go on to film several more films together and made a great pairing throughout the era!
Advertisement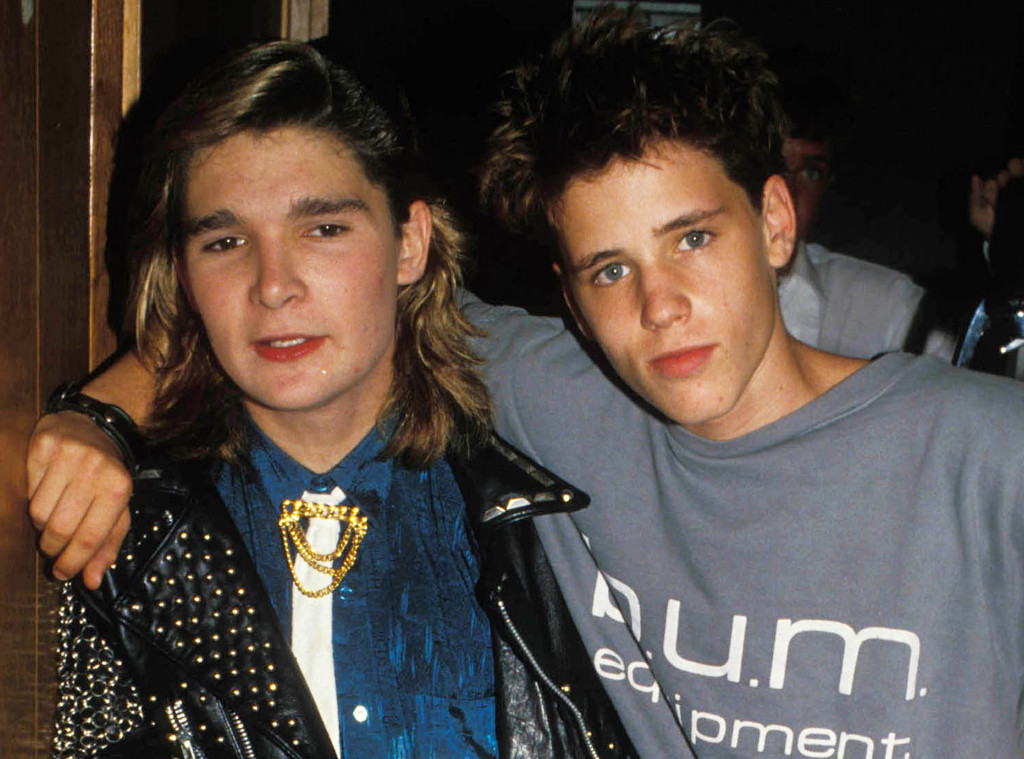 2. Corey Haim – Same
Advertisement
Sam was Michael's little brother and was well-payed by Corey Haim.
Alongside his costar, Corey Feldman, the pair were known collectively as The Two Coreys.
The duo became icons of the 1980s and appeared together in seven movies, later going on to star in the A&E American reality show The Two Coreys.  
His early success led to money and fame and he had a real difficulty in breaking away from his experience as a teen actor.
Haim was at first not particularly interested in acting. He played competitive ice hockey, learned to perform music on his keyboard, and collected comic books.
His skills on the ice led to his being scouted for the AA Thunderbirds hockey team.
Haim was troubled by drug addiction throughout his later career.
Advertisement
He became addicted to painkillers while on the set of Without Malice, which at the time he hoped would be his big comeback.
In 2004, he said of his substance issues: "I started on the downers, which were a hell of a lot better than the uppers because I was a nervous wreck. But one led to two, two led to four, four led to eight, until at the end, it was about 85 a day — the doctors could not believe I was taking that much. And that was just the Valium — I'm not talking about the other pills I went through."
He went to rehab a total of 15 times throughout his adult life, and died of pneumonia on the 10th March 2010.
At the time of his death he and Feldman were working on a sequel of 80's classic License to Drive together called License to Fly, a concept of Haim's. 
Advertisement
Fact –  Did you know that, in spite of how great the film looks, it took just 3 weeks to film! Very few films are made in such a short space of time, and certainly very few this good!
Advertisement
3. Edward Herrmann – Max
Advertisement
Max was the head vampire who was trying to get in on the Lost Boys by getting close to Michael and Sam's Mum.
He seemed like an all-round nice guy but was genuinely evil and overall not very pleasant at all.
Outside of The Lost Boys, Herrmann was best known for his portrayals of Franklin D. Roosevelt on television, as Richard Gilmore in Gilmore Girls and a host of many other characters.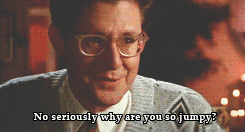 Advertisement
He also had a well-known love for cars and hosted the television show Automobiles on The History Channel. He owned and restored several classic cars.
Unfortunately Herrmann died in 2014 as a result of brain cancer.
Advertisement
Fact – The film was named after the Lost Boys in Peter Pan, as they remained forever young, just like the vampire in this classic monster movie!
Advertisement
4. Kiefer Sutherland – David
The lead of the group of teen vampires, David was a chilling character who was played to perfection by the versatile actor, Kiefer Sutherland.
Sutherland has gone on to have a glittering career and has been seen pretty constantly on our screens, very recognisable now as Jack Bauer from 24.
Advertisement
Due to his extensive film and television work, Sutherland has been inducted into both the Hollywood and Canadian Walk's of Fame and has received a Lifetime Achievement Award at the Zurich Film Festival.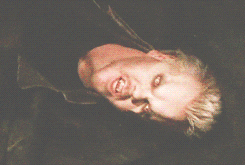 Advertisement
Sutherland was boyfriend of Julia Roberts and was about to marry her, until she cancelled the wedding back in 1991.
Fact – In Max's video store you can see a copy of The Goonies, which was another film of the era to star Corey Feldman in a leading role!
Advertisement
5. Jami Gertz – Star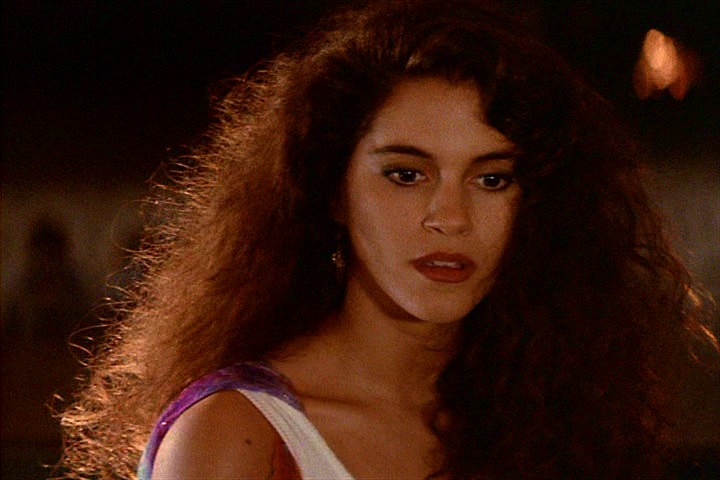 Star was the beautiful female in the group of vampires and the real reason that Michael was tempted in to their group.
Advertisement
Jami Gertz was stunningly cast as the beautiful young woman, she has also gone on to keep acting, appearing in the hit movie "Twister" alongside Helen Hunt and Bill Paxton and more recently This is Us and Difficult People on TV.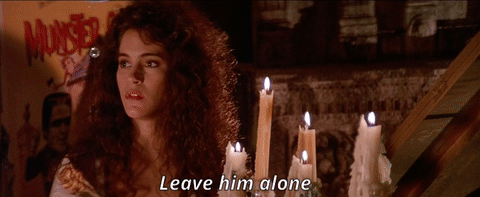 Advertisement
Back in 2011, the Giving Back Fund named Gertz and her husband the number-one donor to charity of any celebrity during 2010.
She currently lives in the exclusive Beverly Park community and have a holiday home in Malibu, California. 
Advertisement
Fact – The frog Brothers – Edgar and Alan – were named after Edgar Allen Poe, the famous horror author who penned The Raven amongst many others!
6. Corey Feldman – Edgar Frog
One half of the Frog brothers, a local pair of siblings who knew everything you could want to know about identifying and dispatching vampires.
Advertisement
Feldman was one of the hottest Hollywood properties at the time, but has seen a string of personal demons hamper his career, never seeming to hit the limelight in the way people thought he would, though he does turn up from time to time and has played the voice of Slash in the re-booted Teenage Mutant Ninja Turtles TV series.
As a child, Feldman was good friends with the late pop star, Michael Jackson.
Feldman accused Michael of having damaged his childhood by befriending him and then later abandoning him.
Advertisement
The actor said, "He did real damage in my overall life. I was a 12-year-old boy who was hurt by his family and ignored by people at school.
Michael would sit and talk to me for hours and he would listen. Then he would get bored.
The biggest thing that Michael's done to children is befriending the ones that are in need and then abandoning them."
Fact – During the film, you see posters of both Jim Morrison and also Echo and The Bunnymen. Morrison recorded the original version of People are Strange, whilst Echo and the Bunnymen recorded the version used in this film.
Advertisement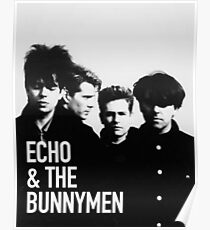 7. Jamison Newlander – Alan Frog
Advertisement
The other half of the Frog brothers, Alan and his brother were inseparable and incredibly useful to have around if vampires were involved.
Jamison Newalnder has continued to act and has recently appeared in Bone Tomahawk and Love's Last Resort.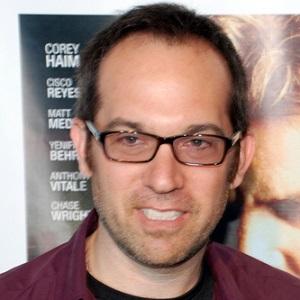 Advertisement
Newlander reprised his role alongside Corey Feldman in Lost Boys: The Tribe. However upon its DVD release, Newlander's character is only seen in the alternate ending bonus feature and albeit briefly.
Fact – Richard Donner was going to direct the movie himself, but as production initially languished in development hell he brought Joel Schumacher on board to direct the movie.
Advertisement
8. Brooke McCarter – Paul
Playing one of David's minions, Paul was one of the vampire teens that was taunting Michael and trying to tempt him to join them.
Brooke first started out as a model, signing up to the Ford modelling agency.
He made his acting debut in the 1986 film Thrashin'. During the filming of Lost Boys he became close friends with Corey Haim and went on to be his manager through the 1990s.
Advertisement
Brook also did a bit of directing and composing, doing both for the film Leaves of Green in 2002.
Sadly McCarter died on December 22nd 2015 from a genetic liver disorder.
Advertisement
Fact – Corey Haim would later go on to cite his time on The Lost Boys as one of the greatest personal times of his life.
9. Billy Wirth – Dwayne
Advertisement
Another of the vampire clan who tried to tempt Michael to join them, whether by eating funny Chinese food or hanging from the underside of a bridge with the others!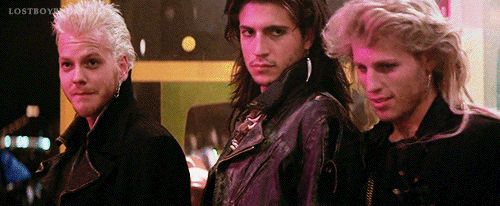 Billy Wirth has been prolific since his time in The Lost Boys and has gone on to make a real career for himself as an actor, producer and director.
He appeared in Abel Ferrera's 1993 film Body Snatchers as well as Sex and the City and CSI. 
He also took part in the television series American Gladiators, competing during the series' first season in 1989.
Advertisement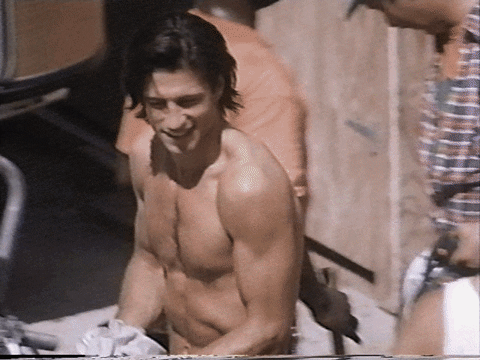 Since 1999, he has been writing, directing, and producing independent films.
His work on directing, writing, and producing his 2001 film MacArthur Park has earned him several award nominations.
In addition to his work in the film industry, Wirth is a musician and artist.
Advertisement
Fact – The theme song to the film, Cry Little Sister, was written by Gerard McMahon after he had just read the script and not actually seen any of the film completed.
Advertisement
*
10. Alex Winter – Marco
Advertisement
The final vampire teen, Marco was played by Alex Winter who was much more well-known in the era for playing one half of Bill and Ted in their Excellent Adventure and their Bogus Journey!
He appears in film and TV from time to time but the most intriguing rumour is the reprisal of Bill and Ted.
Advertisement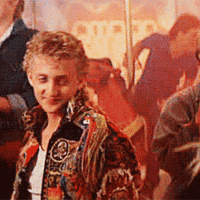 According to the writer of the series, Ed Solomon, the title for the third film would be Bill and Ted Face the Music, and according to him, all they're waiting for is the money to green light it. "We are hoping to close a deal with some financiers," he says in Entertainment Weekly.  "Hopefully within the next month or so, we'll have news that will stick."
Are you ready for the new Bill and Ted?
Advertisement
Fact – The name "Michael" is spoken in the film approximately 118 times – they must be taking the Mickey!!
11. Chance Michael Corbitt – Laddie
Advertisement
Not going to lie, until writing this, I genuinely thought this was a female character!
Laddie was the little boy (girl) that was with Star throughout the film and turned out to also be a vampire.
Chance Michael Corbitt has continued to act in small parts appearing most recently as Tommy in Hallow's Eve in 2013.
Advertisement
Fact – Jim Carrey was almost considered for the role of David – that could have seen the character played in a very different way indeed!
12. Dianne Wiest – Lucy
The mother of Michael and Sam was played incredibly well by the talented Dianne Wiest who managed to play the role with a real dead-pan, no-nonsense tone, just as it needed!
Advertisement
Wiest has become a real Hollywood stalwart and has appeared in numerous films and TV shows over the years, including Footloose, Bright Lights, Big City and The Birdcage.
Wiest also starred in the HBO drama series In Treatment and currently stars in the CBS comedy Life in Pieces. For her work in television, Wiest has received two Primetime Emmy Awards.
Advertisement
Fact – Lucy was supposedly named after the character Lucy Westernra in the classic novel, Dracula, cited as the original vampire that started it all!
Advertisement
13. Barnard Hughes – Grandpa
Advertisement
The Grandpa of Michael and Sam, who seems totally oblivious to everything going on around him, but it turned out he knew exactly what was happening and ended up saving the day!
Barnard Hughes carried on acting until 2000, and then sadly passed away in 2006, 5 days before his 91st Birthday.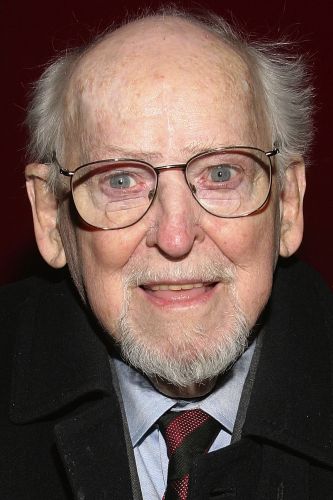 Advertisement
Advertisement
Fact – Five years after starring in this vampire movie, Kiefer Sutherland's father, Donald, starred in a vampire movie of his own. The film? Buffy The Vampire Slayer!
Advertisement
Can you believe how much some of these guys have changed over the years?
Are you surprised by just how much Kiefer Sutherland still seems to never age and look exactly like he did in the 80s?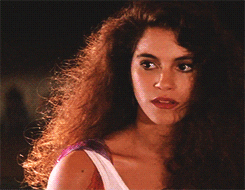 Advertisement
Are you itching for a reprisal of Bill and Ted's time travelling adventures as we are after seeing the picture of Alex Winter and Keanu Reeves that suddenly appeared on Social Media this year?

Let us know all your thoughts in the comments as always and let us know who your favourite characters were and if The Lost Boys terrified you as a teen!
Advertisement