For many of us Children of the 1980s, Jurassic Park was one of the most memorable cinema experiences of our youth.
Advertisement
Realistic dinosaurs are now commonplace, even on TV shows, but at the time we had simply never seen anything like it…
Personally I was obsessed with the film, watching it four times on the big screen, countless times on VHS, DVD and on Television, and even at my mates house on a dodgy VHS recording that someone had illegally filmed with a camcorder at their local cinema.
Advertisement
Jurassic Park centred on a disastrous attempt to create a theme park of cloned dinosaurs.
Advertisement
These dinosaurs then escape the confines of their enclosures and begin to terrorise the human characters.
The franchise kicked off in 1990 when Universal Studios bough the rights to the novel by Michael Crichton before it was even published.
Advertisement
Both the book and the 1993 film adaptation were massively successful.
It lead to three sequels, although the third and fourth films were not based on novels as the first two were.
The fourth film in the series, Jurassic World, was supposed to be released in the summer of 2005.
However, the film was delayed numerous times and was eventually released in 2015.
Jurassic World was the first film to gross over $500 million in its opening weekend.
A fifth film Jurassic World: Fallen Kingdom is set to be released this year on 22nd June. 
But more recently I've even re-bought the whole original trilogy on Blu-Ray to enjoy some HD dino-goodness, but even with all these viewings I was shocked at how many important details I had missed from the film, so to rectify that we present to you '25 Things You May Have Missed In Jurassic Park'.
Advertisement
How many did you notice?
1. There's A Sign In The Film That Foreshadows What's About To Happen
Advertisement
Did you notice that Alan and Ellie have a sign hanging up in their trailer that says 'No animal released without paperwork completely filled out'.
Advertisement
Interesting.
Ironic obviously considering their job, but a clever clue of the events that would then unfold later.
Advertisement
2. There's More To Seatbelts Than Meets The Eye
Did you realise the importance of Dr Alan Grant tying two 'female' parts of his seat-belt together?
Advertisement
It cleverly foreshadows a plot twist later in the film, when they realise that the dinosaurs are breeding even though they were genetically engineered not to do so.
Do you think this was done on purpose or was just a coincidence?
Advertisement
I'm saying coincidence..
3. We Think You Might Need A Bigger Fence
The fence next to the famous Jurassic Park gate ends after about 3 feet.
That's really not going to keep out a hungry velociraptor or a rampaging T-Rex!
Advertisement
Those monstrous beasts will just walk straight through it like hot butter!
No wonder the park got shut down. Someone fire the builders!
Advertisement
4. Now You Don't Have To Travel Far To See Your Favourite Dinosaur
As seen on a projected image behind Ellie, Hammond was clearly planning to open a 'Jurassic Park Europe'.
Advertisement
Can we go there now?
A good name for a future film in the franchise, and a good chance for us Brits to be able to see the dinos in action without having to travel half way round the world!
Advertisement
5. They Put Their Own Products In The Film To Advertise Them
Did you see 'The Making of Jurassic Park' displayed in amongst all the merchandise? This is actually a real book written by Don Shay and Jody Duncan.
Advertisement
The book reveals all the behind the scenes secrets from the set of the movie, including how the special effects are done.
Advertisement
Great way of advertising!
6. Steven Spielberg References Himself In The Film
Did you spot what Dennis Nedry is watching on one of his many computer screens?
Advertisement
It's Jaws, another film directed by Steven Spielberg, and one that is often referred to as the very first 'summer blockbuster', paving the way for future hits like Jurassic Park.
It's fair to say that most critics agree the dinosaurs in Jurassic Park were more realistic than "Bruce" the shark, though!
Advertisement
7. Movie Mistake Or Part Of The Set
There's a plant and a light in the T-Rex enclosure.
Something nice for it to look at, or was this not meant to be in the shot?
Advertisement
The T-Rex was definitely getting ready for a photoshoot.
The light does look very similar to the lights used on movie sets. The pot plant, we have no idea!
Maybe it was there to cover up the lighting.
Advertisement
8. Make It Rain…Using Sprinklers Of Course
During the shot where the T-Rex rears his head to swallow the goat it has just been fed, you can clearly see one of the sprinklers that are giving the scene its lovely rain effect.
Advertisement
Well I suppose we can let them off because the rest of the special effects were so damn awesome.
Advertisement
More water please..
9. Who Turned The Power Out?
If the power in the compound was out, then how is the ceiling fan able to keep spinning?
We're pretty sure you need electricity for that to happen.
Advertisement
Maybe they needed to do a Star Trek and reroute power from extraneous systems (though it would have cut short some of the more exciting parts of the film).
Advertisement
10. Pressing The Same Button Twice Doesn't Make It Work Any Better
If something doesn't work the first time round, I suppose you have to give it another try.
Advertisement
We all know someone who does something twice..
When Ellie is pressing all the buttons to turn the power back on in various sections of the compound, we see her press the 'VISITORS CNTR CONTROL RM' button twice. Oops!
Advertisement
11. Those Projections On The Velociraptor Were Thought About Carefully
Remember when the Velociraptor walks past the projector and series of letters display over its face?
Advertisement
These letters represent the bases that make up DNA, the very material that allowed the scientists to create the raptor in the first place.
Clever isn't it! I bet you never noticed that did you?
Advertisement
Very clever.
12. Stephen Spielberg Samples Himself Again In The Music
If you listen closely to the music when the end titles appear, you may notice a slightly modified version of the legendary five tones from Spielberg's 'Close Encounters Of The Third Kind' playing when his name appears on the credits.
Advertisement
To be fair, a lot of Stephen Spielberg's films sound similar.
Advertisement
13. There's A Bit Of A Mulan Crossover
The actor who played Dr. Henry Wu, BD Wong, went on to provide the voice of Shang in Mulan.
He also has recently appeared as Dr Strange in Gotham showing that he is a very versatile actor.
Advertisement
Great voiceover.
BD Wong returned to reprise his role in Jurassic World, with the chance to flesh out the character a bit more.
Advertisement
14. They Thought Dinosaurs Would Be More Popular Than Football
During the corporate presentations in the dining room, if you look closely at the slides you will see that Hammond suggested that Jurassic Park would be more popular than both "sports" and "zoos".
A little ambitious even for Hammond!
Advertisement
Can you imagine if you could combine dinosaurs and sports together?
We'd pay good money to watch that.
Advertisement
Dinosaurs > Football.
15. Is 'Lost' Actually Set In Jurassic Park? Here's The Evidence…
It would appear that the survivors of the plane crash in "Lost", played golf at Jurassic Park….
Maybe the herd of Galimimus we simply running from Hurley shouting "Fore"…
Advertisement
To be fair, if there were polar pears on the tropical island, it's highly likely there could have been dinosaurs as well.
Advertisement
16. The Scientists In Jurassic Park Were Onto Something
All the way through the movie, Dr Alan Grant makes comparisons between dinosaurs and present-day birds.
Advertisement
Mind boggling!
Believe it or not, it was not until three years after the movie that paleontologists announced the discovery of a dinosaur covered in a fine coat of "fuzzy protofeathers." This would lead to the confirmation that birds are indeed descendants of dinosaurs.
Advertisement
17. It Takes A Lot To Make A T-Rex Roar
The terrifying roars made by the T-Rex were a combination of sounds from dogs, penguins, tigers, alligators and elephants!
Advertisement
Imagine meeting that lot all in once, and combined in to a 25 foot killing machine that can run at over 30mph!
Who would have thought a penguin could be so terrifying?
Advertisement
I wonder what other voices and noises we're involved..
18. There's A Reference To Independence Day
When being chased by the T-Rex, and Dr Malcolm is in the back of the Jeep, Jeff Goldblum's character mutters "Must go faster."
Advertisement
Did you notice that in Independence Day he is heard to say they same thing when escaping the alien spaceship? This is because Roland Emmerich liked the line so much he sampled it for his movie!
Advertisement
19. Acting Can Be A Pretty Hazardous Job
When lighting the flare, actor Sam Neill who played Alan Grant was burned when the flare "dropped some burning phosphorous on me and got under my watch and took a chunk of my arm out" – ouch!
Advertisement
Dangerous!
We applaud people who suffer for the sake of art!
It seems some suffer more than others.
Advertisement
20. T Rex's From Inside A Car Appear More Terrifying
Ever wondered why you first see the T-Rex from inside the car even though that means you don't necessarily get the best shot of it?
Advertisement
That's because Steven Spielberg deliberately did this so you felt more like you were there with the characters, feeling their tension and fears – now you know why you were sat on the edge of your seat!
Advertisement
Scenes like that make me nervous!
21. There's A Good Reason For Wearing The Same Clothes
Did you notice that Jeff Goldblum's character, Ian Malcolm, wears black throughout both Jurassic Park and The Lost World? In the book this is explained that Ian Malcolm only wears black and grey so he doesn't have to think about what he is going to wear.
Advertisement
Jeff Goldblum's character in The Fly also states something similar so that he doesn't have to give brain power to something so trivial as what to wear! Looks like he hasn't changed in Jurassic World 2, either…
Advertisement
22. Some Dinosaurs Were Late To The Party 
Despite often being cited as the most memorable dinosaurs in the movie, except for a very brief glimpse at the start of the film the adult velociraptors don't actually appear properly until more than an hour and forty minutes in to the film!
Advertisement
I hope they caught up on the ale.
They do say that it's fashionable to arrive late to the party!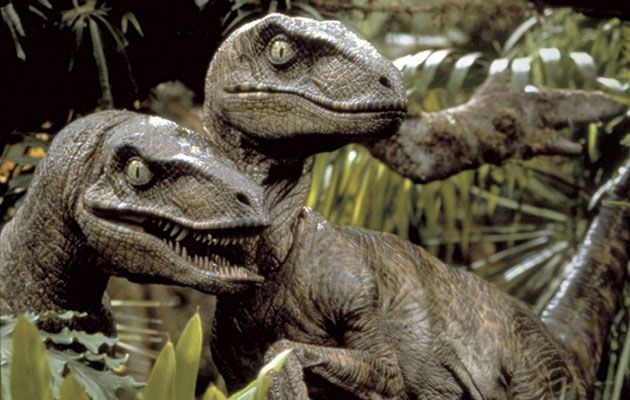 Advertisement
23. Snakes Were Also Used For The Sound Of The Dinosaurs…
Ever wondered how the Dilophosaurus could sound so cute one minute then so terrifying the next? When it makes the cute whooping noises, they used the sounds from a swan.
Advertisement
When it opens its neck ready to spit at Dennis Nedry, they used the sound of a rattle snake, something that naturally instills fear in a lot of people!
Advertisement
Who knew you could make a snake sound like a dinosaur!
24…As Were Many Other Animals 
One of the most visually stunning, and moving moments of the film, is when Ellie and Alan see a dinosaur for the first time. They stop in the meadow and see the herd of Brachiosaurus.
Advertisement
Advertisement
The Brachiosaurus make a loud, majestic sound, this was made by combining the sounds from whales and donkeys – an unusual, but very effective combination!
Advertisement
25. Stunt Doubles Can Prove Quite Costly
At one point, when Lex is hanging between floors, the stunt double accidentally looked up and towards the camera. This gave the post production crew a head ache as they had to superimpose actress Ariana Richards' face on to the stunt double's using digital effects.
Advertisement
Expensive do!
If you have enjoyed reading this post, please do spread some lovely, prehistoric, nostalgic memories to your friends and family by sharing it with them.
Advertisement