The eighties were a liberating time for women. It was the time of the second wave of feminism.
This referred to a series of campaigns that focussed on issues such as reproductive rights, domestic violence, maternity leave, equal pay, woman's suffrage and sexual harassment.
The movement began in the 1960s in America but during the 1980s it spread to other countries like Japan and New Zealand.
*
During the early 80s there was more approval of a married woman earning money in business or industry if she had a husband capable of supporting her.
During this time, magazines and advertisements started showing women working alongside men.
There were more job opportunities available to women in the 80s and women began moving into professional and managerial jobs.
It was common for women to hold executive and administrative positions, such as accountants and buyers.
*
However, there was still a distinct amount of women who still worked in low-pay jobs.
In this post, we celebrate some of the most iconic women of the era, from Kylie Minogue right through to Pamela Anderson!
These women sure packed a punch in the 80s.
1. Kylie Minogue
Who can forget Charlene from Neighbours? Since starring in Neighbours, Minogue has gone on to become a recording artist and has achieved success in the entertainment industry.
She's well known by a few nicknames such as "Princess of Pop" and "Goddess of Pop".
She is the highest selling Australian artist of all time and she has done 18 tours since 1989 up to now.
She's also played herself in The Vicar of Dibley and the character Astrid Peth in Doctor Who.
*
Here we have Kylie shooting for her new calendar shoot a few months back.
Did you know that a stage musical inspired by 25 of her hits "I Should Be So Lucky", premiered in her hometown, Melbourne, Australia as part of its annual Gay Midsummer Festival. The musical contained songs spanning from her 1st single "The Locomotion" up to "Can't Get You Out Of My Head", including hits, album tracks as well as a rare song "In Denial". (January 2001)
2. Alyssa Milano
She was a star in Who's the Boss and we all loved her!
Milano also starred in Family Guy, The Adventures of Jimmy Neutron and Billie Cunningham in My Name is Earl.
They now have a son and a daughter.
She is an American actress, activist, producer and former singer.
Milano and Creative Artists Agency agent David Bugliari got engaged in December 2008 and then went on to marry in August, 2009 at Bugliari's family home in New Jersey.
3. Jet (Diane Youdale)
Who else loved watching her on Saturday night TV? Diane Youdale was by far the most popular female Gladiator as "Jet", and was well remembered for being very attractive, good at all the games on the show, and very acrobatic often performing flips and playing her leg as an "air guitar" before Hang Tough!
Since leaving Gladiators, Youdale was known as the Games Mistress on Games World, was often involved in Celebrity Big Brother's spin-off show and is often heavily involved with health and fitness in general.
Awesome!
4. Tiffani Amber Thiessen
We all know her as Kelly Kapowski from Saved By The Bell and as Valerie Malone on Beverly Hills 90210. Known as a real sex symbol of the time, Thiessen went through a phase of being wanted as a star in many projects.
Since then Thiessen still appears on TV from time to time, and has done several sketches and reunions with the Saved By The Bell stars.
Sweet!
5. Erica Eleniak
She was on Baywatch! Who loved watching that show? OK lads, put your hands down! And who can ever forget her popping out of that cake in Under Siege? One of the most re-watched moments of any Steven Seagal films"
Eleniak has made the occasional appearance on TV in recent years but has largely gone quiet on the public side of things since around 2006 when her daughter Indyanna was born, with just small appearances on TV shows and TV movies since.
*
6. Tiffany
Everyone loved her! Most famous for her song "I think we're alone now", Tiffany was very popular in the 80s and was loved by all, creating a real fan base that felt she could do no wrong, even when her music changed style considerably in the 90s.
Tiffany was on screens very recently, taking part on the Australian version of I'm A Celebrity but was the first celebrity voted off the show by viewers!
*
7. Phoebe Cates
We remember her most from the Gremlins movies, but she was also very well known for one particular scene in Fast Times At Ridgemont High, in which she removed her bikini top during a daydream sequence.
Since 1994, Cates has been retired from acting as she wanted to concentrate on her family, only appearing on screen once since. Cates has opened a boutique in New York and did reprise her role from Gremlins as a voice only in Lego Dimensions.
*
8. Kelly Le Brock
Remember her as Lisa from Weird Science? Or as the titular Woman In Red with Gene Wilder? Kelly LeBrock was a model and one of the hottest women of the time!
Kelly LeBrock went very quiet with her career following starting a family with then-husband Steven Seagal, and in 2008 following the death of her brother, LeBrock dedicated a lot of her time to the terminally ill and becoming a spokes person for Club Carson, whose members are cancer-suffering children.
*
9. Danica McKellar
Danica was most well-known for playing Winnie, Fred Savages friend and love interest in The Wonder Years! She also provided voice acting in Captain Planet and The Planeteers!
McKellar has continued to provide her vocal talents to many wide-ranging roles including Scooby Doo and DC Superhero Girls, and has also continued to appear on screens in many less well-known shows and TV movies, but continues to have a fairly active acting career to this day.
*
10. Catherine Bach
We couldn't leave out Daisy Duke from The Dukes Of Hazard. Catherine Bach was one of the biggest sex symbols of the time, adored by men and envied by women who wanted to be just like her, as a sexy, but powerful character.
Catherine Bach has continued to act and joined CBS soap opera, The Young And The Restless as Anita Lawson in 2012, which she still continues to appear in.
*
11. Sean Young
Appearing in films such as Blade Runner and No Way Out, Sean Young was a big deal back in the day and also made an appearance that ultimately got stomachs churning in Ace Ventura: Pet Detective.
Young has continued to act on and off over the years but has never managed to keep up with the success she enjoyed with the roles she got in her early years, though her character Rachel reappeared in the recent Blade Runner 2049, which Young portrayed with the help of digital effects and a body double.
*
12. Sam Fox
The ultimate Page 3 girl, Samantha Fox was famous for taking her top off in the 80s and was the two biggest reasons that people bought The Sun newspaper at the time! She also had a brief singing career which she thankfully didn't pursue for too long!
Sam Fox recently returned to the public eye when she appeared in Celebrity Big Brother in 2016, and was know for being outspoken and had a big argument live on TV in the spin off show after leaving the house.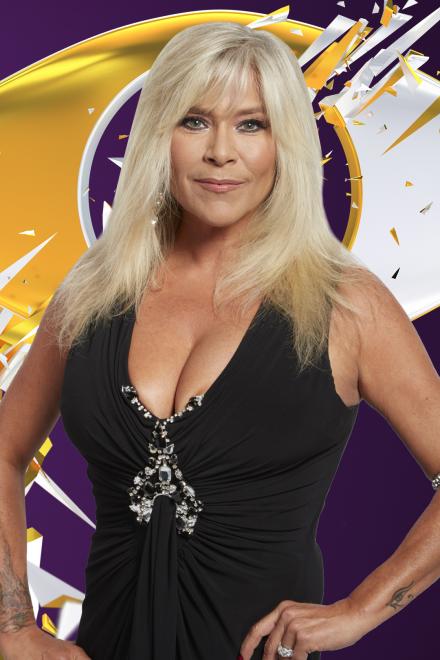 *
13. Ulrika Jonsson
Known as the presenter of Gladiators, amongst other popular shows of the time, Ulrika went through a phase of seeming to be on our screens all the time, and even appeared in the news several times in a variety of scandals, including an affair with then-England manager, Sven-Goran Eriksson.
Ulrika Jonsson has appeared on our screens on and off, winning Celebrity Big Brother in 2009 and reaching the final of Celebrity Master Chef in 2017.
*
14. Belinda Carlisle
One of the biggest names of 80s pop and one of the most popular singers of the time, with a string of hits such as Circle in the Sand and Heaven is a Place on Earth, Belinda Carlisle seemed to be played all the time on the radio and had huge success throughout the era.
Carlisle seemed to largely disappear from public life for a long time, going very quiet, then in recent years she has been making something of a comeback even having a new album released in 2017 – will she manage to replicate her earlier success?
*
15. Cindy Crawford
During the 1980s and 1990s, Cindy Crawford was one of the biggest names in the modelling world, as one of the most popular and recognisable supermodels in the world. Crawford also tried her hand at acting, though that was fairly short-lived.
Crawford has carried on modelling on and off over the years, and in 2016 even appeared on the front of Vogue Paris' April issue with her daughter, Kaia. In 2017 she and other supermodels of her era closed the Versace Spring/Summer 2018 show which was an homage to the late fashion designer, Gianni Versace.
*
16. Pamela Anderson
One of the ultimate and most recognisable sex symbols of the time, Pamela Anderson was the fantasy woman of teenage lads and young men everywhere, appearing in Baywatch and the main reason it became so popular at the time (Sorry Mr Hasselhoff, you were the second reason at best!).
Pamela Anderson has become a big advocate of animal rights and has been very vocal on the subject even writing an open letter to Vladamir Putin about preventing the passage of whale meat headed to Japan. Pamela Anderson appeared on our screens in 2013 on ITV's Dancing On Ice.
*
17. Kim Basinger
Kimila Ann Basinger, born December 8, 1953, is an American actress, singer and former fashion model.
Following a successful modeling career in New York during the 1970s, Basinger moved to Los Angeles where she began her acting career on television in 1976.
Basinger came to prominence playing Bond girl Domino Petachi in the 1983 film Never Say Never Again, opposite Sean Connery, and went on to receive a Golden Globe nomination for her role as Memo Paris in The Natural (1984.)
*
18. Lisa Bonet
Lilakoi Moon (born and known professionally as Lisa Michelle Bonet, November 16, 1967) is an American actress.
Bonet is best known for her role as Denise Huxtable on the NBC sitcom The Cosby Show, which originally aired from September 1984 to April 1992, and later originally starring in its spinoff comedy, A Different World, for its first season (1987–88).
*
19. Vanessa Williams
Vanessa Lynn Williams (born March 18, 1963) is an American actress, singer and fashion designer.
She initially gained recognition as the first African-American recipient of the Miss America title when she was crowned Miss America 1984 in 1983.
*
She went on to become a prominent singer and actress, starring in big American TV comedy/dramas such as Ugly Betty and Desperate Housewives.
20. Paula Abdul
Paula Abdul is an American singer, songwriter, dancer, choreographer, actress and TV personality. You name it, Paula's done it.
She began her career as a cheerleader for the Los Angeles Lakers at the age of 18 before rising to prominence in the 1980s as a highly sought choreographer at the height of the music video era.
Nowadays she can be seen judging and consulting judges on programmes like American Idol and The X Factor alongside Simon Cowell.
*
This must bring back memories for a lot of people, so let us know your thoughts in the comments as always. Who was your first crush? Who do you remember best from the era? Have we dared to miss off your favourite from the list? Let us know!